To mark the inauguration of President Biden on 20 January 2021, Zuleika Gallery is delighted to present 'Nicola Green – Unity', an exhibition of work by the British artist and social historian, related to the time when the artist witnessed, first-hand, Barack Obama's meteoric ascent to power as the first African American president of the United States in 2008. The exhibition presents Nicola Green's iconic silkscreen prints, and two brand new works titled Unity I & II, created in response to the 2020 United States presidential election, shown together for the first time at Zuleika Gallery in Woodstock, Oxfordshire. Due to COVID-19 restrictions, the exhibition will continue to be installed at the gallery but will be presented virtually, via video, and virtual viewing appointments. An artist talk with Nicola Green will be hosted on Zoom during the exhibition.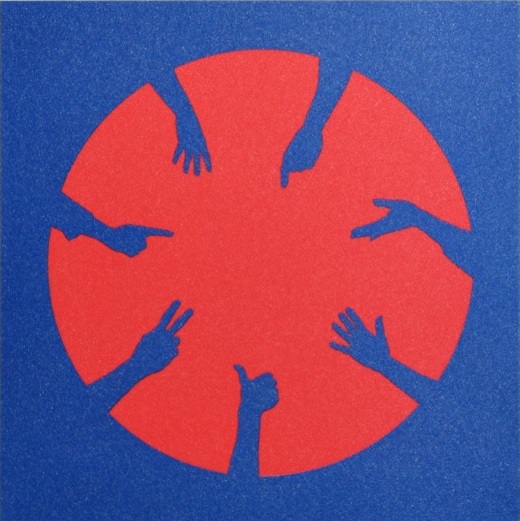 At a time when we are facing deep divisions across our societies, shaped by intensely partisan politics, and social and economic inequality, this exhibition is a reminder that when people come together, they can achieve the seemingly impossible. The two new works created in 2020, Unity I & II, are a celebration of the democratic process, a commemoration of change, and a symbol of hope.
The iconography in these artworks is derived from Day 1, Light, the first of the seven silkscreen prints from Green's critically acclaimed series 'In Seven Days…' for which Green created the symbol of the seven hands, with different gestures, united in a circle of light, a powerful example of how non-verbal gestures communicate.
The imagery represents the long arc of history, it can take generations to enact meaningful change, and many years before the impact is truly understood. The original design was inspired by the Democratic National Convention which took place on 28 August 2008, a hugely significant date in African American history. It was not only the day President Obama accepted the Democratic nomination, but also the passing of the UK Slavery Abolition Act in 1833 and the date of Martin Luther King's "I Have a Dream" speech in 1963.
The iconic design in Unity I & II has been reproduced in red, white, and blue. It has taken on a new level of meaning, representing pride, freedom, heritage, liberty, and justice.
In line with government guidelines, the gallery is closed physically. A virtual viewing appointment booking system is available, and exhibitions can be viewed online. Announcements regarding openings or further lockdown measures will be shared on the gallery website and social media.Their COVID-19 policy is available to read here.
'Nicola Green – Unity' is at Zuleika Gallery, Woodstock 16 January - 14 March 2021. A virtual Private View of 'Nicola Green – Unity' will take place on 15 January 10.30 am - 5.30 pm, by appointment. Please contact info@zuleikagallery.com