After a 2-year hiatus, QED Comedy Laboratory are delighted to announce the return of the Oxford Comedy Festival this July. It will run from 1st-30th July in various venues across the city.
Started in 2018, the festival has seen some of the most exciting comedy performers in the UK bringing their latest shows to Oxford, and this year will be no different: over 50 performers will take part.
The line up so far includes TV stars such as Sophie Duker (Taskmaster), Esther Manito (Live at the Apollo), Glenn Moore (Mock the Week) and Tony Law (Never Mind the Buzzcocks), alongside up-and-comers like Sam Lake (Winner, New Comedian of the Year 2018), Michael Akadiri (Finalist, BBC New Comedy Awards 2021) and Lilly Philips (Pleasance Comedy Reserve 2019).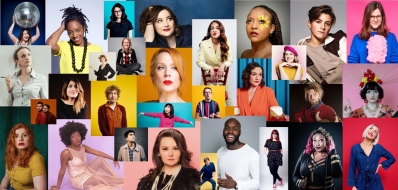 Podcast fans will also be thrilled to learn they can see Guilty Feminist regulars Athena Kugblenu, Jessica Fostekew and Sarah Keyworth, All Killa No Filla host Rachel Fairburn, The Blank Podcast's Jim Daly, and Comedian's Comedian creator Stuart Goldsmith all showcasing their talents.
Organisers QED Comedy Lab stage the festival in July as an opportunity for comedians to perform their previews; work-in-progress versions of the hour-long shows they will take to the Edinburgh Fringe in August. The concept has accessibility and representation at its core, as QED strives to prioritise comedians from diverse backgrounds, especially from the LGBTIQA+ and Global Majority communities, while keeping tickets affordable.
Initially based in just one space, the festival's success has allowed it to expand into multiple venues across the city, which this year will include the Tap Social Brewery, the James Street Tavern, the White House by Tap Social and their original home, the Jam Factory.
We are also at the Ultimate Picture Palace, Oxfords last true independent cinema, on Friday nights screening four classic films selected and introduced by some of the great comedians featured in the Festival.
Matthew Chadourne, Creative Director of QED Comedy Lab, said:
"We are thrilled that once again, Oxford's residents can enjoy world-class comedy on their doorstep. Some of our favourite acts have returned year after year, meaning that Oxford is becoming a destination spot for comedians on their way up to Edinburgh. After two years of pandemic-related misery, we are raring to go, to get our wonderful audiences smiling again"