Amidst its refurb ahead of reopening, Sam Bennett speaks to the Jolly Farmers' new owners about the creation of a queer embassy.
Rob Jordan and Spike Greenwood once ran the Castle Tavern on Oxford's Paradise Street. Now, 12 years since they stopped working on the city's queer scene – if you discount, that is, the mammoth task of leading Oxford Pride for four years – the married couple have bought the dreaming spires' one remaining LGBTQIA+ pub. Also on Paradise Street, the Jolly Farmers reopened on 11 July, after a refurb carried out by its devoted staff and regulars on a voluntary basis. "It's a strange time to buy a pub when you can't open the doors to your customers," says Rob, as whirrs and whistles sound around him, "but it means we have had time to give it a facelift." It's not only the colour of the walls changing, he resumes, but also the lines and range of beverages – to accommodate "every type of drinker".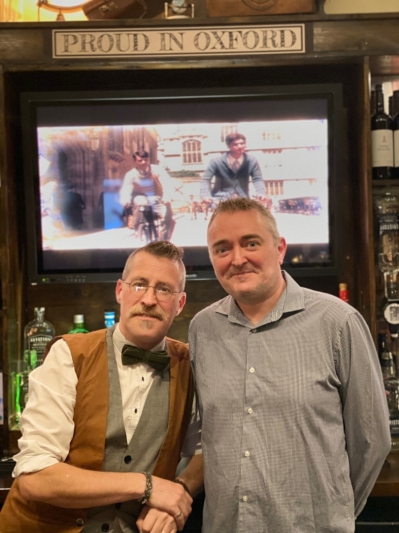 Spike Greenwood and Rob Jordan
The current situation of social distancing and fewer customers, says Spike, allows for a lengthened and somewhat calmer reopening, "which is almost brilliant for us; if you could choose to do that, you would, to get all the little bits right for when they finally say 'ok, we're back to some form of normality.'" Added to which, the Farmers' sectional setup is beneficial for bubbling, and it's "one of the only Oxford city centre pubs with a beer garden – we've made adjustments out there to make it much bigger. So, we've got all the positive elements that make the social distancing pub environment work for us."
It's a 15th-century building, he explains, "cobbled together with some 17th-century cottage bits on it–"
"With a 1980s extension out the back," laughs Rob.
"Trying to turn it into a bar is a foolish endeavour," says Spike, "because you've got an open fireplace, wooden beams – it's a pub, an old pub. But it's an Oxford pub so it's got to be a little quirky, a little odd, a little bonkers… like the new owners." He first walked into the Farmers on a late afternoon 21 years ago, "to be greeted by a group of people, four or five of which are still some of my best friends. They had no idea who I was, they made me welcome, that's what you want," he continues, envisaging their pub as "the embassy of the LGBTQ+ community" where queer people feel safe.
"It's their soil. You walk through the door, their rules apply. If you're ok with that, anybody's welcome. If you're not, go to a different pub. If you don't want to see two boys together, a trans person, two girls together, or a transvestite – go somewhere else. This is the embassy."
They've put the rainbow colours back on the pub sign, Rob points out, so queer guests of the city can identify "a safe haven".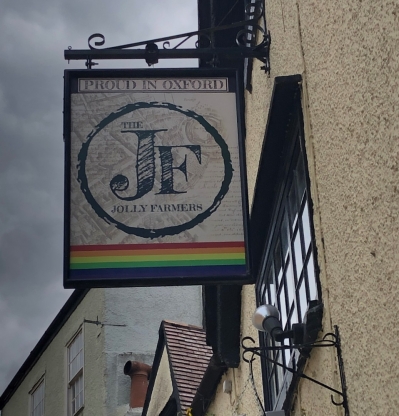 Next door, a Premier Inn is being built, which they welcome. "Yes, of course it's disruptive because they're building," says Spike, "but that's ok because there'll be a hotel next door." An inexpensive one too, Rob adds, so tourists can spend the day sightseeing, pop into the pub for a drink, and then visit Oxford's LGBTQ+ nightclub, Plush, before turning in – and they can do the lot on foot without having to spend a fortune on a pricier bed.
As the city's only queer pub, they want a good relationship with Plush, the only queer nightclub. "It also happens," says Spike, "that the owners of Plush are some of our best friends in the world – it would be very odd for that to turn sour." Both establishments offer very different things, he says, and complement each other.
"It gives people a choice," says Rob, whereby they can stay at the Farmers until closing and give Plush a miss that night, or have a couple of drinks in the pub prior to an 11pm wander to the club.
If after a drink or two, Spike says, a customer asks if there's another LGBTQ+ venue and the answer's no, "that doesn't sound good for Oxford. I'll recommend a variety of different pubs in Oxford, but to be able to recommend another LGBTQ+ venue is vital. Bear with me," he warns before introducing the antique shop analogy. "If you have one antique shop on a street in a village, nobody visits it. If you have three antique shops, it becomes an antique shop spot. People who like antiques go to that village because there are three shops to choose from. The more venues the LGBTQ+ community have in Oxford, the better each one will do." If their former establishment – now just called the Castle – became a queer pub again, "I would rejoice beyond measure, at no point would I go 'oh God, it's competition.' It isn't, it's more people, that's incredibly healthy."
The pursuit of producing an embassy (which will hopefully also witness the return of the Jolly Farmers' "nightmarish boat trips") involves the pub's downstairs area. A little below the waterline of Castle Mill Stream, the room has been affected by damp. "Our big project," says Spike, "once we're up and running is to get that sorted." From there, it can become "a community use room" for gaming, private parties, drama societies, plus screenings of the boat race and Eurovision.
"If the [Oxford] Pride committee needed a space to have a meeting," says Rob, "it's quiet enough, away from the main pub and bar."
They're fortunate, states his husband, to have the pub, garden and secluded space downstairs. "Hugely important" for an LGBTQ+ venue, the clientele of which comprises myriad different types of people; some who'll want a bit more privacy than others, some who might not be fully out of the closet.
Years back, at the Castle Tavern, Terrence Higgins Trust ran monthly health checks. "We can reinstate that," he says. Regarding mental health, "If somebody wants to talk to someone in private, they can request the room and we'll block it. There's CCTV down there but we can have that non-audio, so people are safe but also not being listened to."
They're aware of their limitations, he tells me, viewing them as advantages. "We don't have a commercial, industrial kitchen so we can't do food. Rather than see that as a negative, you go 'ok, if you come in with your friends and you want a Deliveroo, get it delivered here.'" Further, the big gates out the back could be opened up once a week for food vendors – perhaps a Yorkshire pudding van on Sundays.
"I have a vision of the space outside," says Spike, "on a Sunday afternoon, with half-decent weather. You've got the food van there, a jazz quartet in the corner – you'd be a bit squished but you could put on a mini Shakespeare." Inside that evening, or another night, a poetry slam might take place. Some might think that weird, he says, but "weird is what we want. In every aspect of the word, Oxford is a queer city, and we're aware of that oddness and really want it to be celebrated. It's viewed from the outside as very elite; I think it's one of the most level cities I've ever encountered. In any pub in Oxford, you can sit next to a plumber who's sitting next to a bishop who's sitting next to the Poet Laureate, and they're all chatting – because it's Oxford."
The Jolly Farmers is open daily 12 noon to midnight. Please respect the 1m rule and be patient with the staff and each other in these unprecedented times.@JollyFarmersOxford