When I think of 'Kensington Couturier' I imagine a terribly grand, rather austere sort of person, who immediately makes me feel all thumbs. When virtually meeting Samantha Benveniste, however, I couldn't have been more wrong. A warm, engaging and friendly woman is the force behind this label, and her passion lies in creating perfect and unique outfits for each of her many private clients. We got together to discuss design, weddings, lockdown and the importance of channeling the power of femininity. The self-described Londoner with "family from everywhere", has been working in the fashion industry from the age of 15. Starting her career as a Sunday girl at Jaeger, then going on to work at a factory in London fields where she scrubbed oil off the factory floor in exchange for cutting lessons. She has quite authentically 'started from the ground up'. Her training in haute couture came in the form of apprenticeships; working for world-renowned couturiers, Caroline Charles OBE and Bruce Oldfield OBE.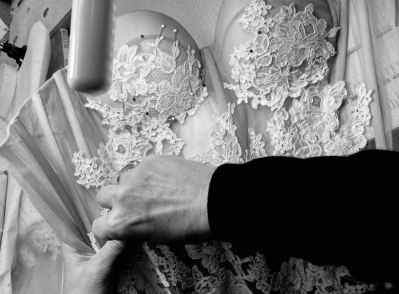 "I'm on a mission to celebrate women, and I know my clients come to me for luxury and comfort. My challenge is how to tell their stories through my designs. I have close relationships and understand how my clients live and what they want. I'm constantly meditating on them, and eventually I'll put together sketches for their approval. We have the luxury of making everything in-house and can work with all budgets. I never forget; we are in the service business, and it is our job to make our clients happy – if they're not I don't have a business. Each of my clients is an ambassador for my brand."
But what if the client suggests a design which you know won't look good?
We want to flatter and illuminate every woman's beauty. I've noticed that women tend to pick cuts from their happiest times; for example, a woman in her 50s may go for an 80s-inspired style – something which prompts a happy memory, say a great date or unforgettable party. My job is to find the elements I know will work, while making it modern and flattering.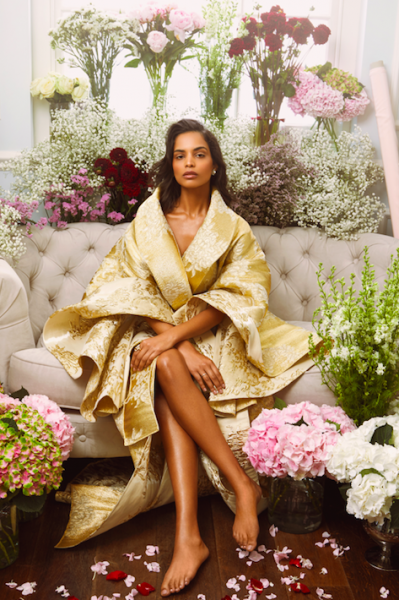 What drives your creativity?
I'm constantly trying to reconcile what I see as beautiful and how I can show that in terms of what I make. I always want to show more of my inspiration – buildings, sea, coral, old Estee Lauders ad - these things all turn in my head and I suspect most people would think it sounds crazy. For example, I had an idea for a piece based on a 1930s opera coat but made comfortable and wearable. At first my pattern cutter was saying, 'that's not what you want, try again'. I had to juggle what the weight of the final piece would be, how the wearer is going to sit, how can she move, and then suddenly boom: there's the piece! I was thrilled when the Marchioness of Bath wore in silk taffeta but we've also made it in cashmere. We offer classic couture, but we can still be budget friendly. Prices start from £2,000 with bridal gowns from around £3,000 – although they can go up to six figures. However, for each, the process is the same: initial consultation, design, personal fittings. We're not about being edgy – although we can be cutting edge.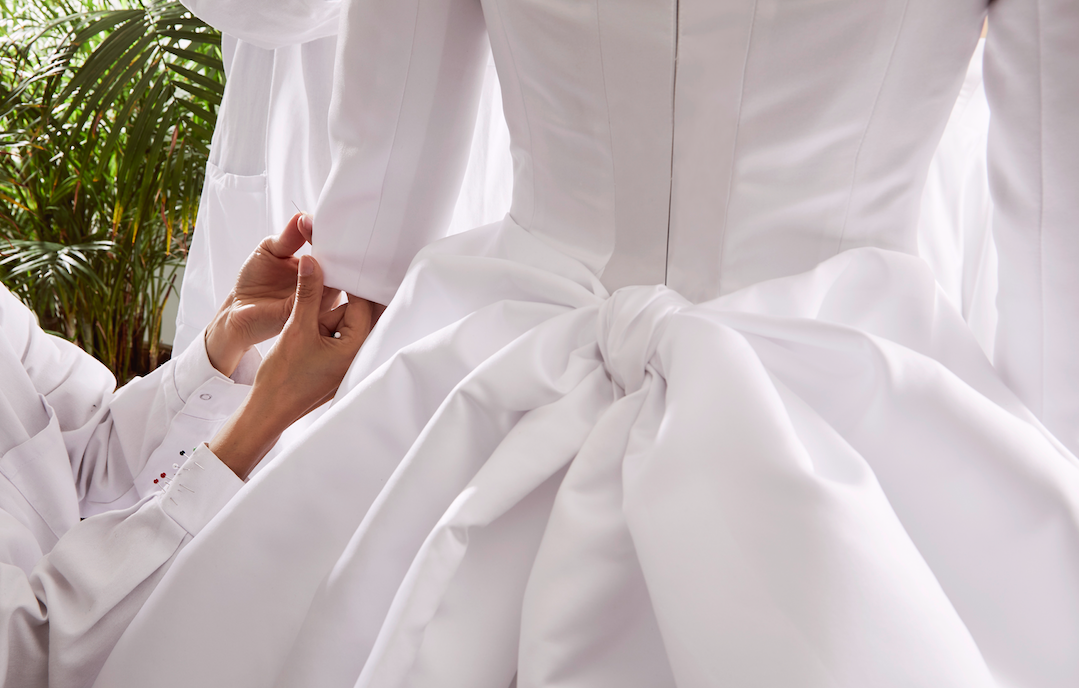 What has lockdown meant for your business?
As a team, the Benveniste Atelier has been using this quieter time to push ourselves to be more creative. Our newer pieces are less tailored and softer – flowing silks. We've tried to use the past few months to regroup and expand the offering. We've always done bridal, mother of the bride and, of course, guests, but now plan to move into accessories and lingerie. That said, we've offered a 'pret-a-couture' service during lockdown, which is something between ready-to-wear and couture. We may not have been able to offer four or more fittings, but it has still certainly been a personal, tailored approach. Looking ahead the more localised supply chain we've been using will see us in good stead for next year.
Any bride choosing get married now is very brave, it's become a real reflection of love and character to decide that you'd prefer to be married now rather than wait. It's so nice to see how people are adapting and it reminds me that love is the most powerful and positive thing we can rely on to get through.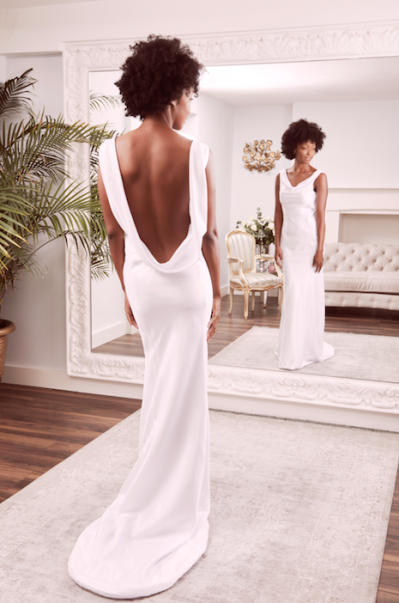 And finally – my favourite question – your dream client?
There are so many I'm hard-pressed to name just one. I want to dress everyone – I love what I do, it's an addiction. I can't get enough because no two people are the same, everyone has new challenges and new ideas. I do have icons which constantly inspire me: Monroe, Taylor – they may be clichés but they're clichés for a reason; they're timeless. Monica Belucci is a more modern example, but what they all share is power and ownership of their femininity which is so beautiful. Each has an identity built on their assets and they each own it. I think that's what every woman should try and do, whether they're dressed by charity shop or big-name designers, I'll also throw in Nina Simone, Shirley Bassey and Maria Callas as they all have one thing in common – they've tapped into the femininity inside them.