When people first encounter a picture created by Rachel Wright – often a landscape with a big, dramatic sky or a seascape featuring a rugged shoreline or cliff top lighthouse – it is the image that captivates them. Its delicate palette of colours conveys emotion or a 'spirit of place'. Those unfamiliar with Rachel's work are stopped in their tracks when they discover that these 'paintings' are made not with oils, acrylics or watercolours, but with fabric and threads.
Put out of your mind any notion of lumpy feltwork or naive appliqué. This is something altogether different, borne out of Rachel's innate draftsmanship and passion. Her drawing skills are perhaps not so surprising given that her father, Derek Setford, attended the Slade School of Fine Art and is a distinguished wood engraver. "It was my dad who taught me the importance of observation," she says, "to spend twice as long looking at the object you are drawing as you spend putting marks on paper." It's little surprise then, with an artist for a father, that art should have been an integral part of her childhood. It was indeed all around her and included regular visits to art galleries like the Whitworth.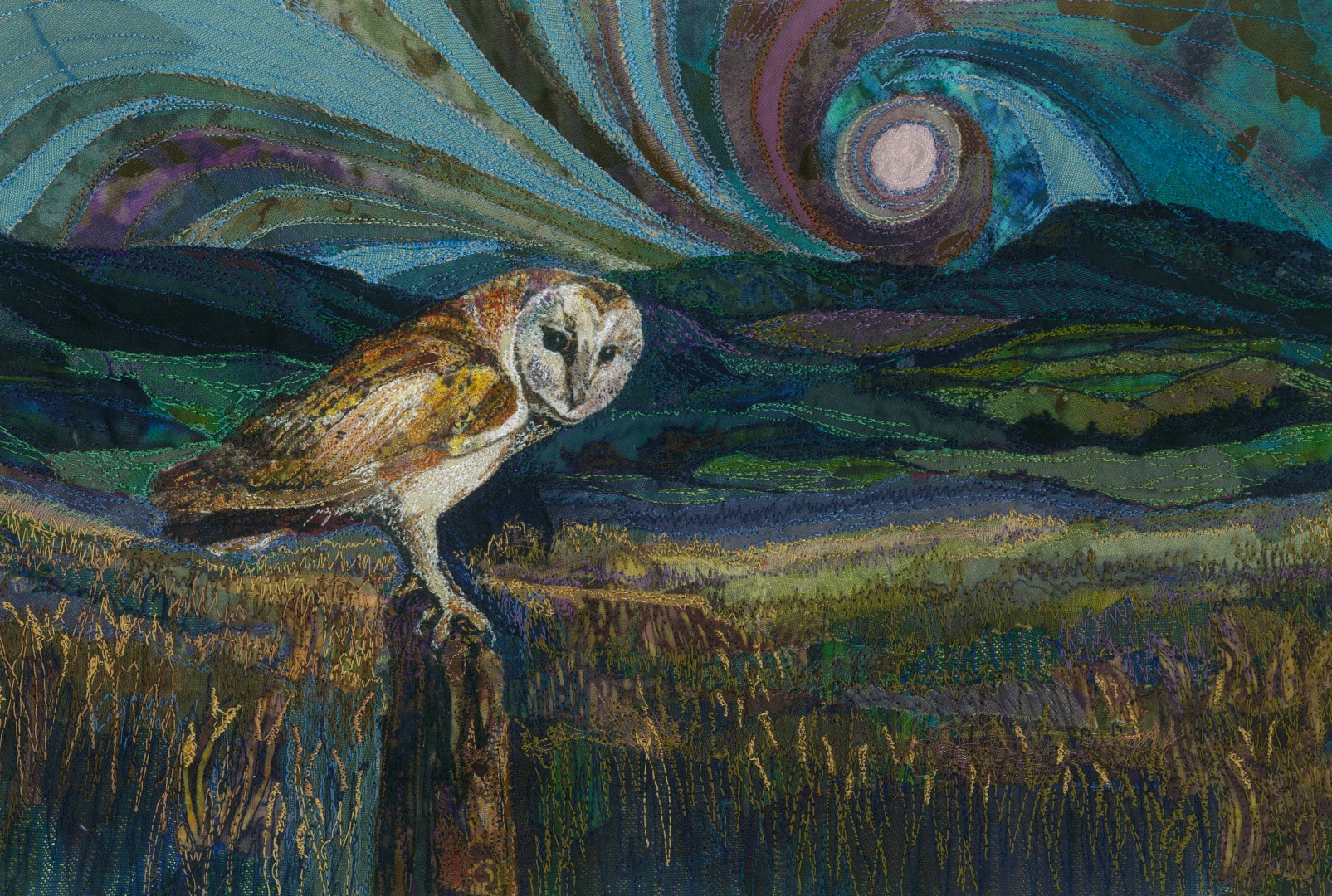 She also credits an observant needlework teacher at school with encouraging her to move beyond basic dressmaking and to use her creativity to embellish the garments by embroidering a cuff or collar or fashioning a beautiful button.
Given that she draws so well, I wonder what moved her to make pictures from fabric. "When I used to paint, I sometimes found it difficult to get just the right colour. What I love about the fabrics is that they are a readymade palette of textures, colours and patterns. I can just dive in and find the right piece, the right colour, the shiny one or the bit with the right pattern. I still start with drawing, sketching my design onto calico. Then I carefully select pieces of fabric from my vast collection before sewing them in place and using stitches to add the finer details." In other words, it is the use of fabric and threads that brings the process to life for her; she uses them to paint.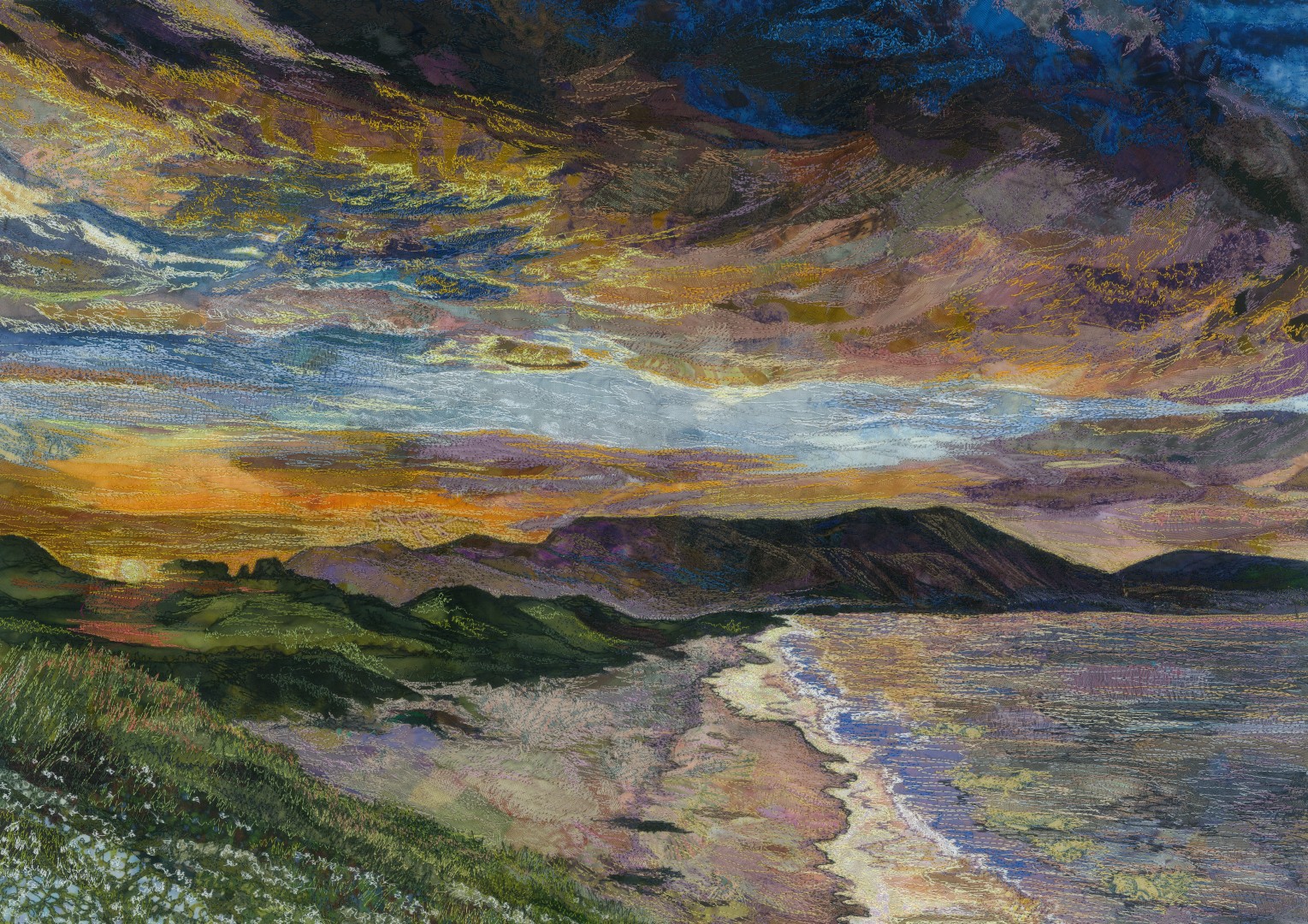 However, she soon discovered that her painstaking hand-stitched process was somewhat slow. If she wanted to attempt making any kind of living at her craft, then she realised things would have to speed up. She turned to her beloved Bernina sewing machine, given to her by her grandmother, and things clicked into place. "It was important to me that I maintained the high quality that I demand of myself. My process is still slow and labour intensive, but at least now it's quicker than when I was hand-stitching every piece." And she certainly seems to have hit on a technique that works, as no sooner has she completed a piece than it's spirited off to a gallery, exhibition or new home.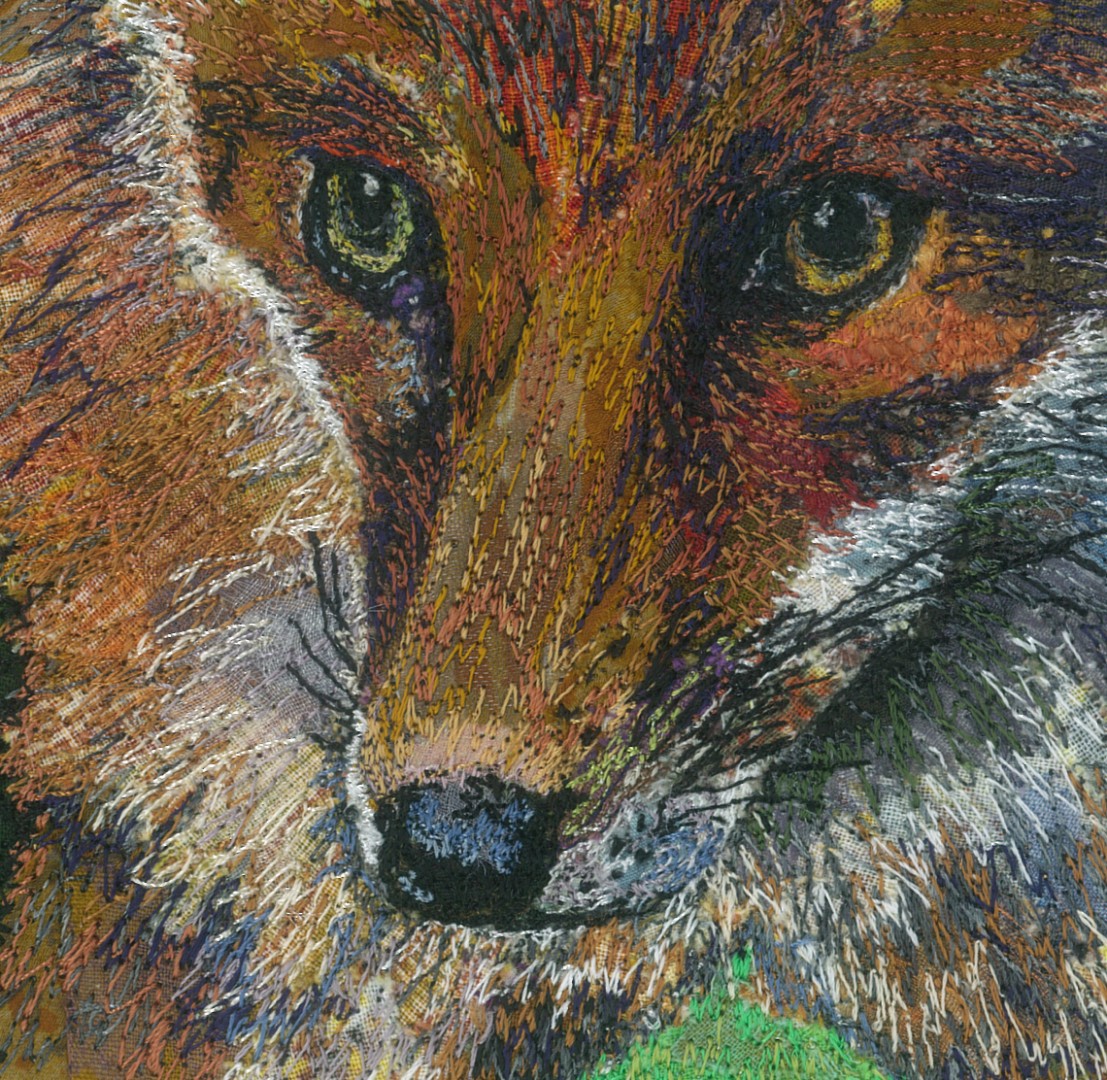 Picking up on the time she devotes to each piece, I venture that it must be difficult to part with them on completion. She admits it was hard when she started out, but now it is the norm to complete something and send it off to the framers knowing, that once complete, it will be straight off to a Gallery or a client. At least, she says, when work is hung in galleries she has the moment of satisfaction when the red dots appear on the pieces that have been sold. "There is also the pleasure to be had when people look at my work, in the belief that they're paintings, and then, on closer inspection, suddenly realise that they're actually embroidery."
Is she particularly inspired or influenced by other artists? She mentions Glynn Thomas and Neil Bousfield, renowned printmakers whose work, inspired by the landscapes of Norfolk and Suffolk, she also loves. She's intrigued by the movement and composition in their work. "With skies and water, those subjects give you a freedom to go with the flow and show expressive movement which I really love. You can have a lot of fun and let go a little bit."

Astonishingly, given how each piece is such a labour of love, there is not a single piece of Rachel's work on display in her house. Letting go of these lovingly-made works goes with the territory. As each piece takes such a long time to make and with a list of galleries and clients waiting for her work, she doesn't feel she has the luxury of just making for herself.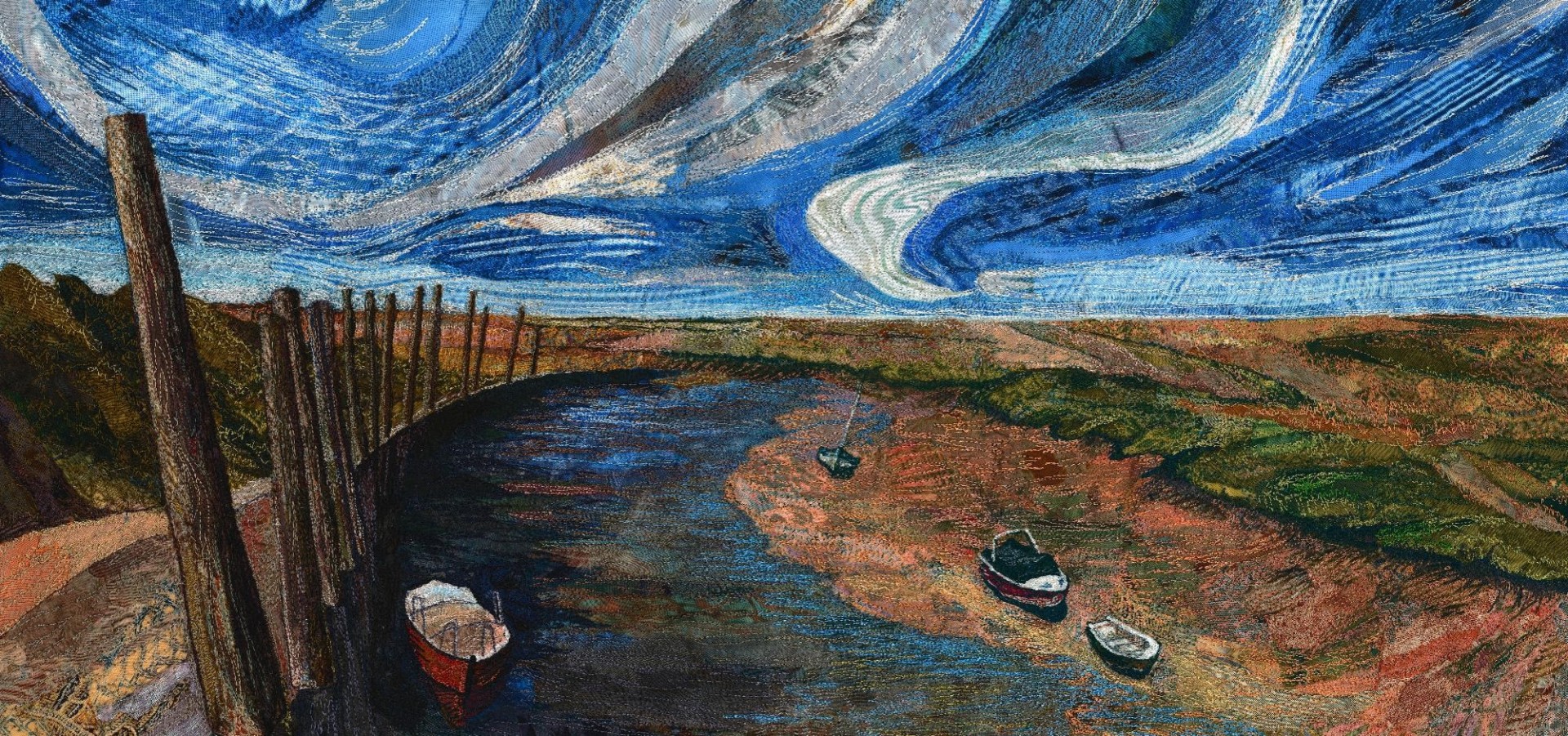 Are there pieces you wish you hadn't let go? "Yes. Years ago, I made a handstitched piece based on a little harbour town in Ireland. I finished it two days before it went off to an exhibition, so I didn't have time to live with and enjoy it. At the time I thought it was the best thing I'd ever done. Then it went straight off to the exhibition and I never saw it again. That did feel quite brutal – it felt as if it had been ripped away a bit too soon. But then eventually something else becomes the best thing you've ever done."