How did you meet? 
We met through an online dating website, realised we live really close and almost immediately met up after work one evening for a drink. It was like a feeling of "Finally! Thanks Universe" and we both felt an unshakable truth that we'd finally found our person.
 Who proposed, when and where?  
 I'm a travel writer and I run a camping and glamping blog, so we spend a lot of our time outdoors. One of our favourite places is a little campsite on the edge of a cliff overlooking the sea. You always see dolphins swimming by and the sunsets there are spectacular.
Each year summer we visit with a large group of friends, and just before sunset, I walked to the edge of the cliff to sit and watch it. Mark came with me, and as the sun dipped below the horizon and we got up to walk off, he got down on one knee and proposed. I said yes immediately, turned around and saw all of our friends clapping and cheering. They knew what was going to happen and it was so lovely that they got to share such a special moment for us.
Did you have a theme for the wedding and why? 
 Our wedding plans changed with only a few months left to go as a result of Covid. We wanted to keep our original date, but made the decision to cancel all of the bookings we'd made – we found it impossible to cut the guest list down to 30 people from our original 70. I mean, how do you decide between best friends who comes and who doesn't? Meeting Covid guidelines at the time would have been a nightmare and made the wedding feel like a compromise, but at the same time after so much prep time and effort, we didn't want to push it back for a year and have it continue to dominate our lives.
We instead made the decision to go ultra-small, and we invited just our immediate family. We changed our venue to a Thorpe glamping site in Oxfordshire, hired in caterers and focused on the purpose of the day: to become a married couple. Whilst celebrating with all of our friends would have been nice, you get to the point where you start making decisions to accommodate other people rather than making them for yourselves, but going ultra-small, we ended up making decisions for us which made the process so much easier. We both love bright colours, I love crafting and being creative and neither of us like traditional weddings which we find unimaginative and dull. We knew it had to have glitter, colour and things that would make us smile, and so I began planning my vision for the day.
My first purchase was a pair of Irregular Choice shoes – not from their wedding collection, but a pair of bright orange glitter shoes with hearts and rainbows all over them and they set the tone for the rest of the wedding, resulting in the craziest, most beautiful wedding cake we could ever have imagined, bright, bold and fun DIY decorations and outfit choices that shied away from traditional wedding attire.
Did you already know the style of dress you wanted?  
I knew exactly the sort of dress I wanted but wasn't willing to pay £2,000 for a dress I'd only wear for a few hours. I wouldn't usually spend that sort of money on a dress and doing it just for a wedding day didn't sit right with me. We love travel and preferred to spend the extra money on our honeymoon, so I looked for an off the peg dress and found the exact thing I'd envisaged from the start in my head, and for a fraction of the price of a wedding boutique.
  My dress came from Frock & Frill and the groom's outfit came from Atom Retro, Boohoo Man and Jeffrey West. I had two different pairs of shoes, which both came from Irregular choice and my bridal headband was custom made by ZedHead on Etsy.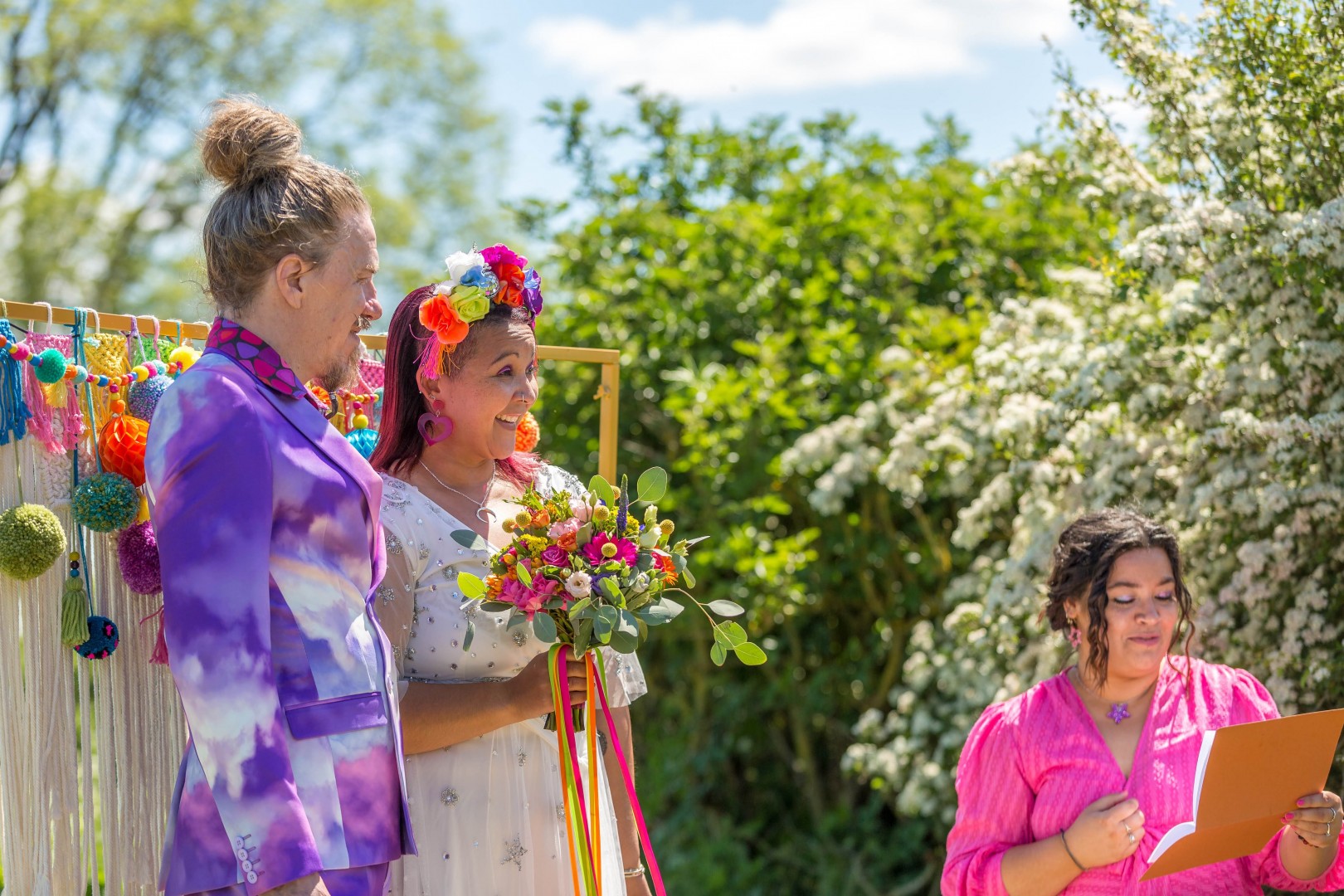 Did you have bridesmaids/attendants? 
 Due to Covid and going ultra-small, we chose not to have bridesmaids or groomsmen, but my grownup daughter did a reading and acted as celebrant for us which was lovely and it felt much more personal as a result.
Who created your floral arrangements and which flowers were used in your bouquets, buttonholes and decorations? 
I had a clear vision for my flowers and Flowers on the Cobbles in Sandbach, Cheshire, where I live were able to bring my vision to life and did an amazing job. I ended up having two different bridal bouquets, one for the legal bit the day before and then another bigger one for the following day with the celebrant and families, as well as buttonholes for the groom and both dads.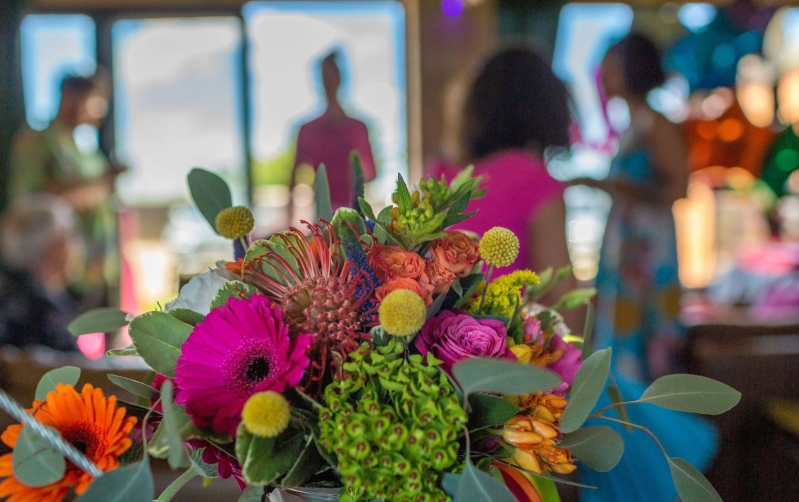 Tell us about your ceremony… 
On the Saturday we woke up at Glamping Thorpe to blazing sunshine, the day was red hot and not a cloud in the sky. Everything went perfectly and the ceremony was so personal and special. We were all sat outside, surrounded by the beautiful Oxfordshire countryside with my bright and colourful DIY pompom and macrame backdrop where we said our vows to each other, and exchanged rings.
It was truly magical.
Where was the venue for your wedding reception? 
 The ceremony and reception were both at Glamping Thorpe, we'd hired their beautiful barns nestled in the middle of stunning countryside. In the largest, we held our wedding breakfast and danced the night away.
The caterers that came in were excellent, the food was absolutely amazing and it was nice to have saved money on the bigger wedding we'd originally planned which allowed us to really push the boat out in terms of food and drink. We ended the night dancing under the stars with a campfire, the perfect end to the perfect day.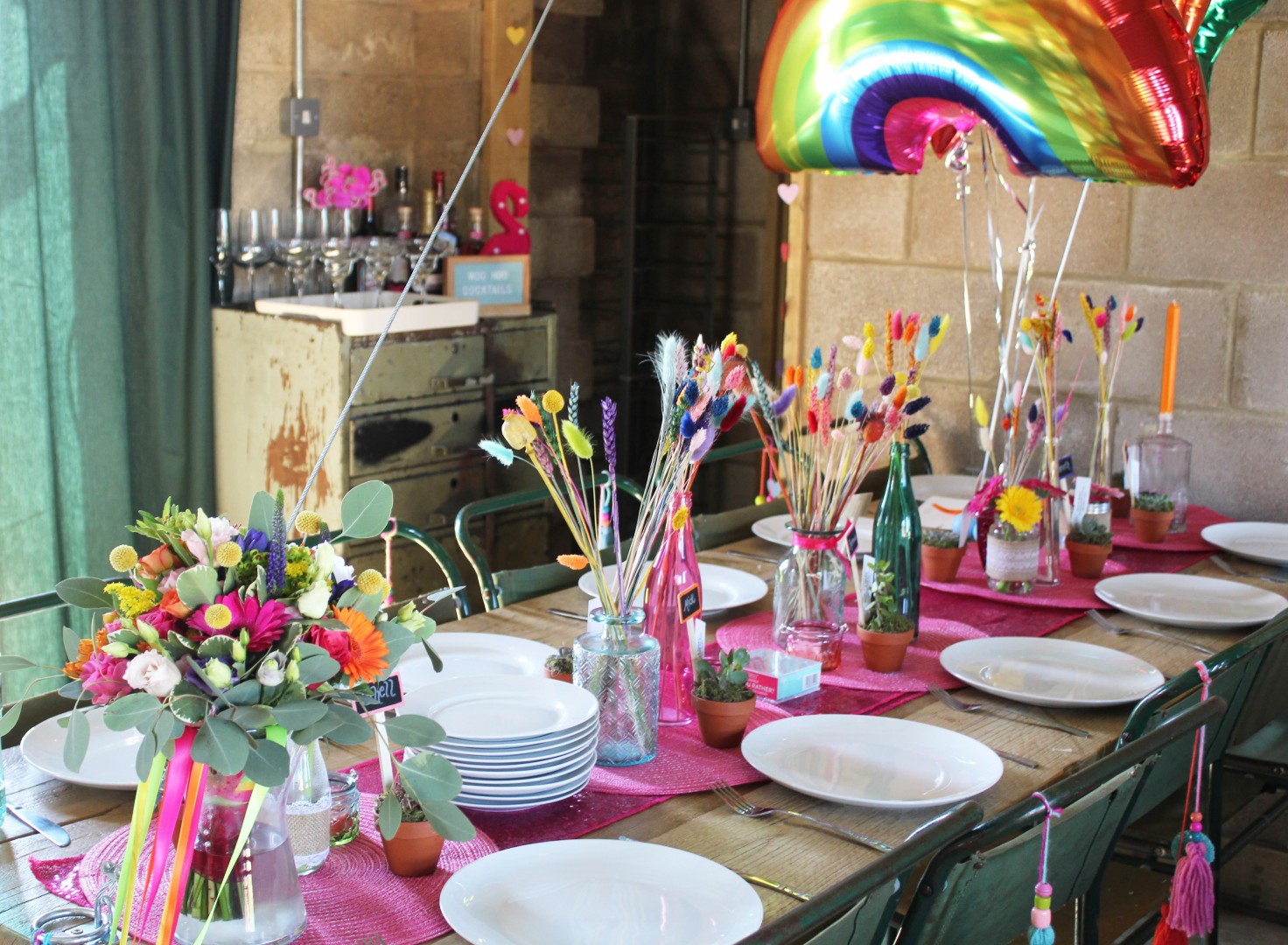 How was the venue decorated? 
I chose mini succulents in terracotta pots from The Gluttonous Gardener for each guest and I handmade name tags for each one. We also had bright dried flowers in mis-matched vintage vases on the table along with colourful candles in gin bottles, a bright pink sparkly table runner and handmade pompom, tassel and bead decorations hanging from the back of the vintage chairs.
I spent months painstakingly sourcing exactly what I wanted for the tables, and loved how it looked on the day.
How about the food? 
On arrival, guests were treated to a Cosmic Sweetshop, a gin-based cocktail created for our wedding day and some amazing canapes which included pickled wild mushroom bruschetta, black pepper roasted beef in a Yorkshire pudding and smoked mackerel rillettes. For the main meal we opted for plentiful Champagne and a sharing platter, which felt like a logical choice given the non-traditional, relaxed feel for the day.
This included a selection of fresh breads and olives followed by lime and coriander Thai grilled chicken breast; chilli, ginger, pickled cucumber and fennel salad; roasted, dill and lemon hot salmon; buttered new potatoes and aioli dip and crispy crab cakes and lots more.
Later there was a huge cheese board and we finally got to eat some of the fabulous Little Cherry Cake Company wedding cake. We're so please that we chose Dineindulge for our catering, as the chef was amazing and the food was delicious and plentiful!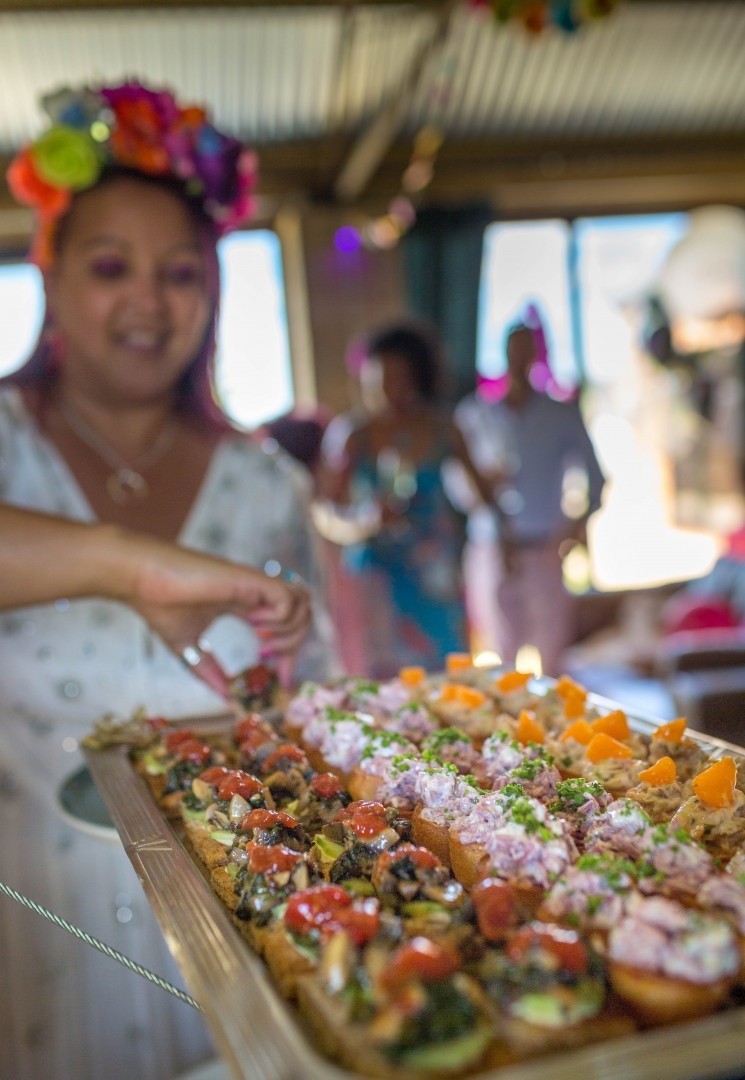 Tell us about your cake and who created it. 
Little Cherry Cake Company made our amazing cake, Tracey did such a great job of understanding our vision! I found them two years before at an alternative wedding fayre I visited. Given our initial plans for the wedding I'd decided I wouldn't be able to afford to splash out on a cake, but when our plans changed it meant there was much more budget available for things like cake, so I booked Tracey immediately and splashed out on exactly what we wanted. I made the dinosaur cake topper and the cake ended up looking even better than I'd imagined and tasted incredible, fitting our vibe perfectly.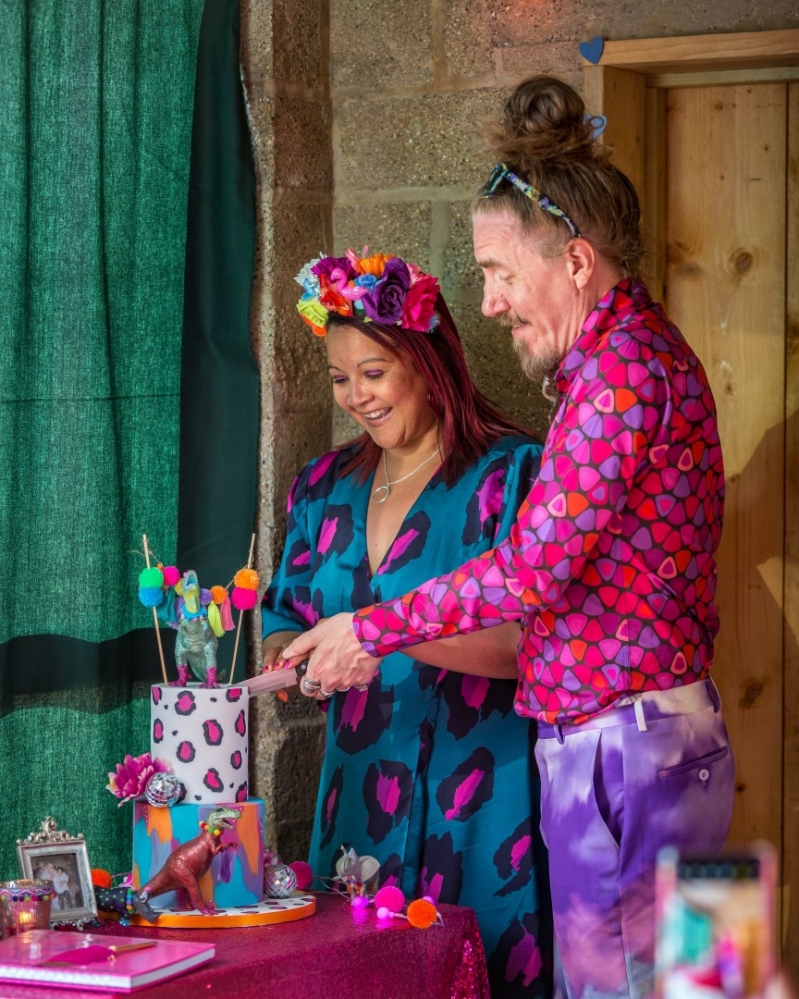 Describe your wedding favours
The wedding favours were succulents in terracotta pots. I wanted to choose something everyone would like and get pleasure from, and didn't want something throwaway, so a plant seemed like the perfect wedding favour.
What music and entertainment did you have, and what was your first dance? 
We didn't do a first dance and the party barn we hired had an incredible sound system and lighting rig, so after spending almost a year creating the perfect playlist full of Northern Soul, Motown, Old school dance, trance and acid house and a bit of 80's pop, Spotify was our DJ!
Was there a theme for your day, what inspired it? 
The vibe for the day was 'authentic happiness'. We don't believe in airs and graces, we just like things that make us smile and make us feel happy. We're not interested in keeping up appearances and trying to impress people.That's not what we wanted and anything but bright, colourful and crazy wouldn't have felt authentic. The word 'tacky' doesn't exist to us, though we know to traditionalists or those with huge budgets our colourful, DIY microwedding might bring that word to mind. We prefer to think of our taste as kitsch and happiness inducing. Glittery rainbows might be something that brings joy to a four year-old, but I think we do ourselves a great disservice when we start adhering to social norms and choose things that are classic and understated because we think we should, instead of listening to our hearts and doing whatever the hell we want because it makes us happy.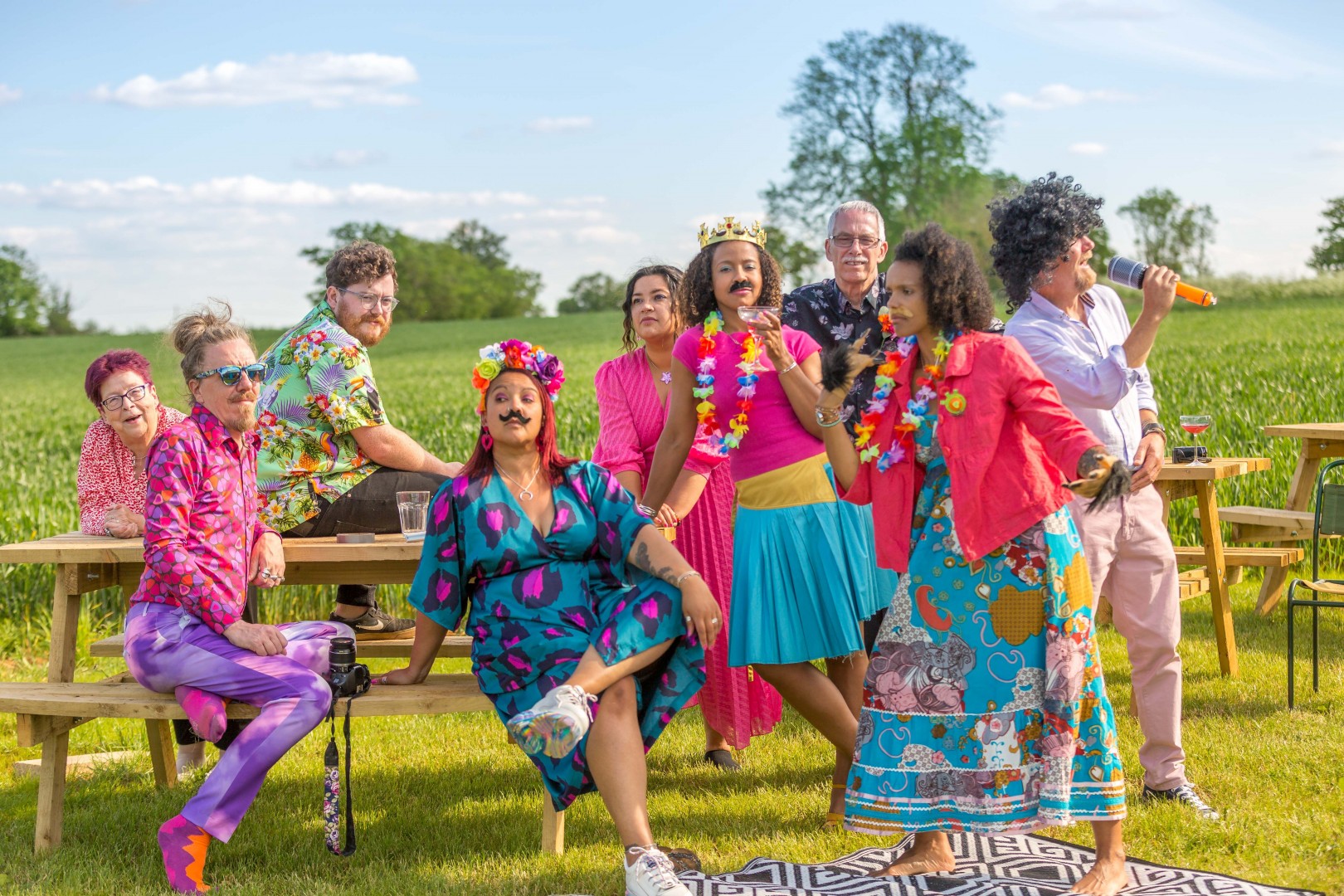 Where did you spend your wedding night and did you have a honeymoon? 
We spent that night in the barn and some family members stayed in adjoining barns, then we went off for a couple of nights to an amazing four-poster bridal suite.
We delayed our honeymoon by a full year due to Covid and have recently returned from the Maldives where we had the most incredible villa with a huge private pool, our own stretch of pristine white sand beach and a coral reef to explore just steps away.
We really did push the boat out and upgraded absolutely everything for the honeymoon to make it super special and it was everything we could have imagined and more.
Do you have any budgetary or other advice for other brides and grooms-to-be? 
My main tip is not to conform. Who says a wedding has to be done the traditional way? Listen to your heart when making decisions and make decisions for you, not decisions to impress people. Personally, I think the sums of money some people spend on their wedding day can be obscene, so again, is it really worth spending so much money when really your wedding day is all about the two of you getting married.
Finally, the bigger the wedding the more stressful the planning is likely to be (unless you're lucky enough to have a wedding coordinator doing it all for you). Small doesn't mean you won't still have an incredible day but it does mean you'll have more budget available for the things that really matter.
If we could do it all again, we'd…
  If we could do it all again the only thing I'd change is I'd have planned for a micro wedding right from the start. As it was I spent over a year making countless decisions, agonising over the tiniest of things, only for Covid to change everything and it made me realise just how much of our lives get dedicated to wedding planning and the run up to the day. Our wedding was so very relaxed and such a happy day. It gave us ample time to spend time with the people we care about most and we had the time and space to fully relax and enjoy it ourselves, too.
Suppliers and Links