James and Katie met for the first time at the ages of just 13 and 14, when – thanks to the t-shirts they were wearing – they realised they were into the same band. "Although we only had each other's names and nothing else after this encounter," they explain, "we met by chance once again in Oxford walking through the same door at the Clarendon Centre and after that we became best friends until New Years Day 2009, when we became an item." Eleven years on, the couple have tied the knot at Saorsa 1875 – the UK's first boutique vegan hotel!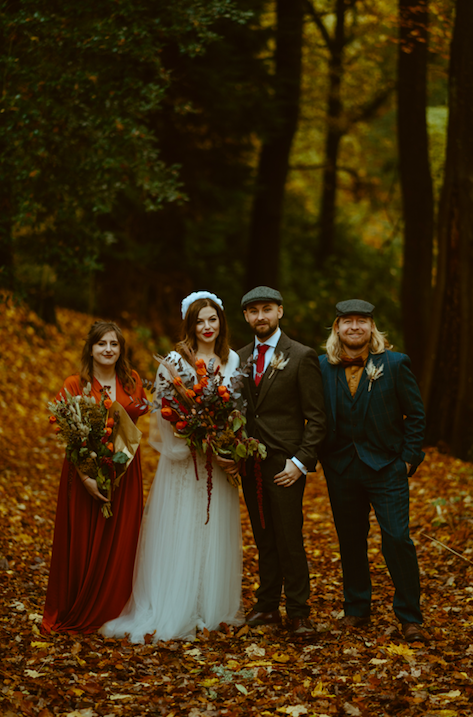 Who proposed, when and where?
James proposed on 23 December; we consider this the first part of our anniversary as this is the day we realised we were becoming romantically involved. We went for a long walk with a pack of glass bottled Coca Cola and cheap sweets we picked up in a closing down Woolworths. We do this exact same walk every year as part of a Christmas tradition, and it's one of our favourite days of the year. The end destination is an old iron bench up a set of stairs, at the edge of a village, next to this stream with a walkway down the middle – which is where James went down on one knee (into mud) and proposed to me. Our friends had set up candles, a blanket and a bottle of fizz for our arrival.
Did you have a theme for the wedding?
We got married on Halloween, while this was definitely an influence, we wanted it to be more autumnal with some subtle hints to the spooky day. As much as we love all things spooky, we wanted our pictures and memories to be completely timeless. Due to COVID though, we did mute the theme quite dramatically, as we weren't sure if Halloween was going to be our wedding day or not, and we didn't want to jinx anything by committing fully to the theme.
Did you always know the style of outfits you wanted?
Originally, I wanted something vintage and velvet but I decided to go for something that would be flattering no matter what, yet was still a bit different and dramatic. I therefore went for a dress with off the shoulder, statement blouson sleeves, with hidden lace under wrapped around tulle – I was thinking Medieval, runaway princess vibes which fitted the wedding. James wanted to always have a Tweed suit because we were going to get married in colder weather but then it was a perfect fit for choosing Scotland too, he went for a dark palette that reflected the moody time of year and the landscape.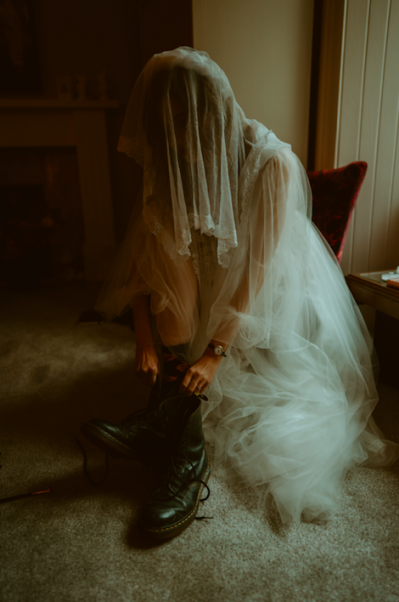 Did you have bridesmaids/attendants?
We only had two people with us – our witnesses – who were already a bridesmaid and groomsman at our original wedding, our beloved best friends, James and Jodie who have been our friends since school and even our neighbours at one point.
Who created your floral arrangements and which flowers were used in your bouquets, buttonholes and decorations?
We purchased a few dried flowers and buttonholes from independents through Etsy and also a bunch from Waitrose florists of all places! Jodie – my bridesmaid – arranged the flowers beautifully for us the night before the wedding. We didn't realise how much we had until we were holding them the day of the wedding; the bouquets were half the size of us!
Tell us about your ceremony.
In Scotland you can marry pretty much anywhere you want to, but we did decide to stay in the grounds of the hotel for this part as it was stunning and had good tree coverage (ideal for Scottish weather). We planned the script with our registrar in the weeks before the wedding; we wanted it simple but meaningful with a traditional Scottish hand fasting and a Celtic blessing. Selected family and friends were also on a video call to witness the ceremony, which was very special to us.
How did you decorate?
We purchased at the very last minute some pumpkins and squashes, and used left over fresh flowers from the bouquets dotted around and had some candles to set the atmosphere – it was scaled back from the plans I had for our 'big' wedding but it ended up being just perfect.
What menu or type of wedding breakfast did you serve to your guests?
The chef at Saorsa 1875 – Debbie – designs the menu for the evening that day and uses local and seasonal produce, so we didn't know what we were eating until we sat down, it was a 5-course tasting menu with the main course featuring a harlequin squash to fit the Halloween theme. Absolutely the best food we've ever eaten.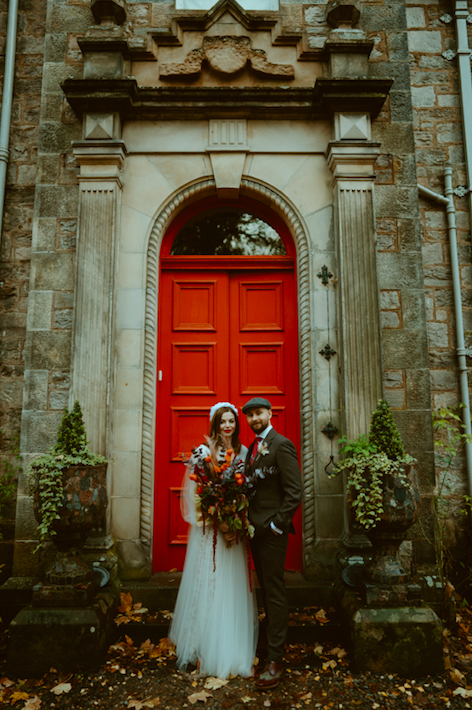 Tell us about your cake and who created it.
Debbie the chef at Saorsa 1875 actually made the cake, it was a traditional sponge cake with a vanilla icing topped with lots of fresh fruit and decorative flowers.
What music and entertainment did you have, and what was your first dance?
We used the yurt at the hotel for after dinner where we had a wood burning stove and played some music, our first dance was very traditional because it was mainly jumping about with full stomachs to AFI's cover of The Misfit's song – Halloween.
Do you have any budget or top tips or advice for other brides and grooms-to-be?
Weddings nowadays are likely to be different from what they use to be, and in the end, the big things don't matter – the getting married and having fun does, so focus on those elements. Also, look for deals and sales, sign up to newsletters for discount codes, look at second-hand sites – my wedding shoes were £105RRP but I picked them up as worn once at £35 on Depop. If you have friends or family with certain skills they may be able to help with hair or make-up, taking up trousers etc.
Did you have any special touches or moments that you'd like to share with us?
We realised there was a Greggs in Pitlochry – so we absolutely had to get a vegan sausage roll, because that's how we roll! I was also wearing my Doc Martens under my wedding dress (for outside) which is what I was wearing the day we became a couple.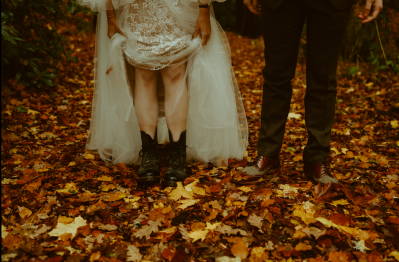 If we could do it all again, we'd…
Well, we wouldn't have had COVID happen… and we'll always wonder what our first planned wedding would have been like. However we're happy we did it in a non-conventional way that alleviated the worries of if our wedding plans would keep having to change, we wanted as little stress as possible as enjoying the day was most important, which we achieved and wouldn't change.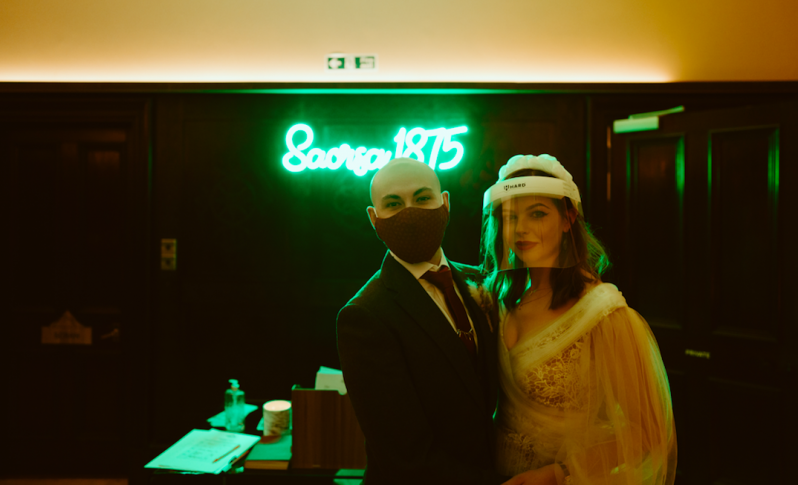 Where did you go for your honeymoon? Or what do you have planned for a future honeymoon?
We rented a campervan from Lovely Campervans to do the NC500 – a tour of the highlands of Scotland – after the wedding. However as of Halloween a second lockdown for England was announced for 5 November cutting into our honeymoon, although we could have stayed longer it felt unfair on the Scottish people to see us holidaying, especially if they thought we should be at home. We have plans to go for a very warm, second honeymoon when COVID is under control and it is much safer to travel once again.
What was the hardest part of tailoring your day to the restrictions?
Well, the hardest decision was pulling the plug on our original wedding – one we had carefully curated and planned for 18 months. We wanted the only restriction to be that weddings were cancelled due to a lockdown, for instance we would have had to cut guests from 30 to 15 if we had had a small wedding – we didn't want to have to make those decisions so removing them altogether felt easier and safer for everyone.
Did you feel that the almost enforced intimacy added to the romance?
Yes, definitely, as a result of an elopement it meant we got to spend most the day together whereas a normal wedding would be catching up with lots of guests!
Were you tempted to cancel and wait until things were different?
At first, but quite morbidly we decided we'd rather not wait to get married as this year has been completely like no other year and you never know what's around the corner, and we'd rather be husband and wife.
Would you have done things differently in a covid free situation?
Our original wedding would have had 60-70 guests at, we were going to play horror movies in the theatre at our original wedding, have a cocktail bar in the crypt there and had the most insane decorations I was going to forage. But we are one day going to have a celebration of our wedding with these guests when it is safe to do so – maybe even for our first anniversary.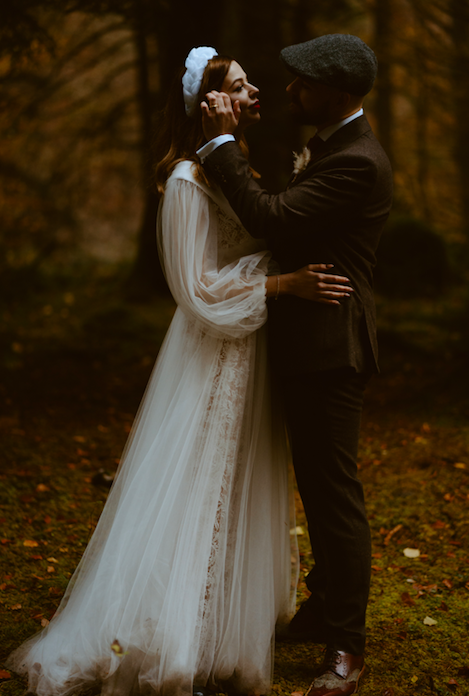 Photography
Jen Marino
Hotel
Saorsa 1875
Dried Flowers
WildBlathanna
Waitrose Florist

Button Holes
Trug and Trowel

Bridal Dress
Tadashi Shoj
Groom Suit
Moss Bros
Campervan
Lovely Camper Vans