St Nicholas Church, and then at The Castle Barn, Wasing Park
23 April 2023
How did you meet?
We met in the lively atmosphere of the Adventure Bar in Clapham Junction, I stumbled (quite literally) upon Peter, and the rest was history. From the minute we met, a love story began, filled with shared adventures and cherished moments.
Who proposed and where?
In a heart-warming gesture that melted my heart, my husband, Peter, chose to propose at my parents' house. It was at the very dining table where my dad had proposed to my mum 35 years ago, creating a beautiful parallel to my parent's love story.
Did you have a theme for the wedding?
We wanted our wedding theme to radiate timeless charm and sophistication with a navy and gold colour palette. Inspired by my mother's favourite colour, navy took centre stage, complemented by elegant touches of gold throughout our special day.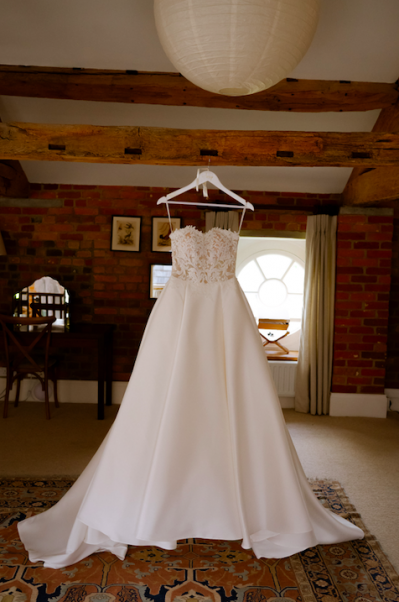 Where did you find your chosen outfits?
In our search for the perfect wedding attire, we discovered two remarkable companies who helped us fulfil our dreams. The Bridal Room in Reigate introduced me to the Essence of Australia collection, where I found my dream dress and my mother's veil was my 'something borrowed' for the day. Meanwhile Marc Darcy at Suits Direct provided stunning suits for my husband and his groomsmen. With their expertise and assistance throughout, both companies made our wedding attire journey a seamless experience.
Who created your floral arrangements and which flowers were used?
Our floral arrangements were created by Longacres Nursery, Bagshot. The flowers which made up my bouquet – and the base for all other arrangements at the wedding – included white roses, white veronica, gypsophilia, white hypericum, blue thistle and eucalyptus cinerea.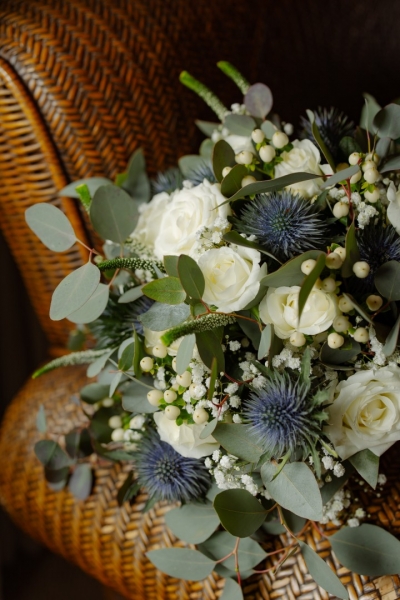 Tell us about your ceremony.
In the picturesque setting of Wasing Park St, Nicholas Church, we gathered in a traditional ceremony surrounded by stunning architecture. The idyllic surroundings of Wasing Park added a touch of enchantment to our special day, making it unforgettable. We were extremely lucky with the weather on 23 April as flood warnings were issued the night before. When we left the church after the ceremony, we were greeted with clear blue skies – a gift from Peter's late father.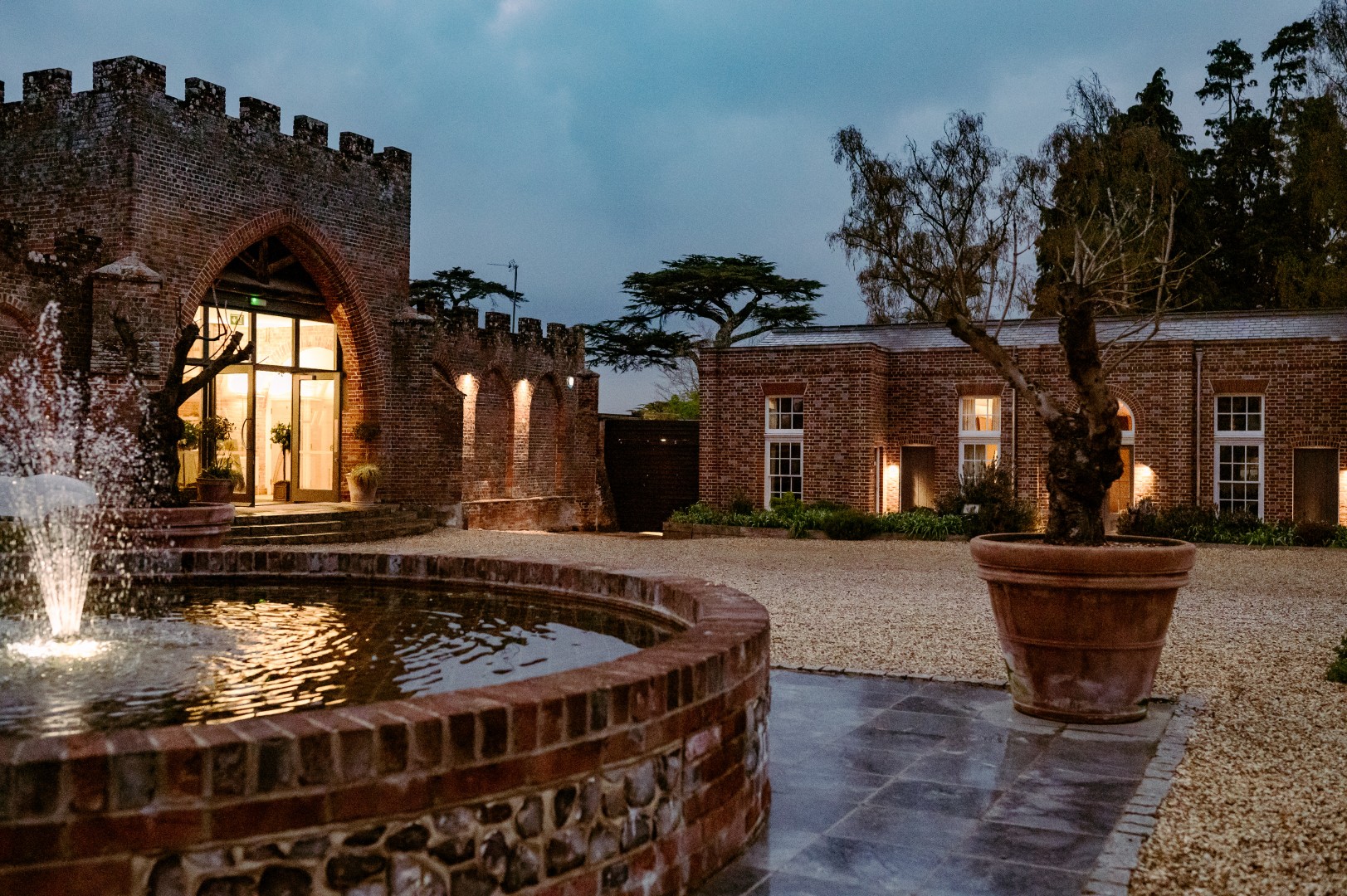 And the reception?
We held our wedding reception in the stunning Castle Barn at Wasing Park. The team's effort to bring our vision to life and have the day run smoothly did not go unnoticed. We envisioned a captivating ambience for our wedding reception, with table centerpieces that would provide elegance.
What menu or type of wedding breakfast did you serve to your guests?
We selected Wasing's Granary menu; a Duck starter, Chicken, Dauphinoise Potatoes and Vegetables for main and a Passionfuit Cheescake for dessert. We also offered pizzas straight from the pizza oven on the terrace. All of our guests were extremely complimentary about the food.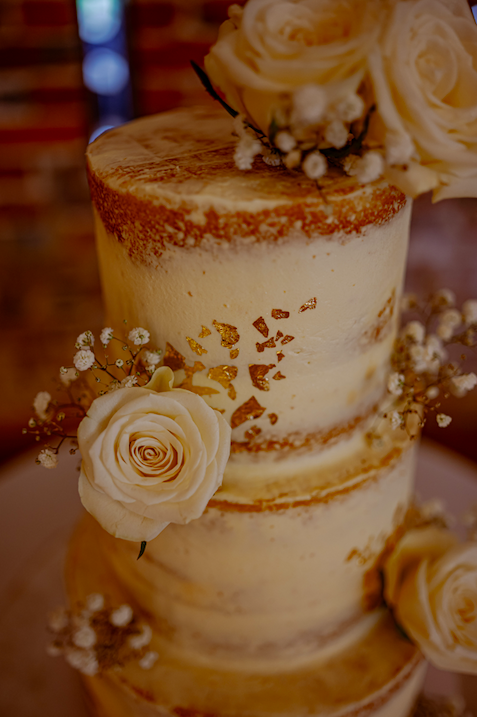 Tell us about your cake and who created it.
Our cake was made by Dale_Ightful_Bakes (Instagram), truly competitive prices and flavours to die for. The presentation of the cake was just amazing and truly exceeded all expectations.
Did you have any wedding favours?
We had two variations; little glass tubes with smarties and a personalized name tag, and navy flower pots with personalised seed packets, name tags and bubbles.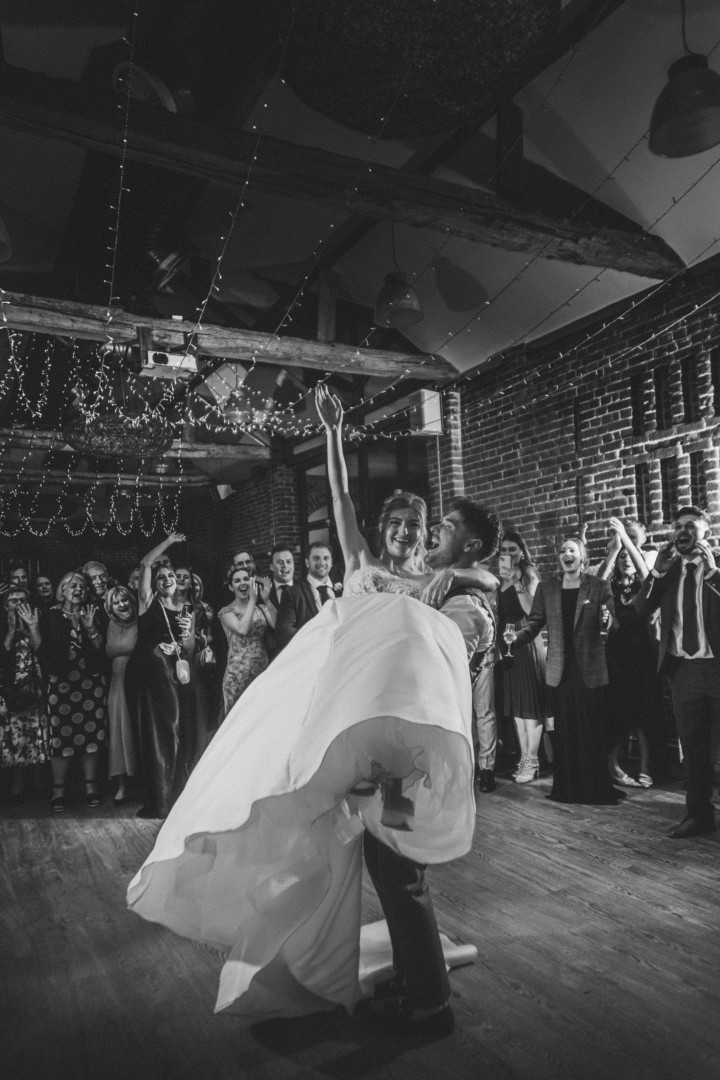 What music and entertainment did you have – and what was your first dance?
We had an amazing swing singer (Ray Lowe) for our canapes and reception. Leading into the evening we found a three-man band via Entertainment Nation called Knightly – they were incredible and made the night so much fun! The band played our first dance to Hungry Eyes – a song which played at our engagement and ironically at the birth of our son Theodore.
Do you have any budget or top tips or advice for other brides and grooms-to-be?
We made a conscious effort to tackle numerous do-it-yourself (DIY) projects, resulting in substantial savings. A special shout-out goes to my father, who skillfully made several decorations for us, such as a confetti and sweets cart, a welcoming palette, and a timing palette. We were lucky enough to find a photographer (Tegan McCann Photography) who worked tirelessly throughout the day, capturing all our favourite moments. I really didn't realise until during and after the wedding how important this was!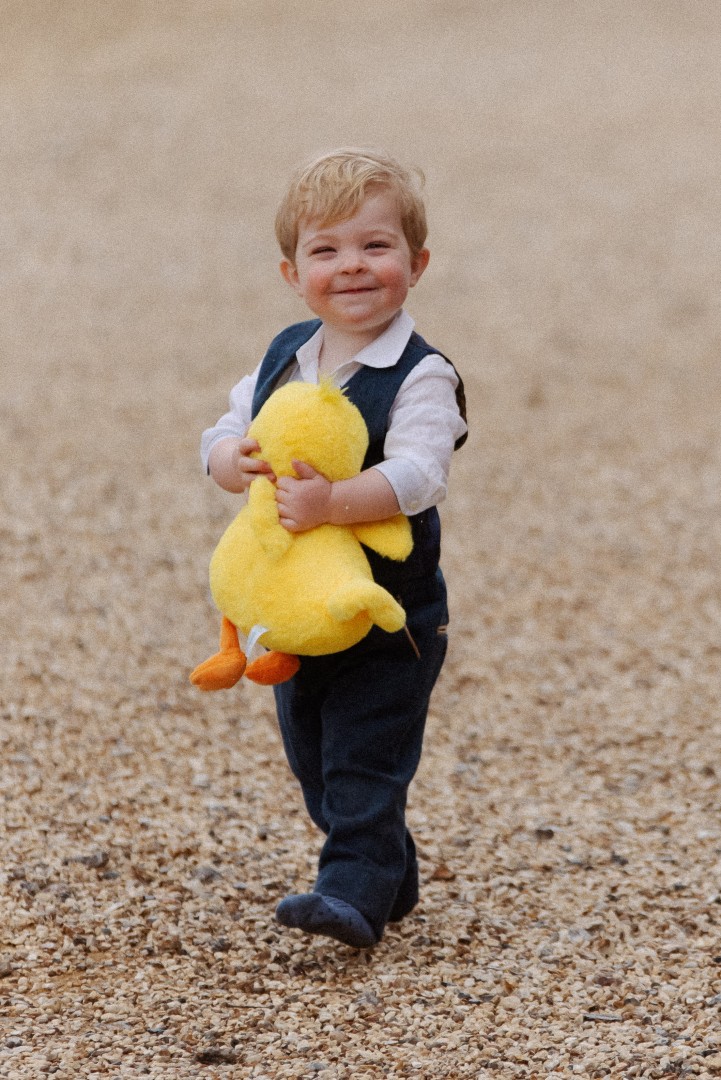 Did you have any special touches you'd like to share with us?
We added a sentimental touch to our celebration by incorporating dried confetti from previous bouquets and flowers that were gifted to us throughout the year. The inclusion of my dad and son wearing the same suit as my husband felt so special; three generations coming together in a meaningful way.
Where did you spend your wedding night?
In the Bridal Suite at Wasing Park. We arrived back in the room around 1am to two pizzas which were greatly appreciated and a lovely surprise.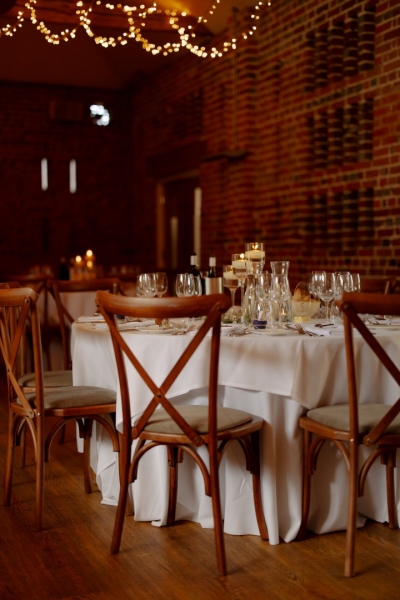 Where did you go for your honeymoon?
We spent 10 nights in the Dominican Republic, Dreams Flora for our honeymoon. It was the wind-down time we needed after all the planning.
If we could do it all again, we'd…
We honestly wouldn't change a thing, from classic vows to timeless décor, our day was full of love. Surrounded by generations of family and friends, we created lasting memories. It was an incredible day we will always treasure. In retrospect, the emotions leading up to the wedding could have been different, but we realised that all the stress and fuss over the finer details were merely minor elements compared to the sheer joy of our wonderful day.
Suppliers: