Having first met as University of Birmingham students in 2013, Callum and Chris tied the knot in September in central Oxford, before their reception at The Perch, Binsey. "We originally planned to get married in May 2020," they tell us. "However, COVID put a stop to this. We unfortunately could not come to an agreement with the original venue for a new date and so cancelled our wedding with them. We went about finding another venue and came across Oxford Town Hall. As soon as we saw the photos of the assembly room, we knew we had to get married there. The staff were so kind and the venue so beautiful, we're so glad we did. (A massive thank you to Susan who helped us make our ceremony perfect in light of the restrictions.) After we decided on Oxford Town Hall, we looked at The Perch. It has always been our favourite pub and the chance to celebrate after our wedding in its beautiful marquee was a dream come true. So, whilst there was a big part of us that felt bad not being able to invite all of our original guests – we were due to get married at a country club with 80+ people attending – we knew that we didn't want to cancel and are so glad we didn't!" Here, they take us from proposal to perfect day…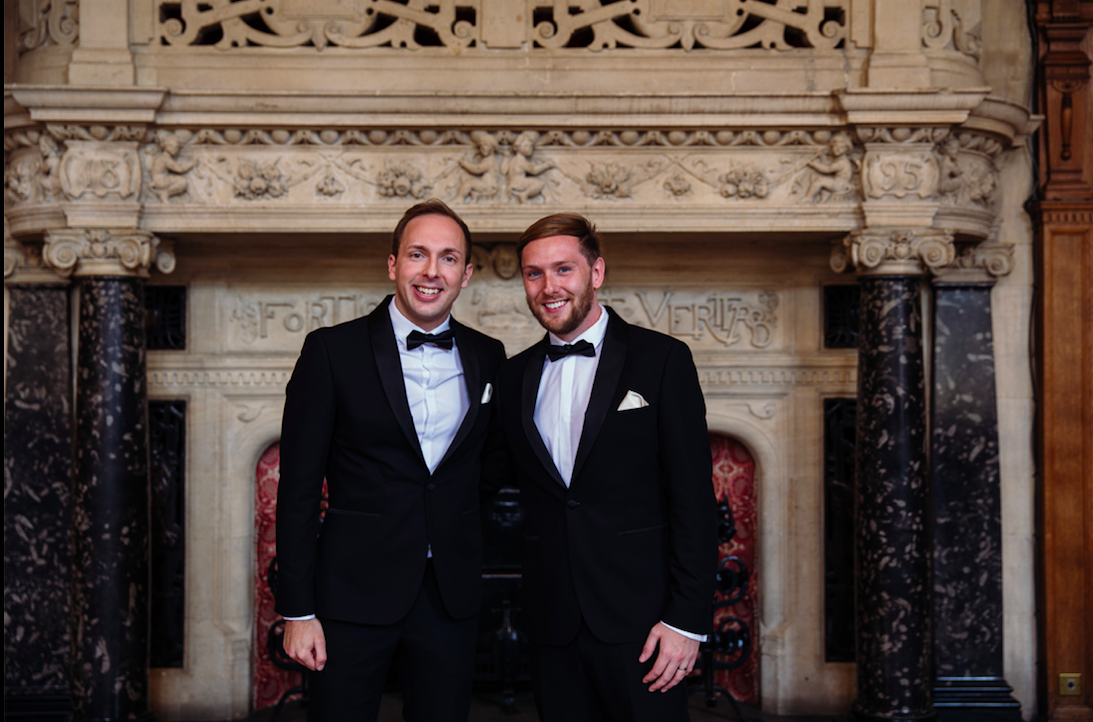 Who proposed, when and where?
Chris proposed in London on our third anniversary. Even though we talked very openly about getting married soon, it was still a complete surprise. After a lovely meal we took a strong along the River Thames with a beautifully lit background. It was perfect.
Did you have a theme for the wedding?
No theme really, just an intimidate and cozy wedding with the ones we loved. At a "traditional wedding" the bride would usually wear an ivory dress. We decided as there was no bride and no white/ivory dress, we'd ask the bridesmaids to wear white and the flowers/decorations would be white. It went well with our black tuxedos and the marquee at The Perch.
Did you always know the style of outfit you wanted?
We always liked the idea of going in tuxedos. We tried to think about a style we'd never worn before, but also classy and dapper. A black tux seemed a great fit. We just both bought a suit from Moss Bros. Oxford – really lovely staff and lots of different styles and fits to choose from.
Who were your bridesmaids?
We originally had four for our larger wedding (Chris' two sisters, my sister and my best friend). For the scaled down wedding we couldn't officially have bridesmaids walk down the aisle, but they all still wanted to wear the bridesmaids' dresses to the smaller day – a lovely touch. (These dresses were bought from Chi Chi London, and the shoes from John Lewis.)
Who created your floral arrangements and which flowers were used in your bouquets, buttonholes, and decorations?
We bought artificial flowers from The Range as we were trying to keep costs down, which looked lovely on the day. In our original wedding day, we had booked a flower wall with Blooming Fabulous Flowers, when we had to rearrange the flower wall just felt like such a beautiful centrepiece to have at our reception. Louise and her team were so amazing and accommodating, we couldn't recommend her enough, she really went above and beyond to help us with every query we had. Plus, the flower wall was beautiful and went with our theme.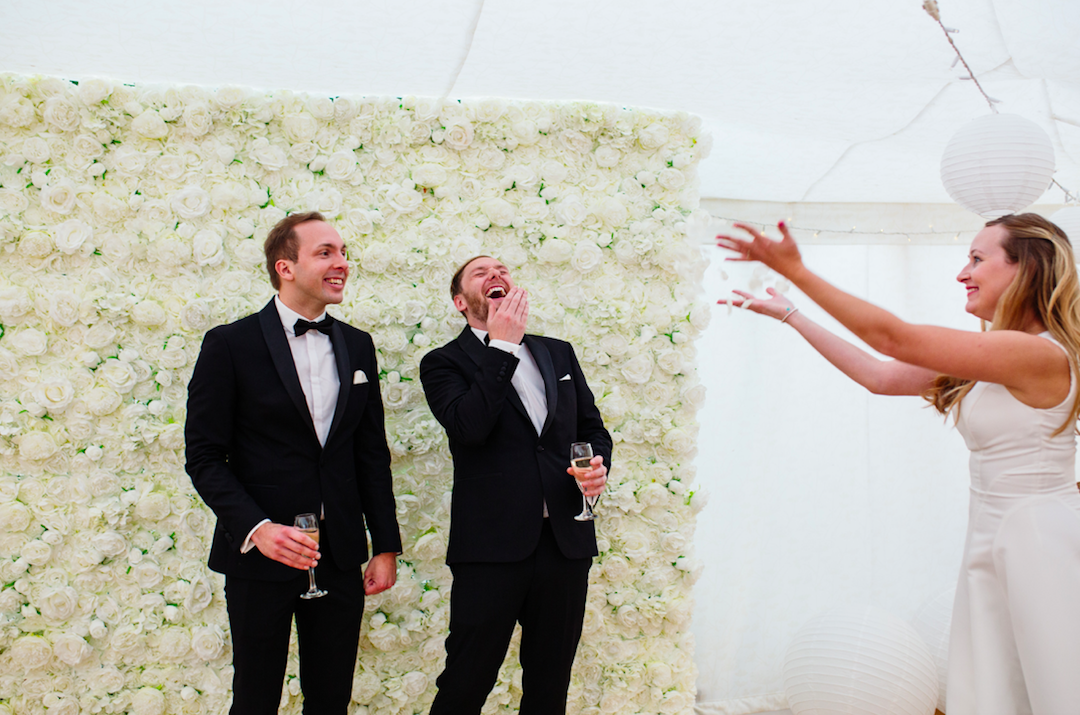 Tell us about your ceremony.
Our wedding ceremony was at Oxford Town Hall. We both work in Oxford and had never been or seen inside the venue before. When we saw the pictures online it was so grand, historic, and just a beautiful venue. The ceremony room was like something out of Downton Abbey and to have the venue to ourselves felt so special. We got some stunning photography from V & H Photography at the venue, and then had a stroll round Oxford to some landmark locations. There really isn't a better city in which to have wedding photos and Vicki and Helen were perfect to capture those moments that will last a lifetime.
Even though everyone had to wear masks during the ceremony, this didn't take away from the ceremony and day – you are so used to seeing people wear them now. It was nice to have our nearest and dearest celebrate with us whilst also keeping everyone safe. Worth it!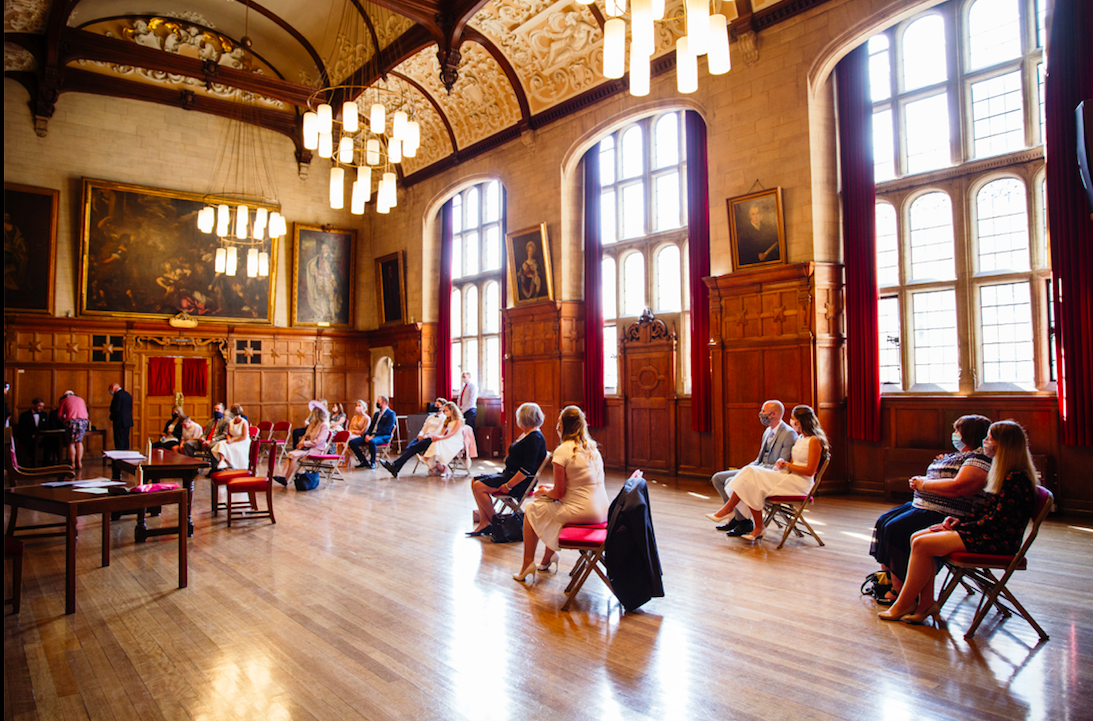 Tell us about your reception.
A 10-minute drive from the Town Hall, The Perch was ideal for all guests. It really is a hidden gem. Often, we would go on walks to Port Meadow and The Perch seemed like the natural location for us. (Again, V & H Photography took such a variety of photos here.) It has a gorgeous and cozy marquee with a private garden for our guests, and if they were bored of us, the stunning pub garden was always there! The events manager, Emily was incredible. She and her team were perfect and knew all the rules and regulations, whilst also wanting to make our day as special as they could. Everyone was blown away by the hospitality on show. Again, they all went above and beyond, and we cannot praise them enough.
How did you decorate your reception?
We chose a lot of floral decorations and white Chinese lanterns for the roof. Again, The Perch were great in helping decorate for us (big thank you to Will who hung some of the lanterns at the highest points of the marquee). The white flowers and cozy setting of the pub made it all feel very comfortable, intimate and classy all at the same time.
What menu did you serve?
For starters we had homemade rustic bread with butters and dips, all the guests were clamoring for more hot bread, it was gorgeous. For our mains, we had chicken supreme, buttered cabbage, wild mushrooms, cider cream sauces and crispy Parmentier potatoes. For dessert we had a white chocolate Eton mess (we'd be lying if we said Chris didn't have several of these).
Tell us about your cake.
Our cake was created by The Cake Shop, Oxford. They were so accommodating with delivery and produced the most amazing cake we've ever had. Not only did it look gorgeous, but it tasted it as well. We got a two-tier semi-naked cake vanilla sponge, with one tier of vanilla buttercream and lemon curd and another with strawberry jam. The Perch very kindly decorated the rest of the cake in strawberries. It all went very quickly! We were lucky enough to nab some to take home for the week after the wedding. It's our 30th birthday next year, so surely, we can order another tiered cake from them? Any excuse really!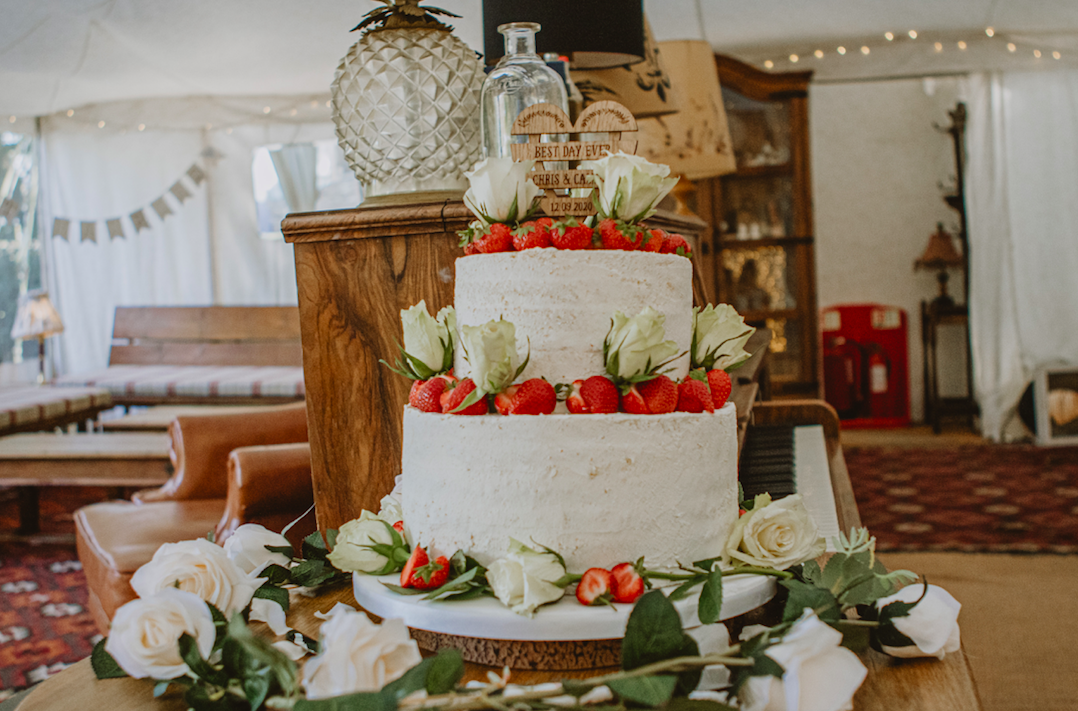 What music and entertainment did you have, and what was your first dance?
After our wedding, we made our way over to The Perch. We had the most beautiful sit-down meal in the marquee with our closest family and friends. Throughout, we had relaxing acoustic music playing in the background. Our guests really loved it, and it gave the meal such a relaxed and intimate feel. The Perch have a great sound system, so we just hooked up our laptop and played our playlists. Whilst we couldn't have a first dance, we made sure our first dance song was included in the music we had playing through dinner. James Arthur's 'Falling Like The Stars' (acoustic).
Do you have any top tips for other brides- and grooms-to-be?
When we knew our original wedding was no longer going to be taking place, we had to go back to the drawing board. By having a smaller wedding, you naturally save money. However, we decided to set a much smaller budget than we had originally. This allowed us to focus on what really mattered. We decided early on that we didn't want to spend too much on flowers – this surprisingly saved us a lot of money and we were really happy with the end result. Also, by having a smaller intimate wedding, we opted out from having a DJ, and as dancing was not permitted, this was another great chance to cut costs.
Photography was always high up on the list for our day. Even when we reevaluated our priorities, a great photographer was always a must, and we ended up with two of the most incredible photographers. We implore everyone to invest in a good photographer for the day. The photos will last forever.
Where did you spend your wedding night?
We stayed at a beautiful cottage in the Cotswolds, booked through Airbnb.
What do you have planned for a honeymoon?
Once all this craziness is over, we would love to go to Japan.
If we could do it all again, we'd…
Whilst it might sound cliché, we wouldn't change a thing. Whilst it was not the wedding we once thought we'd be having, it turned out to be our dream wedding and what we wanted all along. For anyone worried about a smaller wedding not feeling like the real thing, we can categorically say that it does.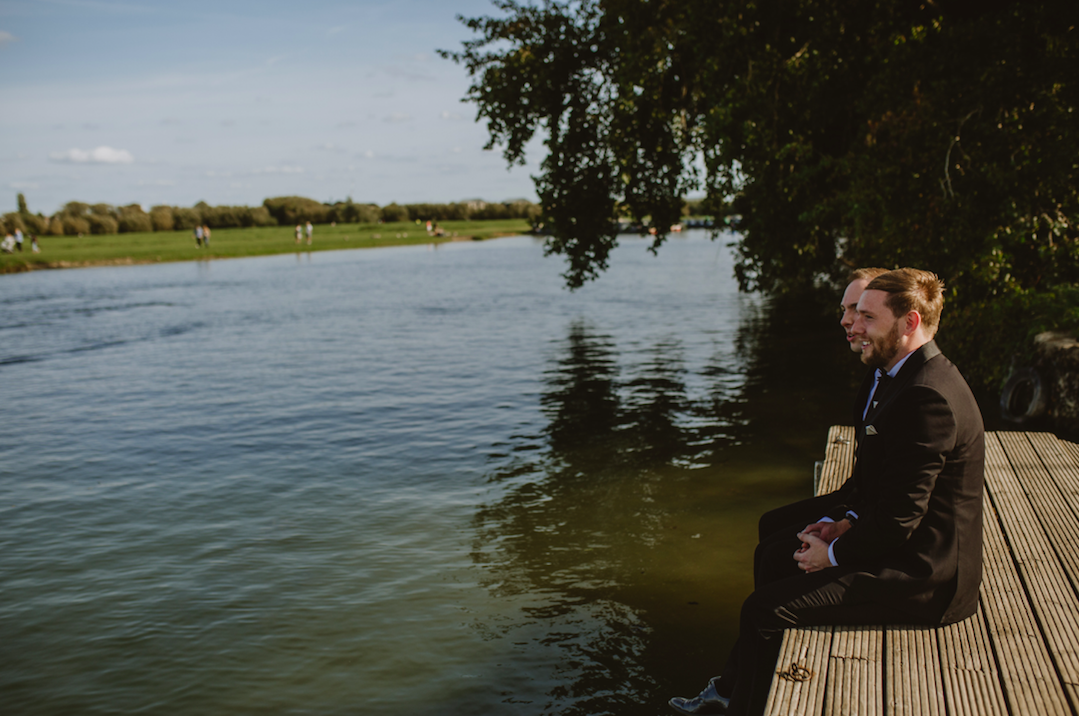 Venue
Oxford Town Hall
Reception and meal
The Perch, Oxford
Tuxedo, shoes, pocket squares
Moss Bros., Oxford
Bridesmaids' dresses
Chi Chi London
Bridesmaids' shoes
John Lewis
Flowers
The Range
Blooming Fabulous Flowers
bloomingfabulousflowers.co.uk/#services
Cake
The Cake Shop
Photography
V&H Photography