After hearing great things, we had high expectations for Oxford's brand-new Thai restaurant, Busaba, which has this year emerged slap bang in the middle of George Street.
Our booking was quite early on a Thursday evening, so the large and airy space was understandably quiet and calm upon our arrival, but certainly picked up as the evening went on. After learning that Busaba was founded by Alan Yau – the mind behind Wagamama – I half expected to be met with the long, casual dining benches, but was relieved to be shown to a much more private and intimate, individual table. The combination of this, the dimmed lights, authentic décor and heady incense burning away in the background, amounted to a romantic setting; perfect to take a date.
The service was consistently quick and attentive, and we felt really looked after all night. At some points it was apparent that the staff were perhaps still finding their feet following the recent opening; this was maybe why we were served the wrong drink twice in one evening, but these kinds of mishaps don't really matter when the staff are warm and friendly – even less when they let you keep both drinks.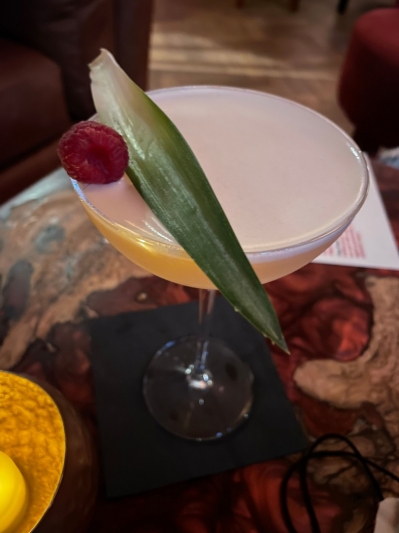 The menu was pretty vast, so we were grateful for the help offered in navigating our way around it. Our server knew it like the back of his hand, eager to provide his recommendations according to our taste or appetite. I have to say, too, that there was a real effort made to ensure dietary requirements were catered for to the same standard as all the other dishes (as opposed to offering one token option) ensuring unusally minimal FOMO (fear of missing out) for vegetarians or vegans.
The menu also highlighted Busaba's signature dishes to provide a little more guidance, which we followed in our choice of the ginger and green peppercorn sauce wok-fried fried calamari along with the fishcakes and the chicken satay to start. It's always a good sign when after discussing which dish was our favourite, we couldn't settle on just one; the calamari was sweet and tender, and the fresh and light red curry fishcakes were the perfect accompaniment. While I didn't try the chicken satay, the happy noises from across the table were certainly tempting.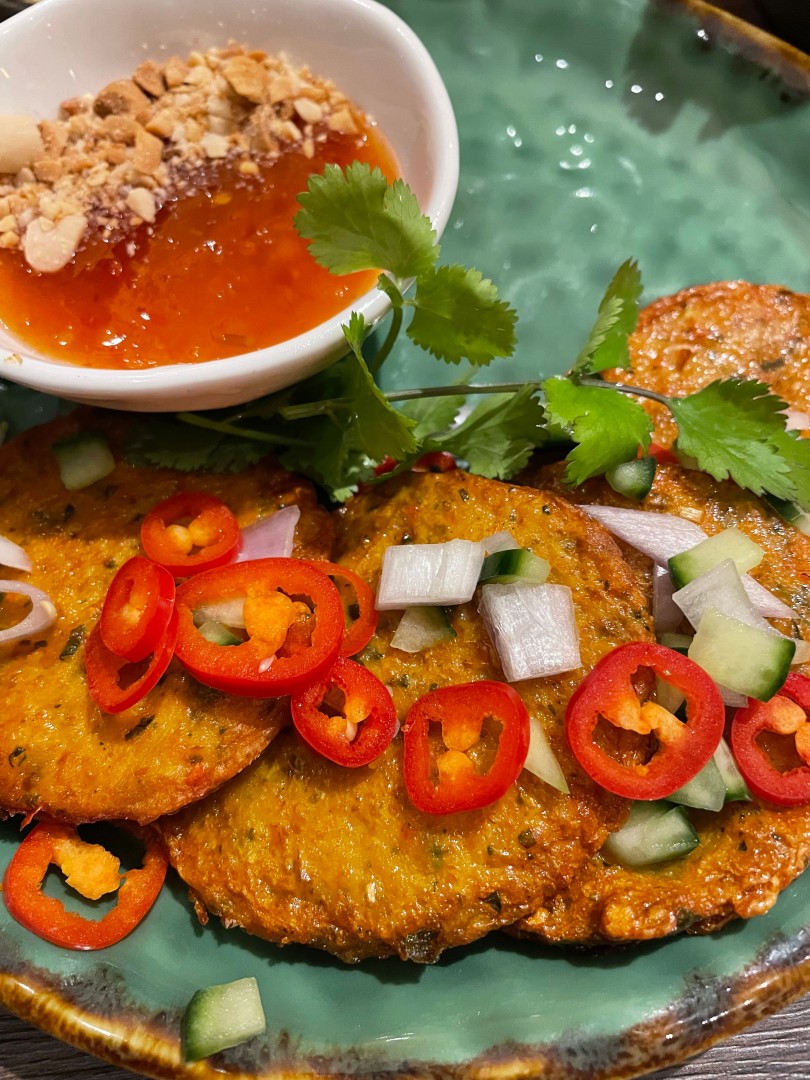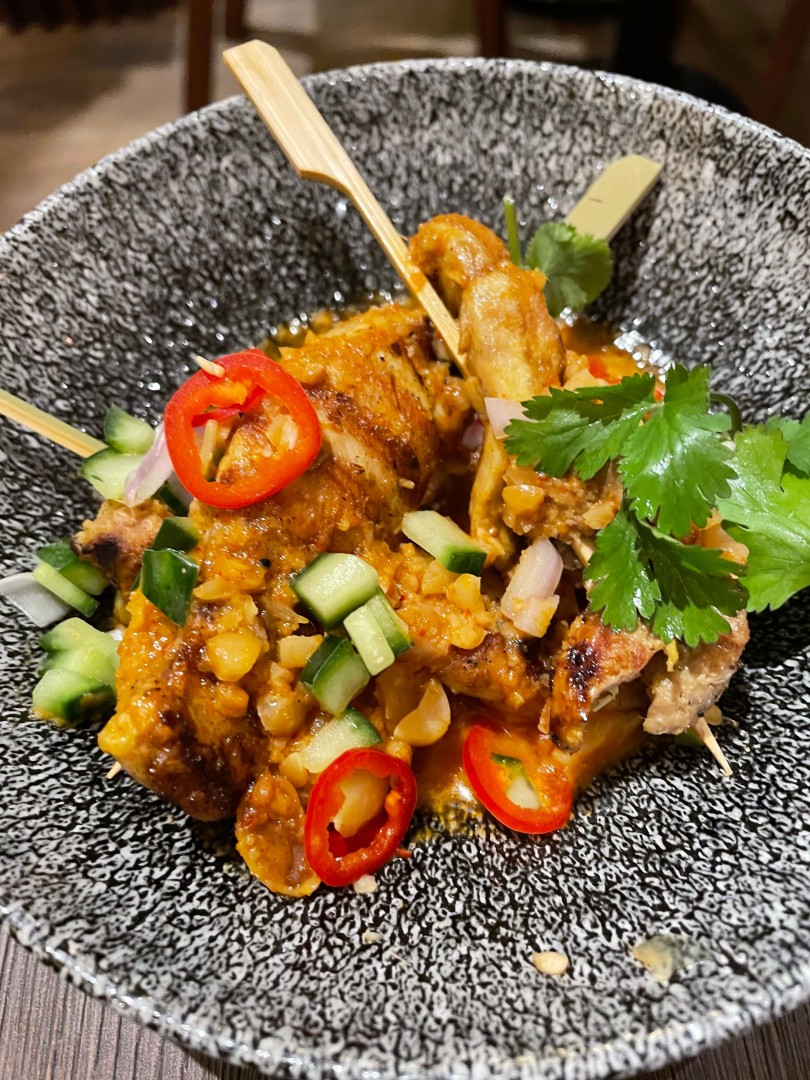 For our mains, we shared a soya-marinated salmon fillet with sesame rice, pak choi and barbecue sauce. This was all I needed to fill me up, and the pricing was more than reasonable for the generous portion. My partner still had room for a dessert, however, so we got to browse their selection opting – after much deliberation – for the sticky mango rice which, after insisting I was full, I was easily persuaded into trying. It's not the kind of dessert I'd usually go for, but I was delightfully surprised; it was a delicate and satisfying ending to the meal and went wonderfully with the warm coconut cream.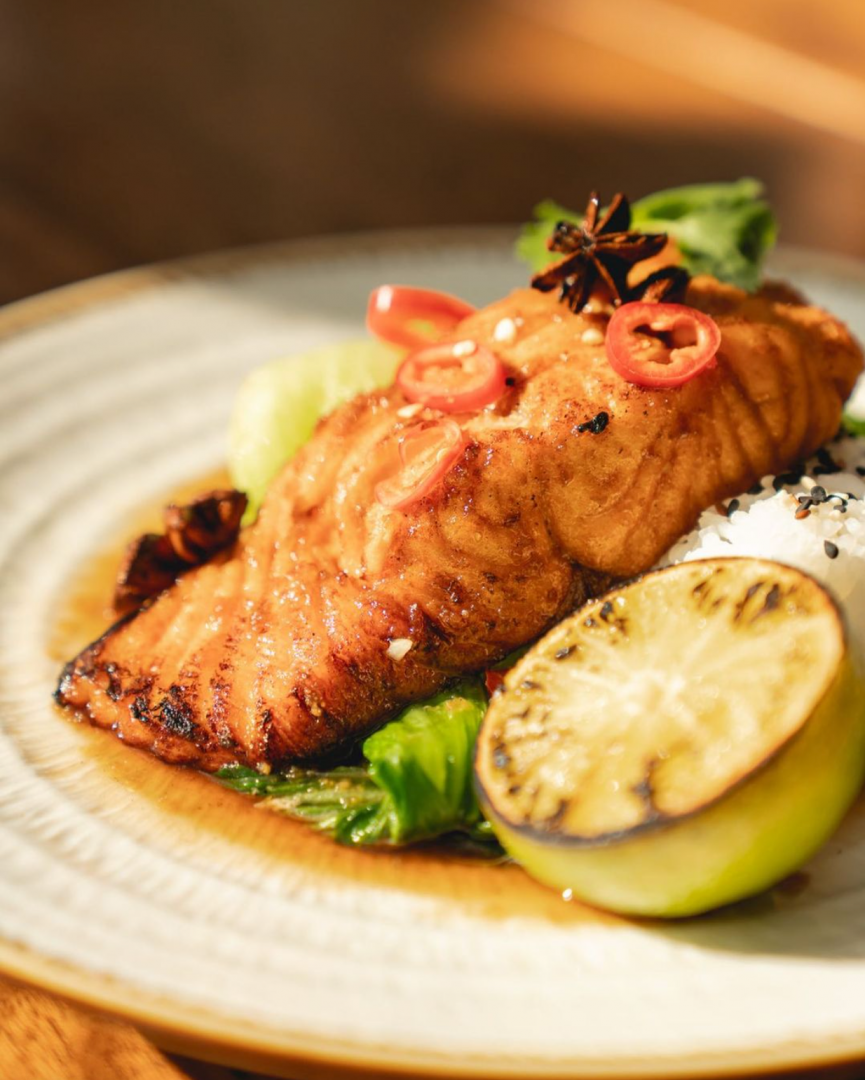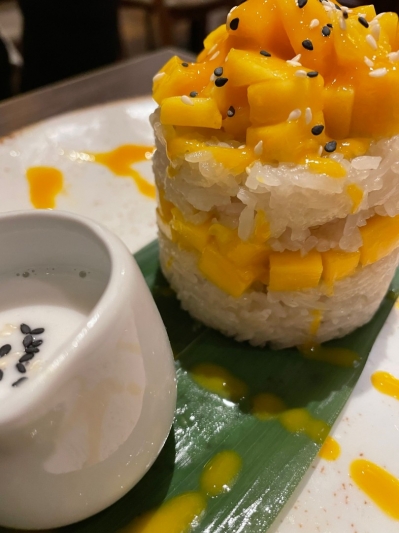 After dinner, we headed down to the newly opened basement bar. Taking inspiration from the dens of the Izakaya bars of Japan where 'late night drinks, snacks and revelries offer an escape and sanctuary from the chaos of everyday life', this is an addition which really makes the venue stand out from the rest. It was only their second night and it was quiet, but I look forward to when they've had time to shout about it, allowing it to become the vibrant and lively venue it has the potential to be. The cocktails were perfectly made, I asked for mine to be on the zestier side than the sweet, and they adjusted it without any problem, it was a lovely end to our evening at Busaba.
When learning of its location, I wondered whether Busaba cropping up in such close proximity to Thaikhun – another bustling Thai restaurant on George Street – would serve as a hindrance to either's success, but the two venues hit completely different vibes, this one being a relaxing, luxurious, and intimate setting, with the added benefit of its private and exclusive-feeling 'naughty little sister' basement bar. Busaba will definitely be a restaurant added to our rotation of Oxford favourites, and we look forward to visiting again very soon to work our way through that extensive menu.