Widely understood to have been the intended first chapter of Bram Stoker's 'Dracula' – removed when regarded as superfluous to the rest of the novel – in this adaptation, we saw the importance of Dracula's Guest reinstated. James Hyland has reawakened this somewhat neglected tale, providing it with new meaning and using it as a vessel to explore modern-day themes.
The play began with an already tortured R.M. Renfield, practically writhing in his seat, conveying to us that we arrived at the character's story long after it had begun. The decision to use Renfield – an already mentally unwell character – as Dracula's guest, was an interesting one but worked perfectly to highlight themes of madness and manipulation, also allowing exploration and expansion of such an interesting character.
Played by Michael Shon, Renfield's 'sanguine personality' which he was said to have possessed in the original telling of Dracula, had evidently been drained from him, following mental and emotional torture from his host. Dracula's calculated maddening tactics show him essentially gaslighting Renfield, in a deliberate attempt to drive him insane. We see Dracula – played terrifically by James Hyland – toying with him at every word, like a cat to a mouse; it's almost comical for the audience until deeper and darker themes are uncovered.
Upon leaving the theatre I heard an audience member describe the performance as short, but remarkably intense which seems an apt summary. Hyland and Shon transformed Dracula's Guest, delivering a 124-year-old tale as if it were new. This was the perfect choice of story to breathe new life into, applicable to modern-day themes yet true to Victorian gothic horror.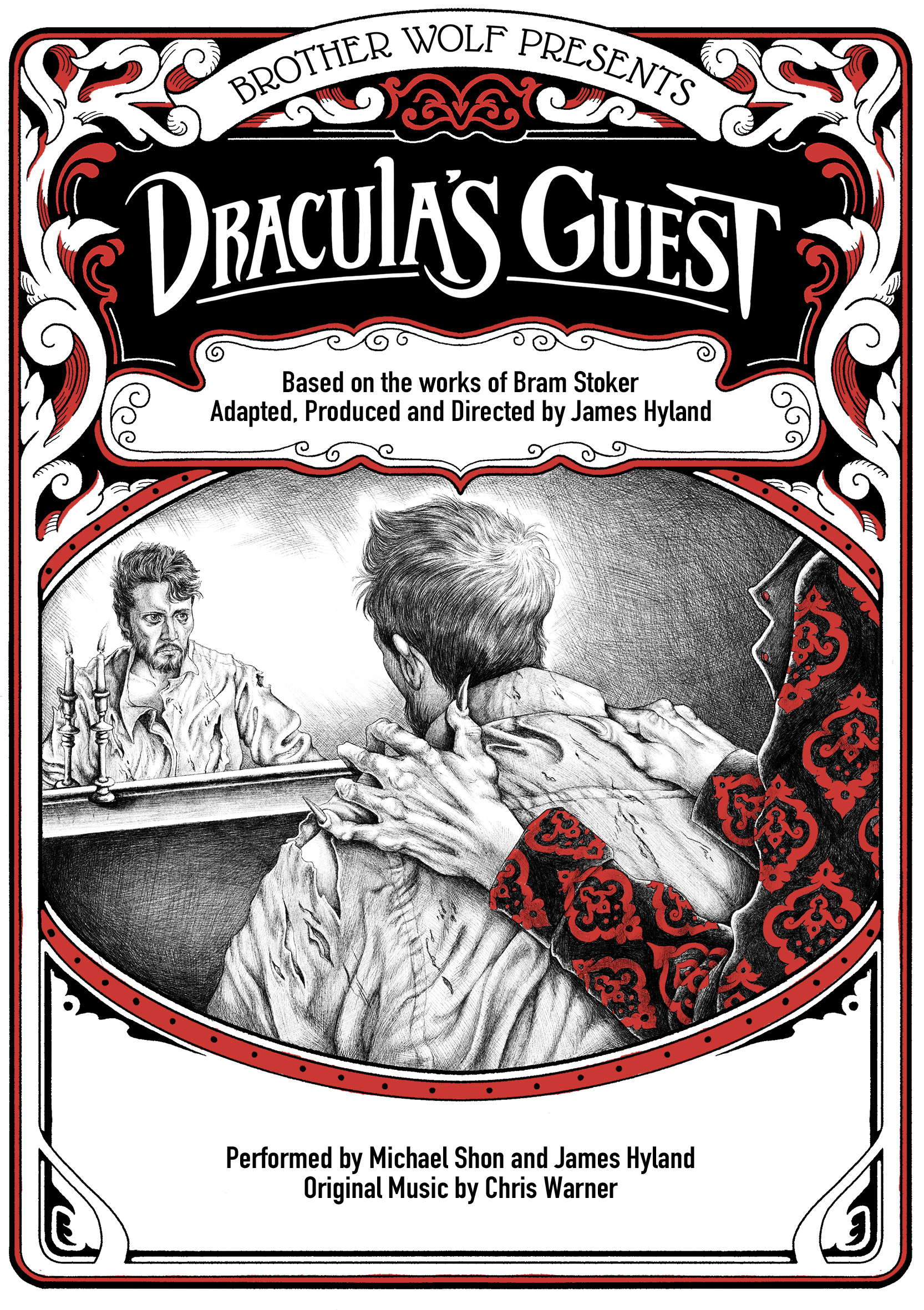 Following the performance, I was keen to know some more about the show, so got in touch with Artistic Director and Founder of Brother Wolf, James Hyland, who told me a little more about his version of Dracula's Guest, as well as what we can expect from Brother Wolf.
Do you have a favourite genre of play to adapt/direct?
I very much enjoy adapting novels from the Victorian era, especially those which include elements of Gothic Horror. I find that many themes and ideas from that period share parallels with modern-day preoccupations, allowing adapters like myself to creatively explore present-day societal issues without being too obvious.
Of all the characters in this story, who is your favourite and why?
My favourite characters in "Dracula" are Renfield and Count Dracula, hence my decision to utilise them for this particular adaptation. For me, they perfectly encapsulate the dark heart of the novel. Allowing them a greater voice, outside of Bram Stoker's original story, permits me to develop the themes which I find most interesting, as well as highlighting those ideas which are comparatively relevant to our present-day society.
Which theme present in this story do you think has remained most prevalent since 1897 when it was first written?
The themes associated with madness and otherness in "Dracula" are something I find particularly prevalent in so far as how we define them and how we attribute them to others as well as ourselves when oftentimes we are gravely mistaken in our diagnosis and thus base ill-informed decisions on these prejudices.
How long has this production been in the workings?
Until its premiere in November of last year, I had been developing the show throughout the pandemic and, in many ways, as my personal answer to it.
What's next for Brother Wolf in 2022?
We will continue to tour our award-winning productions across the UK including the release of my new short film "Uncle Jimmy" in the Spring and the premiere of my new one-man show "Silver and Gold" in the Autumn, based on Robert Louis Stevenson's "Treasure Island". I have also written a feature film script based on a true story and I'm currently seeking funding for the project, the title of which will be released at a later juncture.
Brother Wolf's Dracula's Guest will be showing at White Bear Theatre in London, 29 January. For more shows and tour dates, please visit brotherwolf.org.uk