Everywhere I look, muscles encased in variously coloured lycra heave their way around. I'm not at a Piers Gaviston ball, I'm in Henley with my father, and regatta preparations swarm the Thames. My sister used to row, once for Great Britain in fact, and I could only ever admire her almost masochistic addiction to competition and exhaustion. It's a bit reminiscent of a cult – all the ungodly hours, calluses, carb-loading and camaraderie. It looks insane and opaque to an outsider, but reads like gospel to its disciples. Here was rowing's great summit taking shape in its promised land of Henley-on-Thames, but like the philistine I am, it was not sport that brought me there, it was the pursuit of my own spiritual goal: lunch.
There is something aspirational about lunch. It's free from the creeps who've infected breakfast with nutrition politics – there's no obligation for it to be 'the most important meal of the day', a phrase given with the same wide-eyed smile as a Mormon asking 'have you got a minute to talk about our Lord and Saviour?' There's also none of the faux-luxury of brunch in all its bottomlessness and cheap Prosecco-soaked misery. Lunch is the reward for getting up in the morning, a prize you can claim on your own time and at your own discretion.
The prize on this ludicrously hot Saturday afternoon was the bistro at Hotel du Vin, a stone's throw from the river's edge. I've frothed about bistro food here before. I adore its simplicity. It has an Italian restraint – not too many flavours or processes – with French richness and gusto. The menus are quite long, and here was no exception, but you trust it all. It reads like you're being offered lunch at a friend's house. Here there are odes to classical modesty – soupe a l'oignon (£5.50), steak tartare (£8.50) and crème brûlée (£6.95) – and regal reminders of where you are – 1/2kg lobster (£54.95), chateaubriand (£65) and fillet steak (£32.50).
Tiger prawns (£11.95) and chicken liver parfait (£7.95) come first.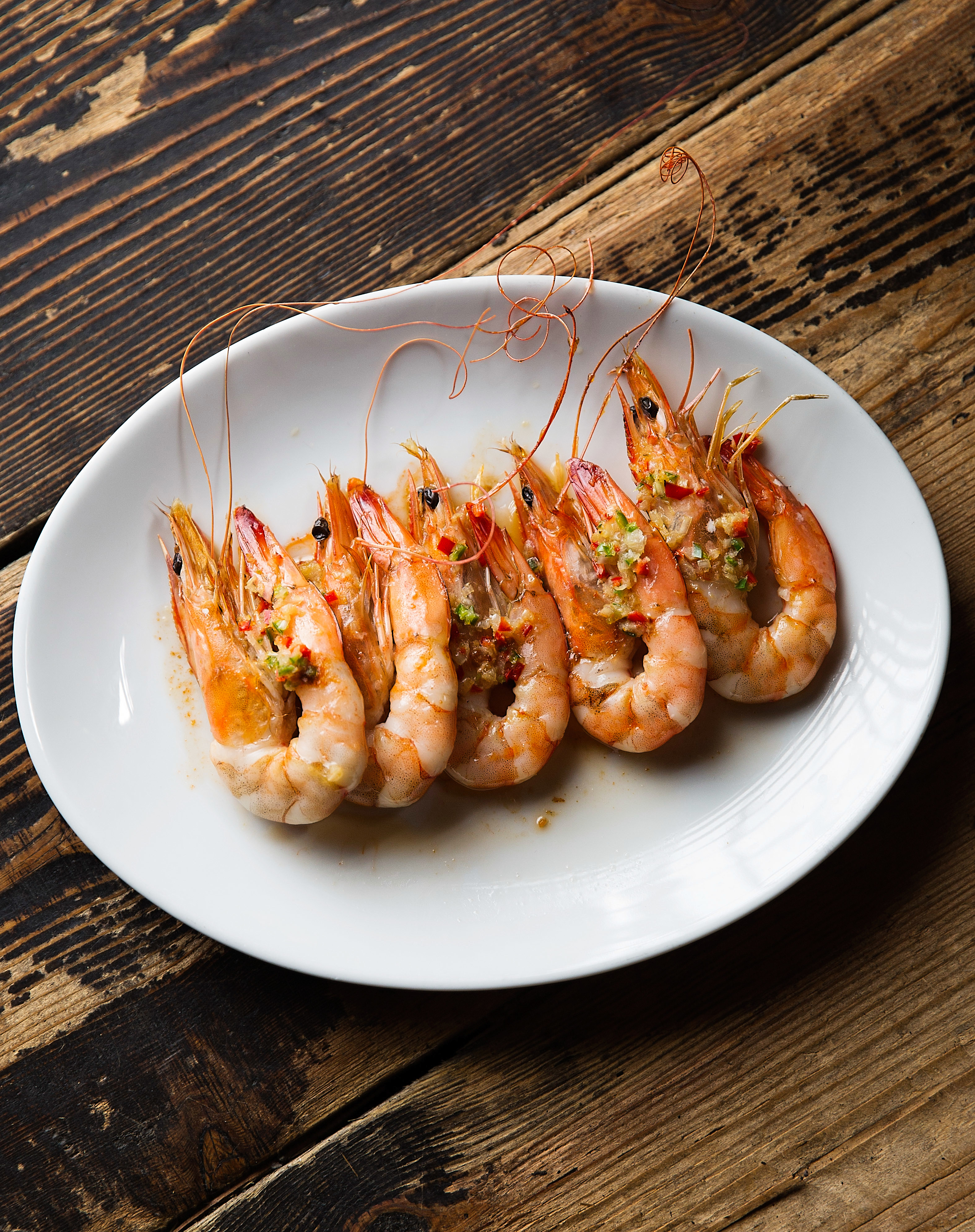 The parfait is like an A3 tablet, about an inch thick and flanked by brioche toast and some sticky raisin chutney/cement. It should come with a brass band. It's smooth, rich and earthy, exactly as it should be. The chutney is fruitier than it is simply sweet and steers it all like a mouthy cox. The prawns look like they've spent a year training with the Leander Club. They're mighty specimens, cooked extremely well (nothing worse than a tough prawn), and accessorised with pungent garlicy pastis butter and aioli. So far so splendid.
Service is the model level of brisk. The great thing about these sorts of dishes is that if you can read, you can't order the wrong thing. There's no smoke and mirrors. This food is as classic and established as a fable; as long as the witch carks it at the end everyone's happy. This transfers responsibility from waiter to punter. The loathsome institution of the 'check back' is mercifully absent here. In my less-than-humble opinion waiters should regard their subjects with a charismatic insouciance and laissez-faire bonhomie. As we ordered, our server simply replied with 'nice'.
Because it's a million degrees outside I opt for a warm salad with Toulouse sausages (£12.50). Peppers and courgette carry the smoulder from their chargrilling and snuggle up alongside beans (cannellini I think?), baby kale and the luxuriant, smoky sausages. It's a lovely plate of food, tied together with vivid green pesto, sending my fork in search of each last morsel.
The lemon sole across from me is the highlight of it all. It's picture perfect, like something out of a dog-eared compendium of French cookery. The full fish comes splayed across the plate with a sheen of beurre noisette, capers and parsley. It yields to only the slightest encouragement off the bone, its delicate flesh softly flaking in the mouth. Great cooking is often as much about not doing things as it is about doing them and here was a case in point. Anything but a perfectly cooked piece of fish would have ruined that dish because that's all the dish was. Without as much as a salad leaf or boiled potato to drag the limelight, the sole shined.
Hotel du Vin is a grand place and its more opulent options would make a fine dinner date. There's a certain romance to the interior with its brushed metal fittings, leather and archetypal French posters. But crucially, it's a comfortable spot to enjoy a breezy lunch of proper, straight-up, no frills French bistro food.
The Herculean hulks slid past us as we burnt our way back to the car, their bodies tuned for river-borne glory. I pause to remember my sister's dedication and the dizzying highs she achieved during her rowing career. As her brother, I was allowed to tangentially share in her magnificent victory over the French when she rowed for GB. Years later, amidst the furore of her former clan, it was with thanks to the French that I carried my satiated self home, having achieved one hell of a lunch.
Hotel du Vin | New Street, Henley-On-Thames, RG9 2BP | 01491 877579 | www.hotelduvin.com/locations/henley-on-thames