Following last year's magical Wise Children, Emma Rice's company of the same name return with a second show: an adaptation of Enid Blyton's novels. The story isn't as rich as that of Angela Carter's, and the production not as visually stimulating, but Malory Towers – named for the Cornish boarding school its characters attend – is packed with fun, funniness, character and charm.
It's well cast, presenting a pleasingly diverse array of performers and distinct characters, none of which fade into the background. Short actor Francesca Mills triumphs in the role of Sally Hope, generating the majority of the evening's laughter and showing an aptitude for ninja-like moves with a hockey stick. She is joined by non-binary trans performer Vinnie Heaven as the energetic Bill Robinson, as well as actors of colour and varying shapes and sizes.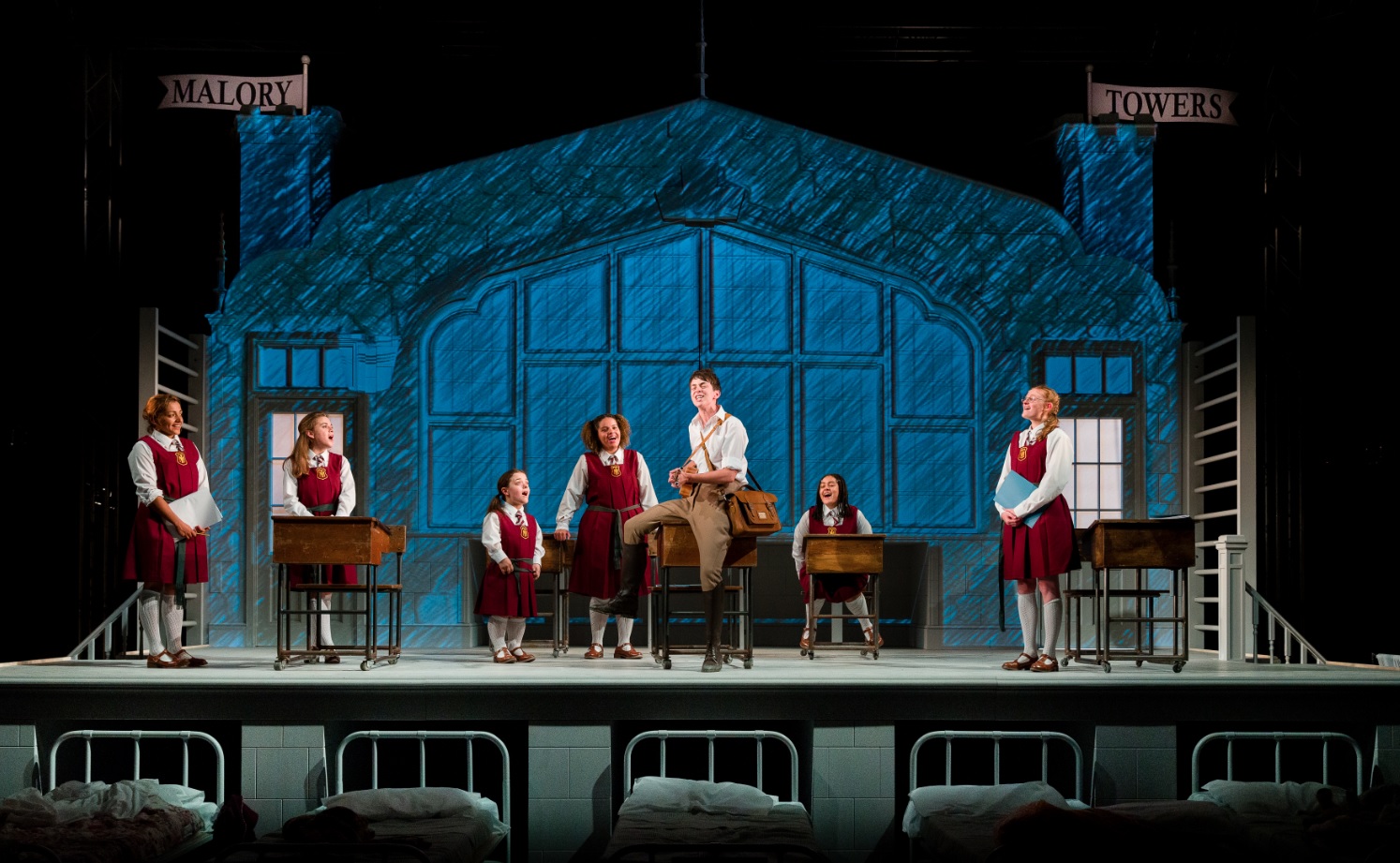 It isn't lacking in exciting moments, and the company draw the humour out of them. Mary Lou Atkinson (Rose Shalloo) and Darrell Rivers (Izuka Hoyle) dangling over a cliff edge is more comedic than dramatic and nerve-wracking. This is a good choice from Wise Children, it means they don't have to worry about the realism of the scene. Indeed the segment, planted either side of the interval, has a comic book feel to it, with the break signified by 'Interval' appearing across the curtain in big red letters.
With reliable Stephanie Hockley at the piano, there are five original songs by Emma Rice and Ian Ross, but Malory Towers also makes use of tunes from the 30s, 40s and 50s, introducing younger audience members to some great music of old. While I didn't find the rendition of Pat Ballard's 'Mr Sandman' all that easy on the ear, 'Daddy's Little Girl' (Horace Gerlach and Bobby Burke) serves as the most poignant point of the night, simply delivered as Gwendoline Lacey (Rebecca Collingwood) leaves Malory Towers following the death of her father, who we learn from Miss Grayling (voiced by Sheila Hancock) never recovered from his memories of World War II.
The actors' skills are put to good use, most noticeably the acrobatic prowess of Mirabelle Gremaud, and the moves frequently adventurous without appearing overly-polished or stage school-y, in a slick and entertaining two hours championing the too often lost art of listening and loyalty.
Malory Towers is at Oxford Playhouse until 5 October.
© Steve Tanner Photography