Following a £2.5m investment and over a year's work Mercure Oxford Eastgate Hotel invited us to join them in finally celebrating the launch of their brand-new extension, which welcomed not only 17 new bedrooms, but also a beautiful Champagne Terrace Bar and Lounge area. The launch party invitation promised canapes, cocktails and Taittinger tasting, and it certainly did not disappoint.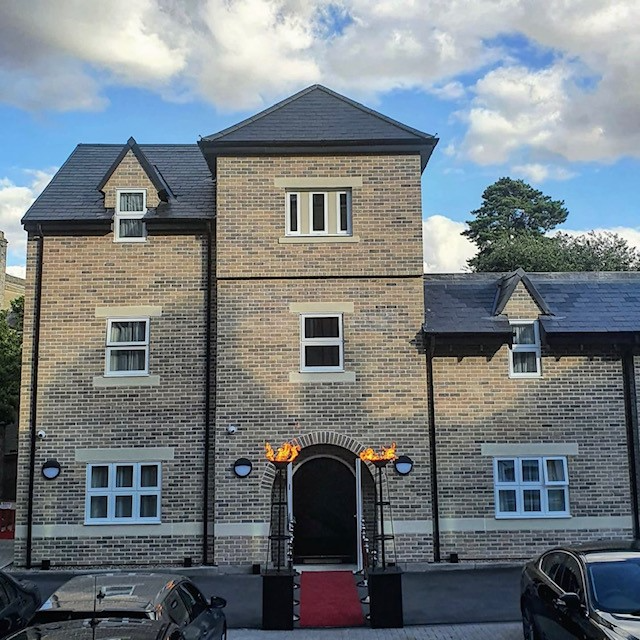 Within seconds of my arrival, I was provided with a refreshing and fruity glass of the Taittinger, which, after fighting my way through the Oxford city traffic, was very well received. That's the price you have to pay I suppose when staying in a hotel which is so incredibly central, and when I say this, I mean directly in the heart of the historic and picturesque Oxford university grounds.
I was then shown up to my room in the new building to get settled before re-joining a little later. The whole building had that fresh, clean, 'new smell' which by the look on the face of the porter, I think I may have huffed in a little too enthusiastically. Our room was right at the top of the building, and the decoration was marvellously sleek and stylish, with deep green velvet furnishings and a bold orange headboard to the bed. The walls were adorned with literary-styled artwork as a nod to Oxford's famous history.
Fully-equipped with everything you could need, we made use of every single feature of the room – you know, to get the full experience. So, after ironing all of our clothes, trying on our towelling dressing gowns, and playing with the coffee machine, we made our way back downstairs to re-join the party. By this time things were in full swing; the swanky new lounge area bustling with people and a musician providing us with some smooth renditions of Elton John in the background. The vast selection of canapes being served outside on the terrace were yet another welcome sight.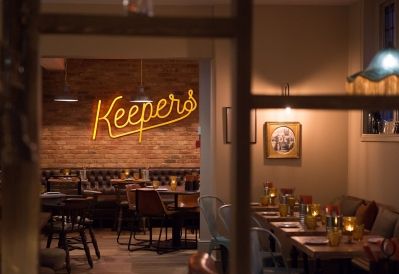 For dinner, we ate at the Keepers restaurant and bar. To start, we had a mezze platter full of olives, stuffed peppers, salad, celery and some delicious baba ganoush with flatbreads and dips. This is my favourite type of starter, what my mum would call 'picky bits' but this was an improvement on our usual cold pizza and scotch eggs. The service was quick and attentive, and our drinks were constantly topped up. Our waitress also ensured anti-bac wipe-downs between each course; this vigilance – even if we are supposed to be post-covid – was much appreciated and made us feel at ease.
We weren't the only customers who appreciated the service either, overhearing the table next to us gushing about how friendly the staff were, and I couldn't agree more. No ask felt too much, even my boyfriend's request for a white Russian, despite it not being on the menu, because he 'wanted to feel like he was in The Big Lebowski'; "I'll see what we can do" she said, five minutes before returning with a perfectly made, creamy white Russian. We followed the starter with a light but filling salmon salad, finishing off with a cheese board which we were sadly too full to finish and too embarrassed to wrap up and smuggle upstairs.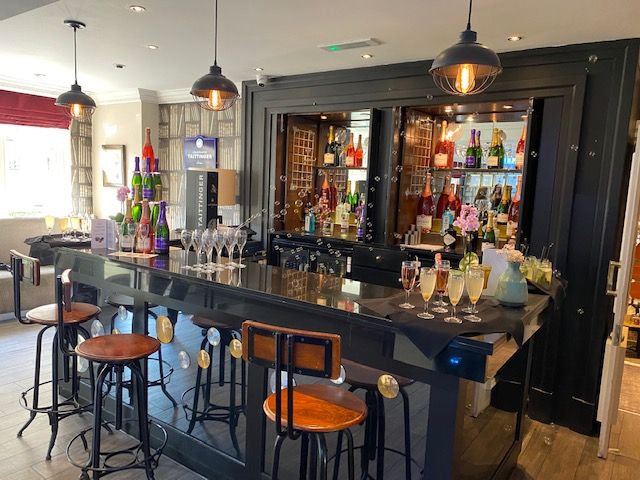 We headed back to the bar for a final drink to take upstairs with us and we were served with a smile and a chat, the subject of which the cocktails prevent me from remembering.
The 24-hour reception was really helpful in aiding our sudden urge to play cards at 1 am and I can imagine for slightly more pressing matters this would be a really important touch, providing that extra sense of security to one's visit.
The perfect end to our stay was the leisurely check-out time of 12-noon. Walking outside, the central location meant I could walk home in five minutes, but for someone visiting the area you truly can't get a better spot. Wherever you might fancy exploring you're already there and you can be assured you'll be well looked after when you're back.