Amber-lit, cosy and decidedly seductive, POPINA is the new off-shoot of Lynrace in Walton Street, for wine, cheese and with a nod to the popinae of Ancient Rome.
Jericho familiars will already be familiar with the darkly glamorous cocktail bar, Spirit by Lynrace, opened in 2021 by architect Paul Southouse, owner and founder of the eponymously titled RIBA-chartered practice. Paul's desire was to develop a luxurious space featuring a more conceptual design married with his love of unusual and rare spirits. A creative vision was born, now leading to POPINA, inspired by the common eateries of Ancient Rome.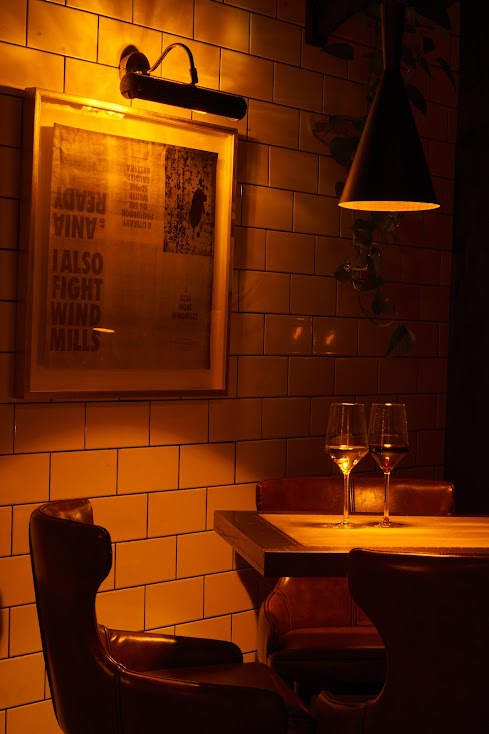 We visited on a Friday night when Oxford was suffering a deluge of near-tropical rain and as we scuttled along the road, the twinkling lights around the main entrance promised a warm welcome. Once inside, Oxford was immediately left behind, the rain became an irrelevance and the travails of the week seemed as if they were someone else's memory. What has been created here is an almost liminal space where one can imagine oneself outside of the daily routine.
The lights are low, the mood is relaxed; every sense is soothed in anticipation of savouring something truly special, and the offerings do not disappoint. The narrow frontage conceals a long New York- style bar, cleverly divided into different seating arrangements with, I'm guessing, a variety of convivial experiences in mind: seats at the bar for a quick glass of vino on the way home from work, under a covered canopy outside for those happy to brace the elements, low leather armchairs in pairs, larger tables for groups of friends, and cosy booths which can be made private by drawing the circular velvet curtains – perfect for assignations.
Once seated, attention turns to the menu and its exhortation to 'taste the classics'. There follows a carefully curated selection of wines (by the glass or the bottle), grower Champagnes, fortified wines, charcuterie and cheese, beers, alcohol-free options and a couple of Lynrace's signature cocktails. As we were leafing through the pages, Péter (the self-declared 'wine guy') came over to see if he could make a recommendation. Minutes later, two glasses of garnet-toned red appeared at our table, one a biodynamic Monte Bernardi Chianti Classico (2019) made from the highest quality Sangiovese grapes, the other, perhaps less familiar, was Dominio de Taras 'Estay', (2021); a beautifully earthy Spanish wine, all truffles, berry and other autumnal delights, from the Prieto Picudo grape, commonly grown around Tierra de Leon in Northern Spain.
By now it was clear that Popina wasn't the place to pop into to sink a few bottles of Merlot with the squad, but somewhere rather special, fuelled by expertise and passion. Péter explained he works closely with sellers to highlight lesser-known grapes and vineyards, showcasing the sort of wine you might have thought you could only ever come across if you were either best friends with an oenologist, or lucky chance had brought you to tiny family-run vinery somewhere hot, dusty, remote and probably overseas.
The eats were no less impressive; choose between cheese or charcuterie boards (or go for both) and you'll be presented with a wooden platter dressed in delicate mouthfuls, accompanied by pane carasau, local sourdough and antipasti. Again, each has been chosen and presented because it is exceptional. Cut wafer-thin to optimise the flavour, we particularly enjoyed the savoury creaminess of the mortadella and the rich fatty delights of the lardo. The stars of the cheese board were equally memorable; cave-aged taleggio, softly yielding fresh pecorino and unctuous Castelmagno stood out. Taking an unconventional approach to the traditional order of events, we followed this by greedily demolishing a bowl of spicy paprika-smoked almonds and two further glasses, this time of sherry, which were as considered as the wines and similarly the selection favoured more unusual varieties which were a joy to discover.
We could easily have lingered longer and tried more. Paul Southouse has created something really special here.
For more information, menu and bookings, visit lynrace.com