Before last night I'd managed 25 years on this planet without watching The Rocky Horror Show on stage or screen. I don't mean to imply that I was averse; it's just one of those things I never got to. Effete aesthete that I am I knew I ought to rectify this lacuna. Whether or not one is likely to be seduced by the pop-culture cultiness of it all, one has to know what the proverbial fuss is all about. About 12 seconds in I found out.
Not only is the show itself iconic – with its horror B-movie plot, ear-worm songs and cast of powerfully drawn, sexually affirmative characters – but going to see it has itself become an institution. I knew people dressed up – and dress most fabulously up they did – I didn't know that there's essentially another script of lines shouted by the audience (mainly at the narrator, deftly handled by the camp haughtiness of Philip Franks). It's like pantomime, but with a more grown-up sense of 'he's behind you'.
Once my middle-class fourth-wall anxiety had been peeled away by the third consecutive heckle over my right ear I began to grasp the elation of it all. The audience palpably anticipates every line, scene change and song with the excitement of a toddler at Cadbury World, with no part soliciting more delight than the grand entrance of the mad scientist, Frank-N-Furter. This was Duncan James' opening night in the role and he came on looking like he's been wearing heels since pre-school. He gave a frighteningly sexy and devilishly mischievous performance, commanding the weight of audience expectation and theatrical demand with strut and sass.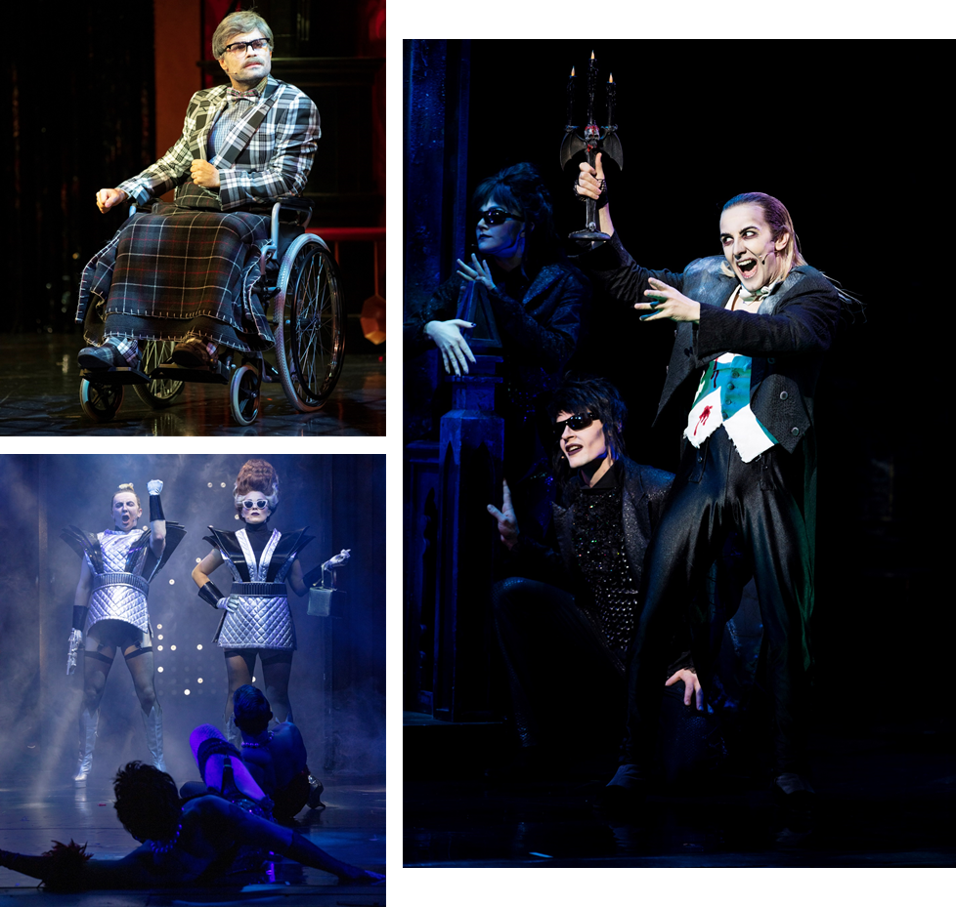 Joanne Clifton and Ben Adams were pitch perfect as Janet Weiss and Brad Majors, the everyday hetero couple caught in kaleidoscopic sexual awakening at the hands of Frank, Columbia (Miracle Chance), Magenta (Laura Harrison) and her brother, the hunchbacked butler Riff Raff (Kristian Lavercombe, who has notched up over 1,300 performances in the role). Rocky, Frank's muscular lab creation, was played by the quadruple threat Callum Evans, whose leaps, flips and somersaults added to the spectacle immeasurably (he even left the stage at the end walking on his hands). The attention to detail was spectacular in both choreography (Nathan M Wright) and in Hugh Durrant's set design that shimmered and sparkled, elevating the slapstick and catalysing the campness.
It feels odd reviewing a 70s cult classic that I've just seen for the very first time. What makes it good? Is it by some faithfulness to the fans' idea of what makes Rocky Horror what it is? Essentially, if you're preaching to the converted, what would it take to cock up the sermon? I'm not sure – I'd certainly be interested to hear the views of the die-hards.
What escapes argument is the joy that was in that theatre – unapologetic, unbashful and unbridled from start to finish. This production gives the people what they want and does it with self-awareness and verve. If you like Rocky Horror and can't help but leap up to do the 'Time Warp' then book immediately – though I suspect you already have. If you're a virgin like I was, dip a cautionary toe and see if you don't end up in fishnets and a basque.

The Rocky Horror Show is at New Theatre until 30 March. Tickets: https://www.atgtickets.com/shows/rocky-horror-show-tickets/