I have a vague memory from when I was a little boy, of a man in a nearby town who had started to publically wear women's clothing. I don't know in any great detail how people responded to this, but I believe there was some mocking, and I seem to recall the person in question being talked about as though engaged in something alien. Basically, there was nothing in my life telling me that if I wanted to wear a dress, it was ok.
Fifteen or 20 years on, the RSC stage this musical adaptation of David Walliams' children's novel, to my mind one of the most wholesome productions in the UK right now. The story of 12-year-old Dennis, a gifted footballer who one day tries on an orange sequinned dress designed by his school friend (and crush) Lisa James, following a keen interest in Lisa's sketches and Vogue.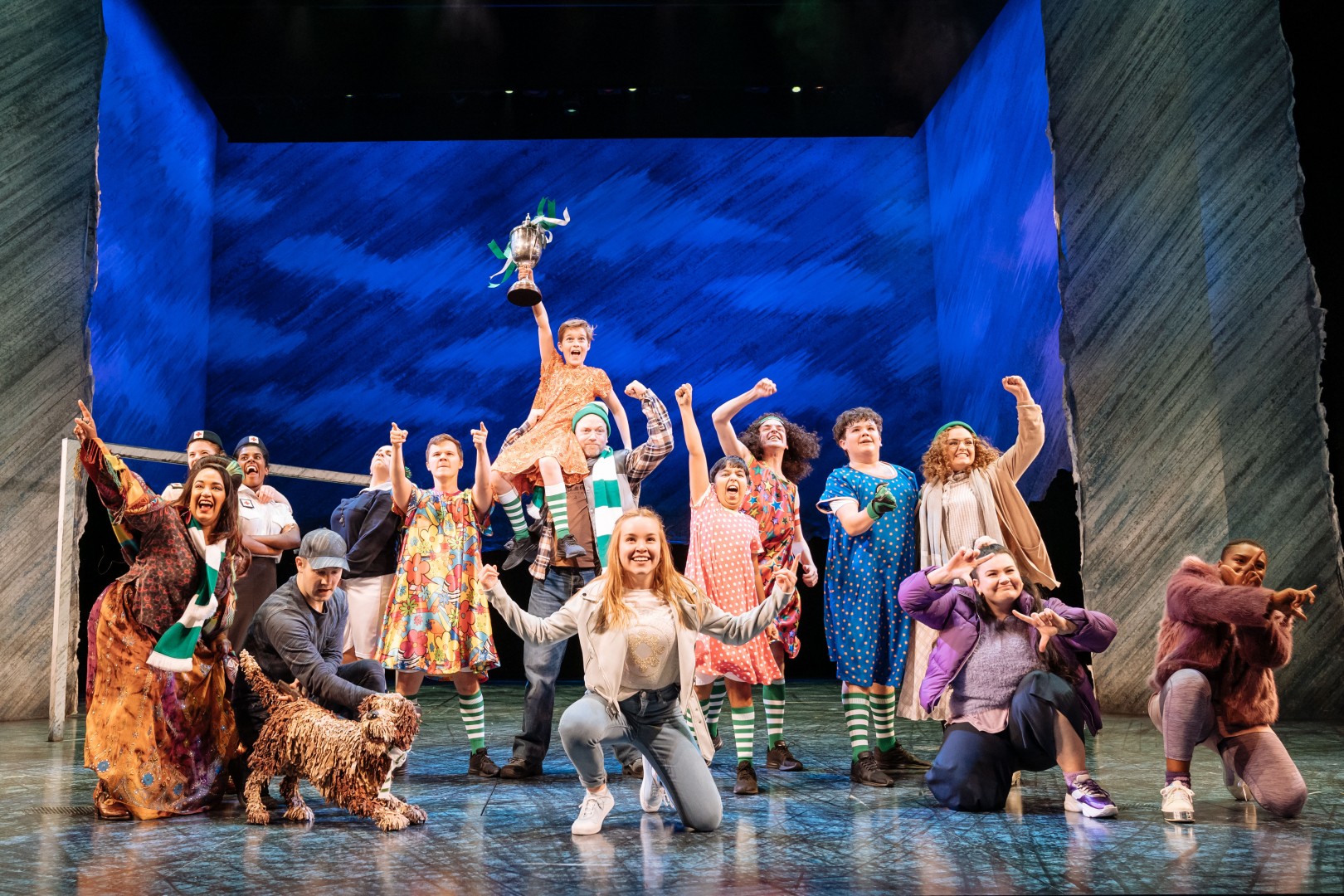 In myriad ways this Gregory Doran-directed gem mirrors a children's book – the unapologetically cartoonish prop snot just one example. Elsewhere Forbes Masson depicts the kid-hating Mr Hawtrey with such animation that he could be a drawing by Quentin Blake, the novel's illustrator, whose work is also replicated in Robert Jones' slick and charming set.
Eighteen numbers come courtesy of Robbie Williams, Guy Chambers and Chris Heath. There's one dud – 'Three for the Price of Two' – but in the main we get a hummable, varied and poignant collection of songs (with highlights including 'Is There Anything More Beautiful Than Lisa James?' and the reprise of 'If I Don't Cry') weaved into a funny and moving book by Mark Ravenhill.
In a cast comprising people of colour, varying ages and all shapes and sizes, there are no weak links. Toby Mocrei – one of four Dennises starring in the Royal Shakespeare Theatre run – is wonderful in the lead role, adopting small relatable mannerisms (like awkwardly pulling down on the sides of his top if it's crept up), singing sweetly without sounding too stage school, and exhibiting highly impressive skill as a comedic actor.
His dad is played by the very believable Rufus Hound – whose untrained and often heartfelt vocal provides a certain authenticity – and his lovable brother John by a consistently amusing and energised Alfie Jukes. Natasha Lewis puts in a commendable comic performance as Darvesh's Mum; Charlotte Wakefield captures the kindness, insecurity and eccentricity of French teacher Miss Windsor; plus Charlotte Jaconelli and Grace Wylde join forces to create the well-rounded comedy duo of Lorna and Louise.
With the choreography (Aletta Collins), set and costume of 'Disco Symphony' producing one of my favourite ever visuals, I can't remember the last time I left an auditorium in such a good mood. Each school kid in there was shown that difference is something to be celebrated, and that a boy in a dress is not alien. I only wish it had come along two decades ago.
The Boy in the Dress runs in the Royal Shakespeare Theatre, Stratford-upon-Avon until 8 March 2020.
Photography by Manuel Harlan © RSC