A soprano, alto, tenor, and bass open RSC's latest rendition of The Comedy of Errors. Musicians Alex Saunders, Dunja Botic, Dale Harris, and David Jones test their handheld mics. "One, two, one two," they each keep repeating, all at different points. Then, they sing: "One, two, one, two…" These words are sung often in Paddy Cunneen's score, appropriate in a play about twins. During the rather gripping beginning, the cast also take to the stage of the Lydia & Manfred Gorvy Garden Theatre – the company's temporary outdoor performance space – for their own soundchecks. Soon Antony Bunsee, as Egeon, is eloquently explaining the events that have led to the present moment, introducing two hours of frenzy, fun, and funniness from a committed set of performers.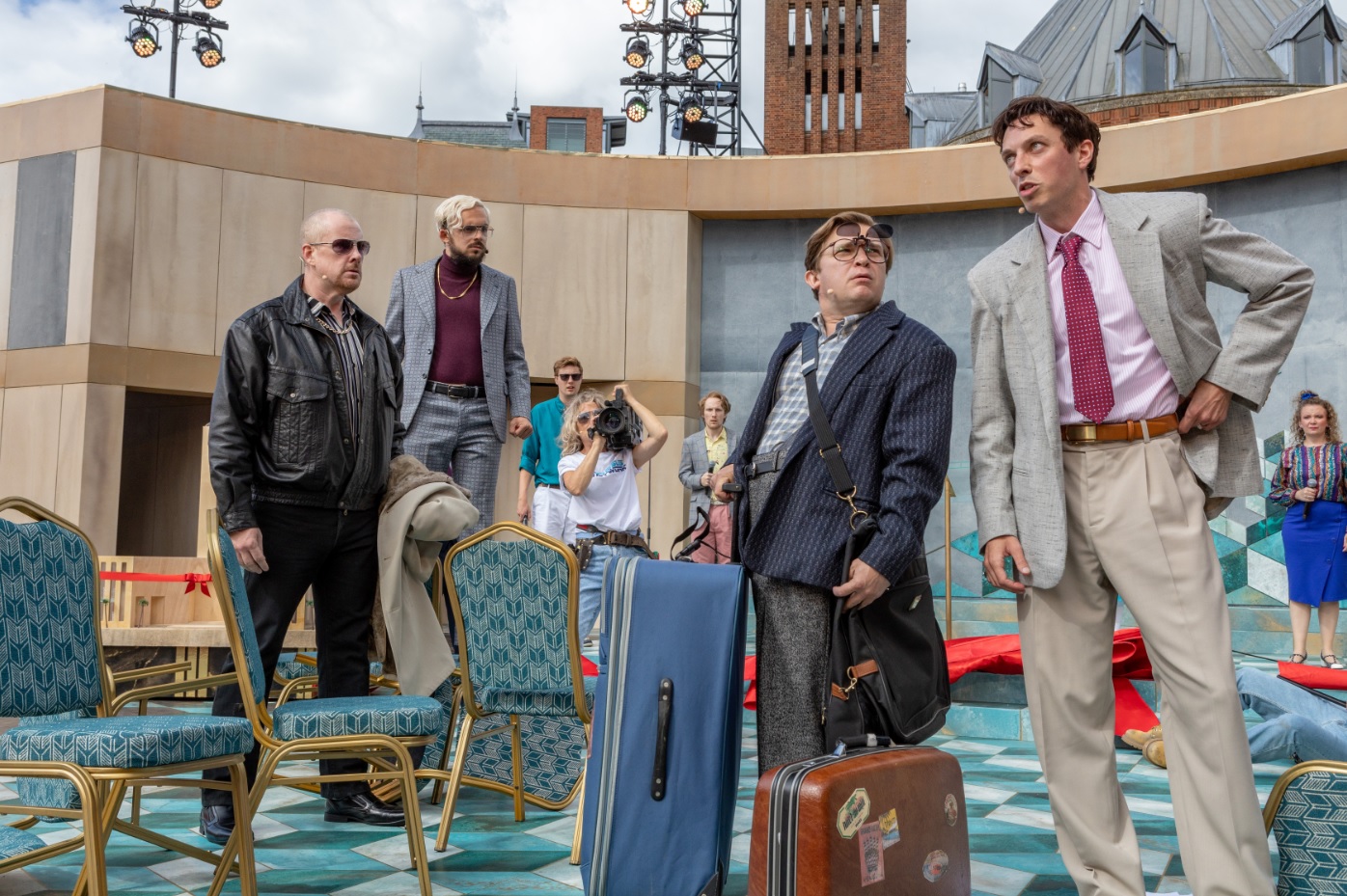 Dyfrig Morris, William Grint, Jonathan Broadbent, Rowan Polonski as Bodyguard, Merchant, Dromio of Syracuse, Antipholus of Ephesus (Photo: Pete Le May © RSC)
Phillip Breen's production wrings laughs from Shakespeare's script. We see Jonathan Broadbent's Dromio of Syracuse supply Antipholus with weapons, from a block of kitchen knives seemingly purchased on a recent shopping trip, which fits the farce of their impending fight. It's made all the more amusing by how long Broadbent takes to pull the blades from their packaging. The shopping bags, along with a mic drop, yoga, headphones, a facemask, and hand sanitiser keeps the show current.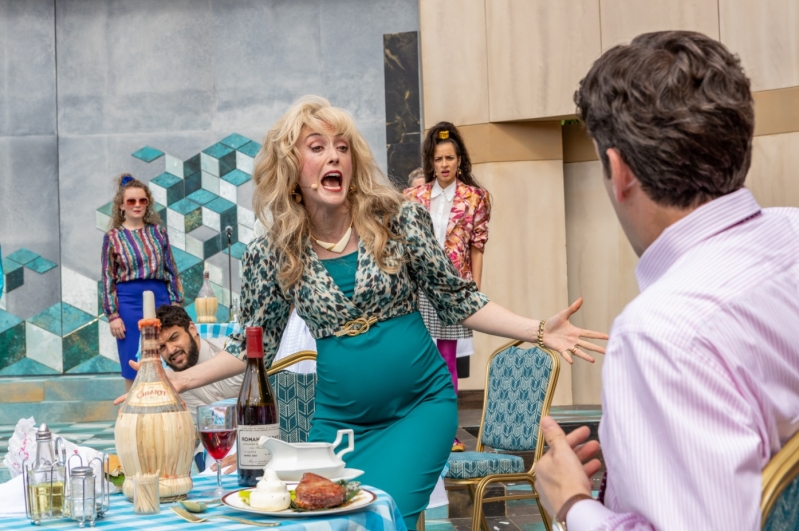 Hedydd Dylan as Adrianna (Photo: Pete Le May © RSC)
As Adrianna in anger, Hedydd Dylan gets laughs with heavy breathing and facial expressions alone; Sarah Seggari (Luce) via giving a film camera the finger and, earning a round of applause from the audience, noisily rugby tackling Antipholus to the ground; William Grint (Merchant) with his – at one stage – grotesque sign language and Dyfrig Morris' (Bodyguard) verbal translation of it.
Things end touchingly with both Dromios (Broadbent and Greg Haiste) embracing. Lasting some time, their hug gradually tightens, symbolic perhaps of a return to physical contact for certain people around the world. A moving finish to a production that not long before features a basic but bold drawing of a cock and balls.
The Comedy of Errors is at Lydia & Manfred Gorvy Garden Theatre, Stratford-upon-Avon Until 26 September 2021.