The former Crown of Crucis – dating back to the 16th century – has now undergone a radical refurbishment complete with a change of name. Set on the banks of the brook that flows through Ampney Crucis, the newly renovated and renamed The Crown at Ampney Brook is now a modern, stylish hotel/gastro pub that has retained its original quintessential Cotswold charm endearing itself to locals and enchanting visitors from all over the world.
The first time I went to the popular Crown of Crucis was for dinner with my now husband over 40 years ago. I remember exactly what I had to eat because it was the first time that I'd ever tried a fillet steak, but the cost has also stuck in my memory - £3.99, which was somewhat expensive in 1977!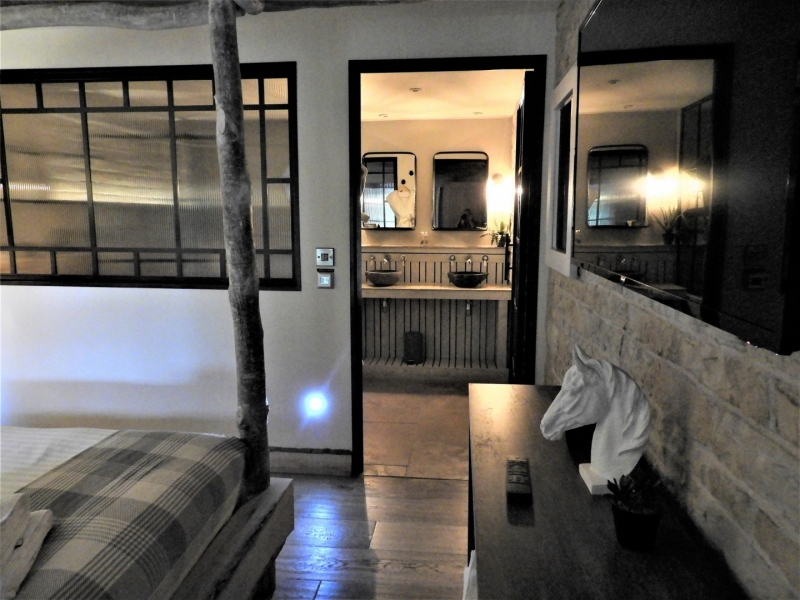 The hotel name was chosen after the new management, headed up by Manager, Lewis Kirby, held a competition for local residents to suggest a suitable name. It was felt that the winning name 'The Crown at Ampney Brook' reflected not only its delightful location, but also complimented the Wild Thyme and Honey brand name of the hotel.
It's the location of The Crown at Ampney Brook that probably first appeals to visitors – just a few miles from Cirencester, the capital of the Cotswolds, and close enough to Bath, Cheltenham and Oxford to explore their cultural history and enjoy a bit of shopping. The chocolate box villages of Eastleach, Bourton-on-the-Water and Bibury also are within a very short car journey.
On arrival, the first thing that grabs your attention is the décor – you can't help but love the open, spacious Reception area featuring the natural rustic elements of the locality – lavish leather sofas, exposed Cotswold stone walls, wooden beams, flagstone and hard-wood flooring – all illuminated from above by the striking skylight.
There are 24 bedrooms, 12 of which are suites plus a very decadent VIP apartment, which we were privileged to stay in. Named No. 3 London Road to reflect the original postal address of the hotel, the luxurious apartment has its own fairy-lit hot tub/jacuzzi; a cosy Hobbit-house sauna and a private deck with gorgeous views over the brook to the village cricket pitch beyond.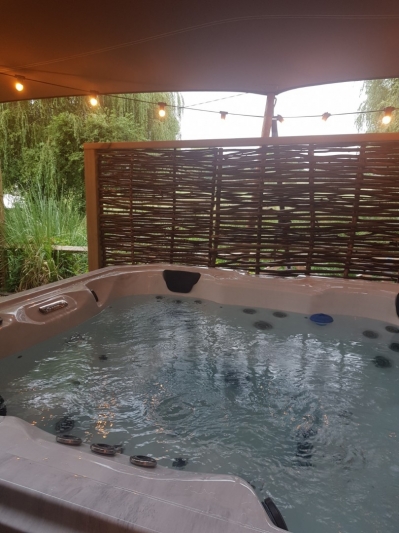 The apartment is very spacious – almost too spacious, as I kept losing my bearings – with a lounge area; bespoke four-poster bed made of silver birch; a sumptuous bathroom with his and hers washbasins, a huge wet-room with rainfall shower and hand-held wand, a copper free-standing bath, dressing room and make-up area and a separate second loo and washbasin. In the lounge area, we found a very well-stocked SMEG fridge, a drinks cabinet containing everything you need to make the perfect cocktail and a complimentary decanter of sloe gin. It felt like a veritable gin palace!
As if this wasn't enough, the extensive cocktail menu is very tempting and not overly priced. I had the Hendricks gin and elderflower liqueur and my husband had the Old Monkey Fashioned and bitters served in a wonky whisky glass that had a 'leaning tower of Pisa' lilt and made you think that you had already had one too many!
For alfresco dining or just a pleasant drink, the garden terrace is a relaxing space right beside the babbling Ampney brook. For that special intimate dining experience, there are three cosy, self-contained, glass pods with heating in the winter or air-con in the summer.
The Crown at Ampney Brook also boasts elegant private dining rooms and a function room, which is perfect for weddings. I remember this as the function room for the Business Awards events I used to host. It used to be smaller with questionable wallpaper, but now it is super stylish with Cotswold stone pillars, exposed stone walls and rustic furniture.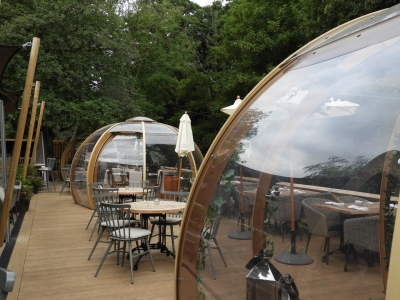 What's on the menu is always an important consideration when making a booking at a new restaurant and, for me, the must-have choice on any menu is lamb. The Crown at Ampney Crucis did not disappoint as it offered on its à la carte menu a double Barnsley lamb chop and, on the night we stayed at the hotel, their Summer Outdoor Dining Menu also featured lamb – shoulder of slow-cooked Saltmarsh lamb.
There were, of course, the usual burgers – but maybe not so usual – as there was a British Wagyu beef burger, a Buttermilk chicken burger and a plant-based burger. In fact, vegetarians and vegans are very well catered for, as are fish aficionados and steak lovers. My husband loves a succulent steak and chose the 9oz grass-fed Chateaubriand. However, he was slightly disappointed as it was somewhat tough and, at £34.95, was not cheap.
I tend to judge a restaurant by its dessert menu. I'm not a fan of chocolate or what I call stodgy puds, so I always head straight for the ice creams and fresh fruit such as mangoes or strawberries. The Crown at Ampney Brook came up trumps again with their strawberry and mango sundae with strawberry ice cream, mango sorbet, Chantilly cream, fresh raspberries and a passion fruit coulis. Very self-indulgent!
The Crown at Ampney Brook has the feel of 'a special occasion' venue and is fast becoming THE place to go, where you can enjoy a drink, a meal or a stay in a wonderful and relaxing setting. The super friendly staff want everyone to feel at home and endeavour to make every visitor feel special.
If you haven't been to The Crown at Ampney Brook yet, then you really must, but – word of warning – first make sure you have enough money in your bank account!
Contact the The Crown at Ampney Brook: 01285 851806, indulge@crownampneybrook.co.uk or visit https://www.crownampneybrook.co.uk