I've been puzzling over what makes the ideal romantic retreat and – having spent time at The Crown Inn in Church Enstone – am rapidly coming to the conclusion that it involves being somewhere where the toughest decision you have to make is whether you'd prefer a double or single gin and tonic as you peruse the menu. The relaxed atmosphere at The Crown enables thoughts to turn to romance as, when someone else has anticipated your every whim, it allows you to focus on love.
Perhaps you need to be over 30 and/or a parent for this to resonate. Should you fall into neither category I'm sure this idyllic Cotswolds location will still enchant as it simply brims with charm.
Matt and Katie Beamish took over this pub with rooms late last year. The bar was already set high (no pun intended) as the couple had already established a winning formula following their acquisition of The Plough in Kingham, and The Hare at Milton under Wychwood. They've certainly worked to ensure The Crown is the beating heart of this quintessential Cotswolds village, situated in the epicentre of a triangle formed by three pillars of the local establishment: Ditchley Park for power and politics, Soho Farmhouse for celebrity and glamour, and Diddly Squat Farm for…well, Jeremy Clarkson.
On arrival we were shown to the Lidgate Room (there are five rooms in total) with its neutral and tasteful colour palette, softly lit and welcoming for an evening arrival. Attention to detail was apparent in every element, from the fresh milk in the fridge just outside and the bathrobes hanging by the door, to the generous storage and hanging space. And there was more: step into the Pinterest-worthy bathroom to find a hot water bottle waiting to banish any chills (although the heating made the room feel generously warm); toiletries by the delightful English company, Bramley, were perfectly on brand; taps and controls set outside the shower area, meaning no one need get soaked while trying to establish a comfortable temperature (why don't more places do this?). Back in the bedroom where the consideration continued – Roberts radio with Bluetooth to allow your own music to be played; wall-mounted plasma telly; bedside reading of an eclectic nature (The Reluctant Pilgrim by ffiona Perigrinor) and the bed: ginormous and so beautifully supportive it felt like lying back in a floatation tank. Fat, feather pillows, crisp cotton sheets, I was ready to dive in, but we had reserved our table for dinner so downstairs we went.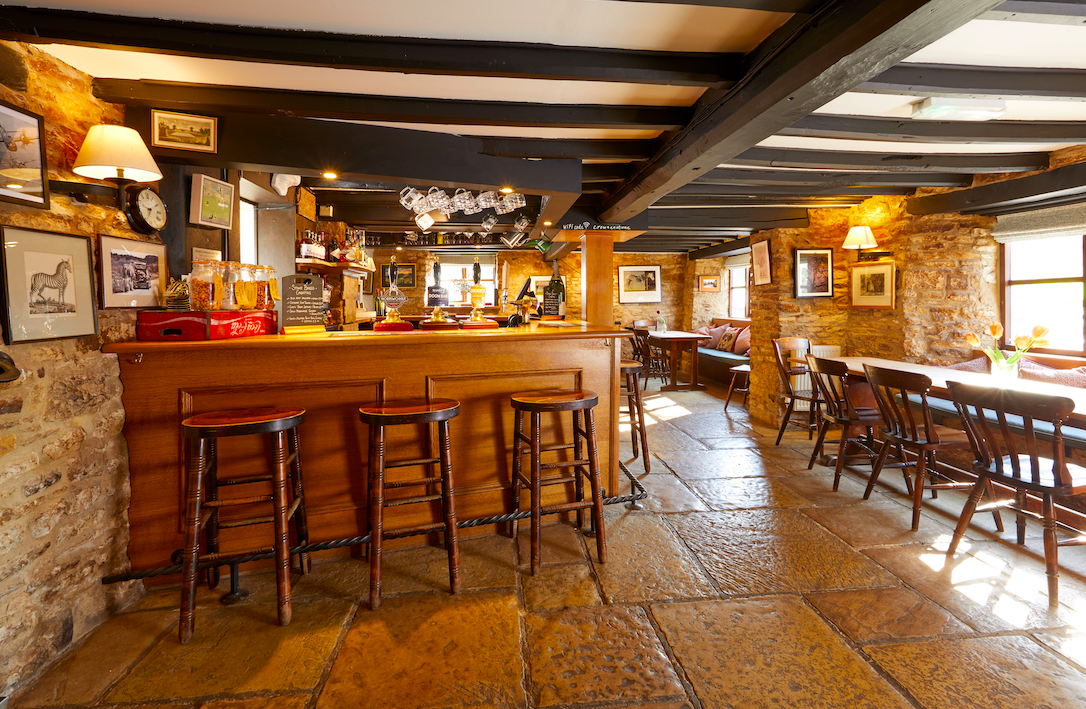 Let's start in the pub itself, which was surprisingly busy for the first week in January. Clearly, Dry January is not a thing for the Chippy Set and I'm not surprised given the gleaming well-stocked bar. I opted for a G&T (classic, felt right) and my partner had a pint of the local Hook Norton which prompted approving noises. I asked for these to be translated into words: "well kept and well poured. Clear not cloudy, keeps its head". I'm not a beer drinker so I hope that means something to those of you who are.
Drinks in hand, we went to find our table in the dining area which was warm and intimate. It, too, was fairly full with what looked like local family groups and couples. We thought this boded well and set to negotiating which of us would order what on the menu, with usual caveats of the promise of 'tasting forks' so each could sample the other's meal. Whilst the Nibbles undoubtedly held appeal (Smoked Almonds, Mammoth Gordal Olives, and Chorizo Fritters with Pear Aoili), we went straight to the starters: Tamworth Ham Hock Terrine for me, Twice Baked Cheese Souffle for him. Before I go into the delights of the (locally-sourced, seasonally selected) food, I want to commend the staff who were universally friendly, informed, engaged and palpably proud to be working at The Crown. Always a great sign. Props, too, for the pacing of the whole meal: leisurely but not so much so that we felt we had been left waiting at any point.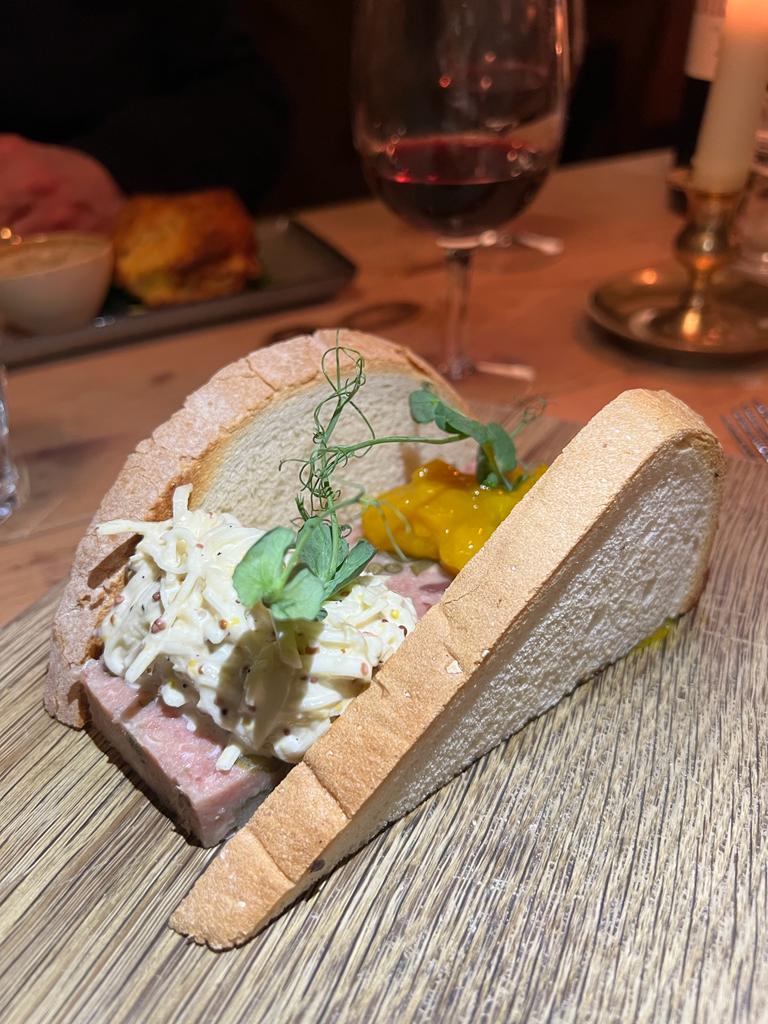 The terrine was a slab of unctuous meat studded with piquant bursts of gherkin, with just enough texture to merit a chew before it slipped down. Sharp, crisp piccalilli made for punchy contrast with plenty of bite, but the accompanying celeriac remoulade was, in my eyes, the star of the piece. Delicate strands of root vegetable, thickly coated in creamy dressing with a careful eye on balance so it avoided excess richness and was expertly seasoned to bring out the natural sweetness of the vegetable. The Cheese Soufflé was equally successful; the light, fluffy texture was sublimely delicate with a robust and mighty hit of cheese. Mustard sauce gave a gentle heat and bitter wilted spinach made a necessary counterpoint. Both plates were washed down with gulps of the house red, a smooth, very drinkable Merlot.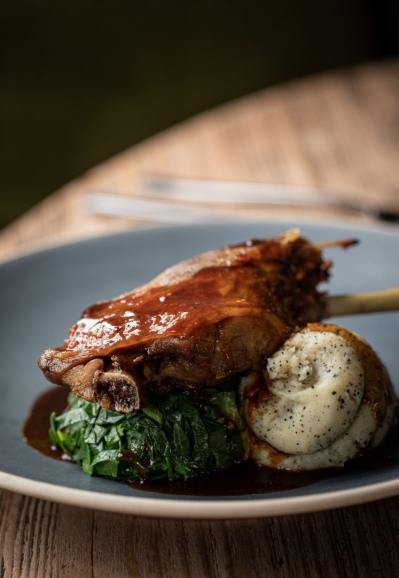 Onto the mains. Although the menu was undoubtedly meat-centric, giant tiger prawns were certainly tempting, as was the roasted winter squash with crispy quinoa and pomegranate molasses. However, I'm slightly embarrassed to report we both went for the meatier options; lamb shank and slow-cooked beef, Guinness and cheddar pie. Phwoar. It's such a cliché to say that the lamb was falling off the bone but isn't what you want from a lamb shank on a winter's night? It was served alongside a mound of thick, garlicky, melt-in-the-mouth mash and an array of winter greens, each of which added their own flavour note to the dish. I can only describe the pie as outrageously meaty, the cheddar acting as a superlative seasoning, rather than being discernable as a constituent part of the dish. Gloriously bronzed buttery pastry and yet more mash and greens completed the plate.
Finally, pudding. If you're wondering how we managed to fit them in, be assured it was something of a challenge as portions are generous and too delicious to allow much left to be left over. We consoled ourselves it would be rude not to try a spoonful (but should confess we managed more than this) of the apple crumble with crème anglaise and baked cheesecake with preserved strawberries: both well judged, beautifully presented and (critically) not overwhelmingly sweet. Defeated, and with digestif in hand, we retired upstairs.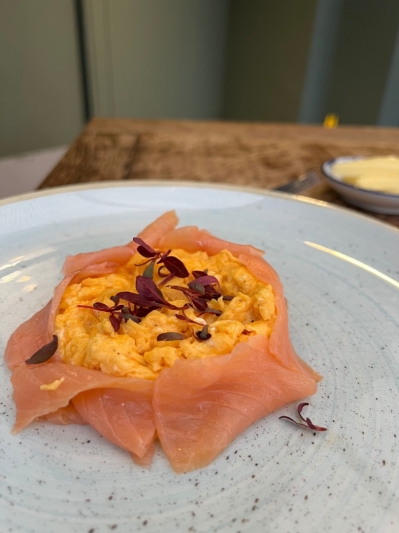 The following morning, after a heavenly night's sleep, we headed back to the dining area for breakfast, this time opting to sit in the conservatory. We were utterly spoiled for choice by a menu which covered all the usual suspects (full English – meat and veggie, porridge, bacon bap) and also catered for more luxurious tastes: smashed avocado; Greek yoghurt, granola, and compote; cured salmon; eggs benedict, royale or Florentine. Armed with giant cups of Illy coffee we hoovered up a bowl of granola between us before making a significant dent in the full English (Paddock Farm bacon, Cacklebean Eggs and local black pudding) and the creamy, delicate scrambled eggs with cured salmon, both of which were served with sourdough toast. As with evening dining, breakfast is open to drop-ins and I can only imagine that if I were living in the village, I would be a regular for the coffee alone, but also because (greedily) I want to go back and try the Eggs Benedict.
In all, I couldn't think of a better place to escape to, for romance, relaxation, and restoration.