As the doors open to the 2022 RHS Chelsea Flower Show (sponsored by the Newt from Somerset) on 24 – 28  May, designers of twelve show gardens promoting twelve UK charities, community interest groups and educational programmes, are looking to raise awareness of, and gain further support for, the worthy causes they are promoting.
For the next three years forty-two organisations will be represented at the RHS Chelsea Flower Show as part of Project Giving Back. Each of the gardens are inspired by a story, and the work of a linked cause. Following the gardens' launch at the RHS Chelsea Flower Show, they will be re-located or re-used in a way that further benefits the cause or community for which they have been planned.  Project Giving Back launched in May 2021 in response to the pandemic's effect on UK charitable fundraising. By funding gardens inspired by a range of good causes for the next three years, not only is it supporting those organisations but also the horticultural industry. 
Amongst the garden designers creating show gardens at this year's show is RHS 'Best in Show' designer and plantsman, Chris Beardshaw, who is delighted to help promote the Royal National Lifeboat Institute (RNLI). A lifelong supporter of the charity, and a keen water sports enthusiast, Chris has created the RNLI garden as one which celebrates both the history and modernity of this multi-dimensional institution. In his design, Chris has cleverly combined style hints from the charity's Georgian origins with contemporary design concepts reflecting the forward-thinking organisation that the RNLI is today.
Amongst Chris's greatest skills as a garden designer, is his ability to create hard landscaping backdrops which enhance the way he 'paints' with plants. This year's show garden will see a classically inspired, oak pavilion with traditional columns and carved inscription, spliced by a contemporary oak arcade located at the rear of the garden. Textural paths created from British Purbeck stone pitchers, wind through Chris's trademark deep and luscious borders. Combining hundreds of flowering herbaceous perennials in a soft palette of whites, pinks and blues, Chris will be creating a celebration of texture, form, and foliage. In addition to the herbaceous planting, he has used a collection of large statement trees which give height and hint at the traditional materials used to build lifeboats when the charity was first established. 
Other features include a series of  Pinus mugo  (dwarf mountain pine) that have been eccentrically clipped to appear as a dramatic rock scape in the garden. A multi-stemmed  Carpinus Betula  (common hornbeam) has been grown around and envelopes a large rock placed within the centre of its stems, forming an unbelievable piece of natural artwork. Unique, large, handcrafted urns have been commissioned to compliment the garden from Warwickshire based Whichford Pottery. These are being created as legacy pieces for the RNLI when the garden is repurposed following the show.
The RNLI was founded officially in 1824 by Sir William Hillary, however, the first patented unsinkable lifeboat was launched by a London coachbuilder, Lionel Lukin, on 2 November 1785. The 2022 representation at the RHS Chelsea Flower Show will be the first time the RNLI has had a dedicated Show Garden at the event. To celebrate the charity's 175th anniversary in 1999, they had a stand in the Show's Floral Marquee funded and designed by the Gateshead Borough Council. In 2003, the RNLI was the Show's chosen charity of the year; monies raised from this funded an Atlantic 85 B-Class lifeboat, later named 'Chelsea Flower Show', which operates as one of the charity's training boats.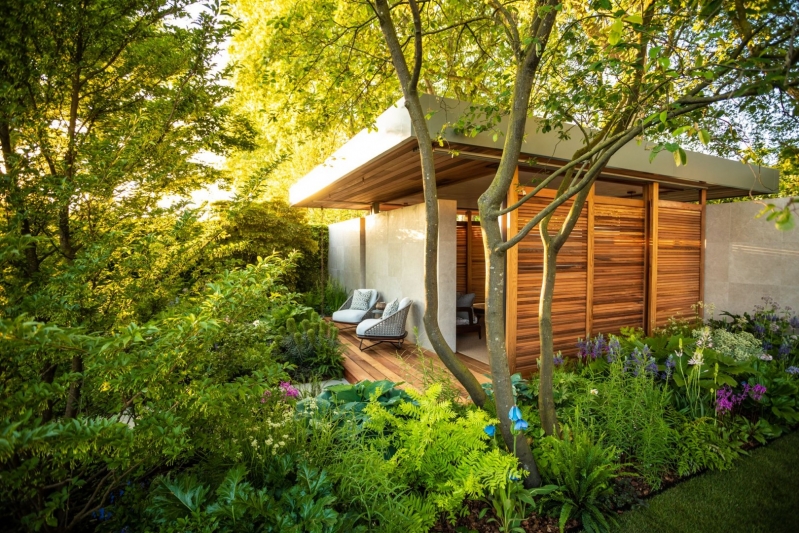 Chris Beardshaw is thrilled to be heading up the team creating this inspirational garden for the RNLI. "We are extremely proud to have been invited to be part of the launch of Project Giving Back at RHS Chelsea Flower Show 2022. To be asked to create a garden for the RNLI for me personally, is a huge honour. As someone who has dived and sailed for much of my life, the RNLI is a charity very dear to me and this is a fantastic opportunity to provide a platform from which to highlight the importance and depth of their work."
RNLI Fundraising, Marketing and Media Director, Jayne George, added: "This is such a wonderful opportunity for the RNLI, and we are incredibly grateful to Project Giving Back for the opportunity and funding and the RHS for giving us the platform at the show. There is something very positive about planning and creating a garden, and we are excited to be able to share that with our volunteers, supporters and garden lovers everywhere.
We are delighted Chris Beardshaw is creating this show garden for us and we know that his sympathetic design will honour our charity's long history of saving lives, inspire our next generation of lifesavers and supporters and hopefully encourage gardeners to host a fundraiser for the RNLI as part of our forthcoming RNLI Gardens campaign."
If you are not already in possession of a ticket for the 2022 RHS Chelsea Flower Show visit  rhs.org.uk/shows-events/rhs-chelsea-flower-show but be quick as tickets and time is running out!