Prices start £152,000 Price as tested £207,000
If you love cars and you love driving, then spending a weekend behind the wheel of one of the world's greatest GTs on some of the UK's finest roads is a pipedream. It's Father's Day, and both significant other and children have given you permission to do just that, for a whole weekend. You jump at the chance of course. So here's to living the dream…
Our choice Father's Day indulgence is the new third generation Bentley Continental GT. It is one of the world's finest Grand Tourers, lifting the bar substantially over its predecessor which, despite its competence and bestselling credentials, sorely needed replacing.
This third generation Conti GT is much more than an overhaul; it is a totally new car; lighter, stiffer and faster than its predecessor. It's better looking too, its contemporary lines and curves making it a sleeker looker and less staid. The biggest immediate difference to the eye is the wider front grille, sleeker, rounded headlamp clusters, and an oval integrated rear lamp cluster design. The finish on the car is stunning, oozing quality at every point, and the interior has to be amongst the classiest in the world, with amazing ambient lighting at night.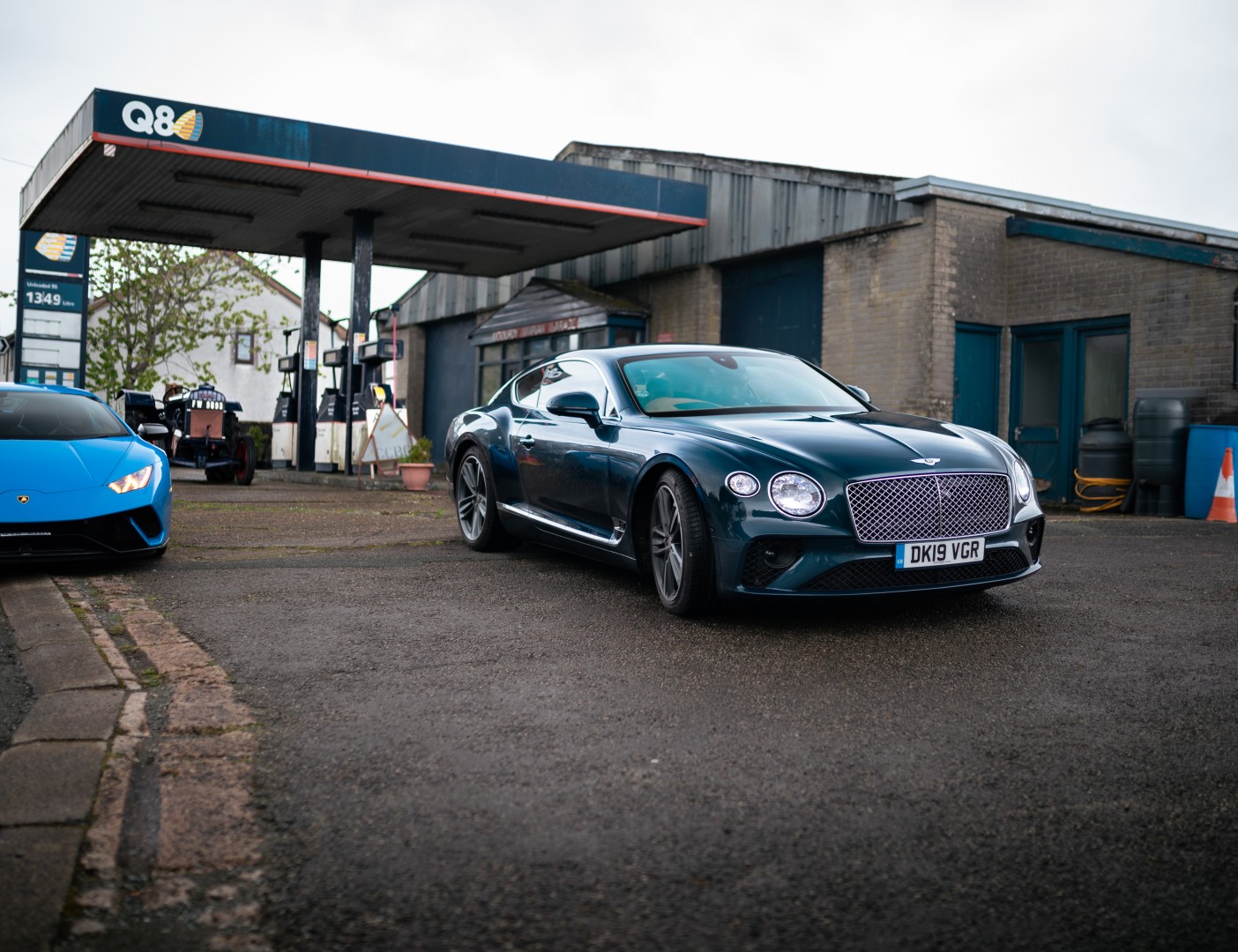 Under the bonnet is a 6.0 litre twin-turbo charged W12, generating 900 Nm of torque, 626 bhp, 0-60 mph in 3.6 seconds and a top speed of 207 mph. Not as self-indulgent as it sounds, for six of these cylinders deactivate under light load. As a result, a credible combined 20.8 mpg is achieved, with a full tank achieving a range of 411.3 miles.
Behind the wheel and beyond
I challenge anyone not to pause for appreciation once behind the wheel. Not once did a passenger sit inside this car without commenting on the excellent finish; add to that the finest leather, the finely embroidered door casings and rear quarter panels (ours had the top Mulliner spec). What's more, the touch and feel of the switchgear is perfect. It is a car you'd be tempted to buy without even turning the key. But when you do…
Visual turns to aural pleasure courtesy of a deep bassy, exhaust note. This is what separates a Bentley from a Rolls, this one's a driver's tool first. Yet that first taste of forward motion is sublime, silent almost, until deeper exploration of throttle travel translates 900 Nm of torque and 600 bhp into a spine-tingling surge. Get that far and you're hooked – add line and sinker to the equation for me.
This Father's Day indulgence entailed a 280-mile Thursday evening hike from London to Snowdonia, a familiar destination for motoring scribblers, as is equally the excellent and friendly Brigands Inn in Mallwyd, where I would be meeting the rest of the 'fathers' for our two days of driving.
Welcome distraction
Anyone other than me that night was in for a boring 200-mile drive; 100 percent motorway speed camera surveillance along my stretch of the M25, the M1 reduced to 50 mph due to roadworks for what feels like half the length of your life, then onto the M6 traffic queuing disaster and finally the M54 to Telford – so empty you are inclined to sleep. Yet in the Conti GT I was oblivious to it all. Instead I chose to introduce six and half grand's worth of Naim for Bentley premium audio into the reckoning, for what has to be the best sounding in car entertainment system to grace the earth. Your Spotify tracks never sounded so good. By the time I was ready to turn off from the M54 for the more entertaining A458, so engaging was Naim that I could have sat on the motorway listening to music without complaining for two years.
Stirrings in the night…
To arrive at Malwydd feeling so relaxed after a long congested evening drive was quite odd. Put it down to the quality of the driving experience; I opted for the 'Comfort' drive on the journey up, saving 'Sport' for tomorrow's daylight, twists, turns, and whatever weather nature chooses.
As I settled down for a night's rest, a range of clearly distinguishable exhaust notes successively interrupted the refreshing silence of the Welsh countryside. The rasp of a BMW M4 with team driver Patrick Bryan, soon followed by a subtle variation of the same tone from Paul Weaver's stunning M6 saloon. The deep throated soul stirring of Panch's 600 bhp Aston Vantage turned up next, soon to be followed by the wild roar of a rude V8 – Steve Holden's bright yellow Mustang. I missed the wail of John Halliwell's Lamborghini Huracán Performante, due with us in the morning. Time for sleep then… or so I thought… close to midnight half of Wales was woken by a sound that can only be likened to a boy racer on steroids: James Sohl in his Honda Integra Type R, bought specially for the occasion and quite clearly the loudest car on earth.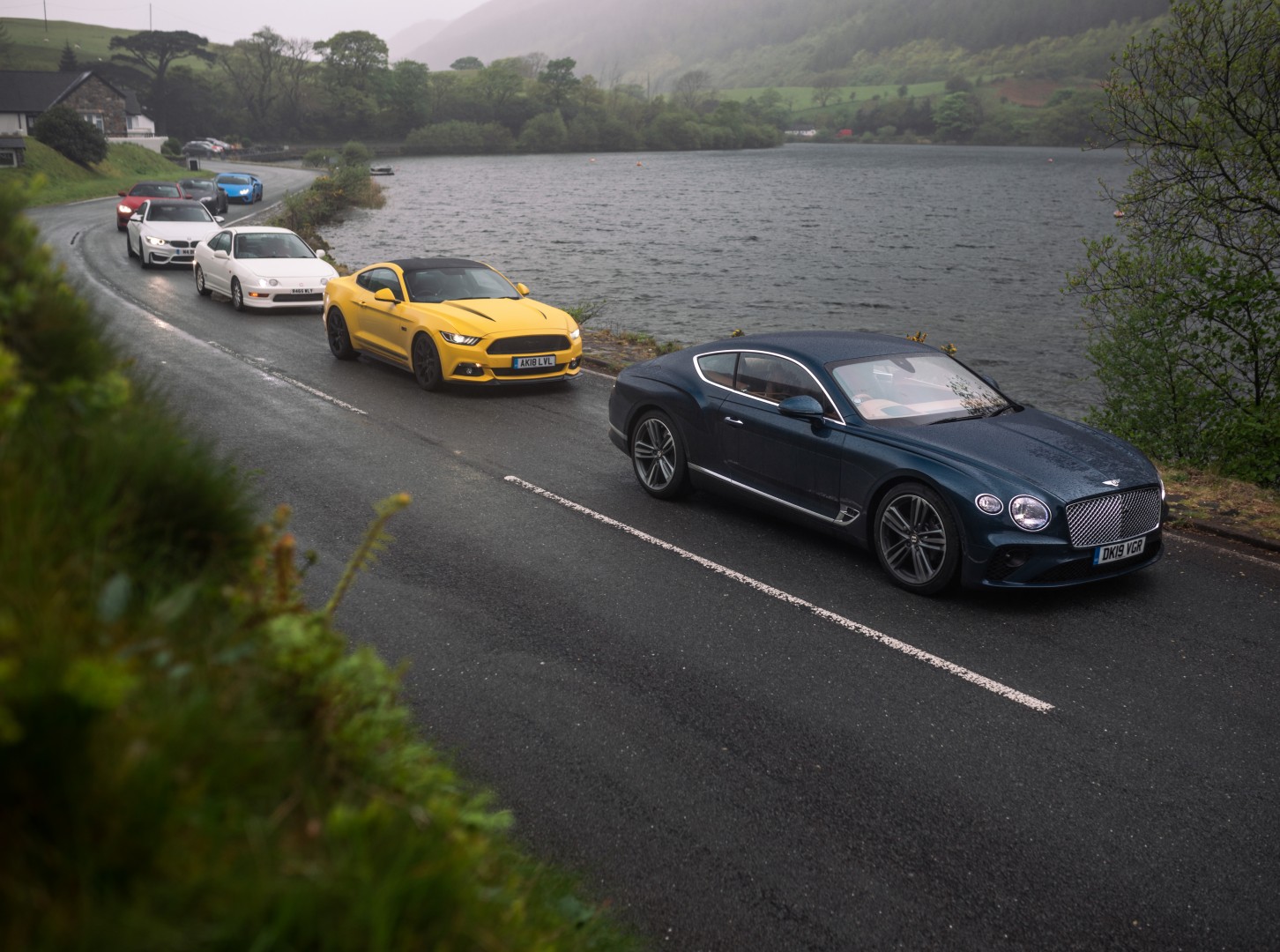 … and in the day
Day two and nature's promise was indeed rain, but Father's Day doesn't come twice. My colleagues are a bunch of dedicated drivers with great cars, so there wouldn't be much hanging about. The Bentley was going to enjoy 'mixing it' with this bunch, despite weighing not far off two and half tons. The previous night's journey was enough to give me confidence in the Conti's dynamic abilities, combined with the wet weather reassurance of four-wheel drive.
I was not disappointed. Outside of the 'Comfort' setting, the Bentley offers the choice of 'B' for optimised all-round performance or 'Sport'. Today of course, it's 'Sport' to which a deep rumbling exhaust note confirms. The suspension automatically tightens up too, but not at the cost of comfort or ride quality, just a tighter more rooted feel. Firm acceleration pinches you with the sheer joy of 12-cylinder power combined with the authority and confidence to take every overtaking opportunity safety allows; you just know you can, so you do.
No need to chicken out on the bends either, you can attack them with sure footed precision courtesy of a finely tuned chassis, suspension, steering, and grip. Yet so powerful is this car that you do feel it needs those amazing brakes to shave off surprisingly massive speeds quickly and with minimal effort – and they do it well. With all of this you'll still have the mental time to notice how the wipers do their work in silence and the crystal clarity of the music, plus when you have to stop for a phone call, the in-car phone reception is as clear as chatting to someone sitting right beside you.
Authority, speed, confidence, luxury, quality and safety. Yes. It's all here. In fact, it is when driven hard that the true driving character of this Bentley shines; it is fun with dignity, power with pride, quality with character, speed with safety, state of the art technology embodied in classical tradition and breeding. It is proof that Bentley hasn't forgotten its DNA, and that the British can still make truly fine cars. It's also one hell of a way to spend Father's Day.