Our fabulous team at Wantage certainly have something to celebrate, after receiving a 'Good' CQC rating, with 'Good' in every single area inspected. Delighted home manager Pat Shaw said, "I am incredibly proud to have such a superb team behind me, who are truly devoted to enriching the lives of our residents each and every day."
Pat was proud to become manager at the home, nestled behind Wantage Community Hospital six months ago, having worked in care for over 20 years.
Our forever home – here every step of the way
Wantage is a forever home, with the experienced team providing permanent and short-stay care options. We provide residential, dementia, nursing, and palliative care, as well as short- and long-term respite care breaks, which can be pre-booked in advance. So, if a loved one's needs change over time, we are here every step of the way.
The spacious bedrooms – many of which have patio doors leading to the beautiful garden – have en suite walk-in wet rooms. The gardens are overlooked by a conservatory, with ample parking for when loved ones visit.
From being pampered in the hair salon, to gentle exercise sessions, there is so much to do at Wantage, including enjoying our own personalised live radio broadcast, thanks to a special partnership with Radio Cherwell. Presenter John Lant brings joy to our residents through music, with a show dedicated to them, filled with their favourite requests and personal messages.
Meet June, one of our resident ambassadors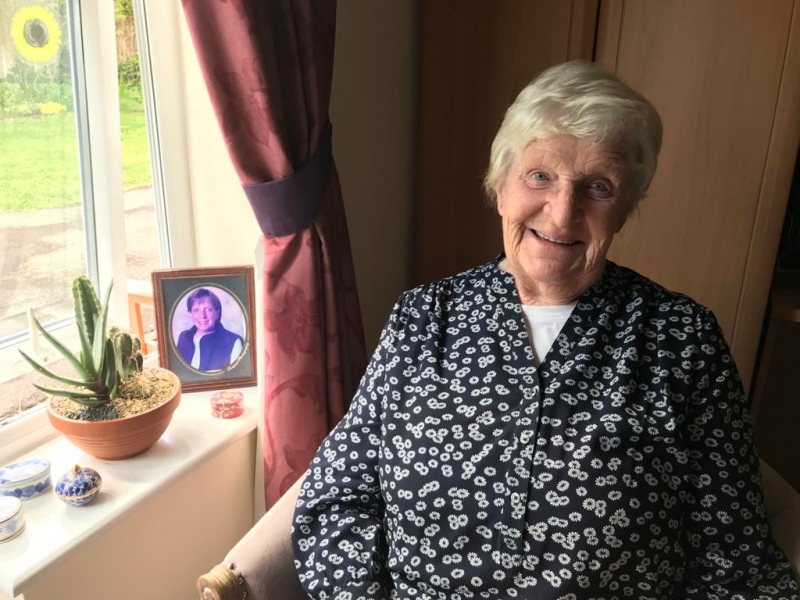 We have two resident ambassadors – June and Sister Trudy – who are waiting to welcome you. Trudy moved into Wantage from the local convent 11 years ago when she needed nursing care. Meanwhile, June loves the home so much that after her husband Jim, who lived with us for nine years sadly passed away, she moved in permanently.
June, who loves sitting in her patio doorway in her bedroom, to watch the wildlife in the garden, says:
"I also love sitting in the conservatory doing puzzles, reading, and chatting to people. It's lovely and overlooks the gardens which are really nice."
Scarlett's joy working with us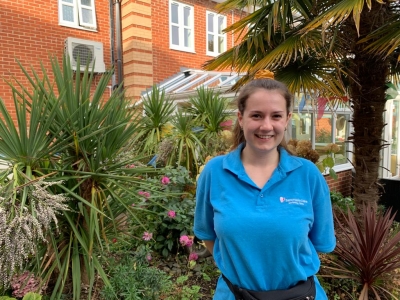 New to our activities team is Scarlett, who loves doing one-to-one activities with our residents individually, for example, sensory activities or chatting to them about their fascinating life histories.
"It's the satisfaction I get – I go home every day with a smile on my face because there is always something about that day which has been heart-warming," she says.
Scarlett and fellow activities coordinator Sue love hosting their own 'Great Wantage Bake Off'. Where the residents get the opportunity to show off their culinary skills by making cake pops for Halloween and will soon be baking their own Christmas decorations!
Food cooked straight from the heart
Speaking of food, mealtimes are a highlight of the day, with the dining experience praised in our latest CQC report. With chef manager Michelle and her assistant chefs Abi and Monica, our residents enjoy delicious, lovingly prepared home-cooked meals and freshly baked biscuits and cakes every day for afternoon tea. From Sunday roasts with all the trimmings to homemade fish and chips on Fridays, there is something for everyone. And if our residents don't fancy something on the menu that day, they will happily rustle up an alternative!
Are you ready for respite?
We are offering short and long-term respite care breaks. So, if you are caring for a loved one at home and need a rest, or perhaps you need care quickly in the event of something unexpected, or somewhere safe for someone special while you take a holiday, we are here.
For more information, please call our Enquiry Support Team advisors on 0800 138 3684.
Wantage Nursing Home, Garston Lane (behind Wantage Community Hospital), Wantage, OX12 7AR.