Are you planning your 2023 wedding? Or perhaps you're already journaling away your dreams for your 2024 bash? Let me help you with the flowers – after all, it's my thing.
Here are seven trends for 2023 and beyond to inspire you.
Bold colour schemes
After the last few years, we're all ready for a bit of colour and celebration. I'm so excited to be conversing with brides about bold colour schemes regarding their flowers for their 23/24 weddings. I suppose this may tie in with the 80s revival that's also coming through (see later), but in a much more modern way. Bold blues, vibrant oranges, purples, reds – anything goes and the more daring and unforgettable the colour scheme, the better.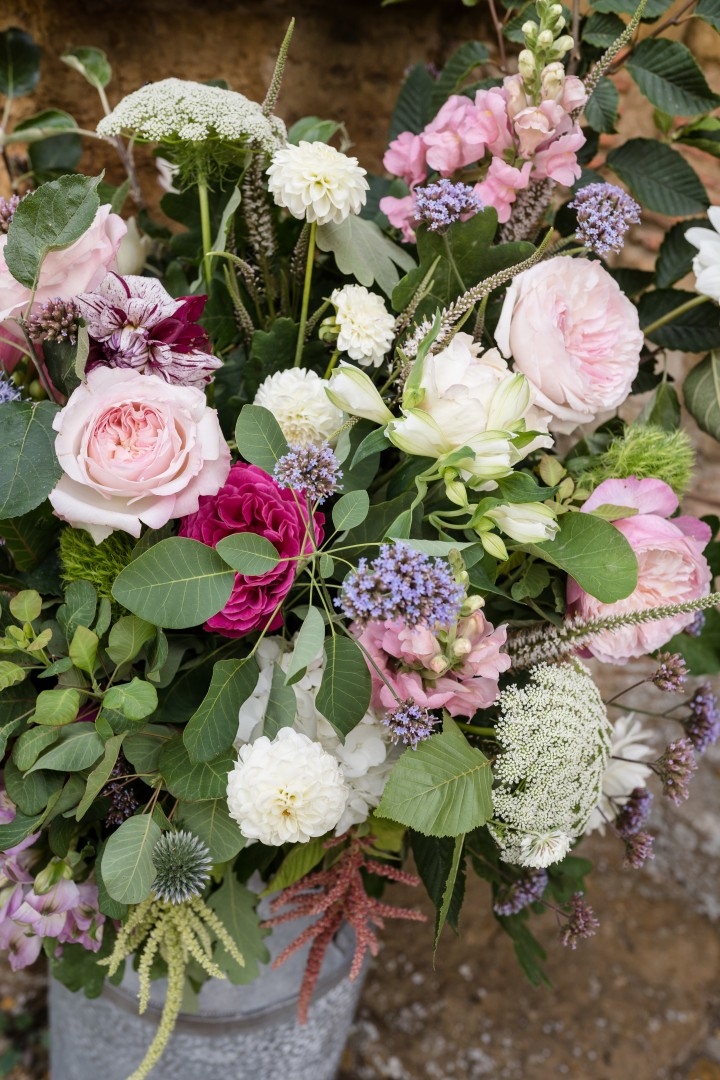 Sustainability
Okay, sustainability has been on trend for a while now. But, thankfully only getting stronger. Brides are seeking planet-friendly options for every element of their wedding. Flowers are an effective and easy way to earn a fair few sustainability points.
When planning, look at the in-season flowers for the month you're getting married and plan everything from there. Not only is it a fun starting point and seriously good for the planet, but I can promise your whole wedding will look and smell beautiful.
Backdrops
As long as we all seek that perfect selfie for social media, backdrops will remain a hot trend. If you're going for fresh flowers (which you absolutely should), a full-on backdrop will take a lot of blooms but, my word – can you imagine how it will look and smell?
If you're going for this, think foliage first – Ivy is great as a starting point, and then build from there. Also – give your florist plenty of notice!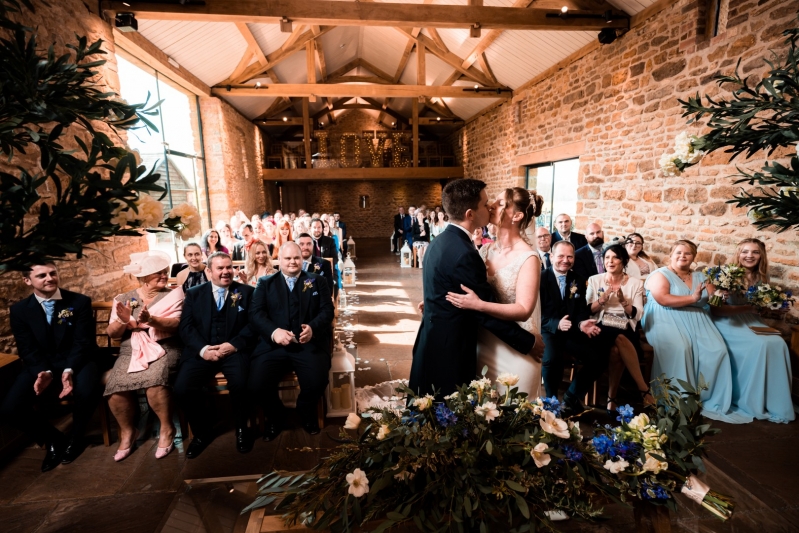 Keeping it relaxed
For many of us, the pandemic offered a slower pace of life. Social calendars went out of the window, and life slowed down – and that's a strong trend that continues for weddings in 2023
Relaxed, unstructured bouquets and headdresses, whimsical displays and decorations are trends that are well with us. This vibe often helps create the most beautiful of wedding days as the flowers set the tone for a joyful celebration.
The 80s
Think back to the iconic weddings of the 80s – Charles and Di, Scott and Charlene and a seemingly never-ending trail of movie and music stars – what did their weddings have in common? The 'more is more' vibe – and it's back. And bigger than before.
When you think of the bouquets these brides would have carried, none of them are the demure little posies we see today – they're glorious cascading sprays of blooms that almost counter-act train length.
Now, while I'm not entirely sold on the 80s wedding revival, I am excited to dig into the floral side of it. I'm on board when it comes those bouquets (Diana's was made using Gardenias, Freesias, Ivy, Lily of the Valley and Earl Mountbatten Roses – it must have smelled incredible); the hair arrangements, who doesn't remember the gypsum that was intertwined into Charlene's veil? And Baby's Breath everywhere for decoration.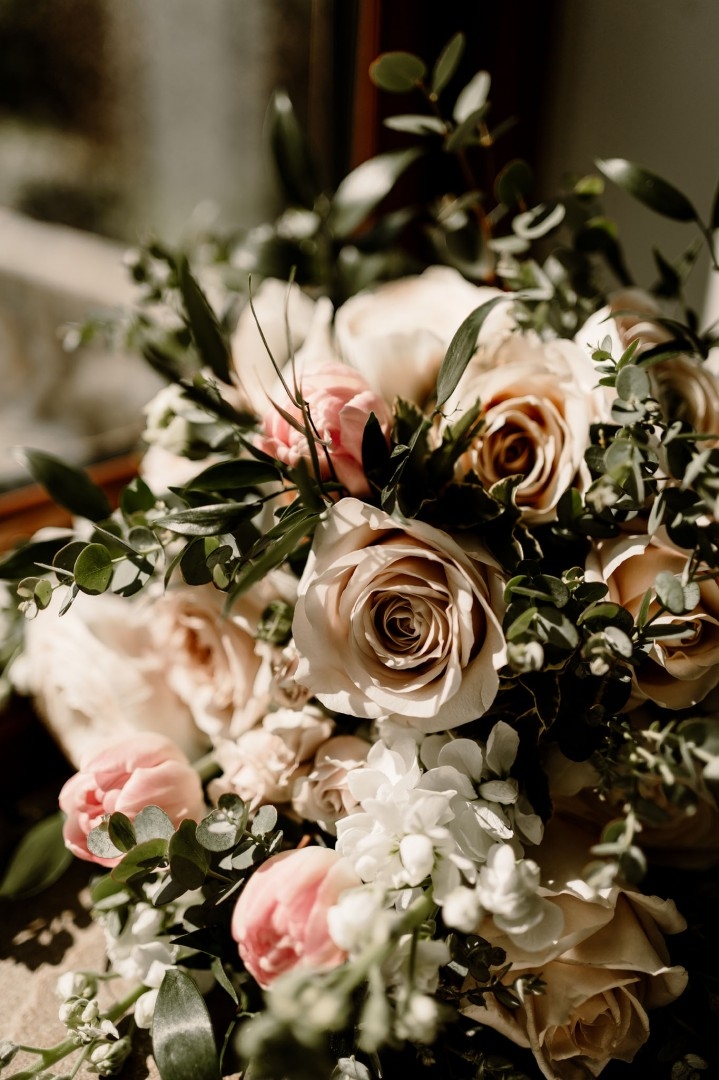 Cornflower Blue and Sunflower
I think this is quite a 90s trend, and I love it. Imagine the boldness of the Sunflowers mixed with the dusty blue of Cornflowers. All nestled together with Daisies in bouquets, table displays, floral arches (although I'd recommend dwarf sunflowers for these due to the weight), and pew decoration. Could there be any trend that says British summer more?
Perfect to compliment traditional lace. This beautiful colour combination is simple and elegant. It sits beautifully with added Baby's Breath and eucalyptus.
Complete the look with some White Rose of York for added romance.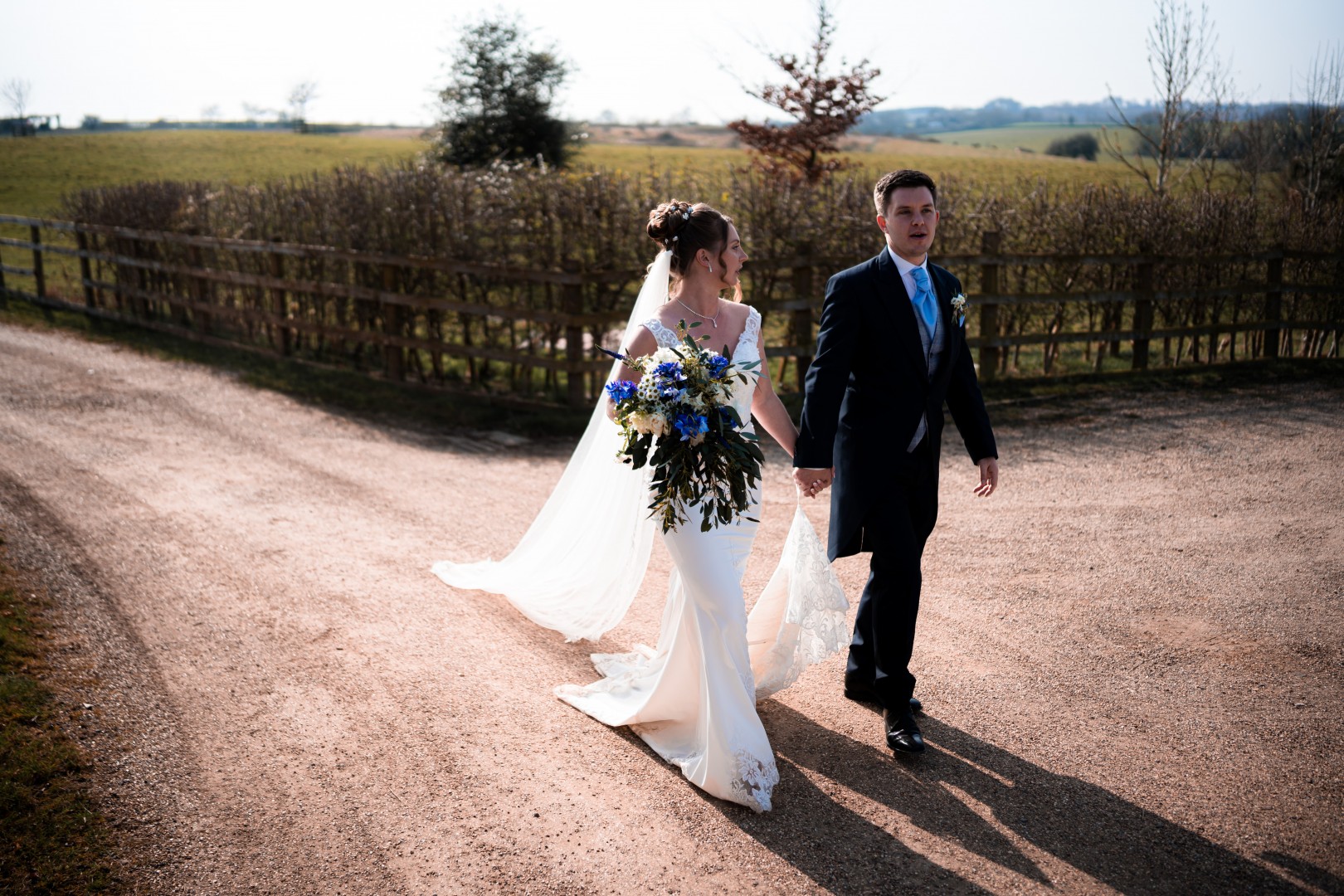 Trailing table centrepieces
As wedding receptions move from the traditional round table set up to extended, more communal seating arrangements, I've seen this trend doing the rounds for a while now. Every time I see it in a new place, I love it a bit more.
Think long centrepieces that take up the length of the table, and then some intertwined with candles. This trend works beautifully with plenty of greenery and flowers woven in - roses or peonies work perfectly.
This display theme can easily be carried through the celebration – from the car to the church and the reception. It's just gorgeous.
All flowers by fieldgateflowers.co.uk
Fieldgate Flowers is a British Flower Farmer and Florist, growing beautiful, sustainable, blooms in Lathbury, Buckinghamshire
Photographs of Natalie and Dan's wedding by @skyphotographyuk
Photographs of Emily and Luke's wedding by @hbaxterphotgraphy
Photographs of Emily and Chris's wedding by @XXXXXXXXX