With a focus on caring for the environment and sustainability, earlier in the year OX was interested to meet up with Jamie Langlands, an Oxfordshire-based garden designer, to learn more about how his ethos on garden design is gaining popularity and winning him prestigious garden design awards.
Originally from Dorset, Jamie studied fine art at Arts University Bournemouth. Then his love of painting landscapes and plants led him to gain an RHS qualification in horticulture at Kingston Maurward in Dorchester. Since moving to Oxfordshire, Jamie initially worked with a landscaping company but set up his own business two years ago, and it's going from strength to strength.
Many of the principles Jamie uses in designing an award-winning show garden, are equally important when it comes to designing gardens for clients around Oxfordshire and the London area. "When I design a garden, I want to ensure the garden and materials used are as healthy to the world as they are for the area in which they are used. I look at the entire ecosystem and only use hard landscaping materials which are long-lasting, sustainable, eco-friendly and often use new materials such as porcelain paving or bamboo decking. My clients benefit too as these materials tend to last longer and look stunning and stylish."
Having previously designed award-winning gardens for Blenheim, RHS Malvern and BBC Gardeners' World Live, the 2019 Blenheim Flower Show was Jamie's first time designing and building the garden solo. At the time of speaking, he is in the final stages of planning his Blenheim entry for 2020*.
"When I got the brief for the 2019 Blenheim Palace show garden towards the end of 2018, the title was 'Regeneration'. Designing for Blenheim is quite restrictive as we are not allowed to dig plants into the ground as the show is held on a World Heritage site. One of the most important things when creating a show garden is to use verticality; it is important to achieve a sense of age and the size of plants can help this. The size of the site is five metres square which is not such a problem as it is representative of many clients' town gardens or sections of larger gardens. With a budget of only £1,000 for materials and plants, I set about creating my first solo show garden blurring the lines between interior and exterior design. Although aimed at younger clients, this sleek and stylish garden can be adapted for all ages, offering a low maintenance and affordable area to entertain, relax and grow your own.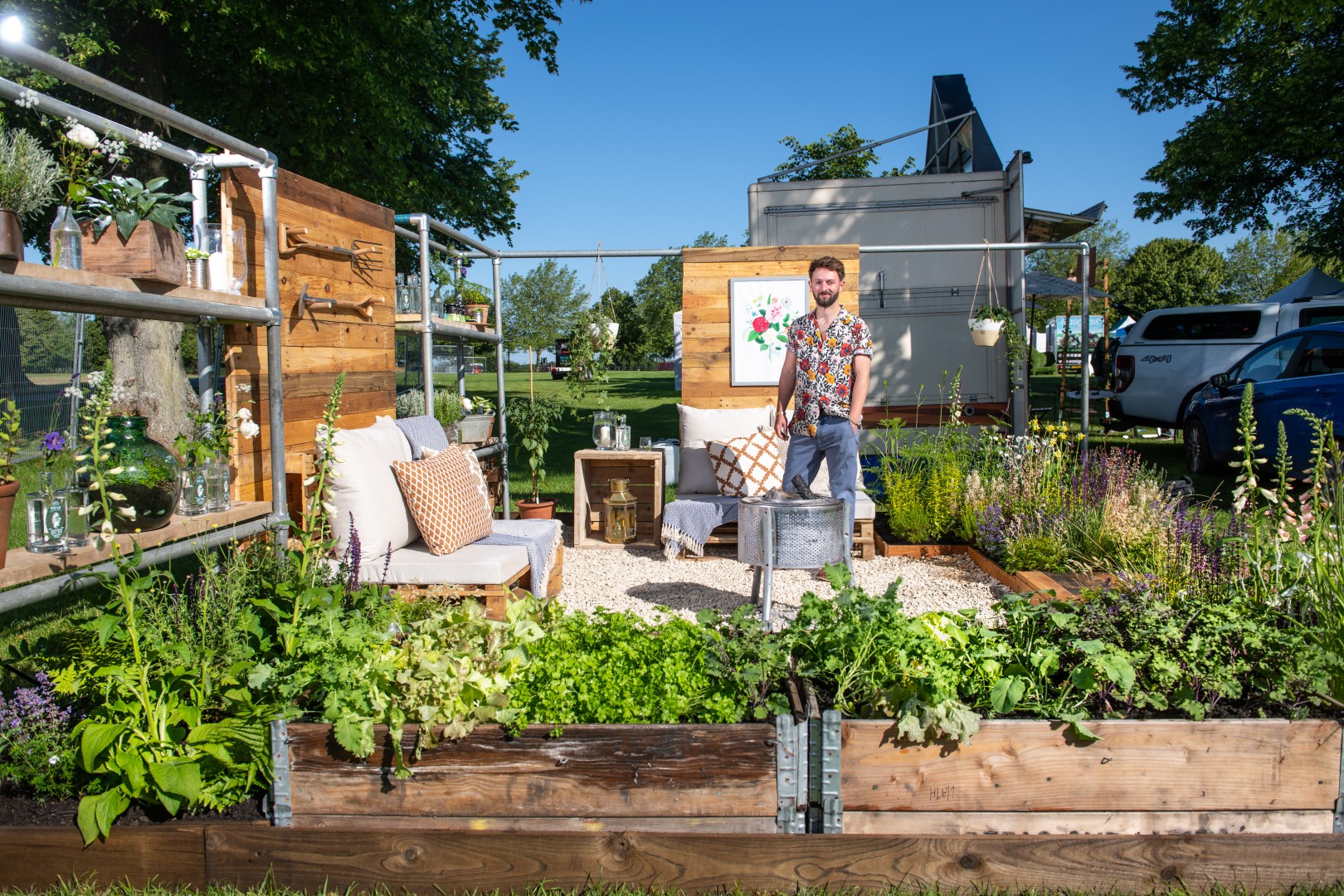 "Over a three-day period leading up to the show, my father and I constructed a seating area from recycled pallets, the walls were stripped pallets which had been sanded and painted with linseed oil to enhance the wood. Scaffolding poles, unsuitable for use by a scaffolding company, formed the framework for shelving units and scaffold boards were used for shelves. These held various items including herbs planted in old tin cans. Raised beds were made from pallet frames which can be stacked as high as you want, lined with membrane, you can grow vegetables, herbs or colourful ornamental planting in these beds. We had a fully stocked bar and a fire pit made from an old washing machine drum."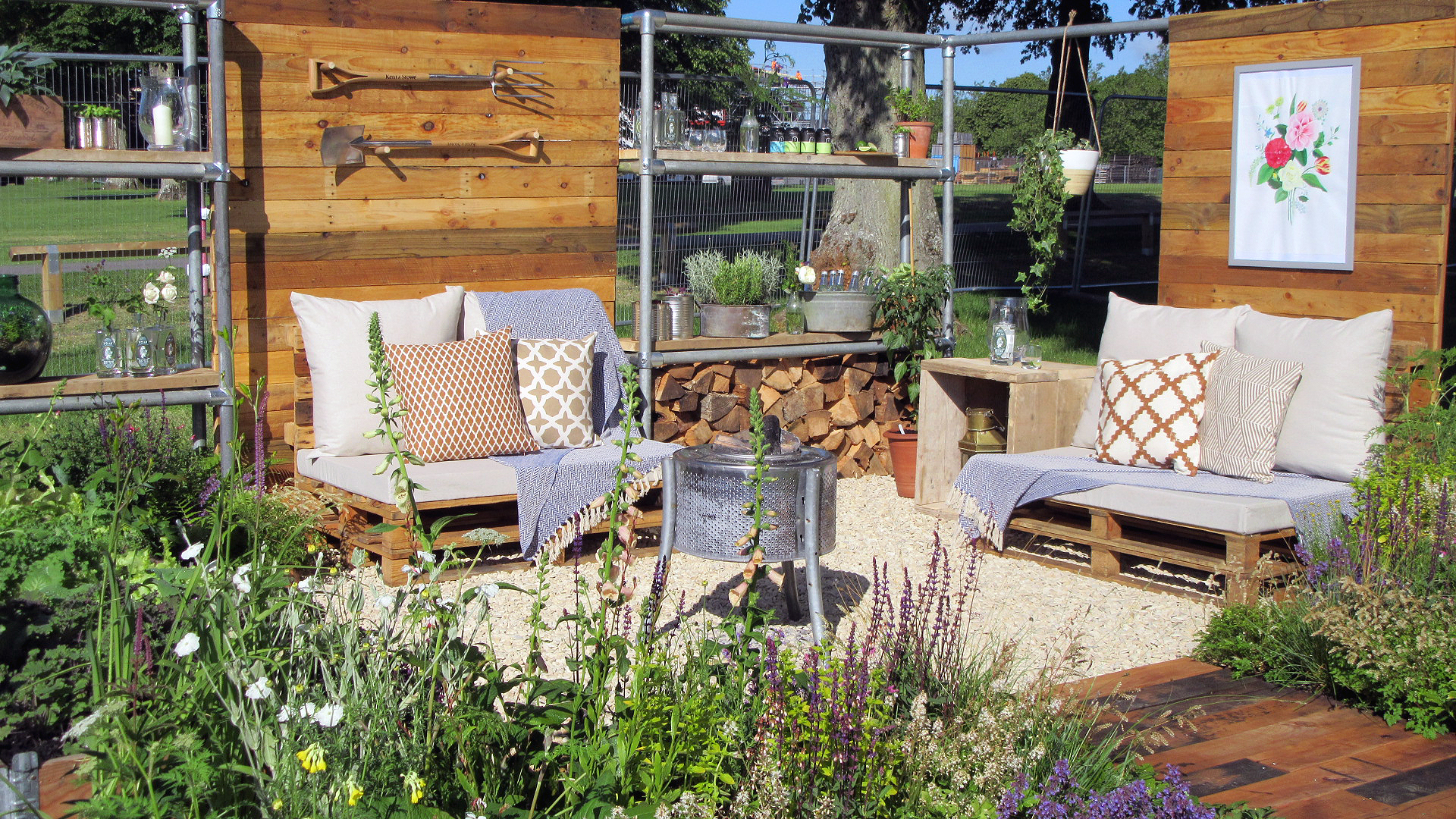 Prior to winning Best in Show at Blenheim in 2019, Jamie had gained success at RHS Malvern where, together with a landscaping company for whom he was working, he designed a garden entitled 'Low Line' focussing on the regeneration of disused urban spaces. Combining simple materials with a limited colour palette and natural planting, the team won silver. Used to creating stunning contemporary gardens, when he designed a show garden at BBC Gardeners' World Live, Jamie was challenged to construct a more traditional cottage garden. Inspired by a take on a memory of his grandfather's garden, and remembering advice given to him by judges at RHS Malvern, he wanted to make the show garden as realistic as possible. This was achieved by scattering fallen leaves, allowing grass to grow between the paving and even encouraging a few weeds amongst the planting. The 2017 garden was awarded a silver merit, but more importantly won the 'People's Choice' award.
Designing gardens for clients and shows takes many hours of work to create something unique and on brief which will give pleasure to the people using or visiting the garden.
* Following the government updates and the ongoing situation with Covid-19, Blenheim Palace Flower Show has been postponed until 25-27 June 2021.