Good quality seating is a worthwhile investment. The more solid the joinery, the longer the table will last. Picture courtesy of Vincent Sheppard
Every home, perhaps every room, needs a table. For everything from the small everyday rituals – like breakfast or working from home – to special celebrations of life's milestones. Whether your decor is rustic, modern, industrial or a more diverse mix, your table can set the tone for workdays, weekends, or the home office. Choosing the right size table, chairs, and dining sets is one of the most fundamental furniture choices for your home. So, investing time to research and choose the best you can afford can make a huge difference to the function, longevity and end result of your dining or working area. Amanda Hanley talks us through where to start…
Shape and Size Matters
From a practical point of view, it is essential to carefully consider the style of your dining table and to assess the shape and size of the room it will inhabit. Round tables are great for entertaining and easier to move around in smaller rooms. Rectangular tables offer more space, seating options and legroom. An oval shape is also a great way to save space without sacrificing surface area. If spending time with friends and family is your priority, extendable tables are worth considering; but always check that you have enough space to operate it efficiently at its extended size.
Pick Your Finish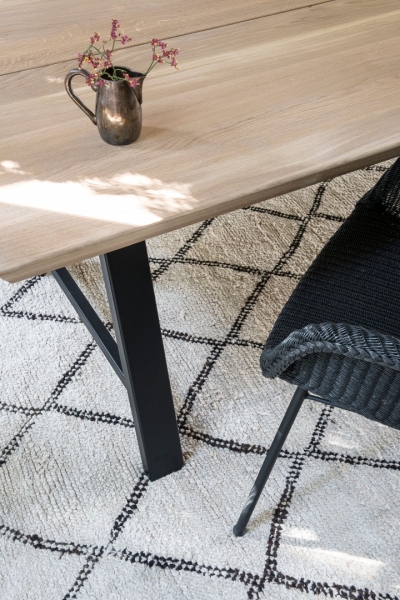 Picture courtesy of Vincent Sheppard
When it comes to choosing the style of wood for your table and chairs, it is important to select the best material you can afford so it will stand the test of time. Don't go for the mass-produced or flat packed, rather choose good quality, handmade, statement pieces that you will thank yourself for buying in years to come.
Wood is the traditional choice. Hardwoods, such as walnut and mahogany, are expensive but provide a wonderful formal gleam when finished with a traditional French Polish. However, busy households may prefer a more durable, lacquered finish. This will, however, eventually still require the same professional repair as French Polish.
Hard-wearing oak and inexpensive softwoods, such as pine, can be very practical if used with wax and oil finishes that can be reapplied when needed. The middle ground is a combination of solid wood and veneer, which provides an expensive timber finish at a lower price. MDF is ideal for those considering a rustic painted finish; and don't discount reclaimed woods, especially oak, for that beautiful worn, antique style. Wood with metal accessories and fixings can provide a statement combination.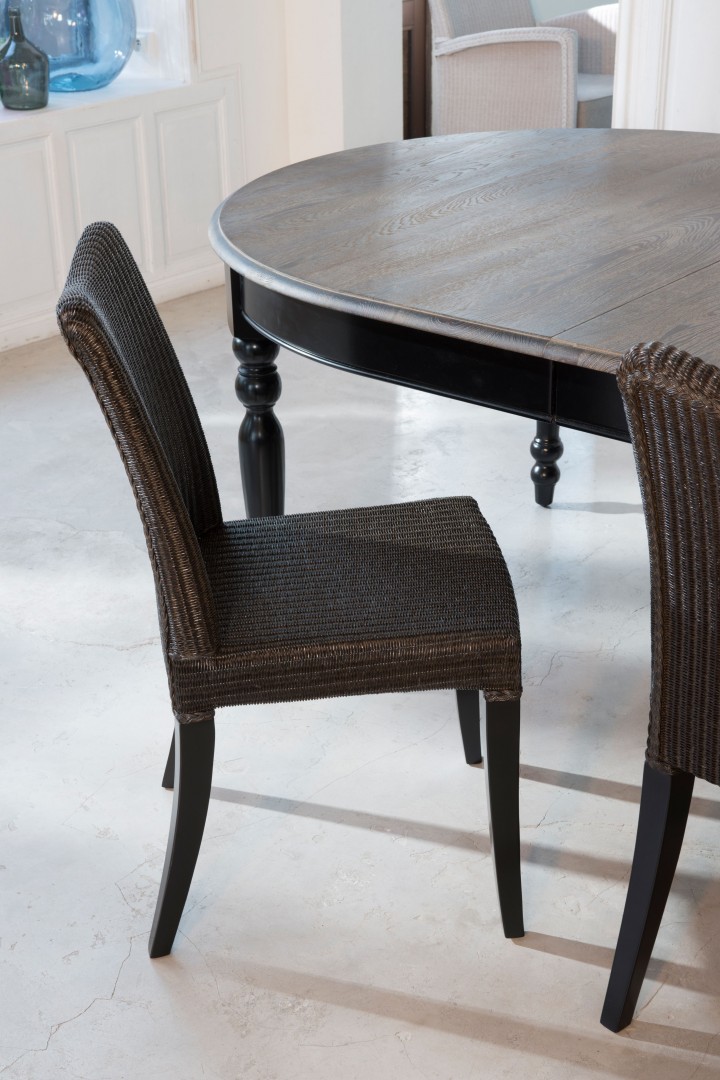 Picture courtesy of Vincent Sheppard
Seating
If you are buying new chairs, sit on them for a while to ensure they have the comfort and support you require. A dining chair needs to be comfortable and give good back support, ideally with a slightly curved shape; and your chair should not be too heavy or awkward to move. It is essential to focus on practicality whilst ensuring your choices still complement the surrounding space. You may opt to combine your own choice of chairs with a non-matching table for a more personalised dining room style.
Many forget to consider the correct height of the seat for their chosen dining table. The average height for a dining table is 76cm, so dining chairs generally need to be around 46cm high. A great 'rule of thumb is that there should be approximately 30cm between the tabletop and the seat.
The size and finish of the chair will dictate how it should be covered. Keeping the colours of base furniture neutral will allow space for colour and pattern to be added, through both fabric and accessories such as rugs and seat cushions.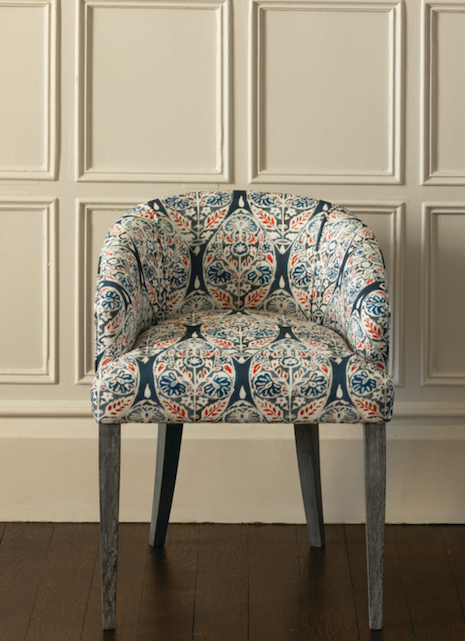 Picture courtesy of William Yeoward
Upholstered Chairs
Chic dining chairs are now wearing velvet, which not so long ago would have been unthinkable. Now, hardwearing blends mean velvet can be widely used. Traditional and contemporary styles of dining chairs can be customised to be truly bespoke. So, once you've chosen your ideal chair, be it new or old, it's time to think fabrics. You can choose from an extensive selection of sumptuous plain velvet or linen fabrics or create a statement by adding a strikingly patterned fabric.
Be brave and avoid safe options; a little colour-choice courage goes a long way – you will never achieve the wow-factor with the predictable.
Choose Your Table Theme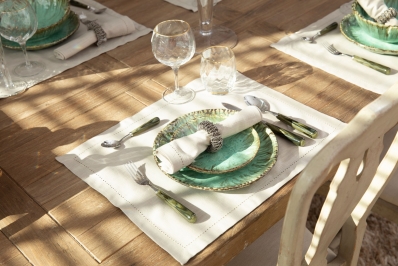 When selecting your tableware, be inspired by nature's hues to add instant warmth and character to any table. Contrasted with a wooden table, they will bring your entire dining set to life.
First things first: what ambience do you want to create at your table and how will it be used? Start by deciding your theme through colour and texture, looking at the table itself and the surrounding furniture. To dress the table, you could include organic, natural elements or go for a sleek and polished modern look.
The shape, style and colour of your tableware will help to set the atmosphere, so do try to use the same tones and materials in your styling for a harmonious result. If, for example, you use white table linen, combine it with white candlesticks and ornate glassware to link your upper and lower layers together. 
Amanda Hanley's Furniture maker in the spotlight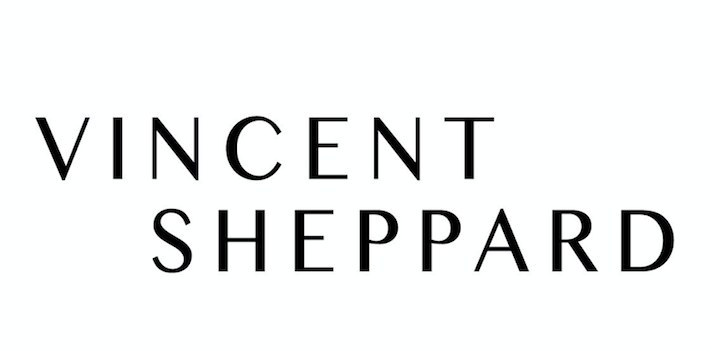 Pure craftsmanship and natural materials mixed with extraordinary skills, expertise, and passion have always been a signature of Vincent Sheppard's furniture design. Designed both for comfort and to delight the eye, Vincent Sheppard produces a fantastic range of sustainable indoor and outdoor Lloyd Loom furniture, made from woven paper that looks like wicker, but is both smoother more comfortable and durable.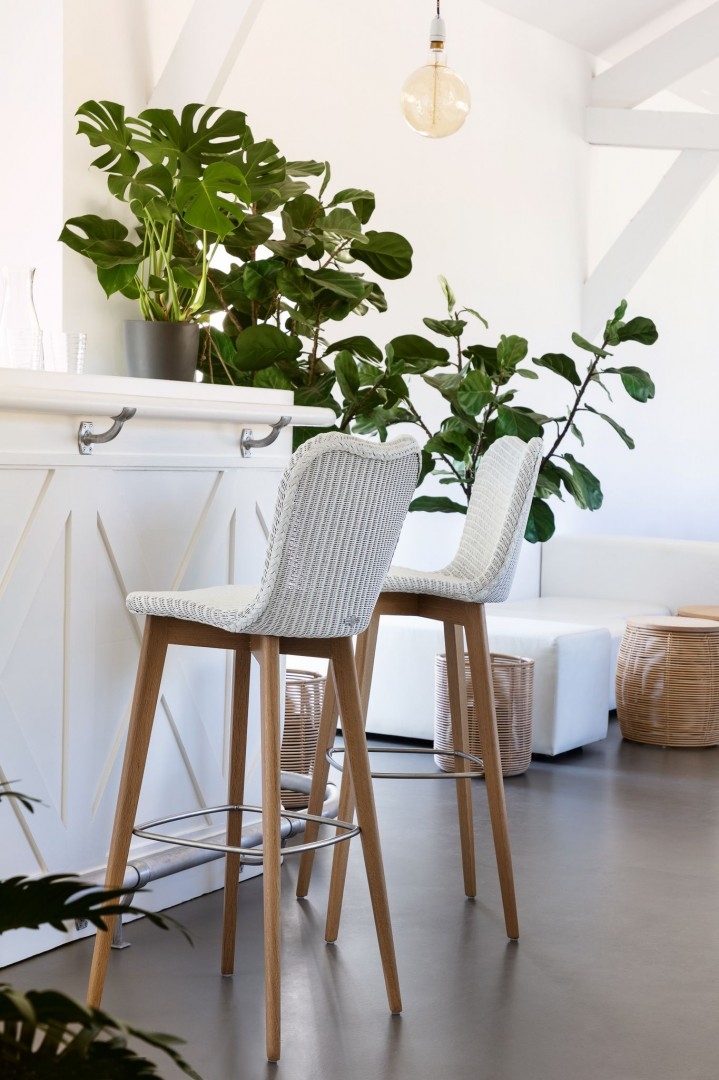 The Lily bar stool with an oak base adds instantly cosy vibes to your interior. Available in a huge range of Vincent Sheppard loom colours to suit your kitchen scheme. Picture courtesy of Vincent Sheppard