Created by Oxfordshire artist Jane Tomlinson, this colourful map, Keep on Rockin' in the Free World – a visual soundtrack of North American rock music – was painted with a mixture of watercolours and inks with added homemade transfers in the spirit of Pop Art and a big dollop of love!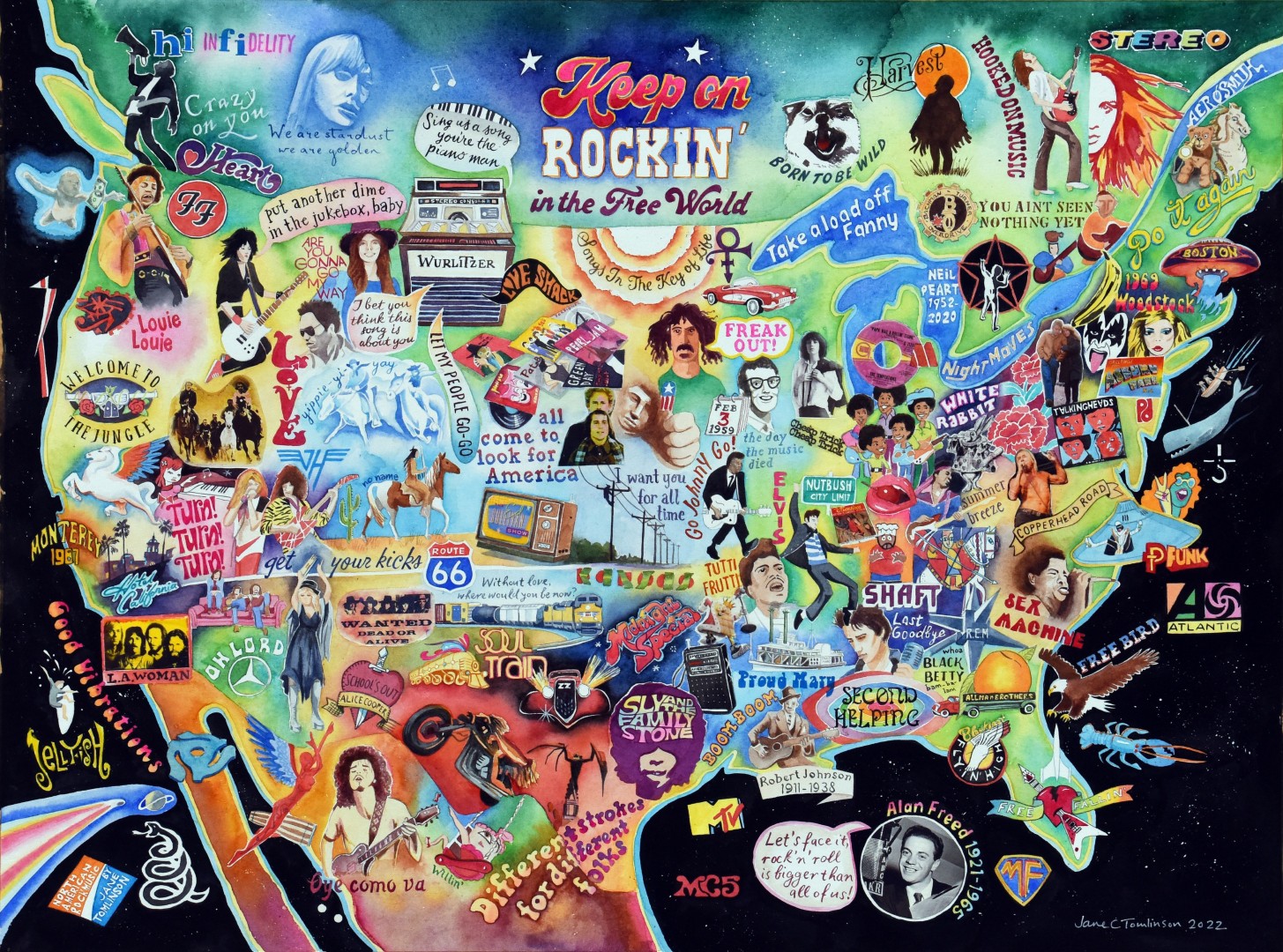 Jane chose the title from Neil Young's 1989 anthem and the map itself pays homage to more than 100 bands, artists, songs and cultural icons that reflect the spirit of most genres and styles of rock music: that's 'rock music' in a wide sense as it often has blurred boundaries with other genres, such as funk, blues, pop, folk and punk. Jane's choices include influential, iconic, significant and well-known tracks, and with so many to choose from, inevitably Jane has chosen her favourites. "I've used many ways to represent the music I love: logos, portraits, album covers, elements from a band's iconography, lyrics, and cultural references," she explains.
Laughingly described as Disk 1 by Jane, Canada sits at the top of the map, and you'll spot Bryan Adams' black and white figure as seen the cover of his album Waking up the Neighbours in the place where you'd find Vancouver. It's the city in which, although it's a long time since he called it home, he settled as a teenager. The baby from the album cover of Nirvana's Nevermind swims off the coast and at his feet Jane has placed the logo from the Heart's album, Dreamboat Annie, the album made in Vancouver which made them famous. Alongside, Joni Mitchell's face from the cover of the Blue album and a lyric from her song Woodstock represents the influence of American folk music on rock.
On the far side, Alanis Morrisette peers from the picture, a striking red as seen on the album cover of Under Rug Swept, with – below the lettering of 1969 Woodstock "to remember the US festival of all festivals, which was not held at Woodstock in Oxfordshire," laughs Jane, "something my mum, Janet often had to explain as a guide at Blenheim Palace."
"Look out too for the iconic Starman emblem, which first appeared on Rush's 1976 classic, 2112, and has appeared on countless Rush releases since, next to (in Lake Huron) a reference to the incredibly sad early death of their incredible drummer and wonderful lyricist Neil Peart. He was a favourite of mine," explains Jane.
As well as an attractive piece of art for any wall, the map is rather a riddle, and Jane hopes that music fans will enjoy working out who's who and what's what from some of more the obscure references. "It would have been too easy – and actually not very interesting – to paint logo after logo," explains Jane, "so I decided to make it more participative. Some tracks are obvious but for others, viewers will have to spot and work out what's represented. Where possible, I have placed subjects somewhere relevant. However, there are so many artists and bands with connections to cities such as New York and Los Angeles, that it has been impossible to be 100% faithful to geographical origins so I've had to exercise significant artistic license."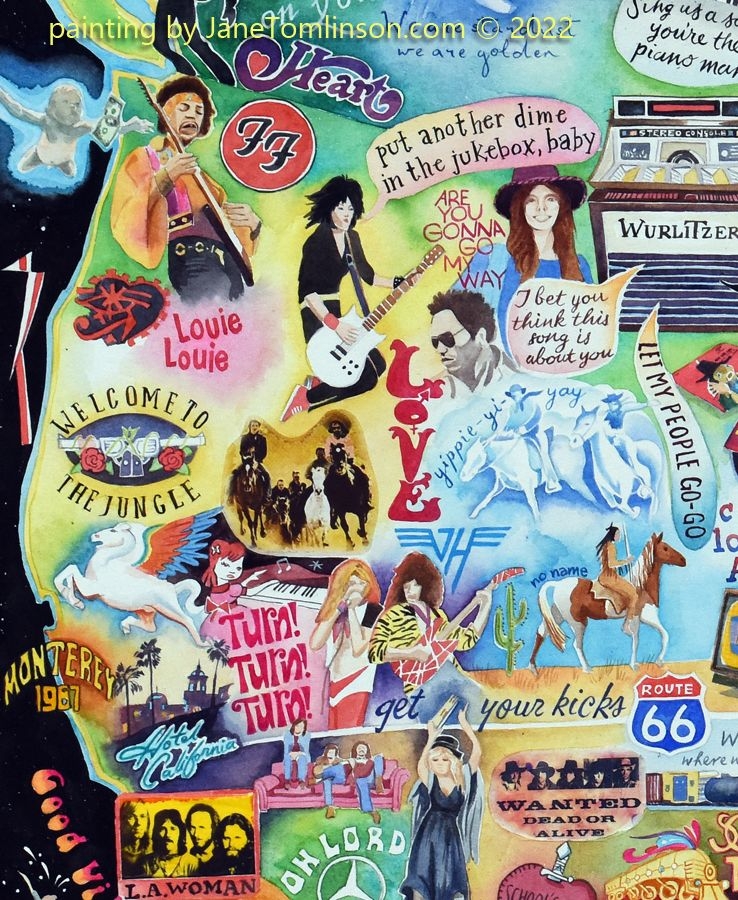 On the West coast you'll spot Monterey 1967 (International Pop Festival) – often regarded as one of the first events of the Summer of Love and filmed as Monterey Pop. The festival featured the first widely witnessed US appearances of Jimi Hendrix, The Who, Janis Joplin, Otis Redding and many others; kickstarting many careers. Jimi Hendrix himself can be spotted further north.
"Look out too for Love," says Jane, "possibly the first ever logo in rock? Fronted by primary songwriter Arthur Lee, they were one of the first multi-racial American rock bands. Their third album, Forever Changes is surely undeniably one of the classics of the sixties."
Jane has also included the neon sign from the cover of the Eagles' Hotel California album, and the Beach Boys' Good Vibrations appears in the Pacific Ocean with a surfer, and the picture of LA Woman by The Doors, one of Jane's favourite albums by one of her favourite bands.
In the top centre of the map, Songs in Key of Life marks Stevie Wonder's contribution to the rock world and was the first album Jane ever bought with her own money at Tower Records, Sacramento in September 1977.
"You'll also spot Prince's 'Love Symbol'," continues Jane, "Elvis, of course, and the faces of The Jackson 5 (from their TV cartoon series), Simon and Garfunkel (as seen on the cover of Bridge over Troubled Water), and Buddy Holly, one of the first stars of rock and roll, sadly also represented by the date Feb 3 1959. In Don McLean's American Pie "The Day the Music Died" was when Buddy was killed in a plane crash along with fellow stars Ritchie Valens and 'the Big Bopper' JP Richardson, as well as the pilot, Roger Peterson."
"It has been fascinating to dig down into the meaning of some of the songs on the map," she continues. "Atlantic Records record label logo appears in the Atlantic Ocean which was an obvious spot, but you'll also see a whale, "the mighty sperm whale" from Mountain's classic song Nantucket Sleighride (to Owen Coffin). It's been harpooned and is pulling a whaling boat along (which was known as a Nantucket Sleighride). The song is about the bravery and loneliness of whale-hunters before the world acknowledged just how brutal and inhumane that industry was. (Owen Coffin was a young seaman on the whaling ship Essex, who was shot and eaten by his shipmates after the ship was rammed and wrecked by a sperm whale in 1820.)"
Beneath, the 'hook-and-cross' is a logo that appears on every Blue Öyster Cult album: in Greek mythology the hook-and-cross apparently symbolises Kronos (Cronus), king of the Titans, father of Zeus, and grandfather of Hercules. Its inclusion seems eminently appropriate given this labour of love has been, for Jane - both a Herculean effort and a heavenly end-result for all rock music lovers.
North American Rock Music Map – Keep on Rockin' in the Free World is available as an A2 signed print for £40, a 1000-piece jigsaw for £32, and as a tea towel and cards via janetomlinson.com