Henley-based artist Kirsten Jones is inspired by treasured everyday objects and their remembered or imagined histories – each of her paintings tells a story in fresh inks and washes of acrylic paint. Kirsten chooses vibrant colours that hark back to an earlier era, adding expressive brush stokes to neutral backgrounds that quietly set the scene. Collaged with intriguing remnants, memories and motifs, these backdrops add the flavour of favourite places and recollections using elements of vintage envelopes and stamps, maps, music, and more.
A particular long-held memory for example, inspired Eggs in China, crisp shells fresh in a blue bowl against Chinese newspaper. "I once travelled to China and often ate at roadside cafes along the way," she explains. "The tables were always patterned, and bowls of hard-boiled eggs were arranged along them with soy sauce and chopsticks. The eggs always looked so beautiful in their different coloured bowls; I made many sketches and the image stuck with me."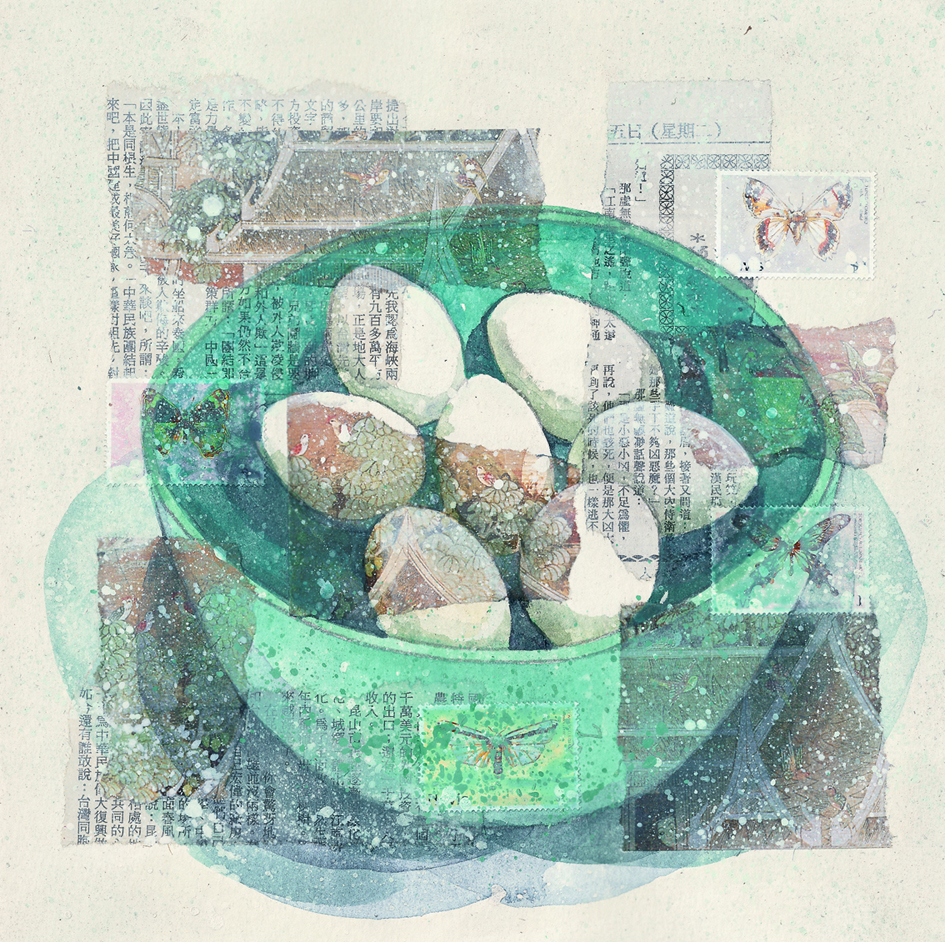 "I have also been lucky enough to travel to places where the fabulous pomegranate grows on trees," continues Kirsten. There is much mythology and symbolism surrounding the fruit which is often seen as a symbol of fertility and promise. In Greek mythology, the seasons are attributed to Persephone eating four of the seeds whilst being held by Hades, King of the Underworld. It's been depicted by many artists from Botticelli to Da Vinci and has also symbolised royalty in the family crest of Catherine of Aragon – when she was replaced by Anne Boleyn, her successor's new coat of arms showed a falcon pecking at a pomegranate.
"History aside, this picture reminds me of when I was small and picking pomegranate seeds could make for a whole afternoon's entertainment and also of the time my friend Cath ruined her mum's wallpaper by eating the fruit just a bit too close to the wall!"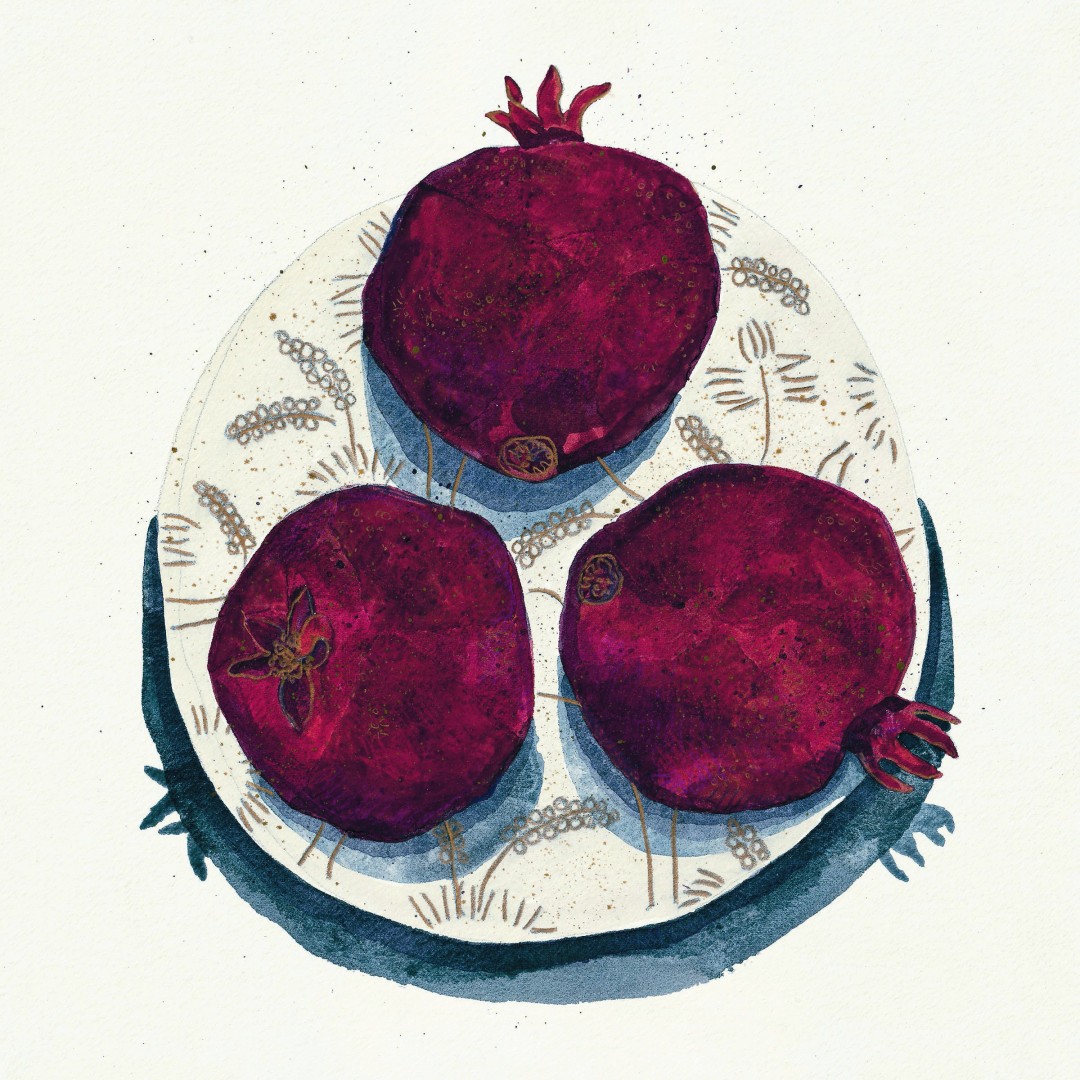 Back at home, cooking has been a strong feature of this year's lockdown and many of the pieces Kirsten has painted this summer evoke the idea of preparing a plate with love and artistic flair – from fish to fruit.
"My interest in vintage crockery began when I was very small," she explains. "My Nanna kept her 'best' plates and bowls in a special cupboard and I was drawn to the detail and delicacy in the patterns of tiny green leaves and rosebuds. Using these kinds of plates to present food makes it especially beautiful and special.
Strawberries is a piece I painted at the beginning of the lockdown; I put the berries in a beautiful vintage ice-cream glass on the garden table and for the background I pulled in the shapes of the camellia flowers beyond and the spirals from the garden bench.
"I have also been painting rhubarb this spring. Rhubarb is divine and elegant," she smiles, "it also reminds me of Nanna who grew it in her garden and always had so much she would give armfuls away to the neighbours. I love the way the fresh green leaves on those perfect pink stems announce spring with such brilliance – that's why I have used 1950s music hall scores for the stems in my rhubarb series – these bright and cheerful songs seem the perfect way to announce the onset of spring and summer."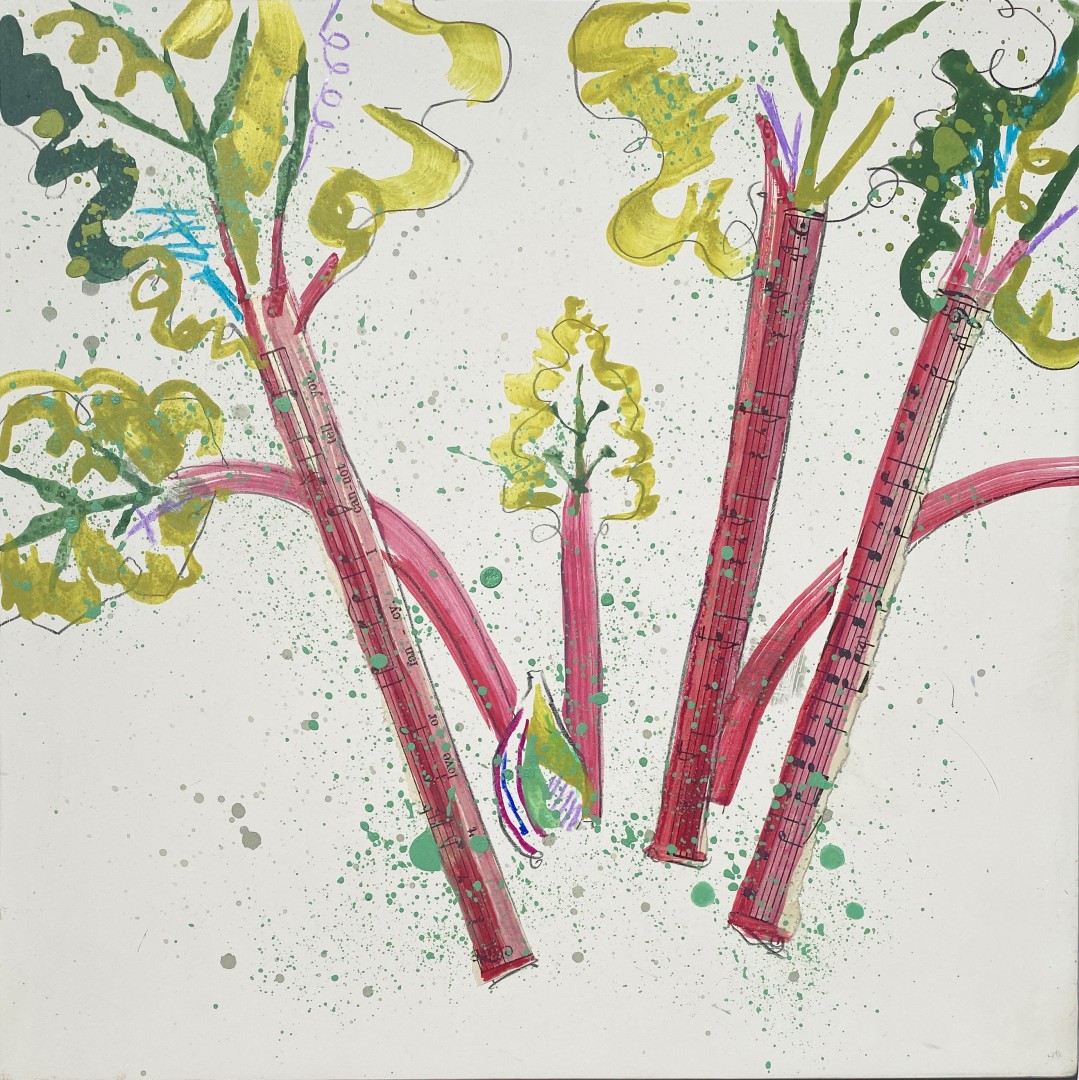 Kirsten also cultivates an indoor lemon tree. Golden Lemons is a piece inspired by a market stall in Paris selling lemons with the charming fresh leaves still attached. After abandoning a jumper she was able to fit the lemons in her suitcase and brought them back to her studio where she painted a series of two pieces using patterns from the nearby fashion centre of Paris, French recipes and a beautiful white dish.

Kirsten's art also includes a series of small colourful glasses, bursting with the promise of tasty drinks within. "The Cocktail Collection is a recipe for love, fun, happiness and living in the moment. Some are created from real recipes while others are designed to delight and amuse, completely undrinkable but beautiful to look at," she smiles.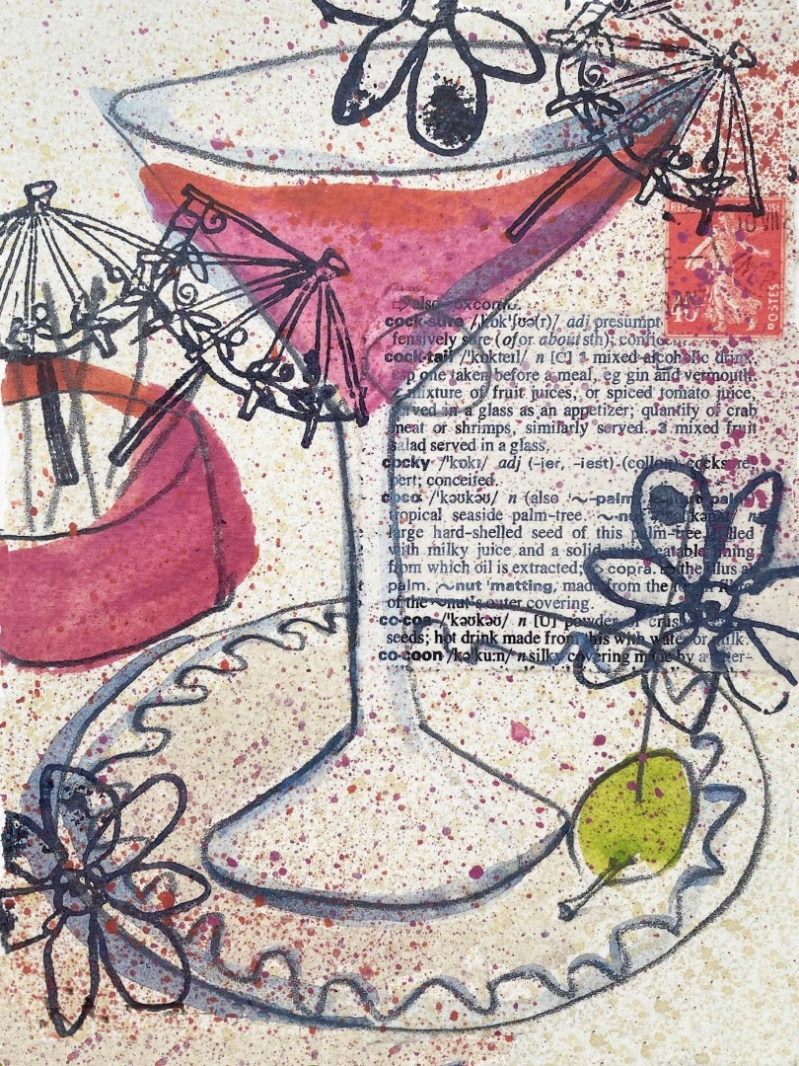 For those nostalgic of their childhood beach holidays, Kirsten has also captured the temptation and charm of the traditional sweet shops still found in favourite seaside haunts such as Whitby, Brighton, Southwold and Pateley Bridge in Yorkshire, home to the oldest sweetshop in England. Four shelves of deliciously detailed jars filled with popular favourites: barley sugar, pear-drops, liquorice allsorts and chocolate limes. Collaged using vintage labels and others created with an old-fashioned letter printing set, look out for the occasional surprise – a miniature bird taken from 1950s collectors cards perched upon a glass rim eyeing the humbugs below.
For those dreaming of a trip to the coast, the waves and the promise of fresh fish from the sea, Kirsten's Cornish Lobster and Red Mullet catch the eye from stylish plates, while a school of intriguing swimming sardines offer adventures across the Atlantic.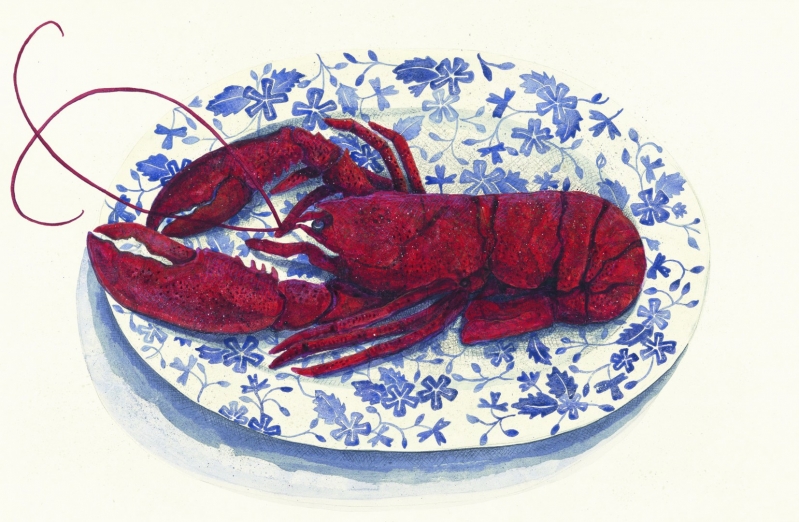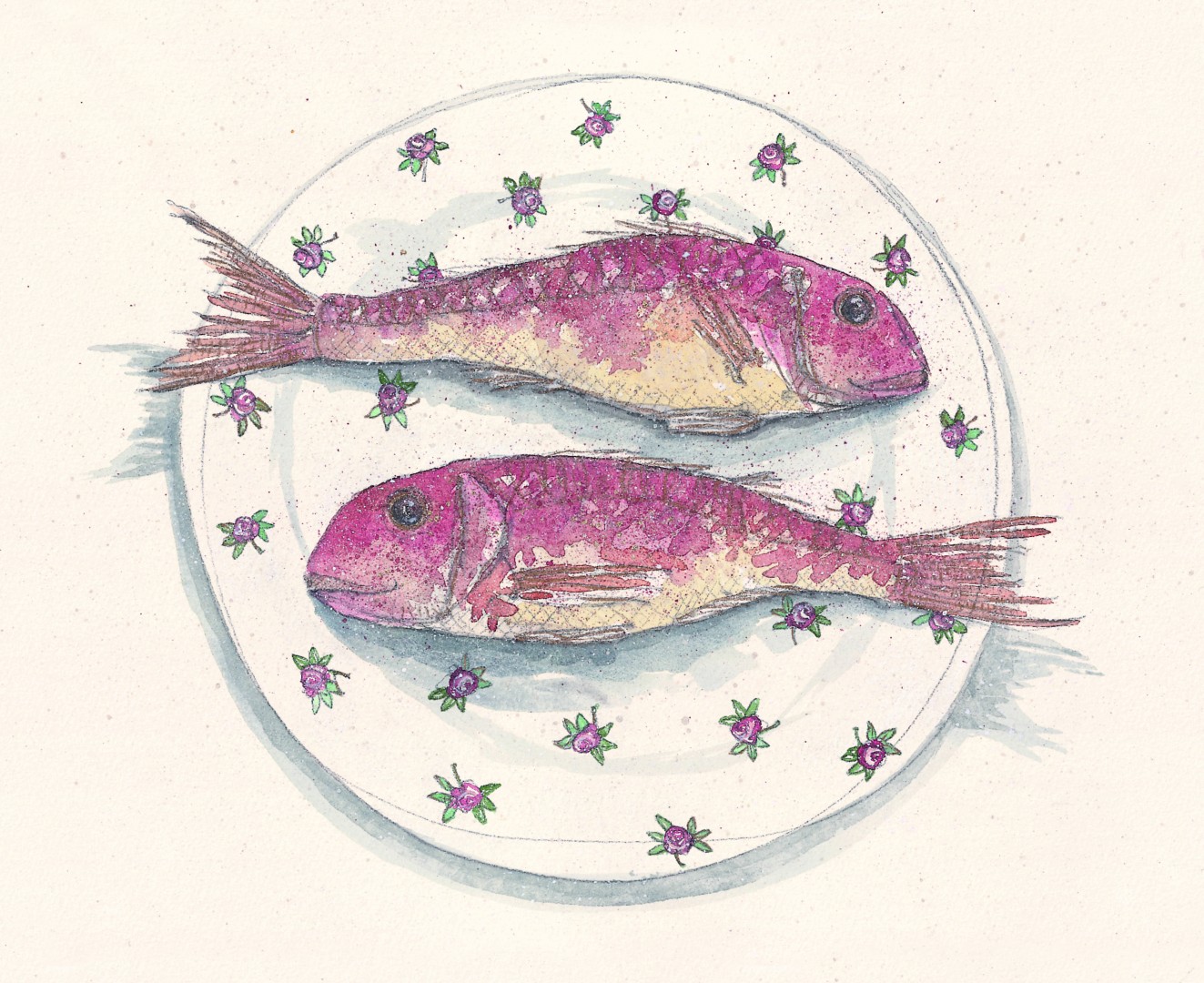 "One year I sailed the Atlantic," she explains, "setting off from Southampton and Calais was our first stop en route to Lanzarote. I went to the market and bought a selection of foods with fabulous labels and wrappings and that was the trigger for a series of collages. There wasn't all that much to do on the boat so I used this packaging – along with the charts that helped us navigate and stamps from various destinations during the passage – to create a series of imaginative sardine collages. Some are glamourous collages from magazines whilst others capture an aspect of that journey – whether sailing through a storm, making Earl Grey tea or watching the hundreds of blue flying fish that flew by our side. Look out for the red and white one which is the same pattern as the dress I wore on the day we disembarked at Antigua. Sardines were the perfect metaphor for the crossing as space was restricted and our food was all contained within the boat except for the fish which we caught daily. Sardines are such beautiful fish: the silvery scales sparkle as they swim – and they are really delicious on the barbeque too!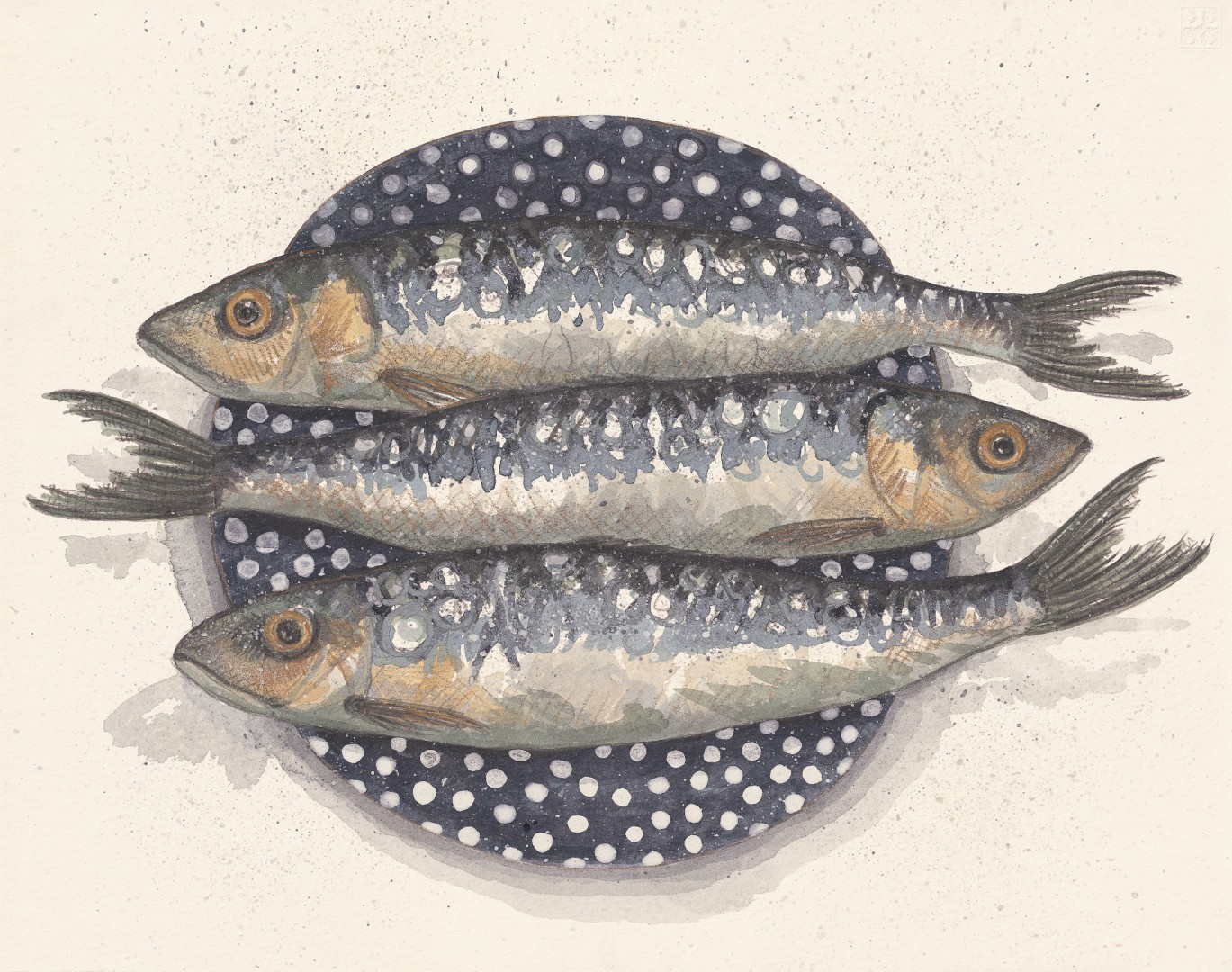 You can see more of Kirsten's art on her website where, with the code OX15 you can enjoy a 15% discount on any artwork (offer lasts until 30 September) or visit the artweeks website throughout the summer to take a festival art trail to the c
Share article