Most people know someone, a friend or family member, who talks about the nightmare of their divorce; the conflict, stress and what seemed like never-ending legal fees. Well, separation and divorce no longer need to be like this anymore: a divorce revolution is upon us.
In 2022 'No Fault Divorce' will become law, and it is one of the biggest changes we have ever seen in family law. In readiness, new options are now available to help couples discuss and agree all aspects of their divorce – the legal paperwork, the financial issues, and arrangements for their children.
Lawyers cannot meet with a couple together. They are prevented from doing so because it is regarded as a conflict of interest by the rules that govern how lawyers' practice. We have set up our own business called Mediation and More, because we want to work with couples in a way that law firms cannot. At Mediation & More our focus is to keep couples out of court and facilitate the resolution of any issue involving family breakdown, separation, divorce and its financial consequences, arrangements for children and any other kind of family dispute.
We will support couples to achieve the no fault divorce they want, using the skills we have as accredited mediators and drawing on all the knowledge and experience we have each built up working as specialist family lawyers for more than 20 years. We are leaving the world of litigation to do what feels like the right thing; helping couples achieve an amicable divorce.
One of the unique services Mediation and More can provide is an information meeting. Whilst working as family lawyers we were conscious that many couples wanted to meet with us together to obtain an understanding of the steps and options involved in divorce situations. Law firms cannot offer this service they are unable to meet with couples together, but we can. This is a great first step for any couple wanting to receive as much information as possible about how the divorce process works and enables couples to make joint decisions about next steps. This service can reduce the risk of conflict, help you keep your legal costs down, or assist you if you are already representing yourself in the family court.
We are also the only local business who can provide all the following services to help and support people;
· Traditional Family Mediation where a couple meet with a mediator to facilitate resolution of the practical and financial consequences of separation and divorce.
· The new Hybrid Mediation model where both lawyers representing the couple are involved in meetings so that they became part of finding the solution and stop litigating and can
provide legal advice as and when it is needed when discussing proposals for reaching an agreement
· Meeting with children to ascertain their views about future arrangements so that they feel that they have a voice in the process
· Mediating for couples to facilitate what might be included in a pre-marital agreement, post marital agreements or cohabitation agreement.
· Coaching people who are having to go through the court process. This is a very stressful process and one we know inside out.
· Resolving other types of family disputes by mediation
· Mentoring lawyers who work in the field of family law. This service is led by Rachael who also sits as a Deputy District Judge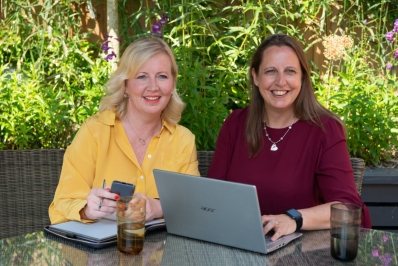 Our website contains lots of information about all the services we provide and explains all the above options in more detail so please do have a look, mediationandmore.uk
Our business came about after much reflection and wanting to help couples find a better way to separate and divorce. As Alice Walker said; "Look closely at the future you are constructing. It should look like the future you are dreaming".
We have dreamt the dream, now we are creating our future and a better future for those we will work with.
If we can help you or anyone you know call us on freephone 0800 206 2258 or email us at hello@mediationandmore.uk