Multi-platinum selling vocal harmony group, The Overtones are delighted to announce their 11th UK Tour taking place this June/July 2020, in celebration of ten years of the Overtones. In 2019, the group welcomed new member, Jay James who rose to prominence working with the likes of John Legend and as a finalist on The X Factor. With their innate charm and adherence to vintage-modernist style, and a devotion to the timeless appeal of male vocal harmonies, The Overtones are a bridge between pre-rock'n'roll classicism and lively 21st Century entertainment. In this interview, we hear from the members of the band, about their upcoming tour and album, and their favourite experiences from their careers.
How is Jay settling in?
Mike: When we first mentioned Jay as a possible member, we spoke about the kind of guy he is. This, of course, was a guess on our part. We knew Jay relatively well and had met several times before but working so closely together could have been drastically different. Once we welcomed him into the group it quickly became obvious that our guess was absolutely correct. He's so positive, inspired and hardworking that we think he's a born Overtone. Within just a few weeks it was like he'd always been in the group. He's helped inject a new lease of live into the band and we're enjoying being together more than we have in years. The fans have taken to him incredibly and you can tell he cares for them as much as Mark, Darren and I do. Add to that to the fact that he looks great, moves great and sounds amazing I'd say he's settled in pretty perfectly!
Tell us about your new album and 2020?
Mike: 2020 is an incredibly important year for The Overtones. A year that marks 10 years since the release of our first album and when we first introduced ourselves to the world. We've achieved and been through so much during the last decade and we feel we should celebrate all our achievements in music by having a year-long party. We begin with the release of our seventh album, which will be a celebration of where we've been, where we are and where we're going. Basically, of past, present and future. We're also thrilled to be heading out on two tours starting with the amazing Summer Celebration Tour which kicks off in June! It's going to be an incredible and intimate night with the four of us and our fans!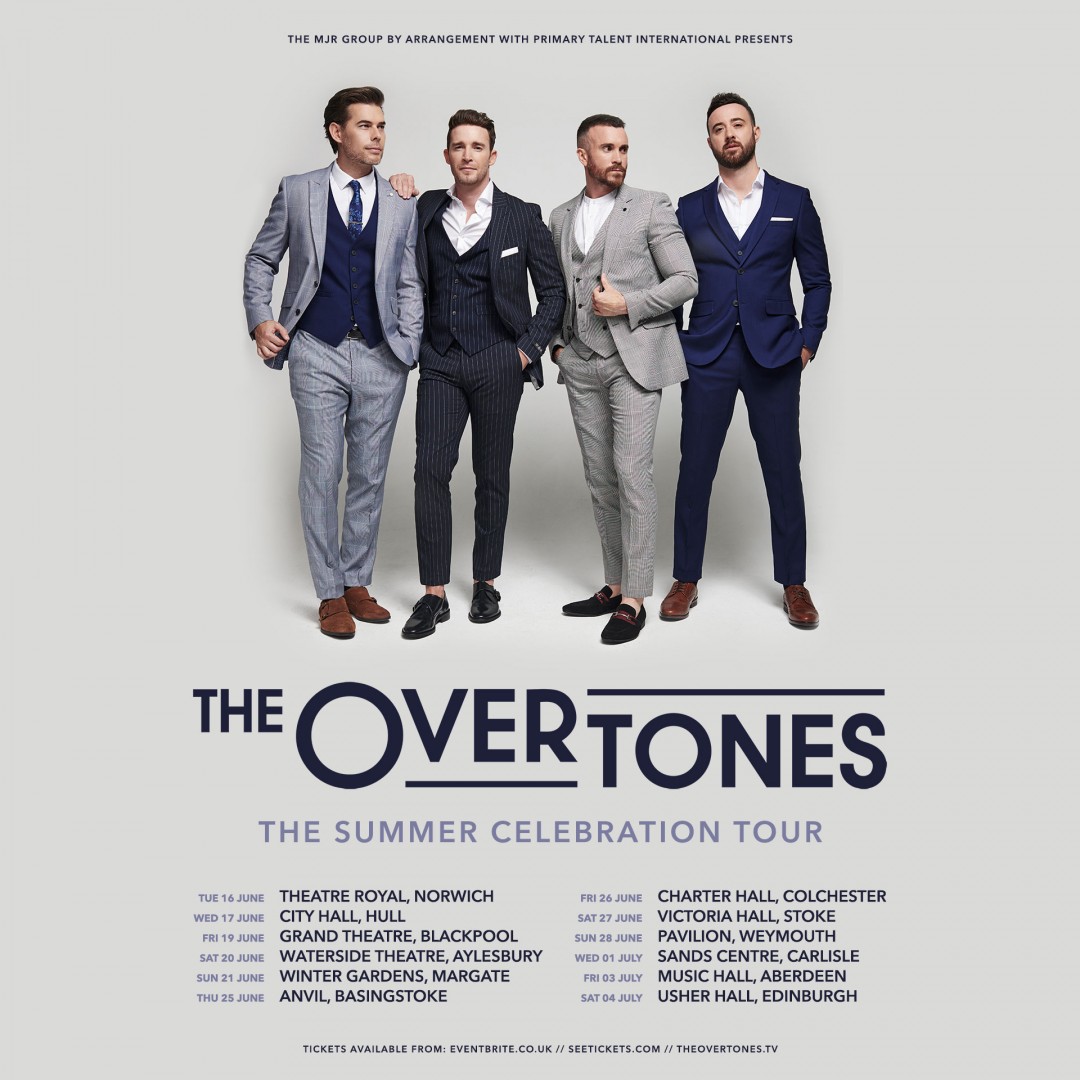 How did you feel performing to the royals?
Darren: It's always a massive privilege and honour to perform to the royal family. We've been lucky enough to perform for them at the Jubilee celebrations and at the festival of remembrance. We had a nice chat to Prince William at the party afterwards in the Palace, and he said that 'granny' enjoyed our performance!
Do you get nervous?
Darren: The nerves have definitely calmed down over the years as we get more experienced. If you didn't have some kind of nervous feeling, then I think it would be time to quit. We always get the adrenaline rush and quicker heartbeat before we go in stage and it's a feeling, we all love. It inspires you to give everything. My personal favourite song to perform at the moment is our latest song Celebration. Its energetic, up-tempo and feel-good. It sums up this year for us in one word. The Overtones ten year anniversary celebrations baby! Let' go!
What explains key to continue popularity?
Mark: The Overtones has always been about dusting off those classic songs from yesteryear and giving them our own flavour. These songs have a special place in a lot of people's hearts. The Overtones provides a certain type of old school entertainment that's free of ego. We pride ourselves in giving our supporters somewhere to have a wonderful time, forgetting their troubles. I think that's why we're still doing what we do and living every minute.
Career highlight to date?
Mark: It's been ten years of The Overtones and I think that's what I'm most proud of. Our longevity. Those ten years have been filled with highlights form performing for the Queen at the Diamond Jubilee & Festival of Remembrance to selling out The London Palladium.
What do you hope the audiences will take from your tour this summer and what do you enjoy most about performing?
Jay: Our shows are for absolutely everyone and anyone who wants to leave their worries and problems the at door and come and enjoy some feel good music, dance and a lot of laughs in-between. We've built a wonderful reputation over the last ten years from being those cheeky boys next door in a sharp suit that create a 'happy place' for so many, and for us it's just as good! We love and feel privileged for what we do, getting on that stage and performing is what we love, meeting new and old friends and family (Toners) is something we can't do without.
What are your plans for the future?
Jay: This year is a huge year for us, as we 'celebrate' ten amazing years #OT10 of doing what we love. We formed and broke through ten years ago, so this year we've been working so hard on new music, new tours and the opportunity to spread our wings and take things to new territories all over the world.
Last year was the start of a new era for us, welcoming Jay into the group, the love and feedback has been phenomenal, this year we celebrate the past, present and look forward to our exciting future.
To Find out more about tour dates and album releases, head over to the Overtones website