Bikes, blooms and balloons will greet guests visiting Westgate Oxford this summer as part of a spectacular Up, Up and Away floral installation at the shopping centre.
The installation includes four aerial sculptures, each more than 3 metres wide and 4 metres in height, which are suspended above the South Arcade within Westgate.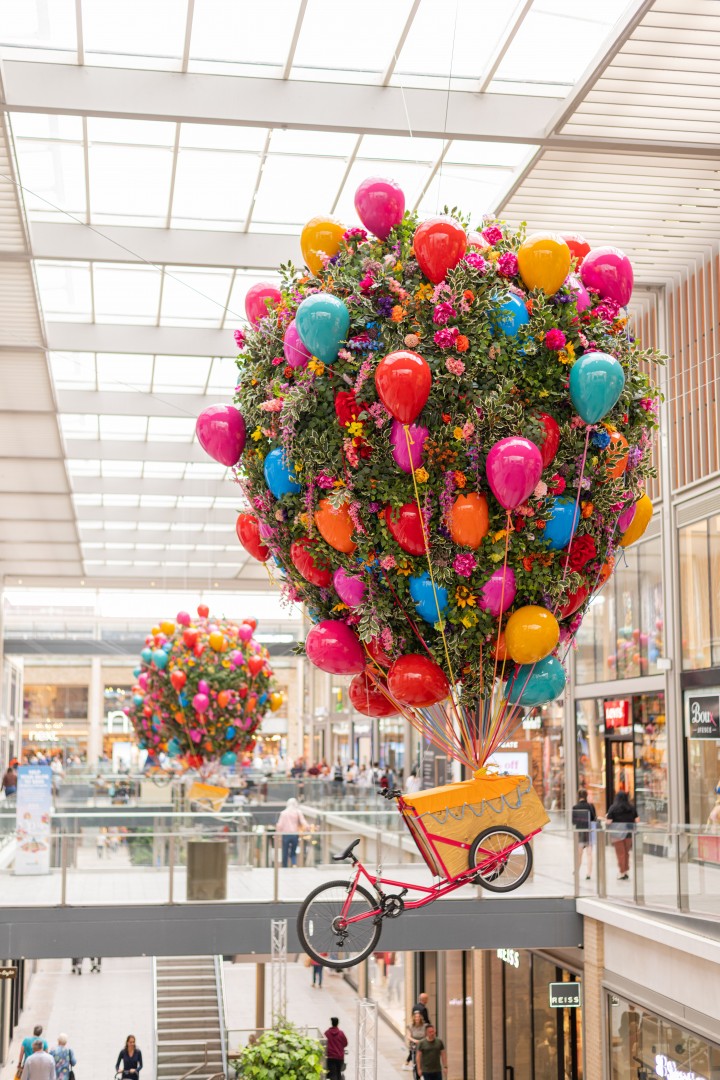 They form part of a 72 metre long floral display featuring 6,000 artificial flowers and foliage stems across the skyline of the arcade including peonies, poppies, roses, wisteria, gladiolus and gerberas. Each display weighs 290kg and each life-sized bike is fully functional.
The bold and colourful Up, Up and Away display was intricately constructed over two and a half months for Westgate Oxford in a workshop by James Glancy Design before being transported into Westgate Oxford.
The displays were installed in the middle of the night by a specialist team using cherry pickers to lift them into place, taking three nights to complete before being officially unveiled.
The arrival of Up, Up and Away launches a summer competition at Westgate Oxford, with the opportunity to win £500 worth of vouchers to spend in the centre. Until the 11th September, guests can enter by posting photos of the installations to Facebook, Twitter or Instagram, ensuring to tag Westgate Oxford's account. The lucky winner will receive: £150 John Lewis & Partners voucher, £100 Primark voucher, £100 H&M voucher, £100 Next voucher and £50 Nando's voucher.
Alongside the incredible bike and balloon displays, guests can discover two larger-than-life balloon dog sculptures on Leiden Square. Following an installation in Covent Garden last year, art retailer Castle Fine Art brought the internationally acclaimed collection from the artist 'Whatshisname' to the streets of Westgate Oxford.
Westgate Oxford is hosting Whatshisname 'Stretching Balloon Dog' and 'Downward Balloon Dog' artwork, and will help to raise vital funds for animal charity, Blue Cross. For every image posted on social media tagging @castlegalleries and #castle4bluecross, Castle Fine Art will donate £1 to Blue Cross; helping the charity to support sick, injured, abandoned and homeless pets. Table-top versions of both sculptures are available to buy from Castle Fine Art.
Brendan Hattam, Centre Director at Westgate Oxford, said: "We're so excited to unveil the glorious Up, Up and Away installation and we can't wait to see our guests enjoying the vibrant display, and we're lookin forward to their selfies shared on social media."
Up, Up and Away will be on show at Westgate Oxford until 13th September. Guests are invited to enjoy the colourful installation and post their pictures tagging Westgate Oxford for the chance to win £500 worth of vouchers.
For more information, visit westgateoxford.co.uk