Join us at Valerian Court for our March Open Days on Saturday 18th March 10am - 3pm & Wednesday 29th March 5pm- 7pm where you can meet the team, have a look around our beautiful new home and enjoy some music and refreshments. Prospective residents loved ones and members of the local community are all welcome to attend.
On Saturday 18th March, we will be offering light refreshments and live music at noon & at 1pm. On Wednesday 29th March, we will be providing cheese and wine with live music at 5:45pm.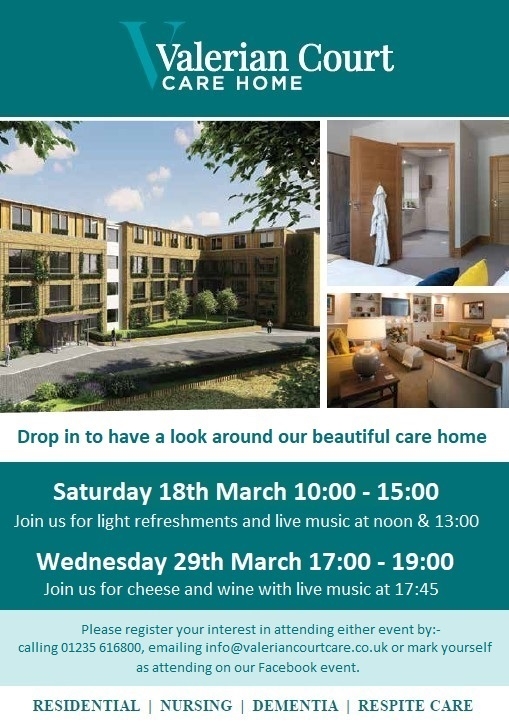 Situated in Didcot, Valerian Court Care Home boasts luxury facilities with excellence in care for up to 70 residents. We are proud to offer a caring, supportive environment, and believe that residents should enjoy a lifestyle they love, where every day offers variety and choice.
We provide four main care types that cater to a range of care needs including residential care, dementia care, nursing care and respite care on a 24/7 basis by a qualified and dedicated team.
Valerian Court provides a variety of all-inclusive facilities including luxury en-suite accommodation, fine dining, a rooftop garden, spa & nail bar, a cinema room and much more for residents to experience an enriched lifestyle each day.
Please register your interest in attending either event by calling 01235 616800 or emailing info@valeriancourtcare.co.uk.
If you are unable to attend the Open Days, please get in touch with the team to arrange an alternative date to visit the home.