Christmas is a time to celebrate all that is enchanting about the festive season and a visit to Waddesdon Manor's Winter Lights should feature in your plans to celebrate this year. Set in the grounds of the magnificent French Renaissance-style château built for Baron Ferdinand de Rothschild between 1874 and 1889, the Winter Lights experience will offer both adults and children the opportunity to enjoy the gardens aglow with magical lights using state-of-the-art effects. Together with bespoke light installations, the façade of the Manor will be illuminated with dancing lights set to music whilst the grounds and woodland will be brought to life with magical lighting.
To comply with COVID-19 regulations and social distancing protocols, the House remains closed but the magical Winter Lights experience has been organised so that visitors can enjoy the event safely, and by pre-booking your tickets, crowding will be minimised. Alongside the Winter Lights, there is a Christmas Fair where you can find a range of unusual items for your Christmas gifts.
As dusk falls, the gardens through the Pleasure Grounds by the Aviary are theatrically transformed with dramatic colours and playful light installations. You will be able to stroll

under the winter star-lit skies looking upwards through the tree canopies which are illuminated. The bushes along your pathway are draped in sparkle, turning the whole area into an enchanting place. As you progress through the sequenced walk-through musical light show under dozens of suspended orbs, you will also be part of immersive light features such as the valley of the flickering flames that create a sea of fire.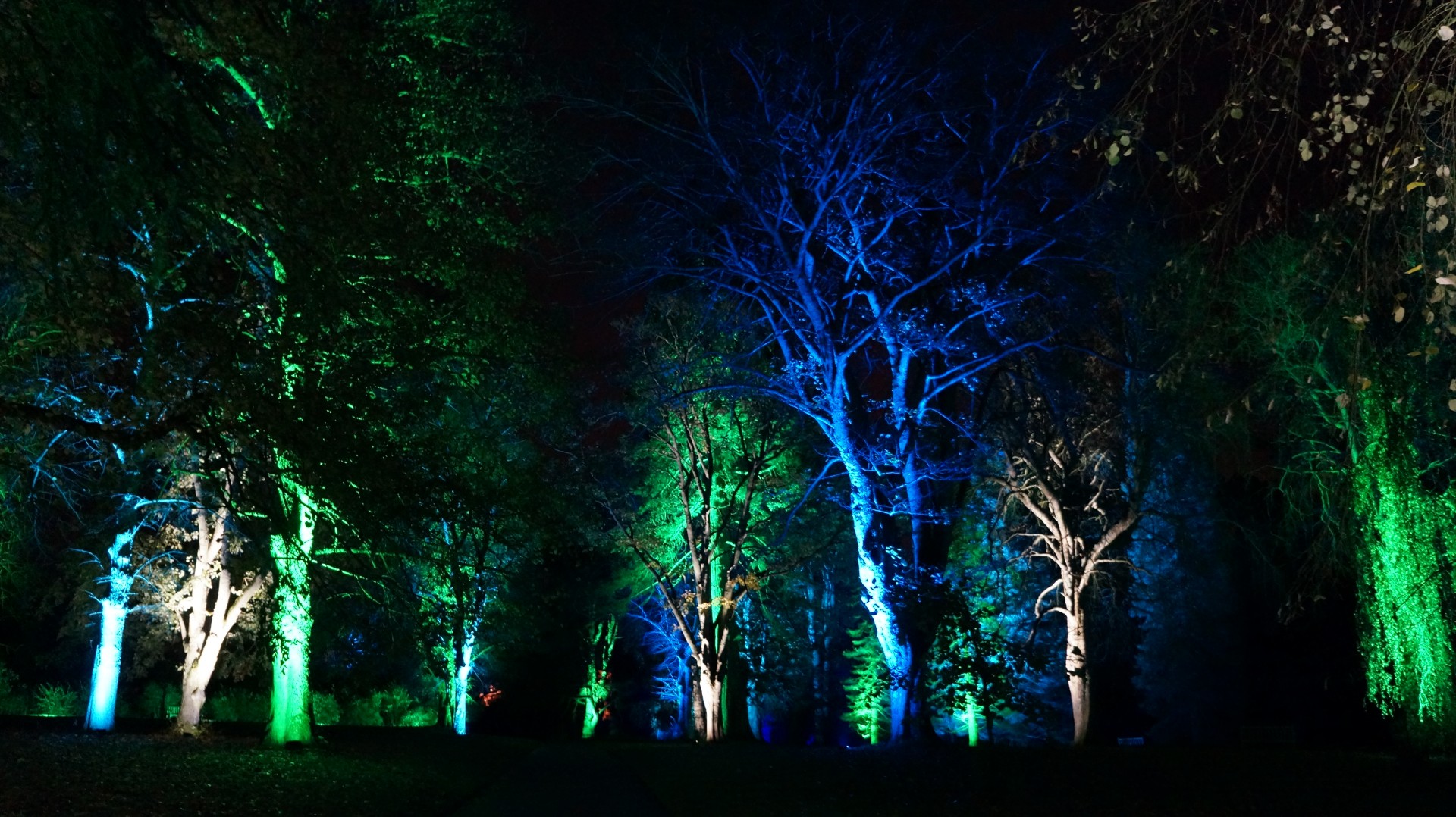 A Rothschild House & Gardens, photo © Yes Events
Children from 35 local schools have created a route of illuminated work using a theme of hope – entitled 'When you wish upon a star' – which is displayed as you wander down Miss Alice's Drive from the Woodland Café to the Stables. Reaching the Stables, you will be able to watch Parallels in the Coach House. This creation of moving light using colourful pipes which twist and turn in an immersive installation is set to a soundscape. To capture a perfect memory of this magical evening, there are two six-metre tall twinkling baubles offering the perfect place to capture a festive photo.
Christmas Fair at Waddesdon © National Trust, Waddesdon Manor. Photo Chris Lacey
The ever-popular Christmas Fair is set amongst festooned trees, housed in charming wooden chalets. With over 80 hand-selected artisan stalls selling a wide range of handmade gifts and decorations, as well as delicious food to eat on the day or take home, you will not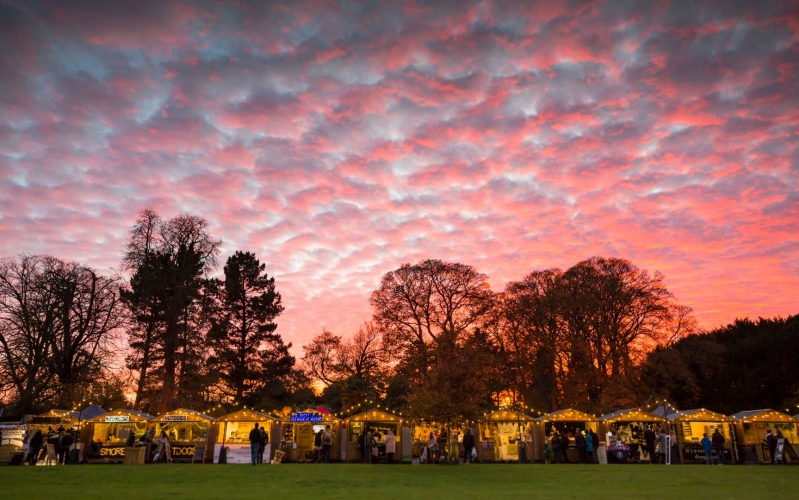 leave empty handed. Visitors can also pre-book afternoon teas in the Manor Restaurant to add to the festive treat.
Christmas Fair at Waddesdon © National Trust, Waddesdon Manor. Photo Chris Lacey
Pippa Shirley, Head of Collections and Gardens says, "Christmas is a magical time at Waddesdon, and this year, we are focusing on making the most of our extraordinary landscape and buildings for visitors to enjoy outdoors without crowding. The Manor looks like a fairy-tale castle at the best of times, and at Christmas it is truly enchanting. We're looking forward to welcoming families and children to enjoy the unique atmosphere, sparkle, glamour and fun of Waddesdon at this festive time of year."
To be part of this fabulous experience, advanced booking of timed admission, parking and shuttle bus tickets is essential for all visitors, including National Trust members. To find out more, and book your tickets, visit waddesdon.org.uk/christmas
____________________________________
Waddesdon Manor, a property full of artifacts, collections, and beautiful antiques, is easily accessible from Oxford and the Vale of Aylesbury. During the summer months, the property has extensive grounds to explore with Victorian-style gardens, ablaze with flamboyant colours on the parterre, amid the ornate fountains and statuary. There is a Rococo style Aviary, home to rare and exotic birds, and the woodland playground provides the perfect place for young adventurers to explore. It also provides an ideal wedding venue. The property is managed by the Rothschild Foundation, a charitable trust, on behalf of the National Trust.
_____________________________________