I spoke to Alex James on the morning of the biggest event of his whole year – everything has been leading up to this; his 16-year-olds' end-of-exams party. "It's terrifying," he tells me, (having just won a triumphant battle against an ice machine). "Organising a f*cking huge festival, no problem, but a party of 50-60 16-year-olds – terrifying."
The countdown is officially on for this year's Big Feastival, with only a matter of days left. I can imagine that for you this must feel like the end to a very long countdown indeed.
In about March I was like, 'oh I've got ages' and then by the time Cheltenham weekend kicks in, everything changes and it's like 'f*ck!'. You'd think the fact that this is the eleventh one would mean we calm down, but it's so competitive. There are so many festivals up and down the UK every year and of course, everybody copies each other. Everybody has upped their game, which is great, but the bar is always rising which I suppose is actually part of the fun of it.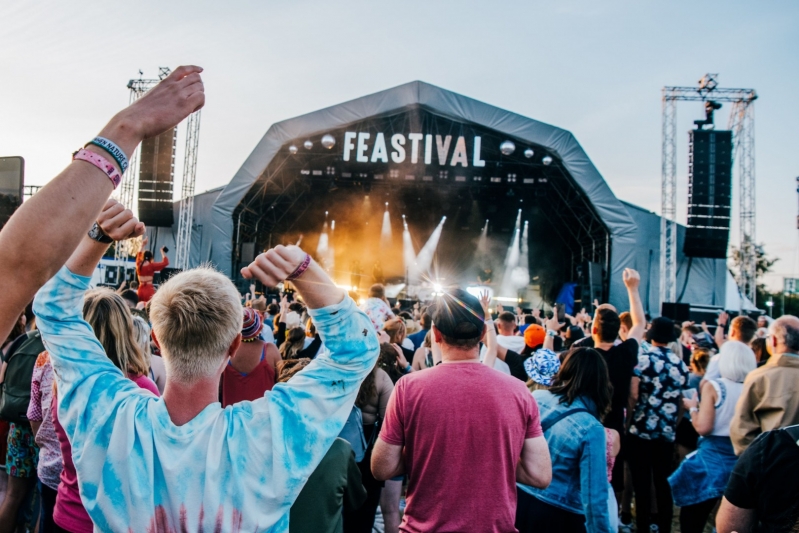 Atmos Gaelle Beri
What can we expect from this instalment of Feastival that we haven't seen in previous years?
While big events like these are a really good chance to bring all this [food] expertise together, I think the music line up is really strong this year. My kids are all crazy about Anne-Marie; we've got The Human League, Stereophonics, Sugababes, Basement Jaxx, and Jack Bugg. In 2019, we got Lewis Capaldi for £500 – there was literally one more space on the main stage to fill and there were two people to choose between. We looked at them both and we didn't think Lewis Capaldi really looked like a rockstar, but he's got something about him, hasn't he? Plus the fact he was £50 cheaper. By the time Feastival happened, he was the biggest star on the planet.
How far ahead do you book the acts?
I'm thinking about booking next year's headliners before this year has even taken place, so I suppose around 13 months. This year's lucky one was Sam Ryder, we managed to get him before Eurovision and so I'm delighted. I think that's the main thing; we're all about food and music and family. Making sure that the music lineup is as strong as possible, and food-wise I'm really delighted that we have Claire Smyth who's the first British woman to win three Michelin stars. A lot of the chefs come back each year – they like hanging out together and we do a chef camping compound for them. You don't want to be in there at breakfast time though, when they're all geeking out over the best way to cook an egg. And, in terms of the family element, the first thing we do every year is book Mr Tumble.
He's a regular, is he?
Absolutely he is, and Bluey and Bingo are a big deal this year, too – they're like the Ant and Dec of kids' TV. Above all the big names though, if I've done my job right the reason you'll have the most fun when you get there isn't the reason why you brought the ticket. We're trying to get more professors in because I think expertise is so sexy. All of this is just 20 minutes down the road from us in Oxford. I was down last week talking to astrophysicists, and I've got one of the maths professors who's got like a million subscribers on YouTube doing maths and comedy. He's worked out how he can build two mirror balls that are kind of mirror images of each other, so they're mirror-mirror-mirror balls. I've been working out how we can build a massive totem pole so we can dangle these mirror balls from a great height. While it's the bands that cost the money, it's all the stupid stuff that people enjoy; when it's a sunny day and people can just spend time with their family in the woods, it doesn't get better than that.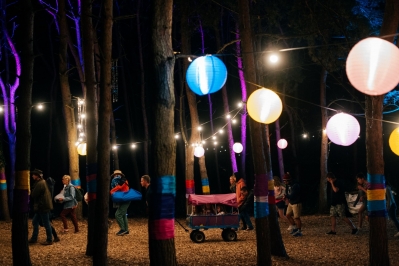 Caitlin Mogridge
Obviously, you cater for a mixed demographics; do your family end up lending a hand for inspiration?
Absolutely yes, I have to force them to do it. No, it's brilliant though – it's one of the very few times when having an enormous family actually comes into its own. Right from when they were really little, I made sure that they had jobs to do. It's actually much more fulfilling if you feel like you're part of making something happen or else they would just go round being like, 'my dad's Alex James can I have a free fish finger sandwich?' I couldn't do it without any of them. It's great fun for them but the real benefit is the opportunity to learn. It's never completely plain sailing all weekend – there are always about three simultaneous disasters playing out at any given time, but the show must go on. It's the most fun I've ever had but it's a lot like Christmas: once a year is perfect. 
On the subject of family, I understand that your first job was helping your grandad who was a chef. Was he a big influence on your food career?
Yeah, massively. It's incredible looking back – he was the sous chef in the Royal Bath Hotel in Bournemouth which back in the day was one of, like, four grand hotels with five stars on the South Coast. In those days, the head chef had to be French – you couldn't be English they just didn't cut it – but he was absolutely brilliant. He taught me so much. It's funny, I never studied cooking or music at school, but my dad played the piano, and my grandad was a chef.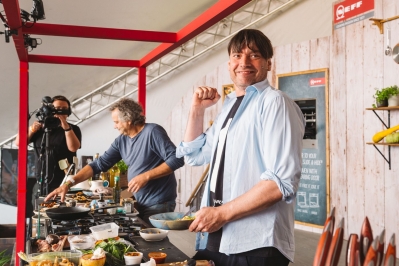 Justine Trickett
What are your food obsessions at the moment?
I've just eaten my body weight in strawberries which are up in the garden. The garden is growing into full bloom now, actually. The basil is coming up and the tomatoes, too.
Have you ventured into the world of vegan cheese?
I did a taste test a couple of months back. I think cheese is a kind of a natural, simple product and I completely understand why people want to be vegans, but I prefer a nice cheddar.
Do you have a favourite place to eat in Oxford?
Is there somewhere called Zheng in Oxford? I've been trying to get there for years. That's definitely on the list. I always used to like Browns in the Covered Market too though. Do you have any recommendations for me?
Do you like Japanese food? I would recommend Taberu – it's my favourite restaurant in Oxford. 
I love Japanese, I will write that down.
What's the main thing you took from your music career which has been helpful in this venture?
Monks sing in the morning and make cheese in the afternoon – there's a precedent of musical cheese-making people. I've got the venue and with all the people that I know through music and through food and cheese, it just kind of makes sense to bring it all together here in the summer. Being in Blur never really felt like a job, but when I look back on the weeks when I had to cross the Atlantic four times and got three hours sleep, I suppose it does. Feastival is the same. I don't see a point where I will ever want to stop doing it, it's just really satisfying. It's got to the point now where we have enough interesting people coming in from different spheres of endeavour where you can kind of make all this unique stuff happen.
What would you say are the main ways in which the music industry has changed since you started with Blur?
I was thinking about Heaven 17, actually, who are the members who left The Human League. Their first album was great but not a commercial success. Their second album was a hit and launched them into this huge career with producers and songwriters, and that just wouldn't happen anymore. It's a shame the big ones are bigger than ever but there aren't really that many medium or small acts anymore. The same thing is happening with farms; big farms are getting bigger and small ones are disappearing. I think it's a real shame, Blur would have struggled in today's climate.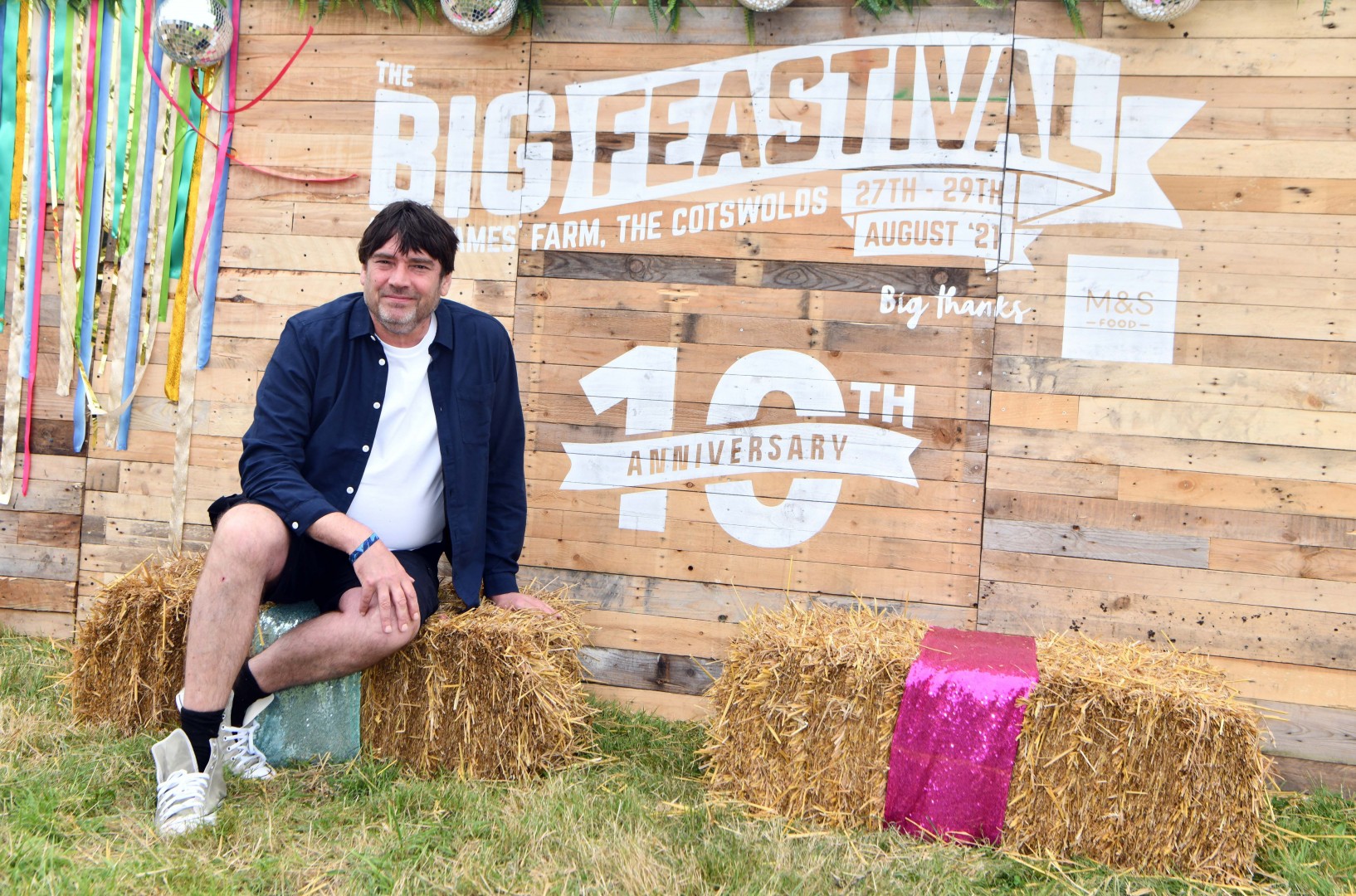 So, the big artists are the biggest and everyone else has to struggle to be seen?
Yeah exactly, it's just not possible to be an indie band selling a few hundred copies of your EP and touring a few small venues, because no one is going to buy an EP when they can get it for free on the internet and all these little venues are closing. You've got Ed Sheeran – f*cking huge, Taylor Swift – f*cking huge. It's a bit like the ocean; the interesting bits are in the shallow end of the sea where there's all this different stuff, but you go out a bit further and occasionally you see a massive whale.
But you want to see the starfish
You want to see the starfish, yeah. You've still got the massive whales and octopuses, but you want to see the little seahorses, the shells, the anemones; that kind of thing which is sadly all just disappearing. I tell my kids whether you make money out of music or not, it's a wonderful thing to have in your life.
The Big Feastival 26-28 August
Taking place on Alex James' idyllic Cotswolds farm, the Big Feastival brings together music from the UK's biggest artists, Michelin star chefs, award-winning street food and an exciting array of family activities. Whether you're coming just for the day or for the whole weekend,
You can be promised an unrivalled programme of entertainment.
The train from Oxford to Kingham will virtually drop you off at The Big Feastival's doorstep, with Kingham station located just a three-minute walk from the pedestrian entrance.