Just the Tonic – from Royal Botanic Gardens, Kew – is an accessible yet informative history of tonic water: its connections to the major disease malaria, the cinchona tree cure, and the role of Kew. Authors Kim Walker and Mark Nesbitt also reveal the changing role of the G&T: the rise and fall, and rise again, of cocktails straight from officers' messes of British India, the art deco cocktail bars of the 1920s, through to the Mad Men era and the recent resurgence of gin as a drink of choice. Here, Mark (curator of the Economic Botany Collection at Kew) and Kim (a specialist in the history of plant medicines) join us from Teddington and Poland respectively.
You published Just the Tonic last year, what's the reception been like?
M: The reception has been very good within the mixology industry – we've had great tweets and support. The reviews are just starting to come out – there is a very flattering one by a well-known botanist. What people like about the book is that it's a fun read and light-hearted but we do touch on some quite serious and difficult subject matters.
Kim, as Just the Tonic says, "Cinchona bark contains quinine compounds that are powerfully antimalarial, one of which is the bitter flavouring in tonic water." You're doing a PhD in cinchona at Royal Holloway University and Kew, and Kew is home to one of the largest collections in the world of cinchona – It must have been a real treat to conduct research there.
K: The Kew collections are amazing, they're so vast, all the different types of cinchona bark. It's just really fun to be asked to explore and present the wider context of tonic water.
Gin is of course an enhancer of tonic, but is it fair to say it's ruined it slightly too? Maybe it's caused people to stop thinking of tonic water as its own individual entity.
M: You've picked an interesting point that a number of people have picked up on, and we did make a very conscious effort not to make this a book about the gin and tonic, although it's a very appealing story that a lot of people like. In part we did that because we're aware that not everybody who reads the book drinks alcohol (that's why there are mocktail recipes in the back) but also because of its history as a temperance drink in the late 19th-early 20th century. In the 20th century tonic water became a vehicle for gin, but in the early 21st century – really beginning with Fever Tree in 2005 – tonic has come back again and is now being enjoyed in lots of new ways. So I think although the success of the modern artisan tonic water industry hangs on gin, it has revived tonic water as a drink in its own right.
K: I'm in Poland at the moment and they love tonic water here, they just drink it on its own. I think tonic water is embraced by a lot of people without the gin and deserves its own story. I think people are starting to do that in Britain too, especially with all these different flavoured tonic waters. Though people are buying them to go in fancy gin cocktails, it's kind of its own cocktail in a bottle.
From your book we learnt the proper name for the balloon glasses in which gin and tonic is served nowadays –first popularised in the Basque Country – some aren't massive fans of the Copa de Balon, preferring a high ball…
K: Tumbler or mug for me.
M: The balloon glass is all about making a drink an event – like how long cocktails used to come with umbrellas. Personally I drink out of a tumbler and don't see myself changing, but I can see it's becoming part of the Instagram package, if you like – and you get a lot of ice in one of those glasses which has always been an important part of a gin and tonic. 
M: There are a lot of books about gin but not on the botany of gin. This is why the Oxford book is going to be so exciting and useful. Gin itself is an interesting story – which we cover briefly in the book – a complex and interesting one. One of the things we noticed when we started doing research for this was that all the books on gin tell a different tonic water story. They all have a different date for when gin and tonic first appeared (radically different, spanning almost 100 years); different dates for when gin and tonic arrived in Britain (still an unanswered question and we're quite frank about that in the book); different stories about how the gin and tonic first came to be. The history of gin in these books is excellent, but botanists have known for a long time about the story of cinchona and malaria; the really big history of medicine story. That's been well researched but it's not getting out to the people who ought to know it – people writing gin books, people drinking gin and tonics.
K: Everybody loves a bit of gin but not everyone knows what's behind a gin and tonic. It's great to share with people that important history behind every glass.
Just the Tonic: A History of Tonic Water is available now.
Tonic Cocktails
Just the Tonic's final part contains a whole host of cocktail and mocktail recipes, using an array of different tonics. Here's a few to get you through.
__________________________________________________________________________________
THE PERFECT GIN AND TONIC
For every gin you will find there is an ideal tonic for pairing – but provided you follow the basic gin-to-tonic ratio and use a decent quality version of both you won't go far wrong. So raise a glass in honour of the unknown hero who paired quinine, soda water and gin to create the classic cocktail.
50 ml (1.7 fl oz) gin
150 ml (5 fl oz) plain tonic water
cubed ice (half fill the glass – a good cocktail does not skimp on ice)
wedge of citrus (lime, lemon, orange or grapefruit)
Method: Though some argue the perfect glass is a balloon glass, a tumbler or high ball is fine. Place the ice in the glass, and carefully pour over the gin. Squeeze in and add your citrus wedge and top up with tonic water. Serve and enjoy.
__________________________________________________________________________________
THE ORANGERY
Kew's triple sec orange liqueur is inspired by its famous Orangery, built in 1761 for growing citrus fruits. It adds an orange twist to the classic gin and tonic, harking back to the orange quinine wines and orange peel that was used to dissolve quinine in early recipes.
25 ml (0.8-1.7 fl oz) gin
25 ml (0.7 fl oz) triple sec
150 ml (5 fl oz) plain tonic water
dried orange slice or a twist of orange zest
cubed ice
Method: Use a tall cocktail glass, half fill with crushed ice. Pour on the gin and triple sec, then stir. Add the dried orange slice to garnish, then pour over the tonic water. Serve and enjoy.
Mocktail option: Tonic water with the juice of one orange and a twist of peel makes a delicious alcohol-free version.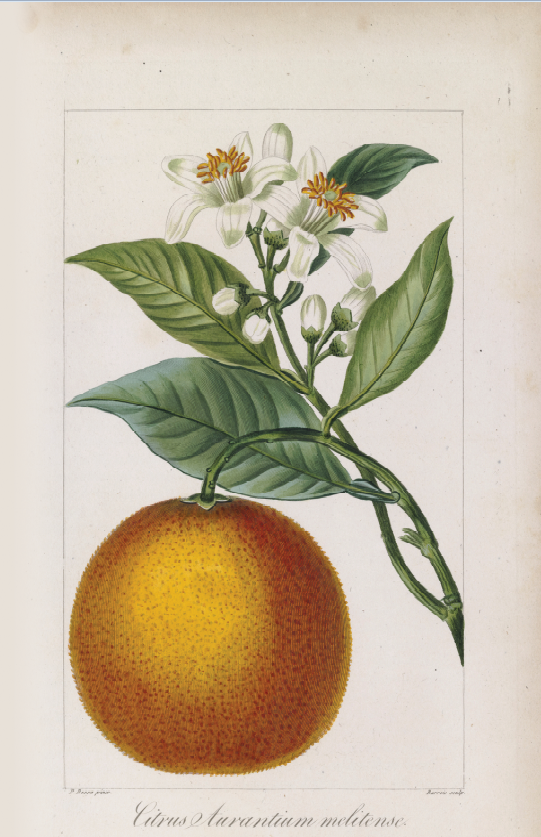 A Seville orange, Citrus x aurantium var. melitense by Pancrace Bessa. From F. Mordant De Launay and J. L. A. Loiseleur-Deslongchamps: Herbier General de l'amateur (1817-27).
__________________________________________________________________________________
BRANDY TONIC
One of the earliest known tonic water cocktails – a 'ginger brandy and tonic water' – was drunk in Hong Kong in 1863, a mere five years after the patenting of tonic water. Though the source doesn't reveal its recipe, brandy works well with tonic, especially with a slice of ginger, to evoke this early cocktail. A delicate, sophisticated cognac like Hine or Delamain works best.
50 ml (1.7 fl oz) brandy
twist of orange peel
slice of ginger
plain tonic water
cubed ice
Method: Place the ice, ginger and orange in a glass. Pour over the brandy, stir, then add the tonic water to taste. Serve and enjoy.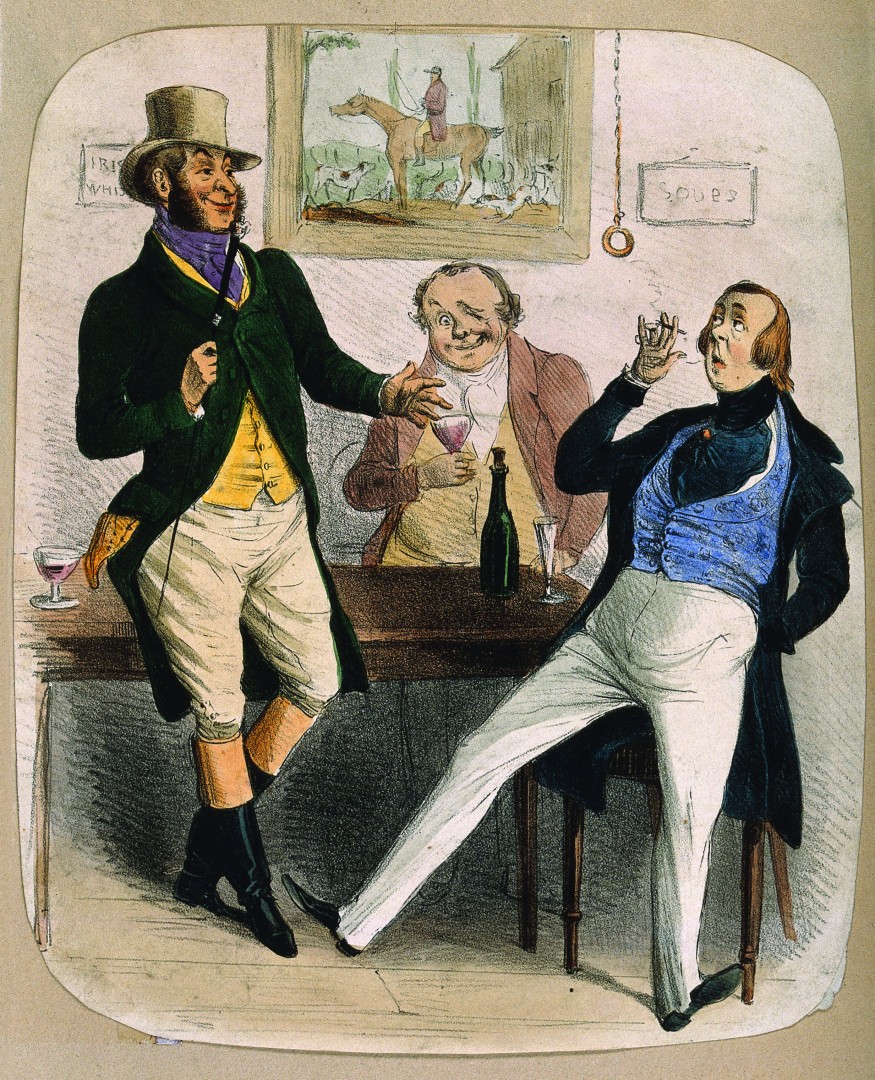 Two huntsmen and a dandy smoking and drinking round a table (c. 1800). Wellcome Collection.