In the final part of our Over the Bridge to Wales series, we are looking at the private, listed gardens of Llanover House set in the beautiful Usk Valley with views towards the Black Mountains. Today the gardens are in the care of Elizabeth and Ross Murray, together with their three children who are the eighth generation from Benjamin Waddington, who purchased the original farmhouse. Elizabeth and Ross are assisted by expert gardener Nick Carnell who, together with the family, ensures the gardens and grounds are well maintained and of interest to visitors.
The Llanover estate is a place where Welsh traditions and customs were vehemently kept alive by the daughter of the first owner. Businessman Benjamin and his wife Georgina Mary Ann Port bought the former farmhouse in 1792, moving in with their eldest daughter Frances. Two further children – Emilia and Augusta –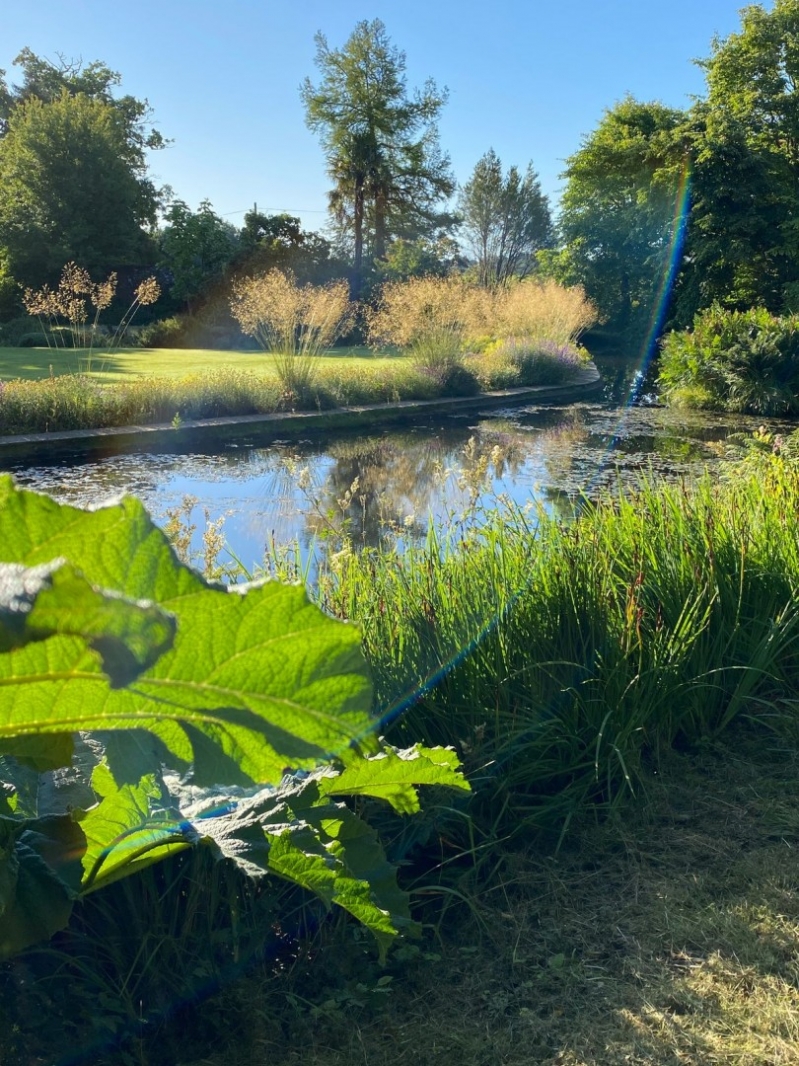 were born within the next few years. As the family increased in size, the house was extended to accommodate their needs. This included Benjamin turning his attention to creating a magnificent garden and park. Possibly influenced by Lancelot Capability Brown, he had a similar vision of borrowing features from the natural landscape. Lakes were created together with cascades, weirs, and rills. Benjamin planted 120,000 European larch trees brought to Llanover from Glasgow and accumulated a collection of rhododendrons. There are eight London Plane trees which are still growing where Benjamin planted them. There is an arboretum which is home to numerous unusual trees, many of which are native to China, the Americas and Europe, and some are over 200 years old. Those growing in the arboretum have been underplanted with tulips and narcissi, whilst fritillaries and camassias thrive in the wildflower areas. More recently willows, birch and dogwoods have been added for winter colour. Over 60 varieties of magnolia have been planted in the garden and surrounding parkland at Llanover.
The Round Garden, with its curved wall, skilfully combines deep herbaceous borders with a pond cleverly placed to complete the circle. The borders were redesigned in 2009 by Mary Payne to create 'maximum effect for minimum effort'. A Bog Garden has also been created from a large pond with a rill flowing though it near the Round Garden. Large groups of moisture loving plants have been incorporated to create a wildlife friendly and attractive feature to the gardens.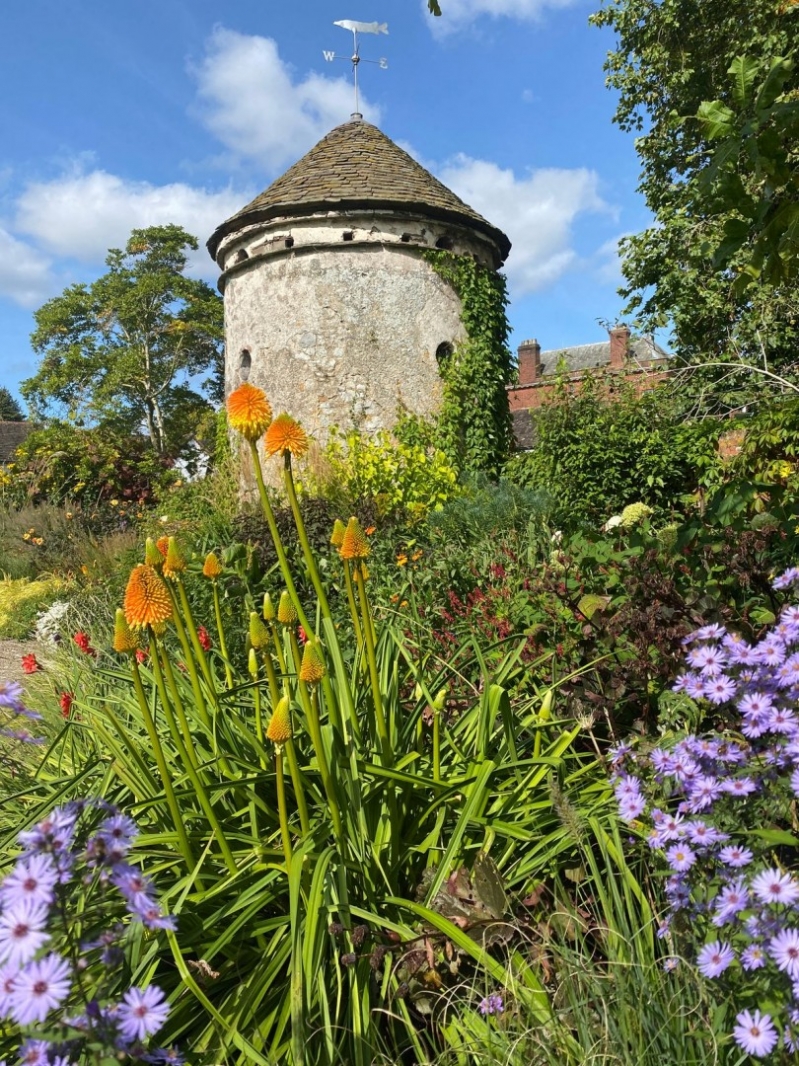 However, it is Llanover's links with Benjamin and Georgina's daughter Augusta (b.1802) which tie this property to many of the Welsh traditions and customs that could have so easily disappeared during the 19th century.  As a child, Augusta (later to become known as Lady Llanover) rode around her father's estate meeting local families and gaining a knowledge of the Welsh language. It was only when she overheard an English servant remarking that in 40 years the Welsh language would disappear that the feisty Augusta decided if she had anything to do with it, the Welsh language would survive.
Having married Benjamin Hall in 1821, Augusta returned to Wales from Herefordshire with her husband to await the arrival of their first child. When her father died in 1828, he bequeathed his estate to her as he knew how much she loved Llanover. Moving back into her family home, Ty Uchaf, with her husband, Augusta cared for her widowed mother. Meanwhile Benjamin Hall had purchased an estate which adjoined Llanover and the couple commissioned Thomas Hopper to build a grand property which would become a centre for the promotion of Welsh culture.
With her husband's support, Augusta continued to champion the Welsh language and culture; she wanted to persuade Welsh speaking farmers to move on to the Llanover Estate, bringing with them their traditions, language, and local pedigree livestock. She also ensured that tenants, employees, and visitors to Llanover wore traditional Welsh clothing made of local wool to help save the Welsh flannel and woollen industries. Everyone also had to speak Welsh and embrace Welsh traditions in their everyday life.
In 1834, Augusta turned her attention to literature, music, and dance. She entered an essay into the Cardiff Eisteddfod, using a pseudonym. When she won the coveted first prize, this reinforced her reputation as a Welsh patriot. Attempting also to revive the popularity of the Welsh triple harp, with its three rows of strings and no pedals, Augusta subsidised teaching, performance and manufacture of the harps as well as employing her own harpists. When in 1883, the Cardiff Eisteddfod declined her generous gift of prize money due to all the restrictions she wanted imposed on the competition, she did not give up but instead sponsored a regional competition in Swansea.
The Halls also turned their attention to supporting the local religious community, paying for a Welsh protestant church to be built and insisting that all services were held in Welsh. Something which perhaps was not so acceptable to the local community was when Augusta enforced temperance by buying and closing six of the seven local inns.
Until Augusta's death in 1896, she steadfastly continued her work towards restoring the Welsh language, traditions, and customs. Today the flock of Welsh mountain sheep graze on the pastures around Llanover as direct descendants from the ewes she introduced to produce wool, meat, and milk.
If you are inspired to visit Llanover Garden, it will be open for the National Garden Scheme on Sunday 28 March 2021. To find out more visit ngs.org.uk. A Rare Plant Fair is planned for Sunday 19 September 2021 (rareplantfair.co.uk). Groups can plan visits by appointment, go to llanovergarden.co.uk