An interview with the writer/director Tony Green.
Wednesday 22nd - Saturday 25th April 2020
7.30pm: Unicorn Theatre, Abingdon
We caught up with Good and Faithful Servants' director and writer Tony Green during his busy rehearsal schedule.
Why did you want to write a play on such a subject?
This play was born out of my desire to put on a police 'procedural' play. These are actually surprisingly rare and very hard to get right within the confines of the stage. It isn't a 'whodunit' by any means but a journey through a police investigation in an extraordinary setting.
Why did you want to direct your own play?
I had a pretty clear way I wanted to see it done. It was easier to do it myself than clumsily try to explain it to others. I also think that, as a writer, it is important to understand the challenges directors face. It makes you better at your own work if you know what limitations you are working within. We learn by doing so to speak.
Are there any characters you can empathise with?
Given most of the characters are in the SS it's a tricky question to answer. I wrote the character of Hannah Lartner to reflect the frustrations of a police detective attempting to simply solve a crime while their world is obscured by the fog of political skullduggery. I suppose most of us would find our own jobs easier to do without external elements coming into play so let's make that my answer.
Was the play easy to cast?
Plays are never easy to cast because whatever vision you might have at the beginning depends on who comes through the door on audition night. This is the big difference between 'professional' and amateur theatre. I can't go out to casting directors with specific demands and do half my work based on photographs and CVs. All the plays I have written for ADC have needed some element of re-write to accommodate this. In this case I changed the sex of one character and created another just based on how people performed in the auditions.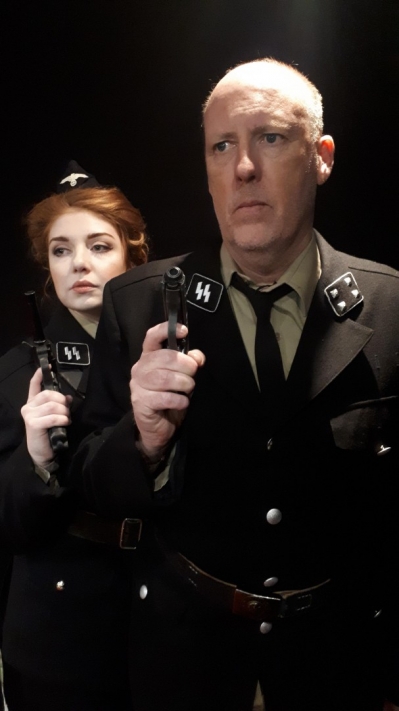 Are there any unusual challenges in this production?
From a practical point of view the variety of locations presented a significant challenge – and also went some way to explaining why police procedural plays are so rare. Moving the action from a cell, to a mortuary, to a flat in pretty quick succession did need some looking at.
In terms of the narrative – there was a lot of work needed to build an effective 'alternative history' in which to set the action in terms of set, props and script. There was also the challenge of ensuring that the audience are engaged with central characters who are effectively part of an evil and oppressive system.
This was mainly achieved through the performances of my amazing cast.
Thanks Tony.
The play is unsuitable for children under 12 years.
This play contains a brief strobe effect
Tickets: £10, £8 concessions (60+, students, ADC members)
Group Bookings: Groups of 10 and over - All tickets £8 (£8.55 when booked online - Just select the concession rate ticket and choose the number you require). Please get in touch if there are any problems with your booking.
Tickets available from:
The Bookstore, The Abingdon Precinct (15 Bury St), Abingdon.
Email: tickets@unicornboxoffice.org.uk Telephone: 0845 4636638