The intoxicating landscape of Wessex is the inspiration for a new exhibition, Wessex Airscapes, opening shortly at the Sewell Centre Gallery in Abingdon. Wessex was one of the old kingdoms of Anglo-Saxon England. Its territory stretched across swathes of Southwest England and the southern reaches of Oxfordshire where its most famous King, Alfred the Great, was born in Wantage. Long celebrated in literature – by Thomas Hardy and John Betjeman amongst others – it's a vast area of rural contours, fields and forests, hills and heather-carpeted heaths, and sweeping chalk downs etched with mystical prehistoric figures.
The exhibition is a collaboration between aerial photographer Hedley Thorne and local landscape painter Anna Dillon, bringing together their mutual interest in exploring the Oxfordshire and Berkshire countryside in a fascinating fusion of striking paintings and digital imagery, drone footage and audio commentary by both artists.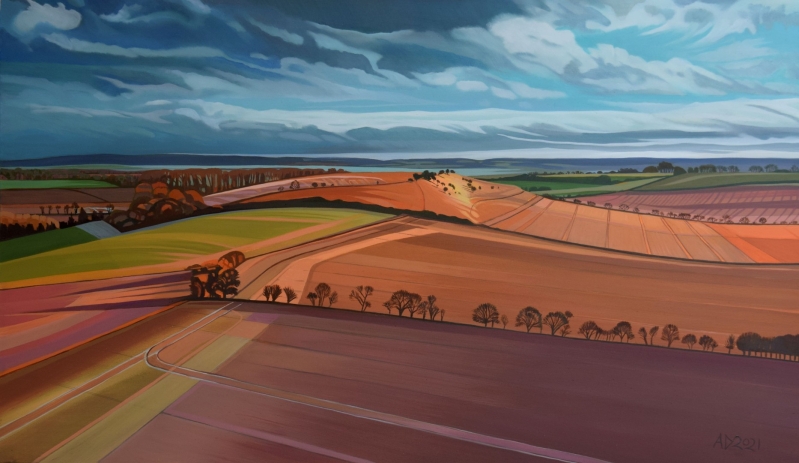 "There is something beguiling about an aerial photo of a familiar landscape," explains Anna. "For example, Wittenham Clumps is an iconic landscape of the Thames Valley area, seen for miles around and enjoyed by many, but it's rarely seen from the perspective of a bird unless you're lucky enough to sail over it in a hot air balloon or work at an RAF base.
I was always the sibling who wanted the window seat when we flew abroad on family trips," she laughs. "For the entire duration of each flight, I'd stare down at the patchwork quilts of cities, road networks, mountains and woodlands, noting the difference between countries and the contours of each new landscape. With advances in technology, however, we can now all appreciate these views more easily."
Aerial photography has been used in archaeology for many decades. In Oxford's Ashmolean Museum, for example, you can see the photos of Major George Allen (1891-1940) who was one of the first people in Oxfordshire to own an aeroplane - a De Haviland Puss Moth. He flew all over Southern England taking aerial photographs which suggested further archaeological excavations including the famous 'Big Rings' Henge monument at Dorchester-on-Thames. Up on the Berkshire Downs there are so many 'hidden' gems like ancient ditches, Roman earthworks, burial mounds and medieval field systems, alongside dramatic natural chalk landscape features like the dynamic and rippling shapes created during the periglacial period. It's fascinating.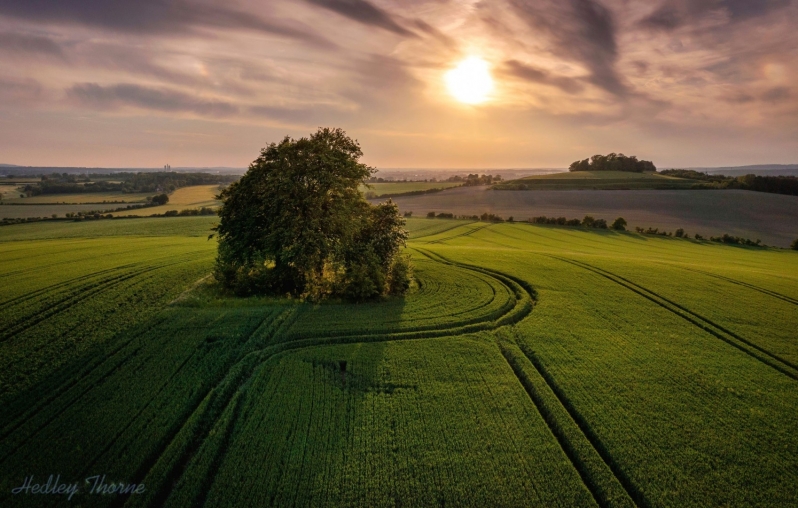 I call my aerial landscape work 'Airscapes' and over the years I've used different reference material, including 1970's aerial black and white photos, to explore the heritage and ecology of the landscapes around me. I first saw some of Hedley's photos on social media and asked to use one as reference for a painting of Wittenham Clumps. I'm delighted that initial collaboration, has developed into this exhibition."
Always fascinated by flight and the view from the sky, Hedley works in IT Operation for Heathrow Airport, by day, and in his spare time, his passion is aerial photography and capturing the intoxicating local landscapes.
"To me the Wessex landscape is everything," says Hedley. "From the wide open wilderness of Wiltshire, across to the South Downs and the North Wessex Downs close by, I feel that we are all responsible for embracing its past, enjoying its present and preserving its future. Well-loved local areas such as Wittenham Clumps, Uffington White Horse Hill, The Devil's Punchbowl and our own local area of Lowbury Hill, all conveniently strung along The Ridgeway, will never lose their haunting geometry but I fear we are now at a time where we need to be diligent about what is happening around us to protect and preserve their beauty. In this stressful world of industry, transport and construction, the presence of beautiful landscapes here in the South of England has never been more important than it is right now.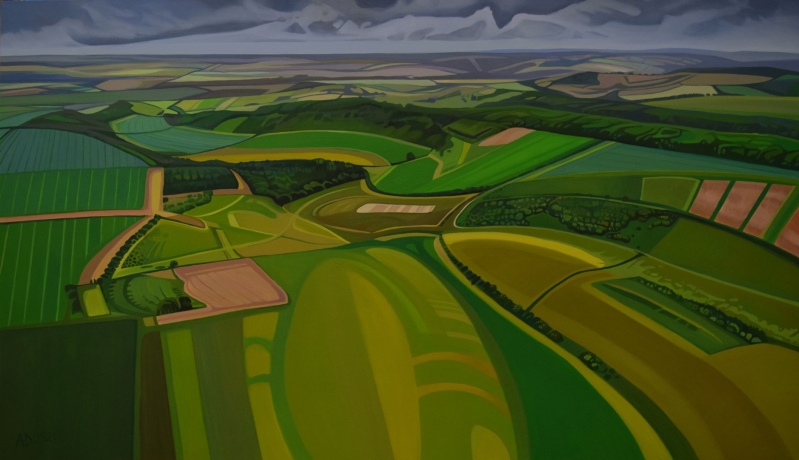 For 10 years I used to cycle commute between Henley and Didcot however after starting my role at Heathrow that was no longer feasible," he explains, "and so I started walking The Ridgeway in my spare time, and through I quickly became familiar with Anna's wonderful art.
On occasion, with my mobile phone, I would try to replicate a few of her scenes such as Hagbourne Hill and Brightwell Barrow. However, curiosity got the better of me and I invested in a small drone to take the same scenes from above; little did I realise at the time how this would exponentially expand the possibilities. I was thrilled when Anna painted one of my photos of Wittenham Clumps, and that prompted me into investing in better technology and starting the 'NorthWessex' Instagram account to showcase my pictures, eventually leading me to this wonderful opportunity to exhibit my work alongside Anna's and to have it become part of her amazing paintings."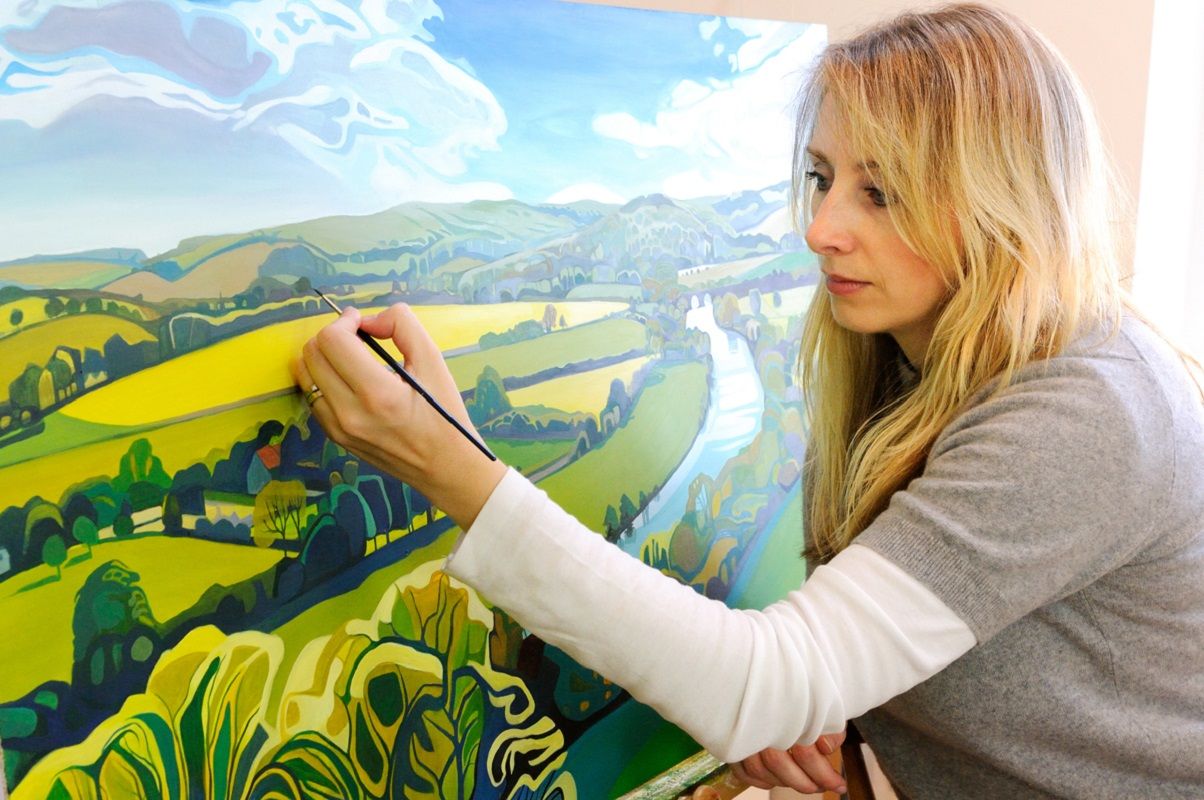 "Hedley's photos of the Berkshire Downs show a bird's-eye perspective on countryside that is familiar to me from walking the land. In certain lights and seasons; his drone work can identify earthworks, ditches, field systems and hidden jewels in the chalk hills and give us all a fresh appreciation for our brilliant country," adds Anna. "My paintings for this show, created during 2020 and 2021 through the Covid pandemic, used these photos as reference."
Wessex Airscapes runs at The Sewell Centre Gallery, Radley College, Oxfordshire from September 3rd - 24th 2021
You can see more about the artists at