Louise Pentland, previously known online as SprinkleofGlitter or SprinkleofChatter was one of the original British vloggers – stablemates with Zoe Sugg, Tanya Burr and Alfie Deyes. Her successful YouTube channel originally focused on craft and DIY but soon expanded to cover her evolving interests; fashion, beauty, general lifestyle and then pregnancy and parenthood. Her fans have grown with her, and she has most recently turned her talent to writing; a trilogy of fiction books featuring Robin Wilde and also Mumlife, a memoir on her experiences of motherhood. We caught up with her to find out more about her latest collaboration, with LRM the online store which specialises in luxurious, personalised bags and accessories. 
How did the collaboration with LRM come about?  
I've been a customer of the brand for years, and have always been so impressed with the quality and service. I'd actually been on the hunt for a luxe heart-shaped bag, and I reached out to see if this was something they'd be able to create (a boujee request…I know!). Several conversations later, they kindly asked if I'd like to have my own collection with them – of course, I said yes in a heartbeat! As a handbag lover, it's always been a dream of mine to work on a project like this, so to now see the bags in the hands of so many people is exciting. Every Instagram tag I see of someone with a bag gives me so much joy!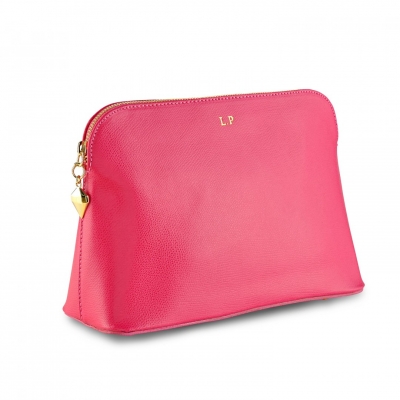 What inspired your design?  
Those who follow me know I love anything bright, colourful and 'extra' and these bags are exactly that. The heart-shaped design was a no-brainer of course, one of my signature looks is my heart sunglasses, so having a bag to match is ideal! Attention to detail is so important to me and it was amazing to work with a brand who were so aligned with my style and happy for me to have full creative involvement. Even down to the zip charms, we have diamonds on the adult styles and bows on the children's – so adorable.  
What makes your heart happy?  
Honestly, my heart is most happy when I'm at home with Liam, the girls and my cats. As I've got older and had more experiences, I find I am most happy when I'm with those closest to me, enjoying the simpler things – whether that's cosying up watching a movie with them or doing some weekend crafts with the girls.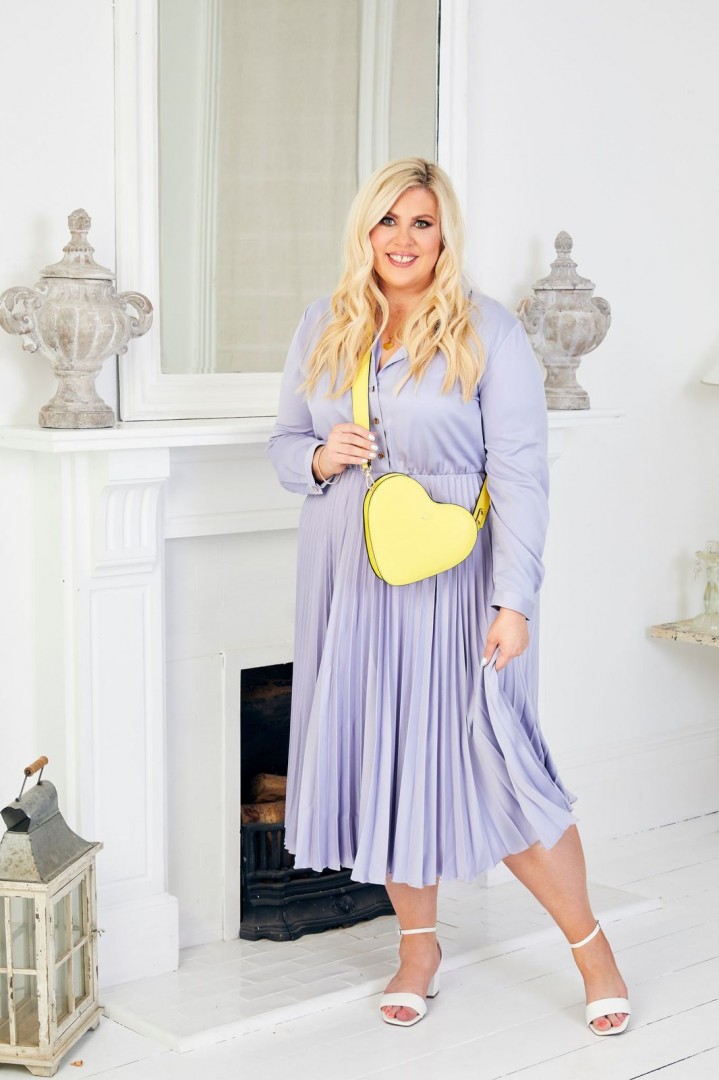 Tell us about your style.  
If you were to look in my wardrobe, you'd be met with a sea of bright florals, statement midi-dresses, and a lot of pink. My style has certainly developed  though  in the last few years as I've experimented with different looks and silhouettes. I love looking at plus-size fashion inspo on Instagram, and regularly do my own hauls and styling content on my page, too. My approach to fashion is that it should be an extension of your personality, and you should celebrate your own style and what makes you feel most happy and confident.  
You're one of the OG YouTuber, influencer, vloggers – what is the biggest misconception people may have about you?  
It has been an incredible journey with so many amazing milestones.  My online community feel like friends to me and it's the best feeling given I started blogging and vlogging because I felt lonely at that time in my life. I'm not sure what the biggest misconception people would be though?! 
How has life been for you over the past 18 months or so?  
It's certainly been a strange and challenging time for everyone, and I really do hope brighter days are just around the corner. Nothing could have prepared any of us for the difficulties we've been met with this year. The dedication and resilience of our NHS and key workers, the support and commitment of teachers via all those Zoom lessons and ultimately the value of our loved ones and our health are all things we need to feel grateful for.  
Tell us about your books…  
I have written five books  (not to toot my own trumpet but all are Sunday Times Bestsellers!). This includes the Robin Wilde fiction trilogy and my most recent release, MumLife. This is the ultimate motherhood memoir featuring the highs and lows of my parenting journey and everything in between. From maternal mental health, coping with the loss of my own mother so early on in life and how this shaped me, to the lessons and laughs I've had along the way. I wrote this with the hope to make other mums feel less alone, and very much heard.  
Louise Pentland's collection with LRM is available now at lrmgoods.co.uk 
We have one of Louise's fabulous oversized Italian leather make-up bags to giveaway. Worth £50 and in a choice of four colours, each can be personalised with your own initials. To enter, visit oxmag.co.uk/competitions