Born in post-war Eastern France, Raymond Blanc OBE, Chef Patron of the award-winning Michelin starred Belmond Le Manoir aux Quat'Saisons in Great Milton learned the value of growing seasonal vegetables at an early age. In a household where money was tight, the children were all put to work early, and Raymond would toil alongside his father growing vegetables in their organic garden to feed the family of seven. He would also be set to chop down trees and haul them back home for firewood. For this self-taught, award-winning chef, all his life Raymond's mother was a great influence on his cookery and the recipes he creates; many of which have been based on dishes Maman Blanc would prepare for her family. Between his parents, he learned the importance of seasonal variation in the food and vegetables picked fresh from their garden or foraged from the local countryside.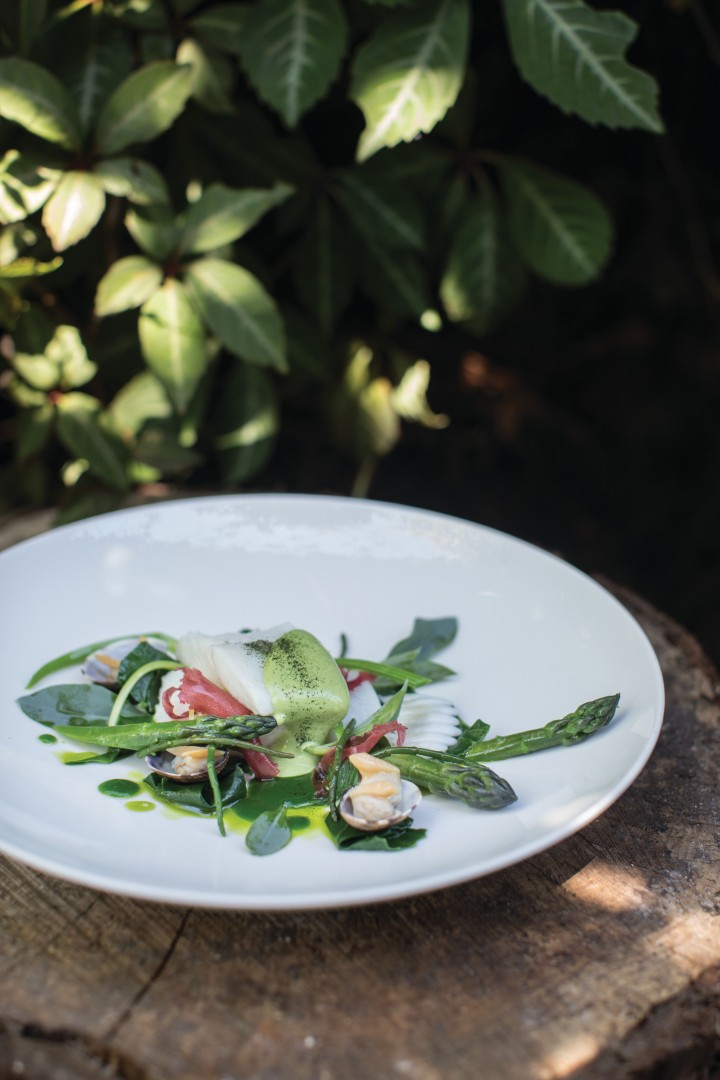 When Raymond first came to Oxfordshire in his late twenties, he worked as a waiter at the Rose Revived at Newbridge near Witney. Initially, he waited on tables until the chef was off sick and he was called into the kitchen. Using the recipes he had learned from his mother, Raymond soon earned a reputation as a talented chef. When he went on to open his first restaurant, Les Quat'Saisons in Oxford in 1979, Raymond went on to win two Michelin stars and the Egon Ronay Guide Award for the 'Best Restaurant in England'.
 Although he was running a successful Michelin starred restaurant, Raymond held a dream to be a Chef Patron of a small country house hotel and restaurant with its own potager kitchen gardens and rooms for his friends to stay. In 1983 he saw a country manor house in Great Milton for sale and when he went to view the dilapidated yellow stone house, travelling up the long driveway with gardens at different levels around the property, he knew he had to buy it.
Fortunately, the vendor, Lady Cromwell had eaten at his restaurant and was keen for Raymond and his wife to buy the property, rather than it being turned into flats. With the help of his wife, friends and loyal customers, Raymond raised the money for Le Manoir aux Quat'Saisons. As his dream developed and the property and grounds were refurbished and extended, his restaurant earned a world-class reputation as the ultimate gastronomic destination in the country. The Belmond Le Manoir is the only country house hotel to have retained two Michelin stars for over 30 years.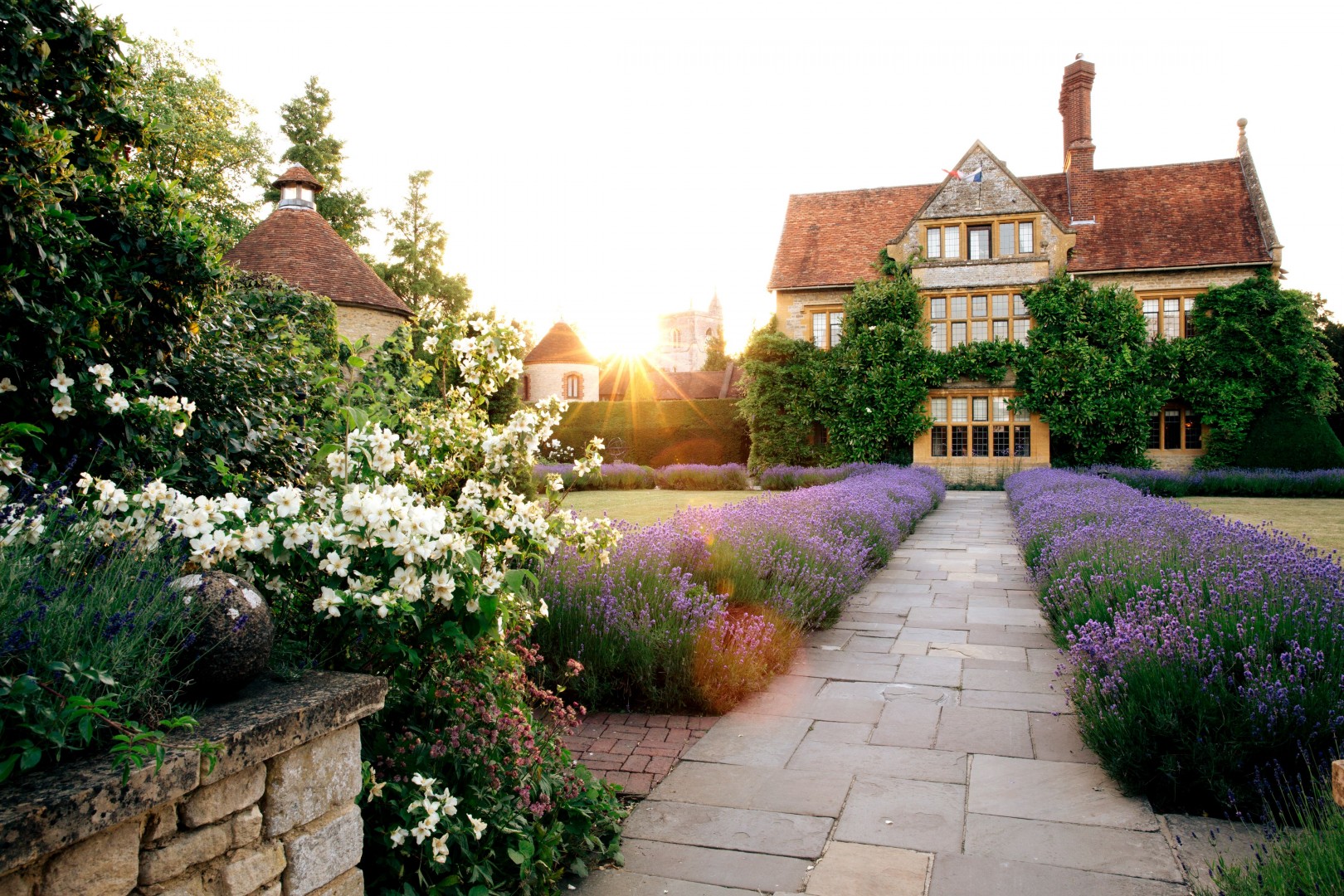 The extensive gardens that surround the house have played a significant part in the success of Le Manoir. The whole estate is 27 acres, two of which are dedicated to Raymond Blanc's vision of a potager kitchen garden. There is also a two-acre fruit orchard where British and French heritage varieties are grown. The fruit trees are selected to ensure their crops are best for baking, pureeing, juicing and importantly, for Raymond Blanc's infamous Tarte Tatin. The eleven gardens on Le Manoir's estate are the envy of both chefs and gardeners worldwide.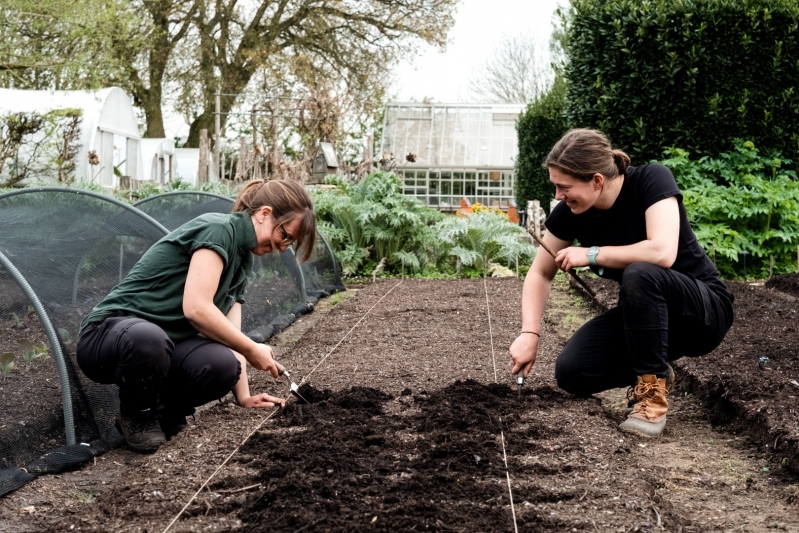 His head gardener, Anne Marie Owens, works with Raymond and Gary Jones (Executive Head Chef) to agree on the planting schedule. Everything that is grown in the kitchen garden is used for either the Raymond Blanc Cookery School or Main Restaurant with the chefs picking the crops fresh each day. Together with her gardening team of up to eight gardeners, Anne Marie ensures that approximately 70 types of organic herbs and 90 varieties of organic vegetables are available for the chefs to use. Poly-tunnels help to extend the growing season and are used to grow micro-herbs which provide intense bursts of flavour to finish many of Le Manoir's dishes.
 During the growing season, the chefs carry out documented taste tests to ensure that the herbs and vegetables that the gardening team are growing are picked at the appropriate time and add the desired flavours to the dish.
 Alongside the Raymond Blanc Cookery School which opened in 1991, people with an interest in growing produce can enrol at the Raymond Blanc Gardening School which was established in 2017.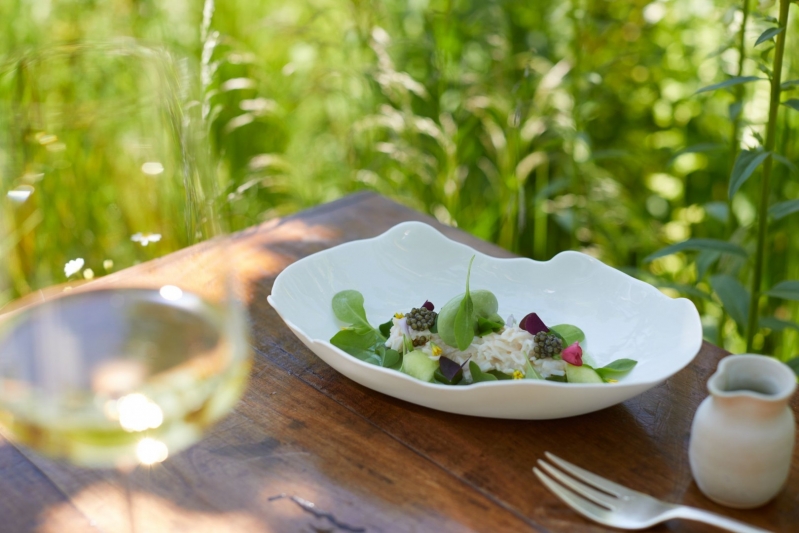 During the 2020 lockdown, Raymond Blanc has been working on a new TV series for ITV (shown in February) and an accompanying book 'Simply Raymond: 100 Quick and Easy Recipes', published by Headline Home, (ISBN 9781472267603, priced at £25). The recipes have been inspired by the traditional recipes Maman Blanc prepared for her family. Last year's lockdown also gave Raymond the time to think about how people's lifestyles would be affected and how the way they cook may change. He believes we will reconnect with seasonality and the provenance and authenticity of our food produce. No doubt the potager kitchen garden at Le Manoir will become even more important to Raymond and his team.
To find out more information about the Belmond Le Manoir aux Quat'Saisons or for the Gardening School, please visit belmond.com