Dr Daniel Hunt, aesthetician and founder and director of Imperial Aesthetics
When I was invited to meet Dr Daniel Hunt, I was offered the chance to try one of his facial procedures. I immediately went to his website (comprehensive list of treatments) and checked out his online reviews (glowing). Should I go for it? I went on Facebook to get counsel from my online buddies and responses ranged from delight to disdain.
Working in beauty has taught me just how effective subtle tweakments (non-surgical procedures) can be, and developments in the best clinics mean treatments carry minimal risk. At this level of care, we're not talking frozen faces or grotesquely inflated features, just you on your best ever day. I dithered. I'm pretty happy with how aging has affected me; sure, I have a few lines and I'll snap up any lotion or potion offering improved firmness – especially around the neck and jawline. Would the needle offer me a solution? Eventually I decided nothing ventured, nothing gained, so I went to ask the man himself.
"First things first, if you're getting work done, you have to be doing it for yourself," he says. "Ninety-nine times out of a hundred, we are our own harshest critics. I think we should all be a little nicer to ourselves. The way I like to work is to offer subtle enhancements, and all that matters is the client notices. Sometimes others wouldn't necessarily register that work has been done, but if the patient is happy then that's what important."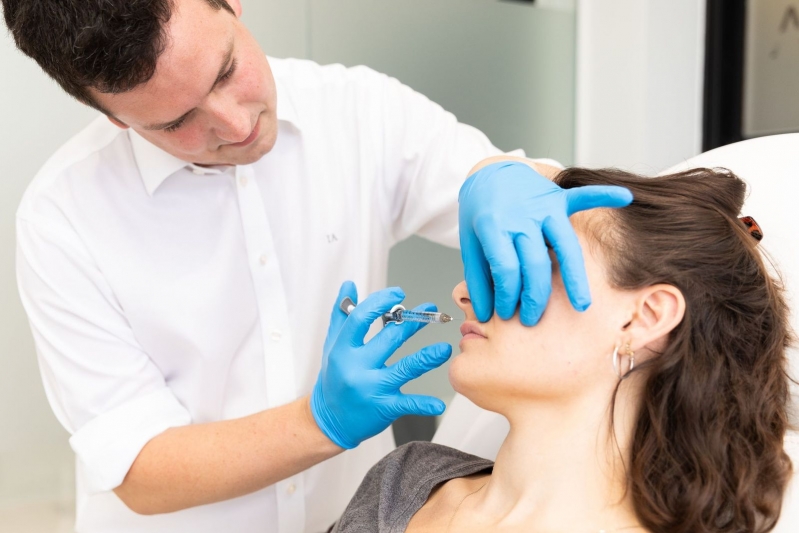 What about my slightly sagging jawline? Could that be tightened up by the magic of the needle?
Ok, so I could suggest filler in the cheeks. Think of them as the scaffolding. As we age our cheekbones retract and the fat pad on the apple of the cheek starts breaking down. It is this strength which holds up the face. It becomes more malleable as it ages because there is less muscle. If you went straight for the jawline, the weight of the filler could just pull the face down; you need to fix the foundations first. It's the same with nasal labial lines – yes, filler there can work temporarily, but adds weight and can make the issue worse if the cheek isn't supported. However, if you're generally happy, there is nothing I'm going to suggest that 'needs' to be done. I'm all about beauty with integrity – it's not just about my wallet!
Who are your clients?
My youngest client is 23, and she has her lip line adjusted to give more shape and definition around the Cupid's bow. My oldest client is around 67 and she has treatments for her jawline and the cheek area. The majority of clients are 35-55, those who feel gravity or time is making an impact. I enjoy building the relationship and going on a journey – you learn how they take filler, how much you can use. I don't do the extremes and that's not my client base. I worry sometimes that I won't get clients because of that, but it hasn't been the case.
OK, but how about those looking for more of an impact?
It is my choice to work – I have turned down specific clients. I'm always wary of those bringing a photo of someone else. Your face is your own; I can work with it but I can't make you look like someone else. I'll tell someone if I'm not comfortable, and try to make sure they truly understand what they're asking for. Say someone insists they want 3mls of lip filler (the average treatment is 0.5-1ml) I'll show them pictures of what it will look like and check 'are you sure?' I want to educate my patients and give them the tools to choose from an informed perspective. If they still want an extreme effect I insist going gently and remind them they can always follow up in a month or so, depending on how they feel.
For me, it's about creating the best version of yourself. For example, I had a woman who showed me a picture of herself, but with contouring makeup. She wanted me to recreate that effect as she found applying it each day too time-heavy. Fine, I can work with that.
I see my job as about managing expectations. Don't forget, I'm a doctor with a medical background. I won't take their money to do something I consider detrimental. And, apart from anything else, my clients are an advertisement for me, and I have to think about that, so I'd rather hold back. Perhaps I'm not a great businessman because I don't upsell. I want to build a nice client base of people I see often and have relationships with, rather than a revolving door.
What advice would you give to those looking to have something done for the first time?
The problem with aesthetics markets is that it isn't regulated. You need to see who's accountable to whom. As a doctor, I'm responsible to the General Medical Council. You also need to consider aftercare which is hugely important. My prices reflect the aftercare which comes as part of the package. With any new patient I won't know how they could react to filler, so I err on the side of caution. If more is needed, that's included in the price.
Be wary of anywhere which doesn't require a full health questionnaire, or give the appropriate warnings: bruising, swelling, and very rarely blindness. Don't ever have filler in the centre of the face: the orbital artery has a branch leading directly to the eye – injecting here can be like banging a nail into the wall near a light fitting.
How has COVID affected your work?
I shut down clinic during the first lockdown and went back to working in the NHS, so that was the biggest impact. In terms of my clients, I've seen a rise in popularity for tear trough treatment, due to all the mask wearing. Prior to the pandemic it was lip fillers all the way. Also, my clinic in Chalfont St Giles has definitely become busier as people prefer to stay local. In fact, I've had a little Botox myself as I realised I tend to frown whilst I treat and I don't want this to be misinterpreted by my clients. It can be a little nerve-wracking to see a frown on your doctor's face!
So, did I take up the offer? Readers, I did not, but I'm sorely tempted to go back once non-essential travel is safe again. And even if I don't go for the filler, I really like the sound of Dr Hunt's latest addition, the Tixel Glow Up, a heat-based facial treatment for the skin which stimulates collagen and promises ultimate rejuvenation.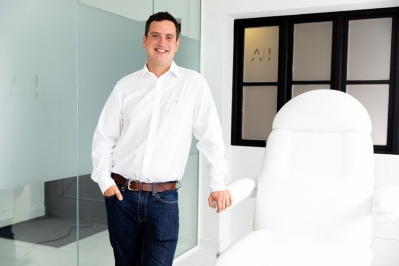 Imperial Aesthetics has clinics in Harley Street and Chalfont St Giles, visit imperialaesthetics.co.uk for further information. Readers of OX can get 10% off treatments by mentioning the magazine when booking.