Esther Lafferty talks to Dr Lizzie Burns, an artist and medical research specialist who has been a visiting academic at the Department of Physiology, Anatomy and Genetics, University of Oxford, and uses art, including origami, to explore the beauty and wonder of life.
How do art and science fit together in your work?
I always loved both art and science. All children are curious and like creating things and for me that never really changed. In my teens I made things like a mitochondria necklace and I loved Salvador Dali's art partly because he looked to science for inspiration, even painting molecules. Molecules are fascinating: they encapsulate the secrets of life and have a mysterious beauty. Each is so tiny that visualising them requires modelling at a scale that we can comprehend – and creating the models requires imagination and artistry. It's mind-boggling that we are all made from these tiny building blocks. Biology, at its core, is a very spatial three-dimensional discipline. DNA contains genes that encode long stretches of amino acids, which fold with precision and the way they fold is key. The whole body is practically biological origami.
Although my background is in cancer research, for the last 18 years I have been working as a creative specialist in hospitals in London (UCH) and in Oxford running origami workshops with patients – and medical professionals too – exploring the effects of this ancient paper folding technique on wellbeing.
When people are ill, they create art as an escape from what they are going through, and originally my workshops included doodling and other art forms. Then, about eight years ago I was working with a lady who told me she really wasn't keen on drawing or painting but she'd like to show me something instead. She had grown up in Hong Kong and when she was a child she had also spent time in hospital: while she was there, she learnt origami and found it helped her get through her illness. The act of giving away the paper flowers and other shapes gave her a way of saying thank you to the people helping her get better. Patients who may themselves be terminally ill have observed, with a dark sense of humour, paper flowers and animals don't fade or die!
What is particularly special about origami?
The art of origami is age-old and began with the invention of paper. The Chinese were the first to invent paper and were producing it during the 2nd century AD and probably even earlier than that. The process of paper making spread slowly through Asia and the Middle East and only reached Europe in about 1150. The Japanese refined and extended the paper-making process until it became an integral part of their everyday lives. Paper became and still remains more important and more revered in Japan that it has ever been in the West.
Origami also seems to strike a real chord with people across all spheres of life where life can feel chaotic or out of their control because, unlike many art forms, it is very calm, ordered and precise. It is an art that anyone can do, anywhere and at any time. All that is needed is a piece of paper and a pair of hands, together with patience. A fascination of the art is in making something beautiful from something as ordinary as everyday paper. The richness of the art comes from its purity.
Applying folds with considered pressure and a symmetry brings a sense of wellbeing wherever you are, and interestingly this spring – whilst I was spending more time online during lockdown – I discovered I have a doppelganger in Africa! He's a Nigerian man called Oluwatobe Sodimu who is also working with origami for wellbeing, and funnily enough also has a science background.
What are your favourite folded creations?
I love to create the wonders of the natural world from many flower forms to animals, whether that's the iconic crane or a jumping frog, the endangered red squirrel or an imagined dinosaur. For IF Oxford, I am teaching visitors to create a flapping bird. This intriguing bird has become a popular fold, although it's a mystery who the designer was: it was first mentioned in an 1880 French magazine in which the art of origami was described as a great skill for those with a scientific mind. It's a miniature piece of engineering combined with a geometric magic that transforms paper into life.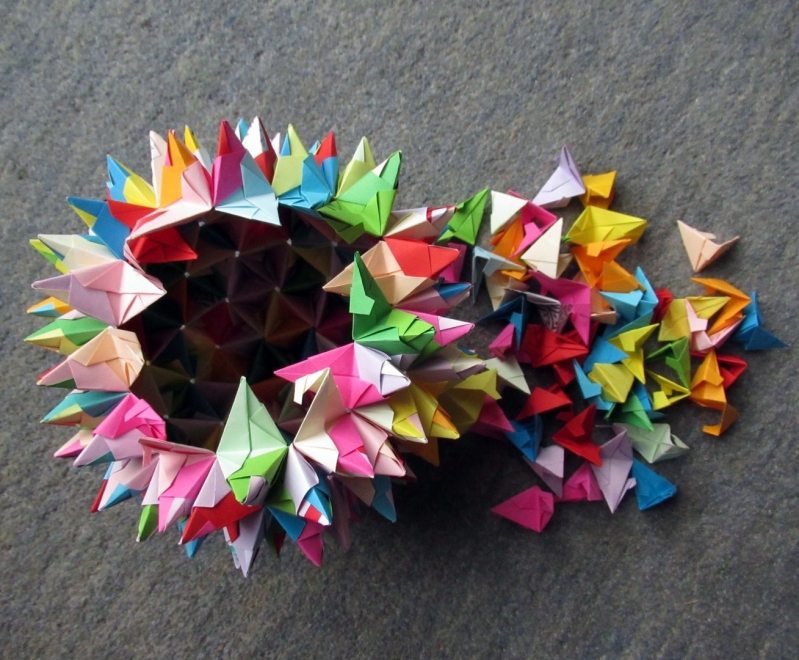 I also love to make bunches of lilies and modular 'kusudama' balls of flowers which translates as 'medicine ball'; it really does make you feel better to make one. It amazes me that there are so many striking forms such as stars, hearts, complex shapes and repeating patterns which you can create by folding papers with a mathematical complexity, just like the strands of life. While the folds can be following someone else's design (or you can experiment!), the choice of colour and how you build up a piece can be so expressive and unique. I really enjoy working with modular pieces, building up a complex series of patterns or colours or incorporating my own drawings of life on a tiny scale.
Tell us about Made with gLove, Origami for our times, and the benefits of origami to health.
In recent years, research has shown that art and craft in health and social care can bring many benefits to the individual. An activity like origami, which requires both concentration and action, with its achievable challenges leading to a product, absorbs our mind and gives us a feeling of mastery and achievement.
Furthermore, as well as developing mental concentration, fine motor skills and patience, using our hands stimulates areas of the brain, improving short-term memory and offering a chance to unwind and live in the moment, one fold at a time. It helps to silence negative noises, internal and external, and so encouraging people to pick up paper and fold in support of their wellbeing is more relevant than ever as we live with the coronavirus pandemic and the worries it has brought to so many of us.
Made with Love is funded by the National Lottery as a community project to beat boredom and loneliness and spread the origami love, to bring joy in these challenging times. We developed it thinking about others with care using gloves to handle materials and we hope it will make a difference.
As part of this project I will be offering free online origami workshops as part of IF Oxford, the science and ideas Festival, with one live session on Saturday 3 October and several on-demand videos. I'm also offering free workshops through our Central Library online.
You can also get involved by visiting and following Lizzie on her YouTube channel youtube.com/DrLizzieBurns with a live fold on Wednesdays at 2pm and on the Facebook group: Join the fold: Origami to beat the boredom. Or read more at origamipulse.com
Tips for Origami
Making a neat, firm fold is the essence of origami. It is easier if you rest your paper on a hard surface such as a table or a hardback book.
1. Lay the paper on a firm level surface so that one corner is pointing towards you. Pick up the bottom corner and bring it to the top corner.
2. Move it about until the corners are exactly aligned. Don't rush this.
3. Hold down the corners with one hand and run your other forefinger firmly down to the centre of the fold.
4. Run the finger firmly to the right to form a crease and back again to the left to complete the crease. Check that the corners are still aligned.
5. Beginners should be sure to start off by creating very basic designs. Origami is an art that must be mastered in increments or it will seem overwhelming. Trying to run before walking may lead to disappointment.