'It was a dark and stormy afternoon…'
It's Christmas shopping season – as the TV rolls out the superstore adverts, delivery men are delivering identikit packages to home after home across the country. However, those who value individuality and creativity can avoid the hustle, bustle and blatant consumerism of the High Street and still contribute to the local economy as they shop for magical Christmas gifts during a gentle afternoon or evening out.
This month and next, artists and designer-makers across Oxfordshire are opening their homes and studios and gathering together to host pop-up exhibitions, often in out-of-town locations, across the county from Abingdon to Banbury, Cumnor to Dorchester and so on. There's a wealth of places to visit and unique creations to discover.
And there's something special about an original piece of art, jewellery, pottery or wood which is truly one of a kind, hand-crafted with imagination and skill. You will never see another just like it, and yet choosing an original needn't be expensive and not only does the piece personify the individuality of artist, your own character will shine through your choice.
Furthermore, as well as carrying away a picture or piece that's captivated you, by buying directly from an artist, you also carry away a trilogy of tales:
the story of its inspiration
the story of creation
and the story of how you found it and were captivated.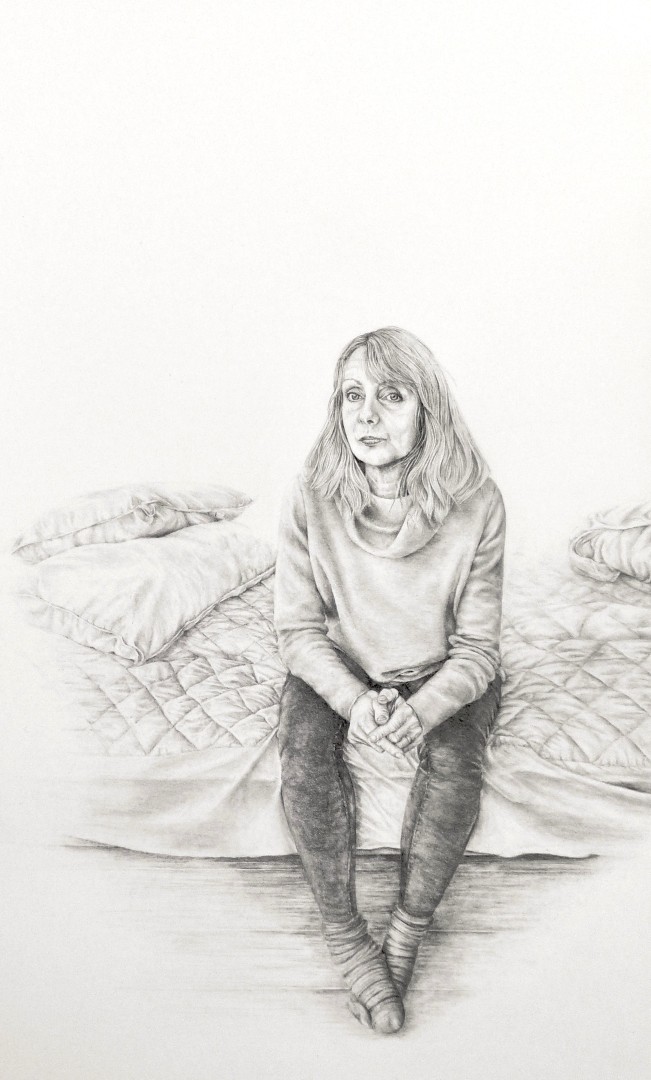 Sue Side
In a charming cottage house and garden in the heart of Bampton, for example, you'll find three artists showing very different pieces – from starling murmurations captured in delicate ink and watercolour by Sue Side, to jewellery handcrafted by jeweller Tamzin Keown. Her new collection is inspired by the natural four elements: earth, water, fire and air, and each piece is collection is carved from wax, a traditional jewellery making method, and cast into sterling silver and gold. Her previous collection, in sterling silver pieces inspired by the moon and stars, will also be available. Here too, you'll find stone carvings both small-scale and for the garden by sculptor David Williams whose tactile pocket sculptures, pebbles and candlesticks are the perfect gift for the difficult-to-buy-for friends and family members. If you prefer the experience of making, rather than the finished product, then David's Sculpture in a Day courses are an inventive gift idea for both the manually talented and – equally – for the 'art numpty'.
Visitors to Bampton will also be able to enjoy a large Christmas exhibition in the West Ox Arts Gallery which is just across the road, where a large group of artists will be showcasing a wide diversity of art and craft, including glass art and ceramics, with a festive flavour.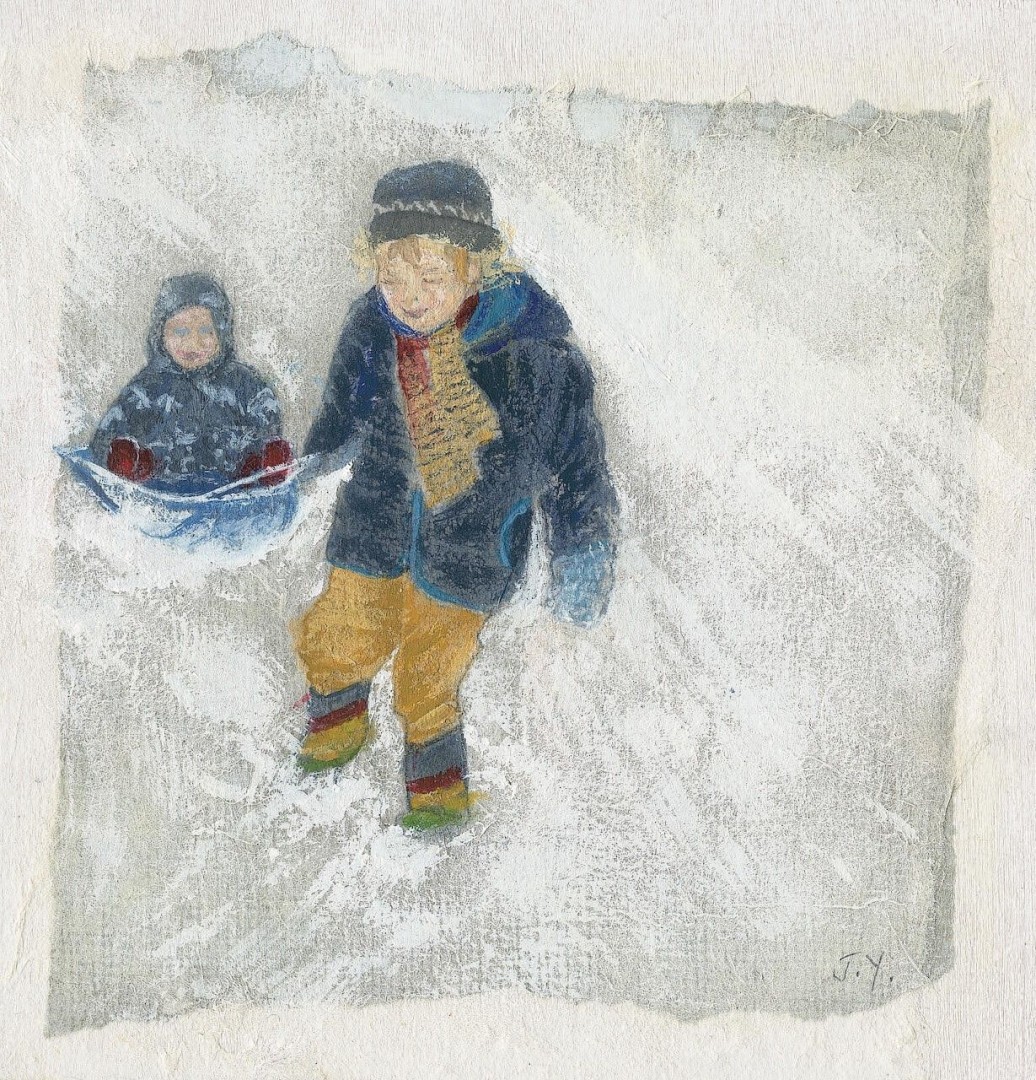 Judith Yarrow Sledging
Over in Chipping Norton, if you follow the sparkling lights down the path you can take a journey through the seasons and around the UK with mixed media landscape artist Judith Yarrow. She is exhibiting with jeweller Rosie Colvin whose unique silver jewellery incorporates fossils, seaglass, pebbles, felt and cowrie shells with a sense of exuberance.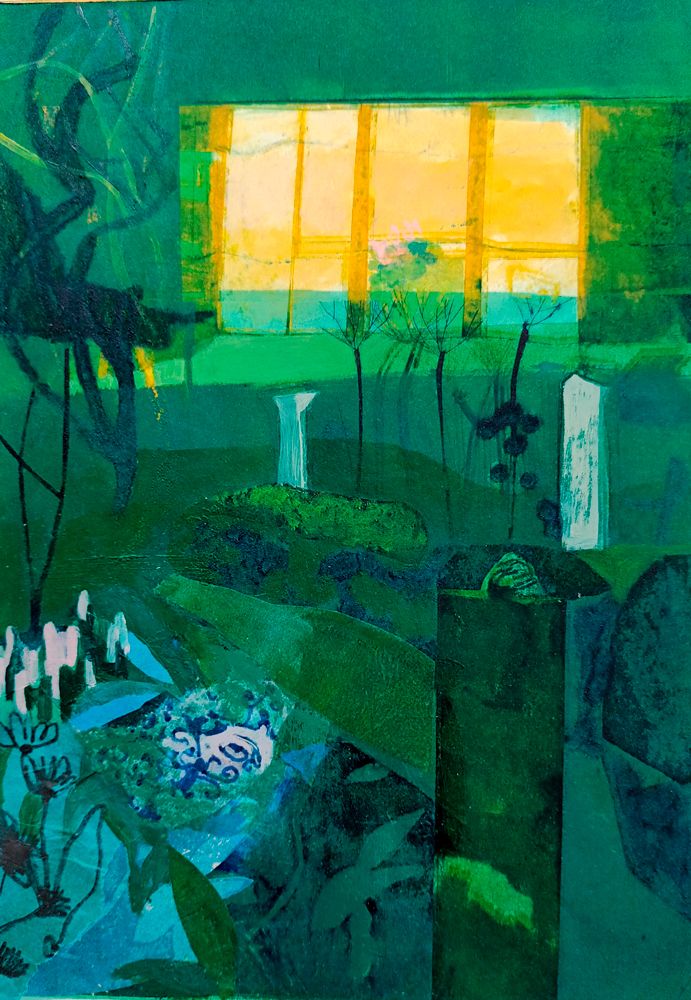 Jane Strother Garden at Night
In Iffley, there's also art that celebrates all the seasons with seedheads and bright flowers swaying in the sea breeze on Cornish cliffs and fishing boats bobbing in harbours, the colours of autumn leaves; in Headington Jane Strother's popular studio sale promises abstracted views of fields or coastlines pondered or travelled, recent works of Mersea Island in Essex to Southwest Cornwall via Cheshill Beach and places in between, and older paintings from further afield. Promising more colour and intrigue, in Summertown, at The North Wall Oxford Printmakers Co-operative (OPC) presents a colourful array of wall art created with varied printmaking techniques, with subjects ranging from the sublime to the sensational.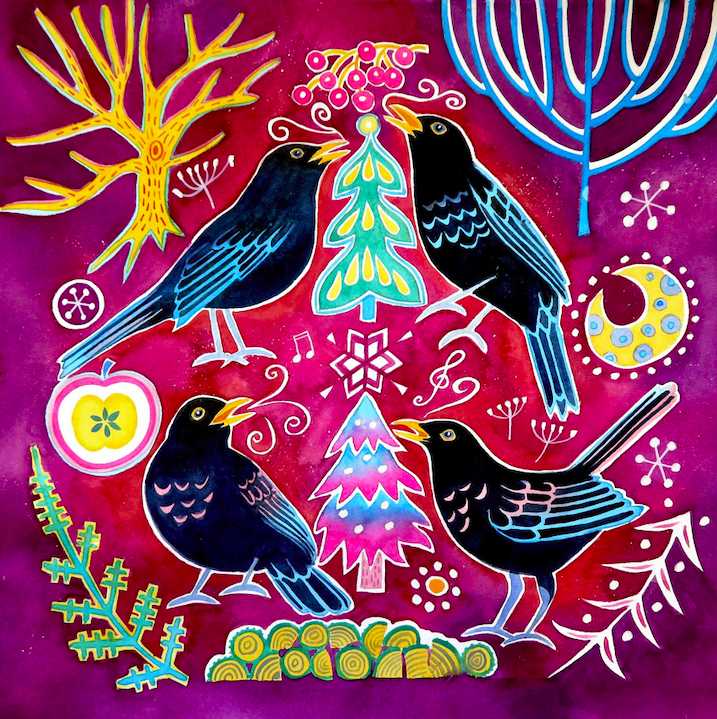 Jane Tomlinson
And if there's an Artweeks artist whose style you love, then check out whether they have a calendar for next year that will bring you a different drawing or painting each month of the year. Jane Tomlinson's art offers a splash of life, joy and colour all year round with sunflowers and badgers and blossom whilst Gerry Coles Countryside calendar is a printmaker's year that celebrates wildlife and countryside that reproduces her gorgeous seasonal linocuts and includes snippets of information about the creatures shown and about how the linocuts were produced. Then, for those who love to curl up with a book in a book, Tom Shepherd's Booklover's Guide to Bookshops 2023 has enticing pen and ink drawings of some of Britain's best bookshops to explore over the coming year, in Oxford, Woodstock, Chipping Norton, Hay-on-Wye and further afield.
With local artisanal gifts, when you've found something to treasure and carried it home, you add another story of your own – as well as the stories it came with, you'll also have tale of how this particular piece came to rest in your own home and trigger a conversation at the dinner table: "It was a dark and stormy afternoon. Armed only with a SatNav we set of deep into the Artweeks Christmas season..."
If, however, you'd rather stay at home beside the fire while the weather whips up a gale and the rain pounds down, then you can visit the Artweeks 2023 autumn/winter exhibition on-line to enjoy the county's creative talent from the warmth of your sofa and slippers.
For more information on these artists and the venues you can visit this month and next, see artweeks.org.