Every successful bedroom has a focal point. It lures the eye and sets the tone for the whole space. For example, in the bedroom, the bed generally dominates the room. To give your interior a new look, think about making a statement with an upholstered headboard, or perhaps by reupholstering the entire design, to breathe new life into your room. Our top tips below will help you choose your headboard and ensure you create a joyful and striking bedroom setting, no matter your desired style.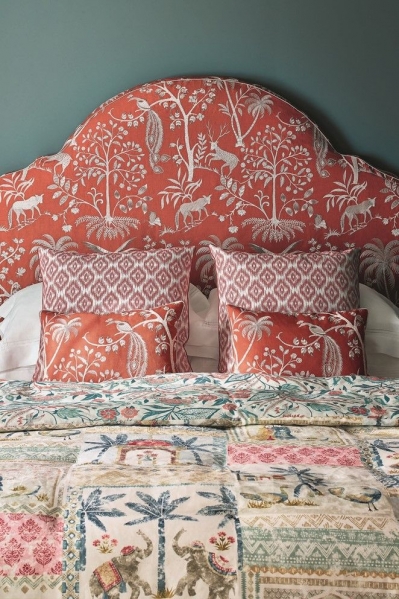 Matching Colours and Patterns
Using a patterned fabric on your headboard upholstery does not mean that you can't have patterns elsewhere. Go to town with a visual symphony, incorporating cushions, throws and bedspreads. Vary the scale and type of pattern for the best effect, making sure each choice has at least one colour in common. Don't be afraid of combining different styles – graphics and florals, for example: if the colours and pattern scales work, the contrast will modernise and create definition. Contrast is the key when it comes to the design of a successful room.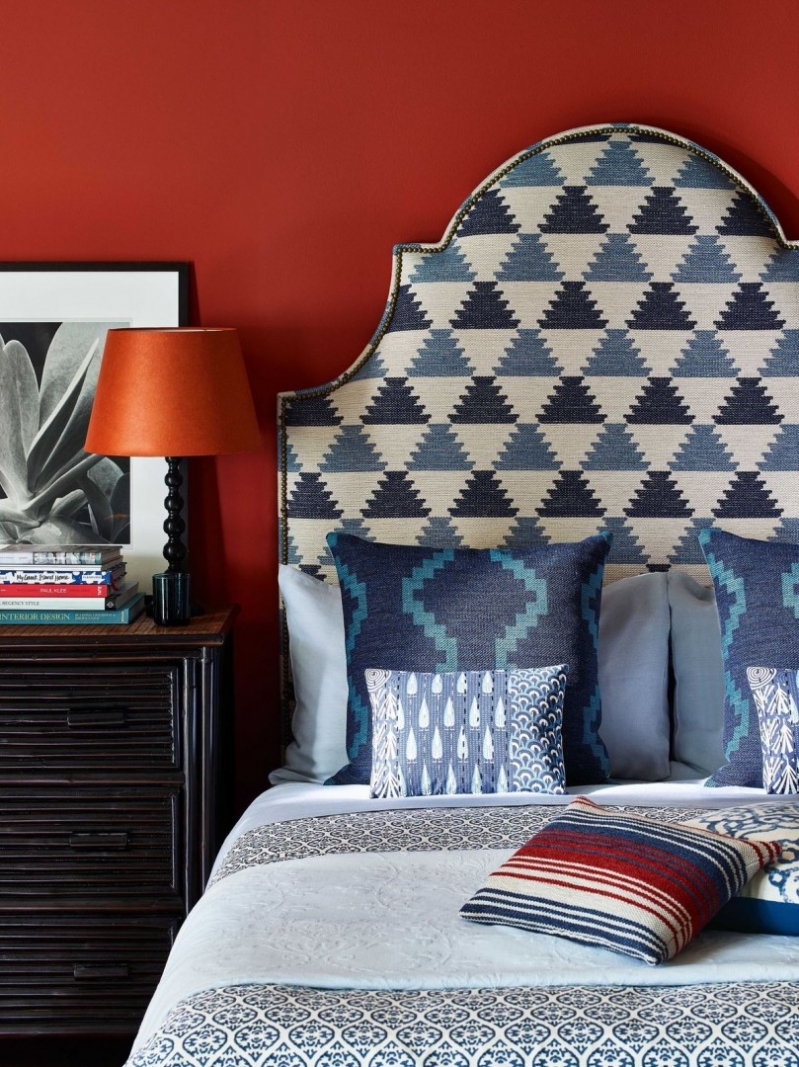 Picture courtesy of Jane Churchill
Using unique fabrics on your headboard can bring heaps of personality, create a smile with the unexpected and soften the look of a busy room. Try to be brave and avoid safe options; a little courage goes a long way. You will never achieve the 'wow' factor with anything predictable.
Size Matters
The size and style of headboard you choose will impact the most effective size of pattern. For a large, statement headboard, selecting a large-scale pattern can transform a bedroom into a luxurious, warm and cocooning sanctuary, setting the room's tone and making it feel bigger. We often make the mistake of selecting small designs because we are afraid that a large pattern will be too overwhelming. However, a large pattern can often bring a fabric scheme together as it is not as 'busy' as smaller, more complex designs. 
Smaller headboards often benefit from smaller scale patterns and calmer colours. This does not mean 'playing it safe'. Small-scale patterns can include anything from stripes, flowers and checks to graphics and geometrics, all of which can all look really striking and create a great focal point on a headboard.
Picture courtesy of William Yeoward
Let Your Wallpaper Sing
A headboard may also be used to ground a scheme that features bold bedroom wallpaper, depending on the pattern of the wallpaper and the mood you wish to create. Choosing a more neutral textured linen or plain velvet fabric for your headboard allows the wallpaper to sing out, take centre stage and anchor the space. This can give you the option to build textures with soft furnishings, such as cushions, curtains and bedspreads.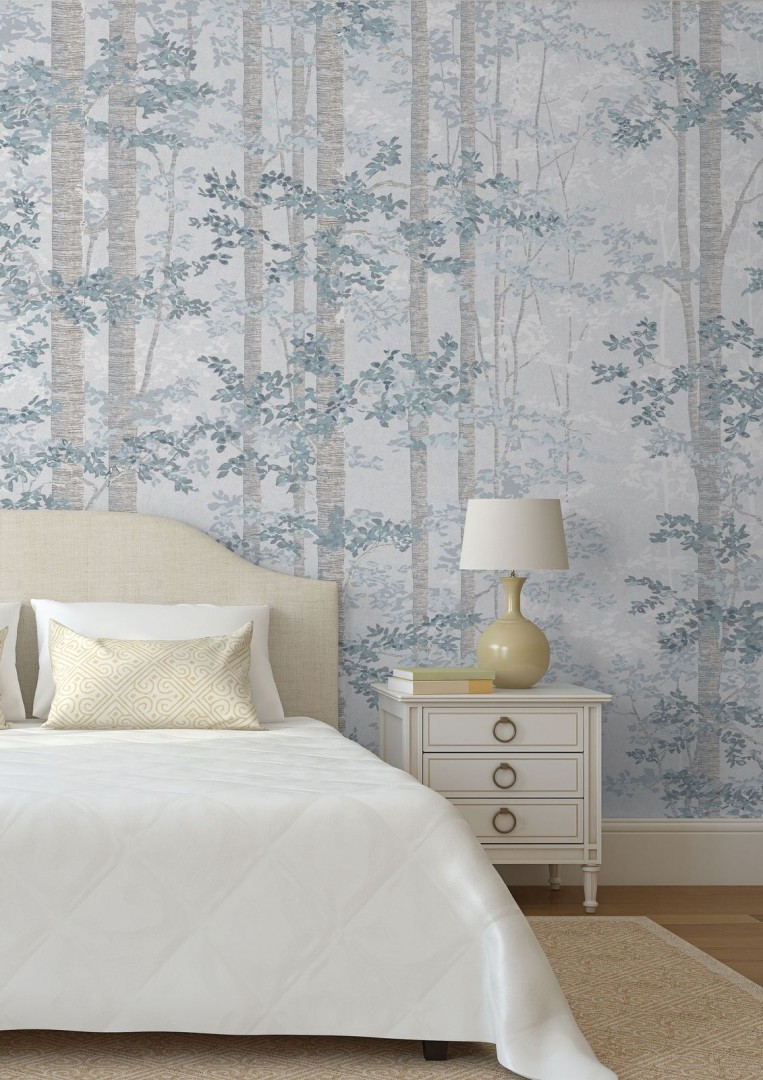 Picture courtesy of Lewis & Wood
Restful and serene bedroom wallpaper patterns do not mean it must be plain. Soft, pretty and dreamy patterns work particularly well – think florals, trailing leaf prints, and charming damasks to create a relaxing ambience.
Complimentary Lighting
When deciding on the size of your headboard, it's important to think about your bedside lighting choice. If your space is small, hanging statement wall lights on either side of the headboard can add charm and intimacy to the scheme whilst freeing up valuable bedside table space. Although it sounds obvious, do make sure that switches are well located. Pendants hung from the ceiling may also be a really striking and modern look addition to your bedside lighting. Fit a dimmer switch to give full light for waking and lower light for rest when you need it.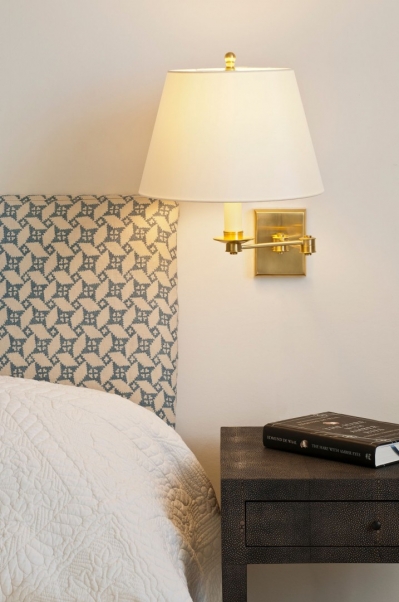 Picture courtesy of Vaughan Lighting
Layer it Up
When it comes to the cooler months, it's lovely to make your bedroom feel snug and warm, both visually and practically. Layering soft furnishings immediately makes a room more inviting. Consider upholstering your headboard in soft wool fabric. Then, swap over rich velvets and soft faux-fur throws for cool linen cushions in the warmer months. If you prefer a more streamlined look, roll up throws and keep them in baskets, handy to be grabbed on a chilly night. Sheepskins are a wonderful and timeless addition to any home, as they are natural, classically timeless and extremely versatile. Available in a large range of wools – curly, straight, and different natural colours, they are a fantastic way of adding texture and interest to a scheme.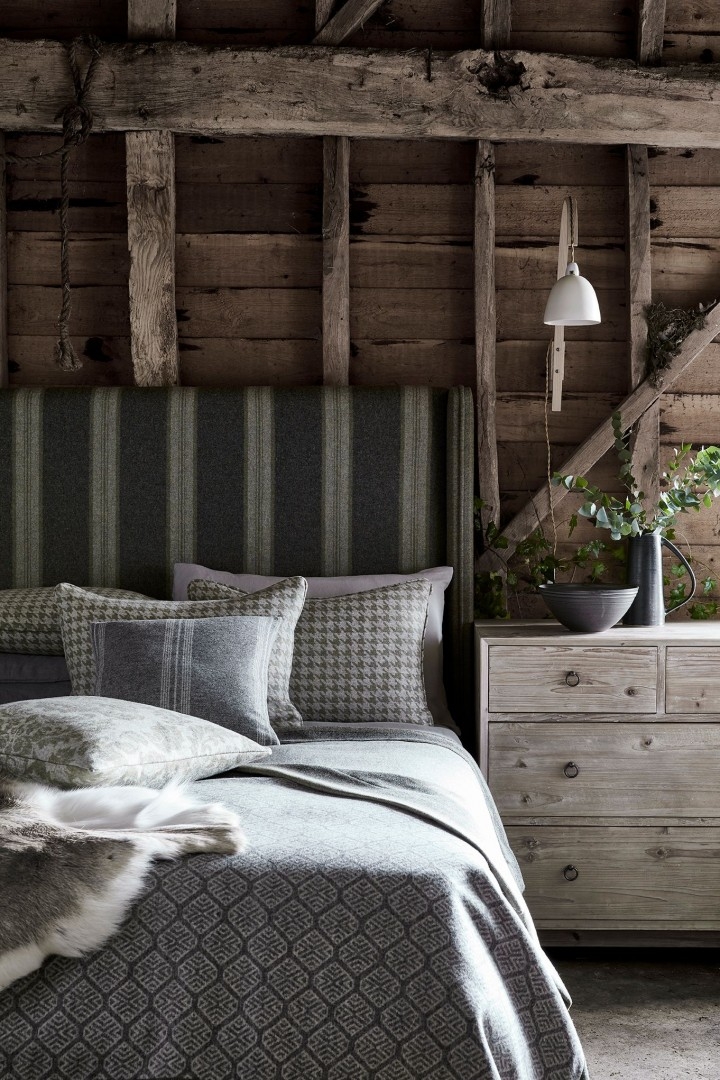 Picture courtesy of Ian Mankin