In the heart of the Cotswolds lies Thyme, the family-run "village within a village" where guests are welcomed to a pastoral idyll, rich in all the charm of rural life.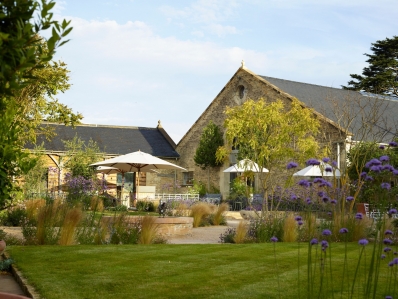 A visit to Thyme is a thoroughly spoiling experience. In addition to the culinary delights devised by Chef Director Charlie Hibbert for the Ox Barn restaurant, you'll find exquisitely appointed, luxuriously relaxing rooms; extensive grounds (including tennis court and water meadows); and the Meadow Spa, featuring a unique concept space, The Botanical Bothy, which brings together the power of breath, scent and nature with its own signature treatments. The newly opened Orchid House is a residents-only area offering its own simple menu, sited next to a spring water swimming pool. All of this, plus cookery courses, floristry workshops and a full programme of talks and exhibition throughout the year, Happenings, all of which celebrate the natural environment.
Our sister title, OX, features the regular Tray Chic page which includes a recipe provided by Charlie alongside a trayscape styled by sister Milly (Head of Brand and Retail Development) using linens designed by their mother, Thyme's founder, Caryn Hibbert. Inspired by the beautiful surroundings, the Bertioli collection of linens are described as 'shaped by nature to tell stories of the natural world evolving through the seasons'. Caryn explains, "I've always loved drawing and painting, but as I pursued a career in medicine, they became something I'd done when I was a little girl. It was only a few years ago that I started drawing again, picking up a pencil and rediscovering a passion that I had forgotten. Starting with little doodles of roses, dahlias and ferns, my son Charlie saw the drawings and asked for them to be on the back of his Ox Barn menus. This gave me the confidence to start spending more time creating what are now our Bertioli Patterns of Nature."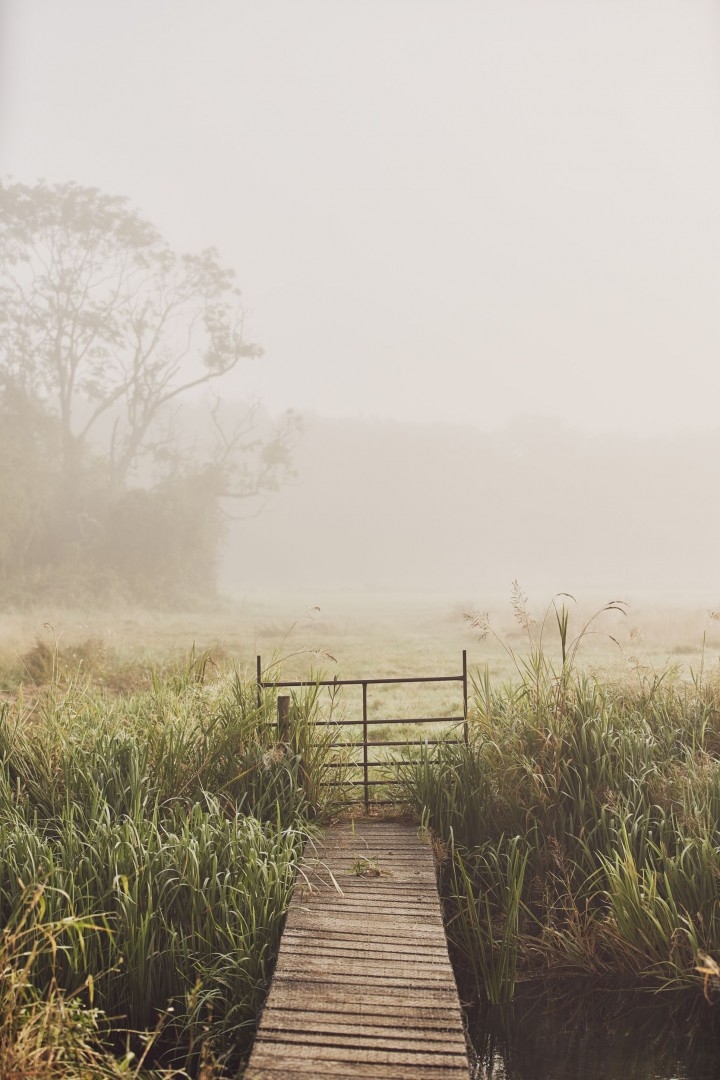 New for summer 2022, is the Veg Patch series of prints. The vibrant designs are meticulously and lovingly drawn, and inspired by Thyme's kitchen garden which provides much of the produce used in the restaurant's 'farm-to-fork' ethos. A riot of vegetables including vivid carrots, rooty, earthy onions, brilliant red radishes, and delicately drawn runner beans adorn variously sized tablecloths and napkins. Whilst they certainly celebrate summer's abundance, they are guaranteed to add a little wit and beauty to your dining area throughout the year.
More reflective of the shift in seasons, is the upcoming Autumn Leaves collection; Caryn's paean to the breathtaking last burst of beauty which Nature provides before shedding her colours for the winter. Caryn adds, "As the sunlight begins to fade at the end of each summer, Autumn golden hues begin to shine. The spectacular yellow, oranges, browns and final flushes of red make autumn at Thyme an incredibly beautiful month and the perfect source of inspiration for this new collection."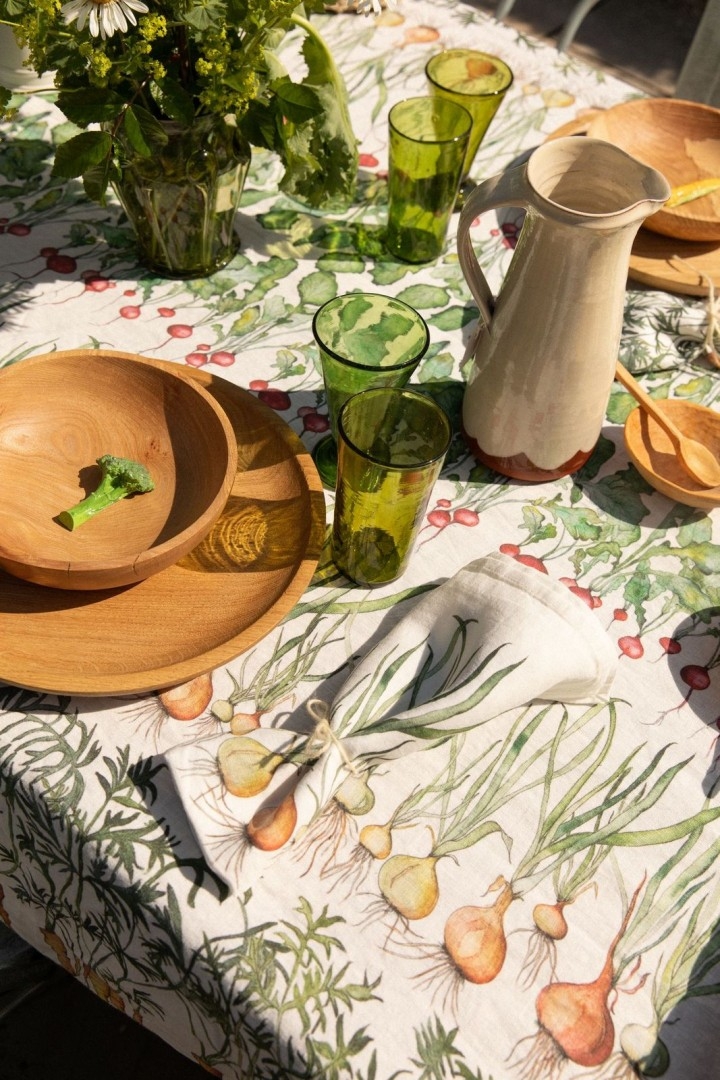 All are made using sustainably grown French linen (with an entirely European supply route) with Caryn's prints transposed onto tablecloths, napkins and placemats. The production is certified to ensure there are no harmful substances used, and all the fabrics are digitally printed leaving minimal run off of dyes. Further, Bertioli is a member of 1% for the Planet, a global membership of businesses which gives back to the environment with every sale.
Further, as seen in these stunningly styled images, Autumn Leaves is accompanied by tableware from ceramicist and fashion stylist, Deborah Brett. Deborah works in both porcelain and oxides as well as glazed stoneware. Her practical and decorative bowls, platters and vase-like sculptural forms combine hand building, slab work and thrown pieces.
Thyme has truly embedded itself into its locale; the houses and grounds can be found via a meandering path leading out of Southrop, and this summer the family will be re-opening the much-missed village pub, The Swan: one of The Cotswolds' most photographed and fashionable pubs. With a bright new look, crafted by Milly and incorporating some of the Patterns of Nature, locals can expect merry making, local beers, ales and wines, and in the dining room, Charlie's seasonal menu of pub classics will be on offer alongside seasonal vegetarian and vegan favourites. For updates on the reopening, visit thyme.co.uk.