Often our first thought when thinking of decorating a room, and making a statement, is the walls; which shade of paint, what type of wallpaper...? However, using fabric on upholstery as your starting point can often lead to some really fantastic results.
Take a leap of faith
Using fabric on furniture can bring heaps of personality, create a smile with the unexpected, or even soften the look of a busy room. Upholstery can be used in unexpected places too – even doors or walls; a padded wall covering behind a headboard can transform a bedroom into a luxurious sanctuary that is warm and cocooning. Try to be brave and get away from the safe options; a bit of bravery goes a long way – you will never achieve the wow-factor with "predictable".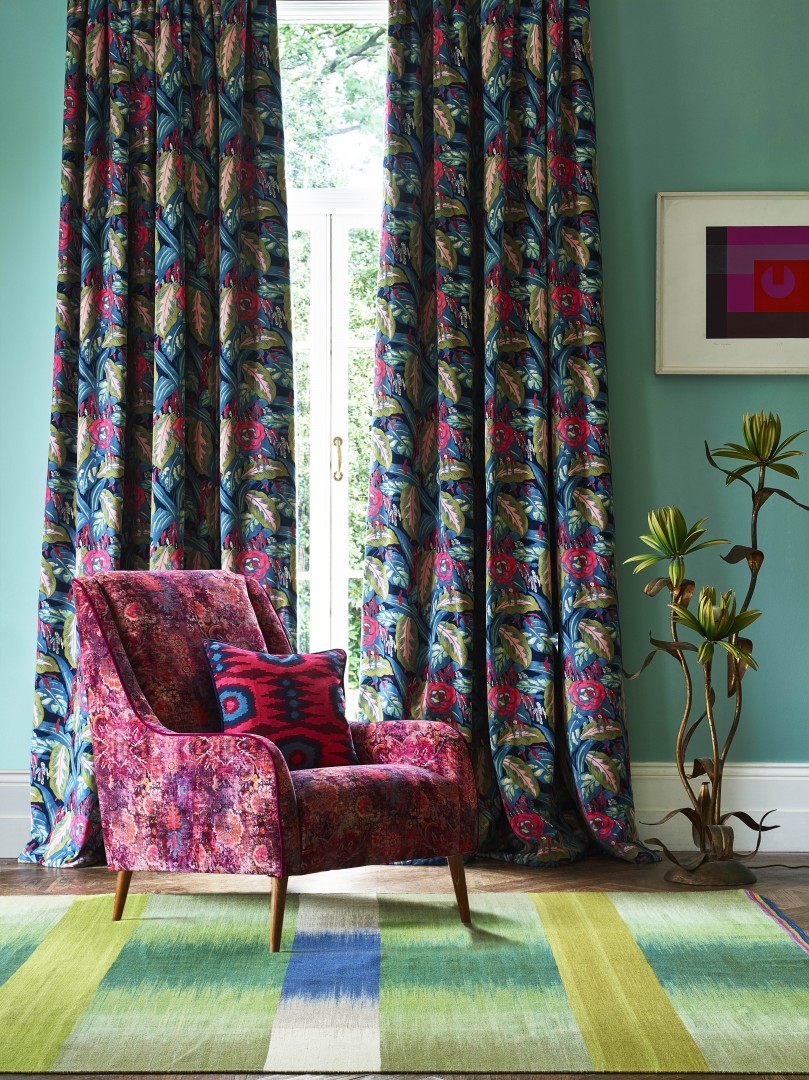 Upholstery in various shades of pink and purple forms the basis of a cheerful, fearless scheme. Velvet is still in the spotlight, and is a very popular choice, for good reason. It is available in a massive choice of prints and plains, from stunning jewel colours to cosy neutrals.
Tantalising trimmings
For a striking, luxurious and coordinated look, try using trimmings – in a bedroom, trimmings can be added to a headboard, on a bedspread and on curtains and cushions. If such levels of coordination are not your thing, add varying trimmings to different pieces for a warm and layered look. No longer just for traditional homes, trimmings can be bright and contemporary, or cool and stylish. The simplest form of trimming you can add to an upholstered piece or cushion is piping, whether self-piped (same colour) or a contrasting colour. Other examples of trimmings are tassels, pom-poms, borders, fringes or upholstery pins, which are now available in a range of exciting colours.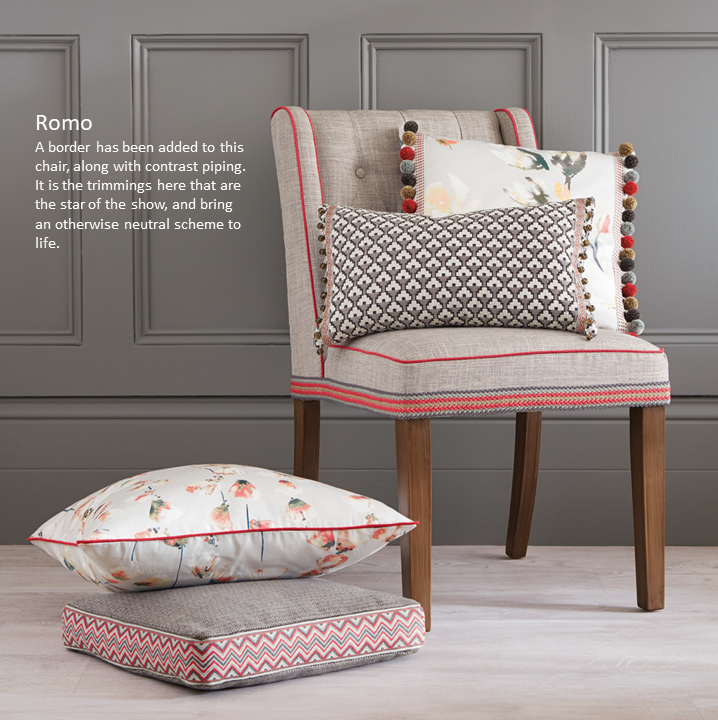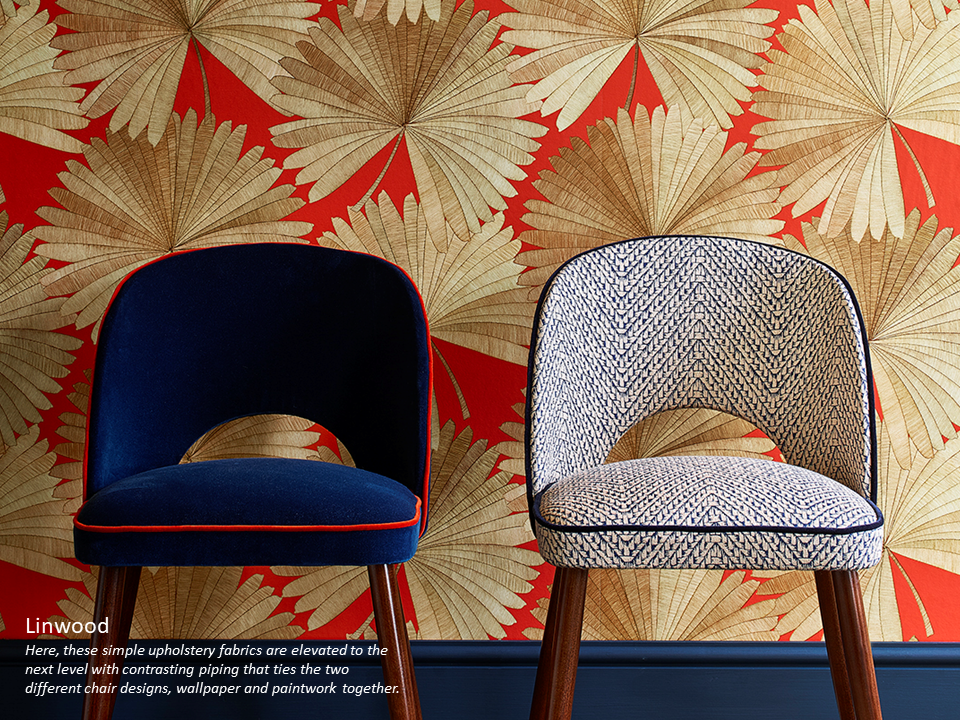 Mix and layer up your fabrics
We love using coordinating fabrics on upholstery; you can really do whatever you like when you are having furniture made bespoke. Seat in one fabric, body in another... Looking at collections from different brands is helpful, as the designs often coordinate within them, making it much easier to match them up.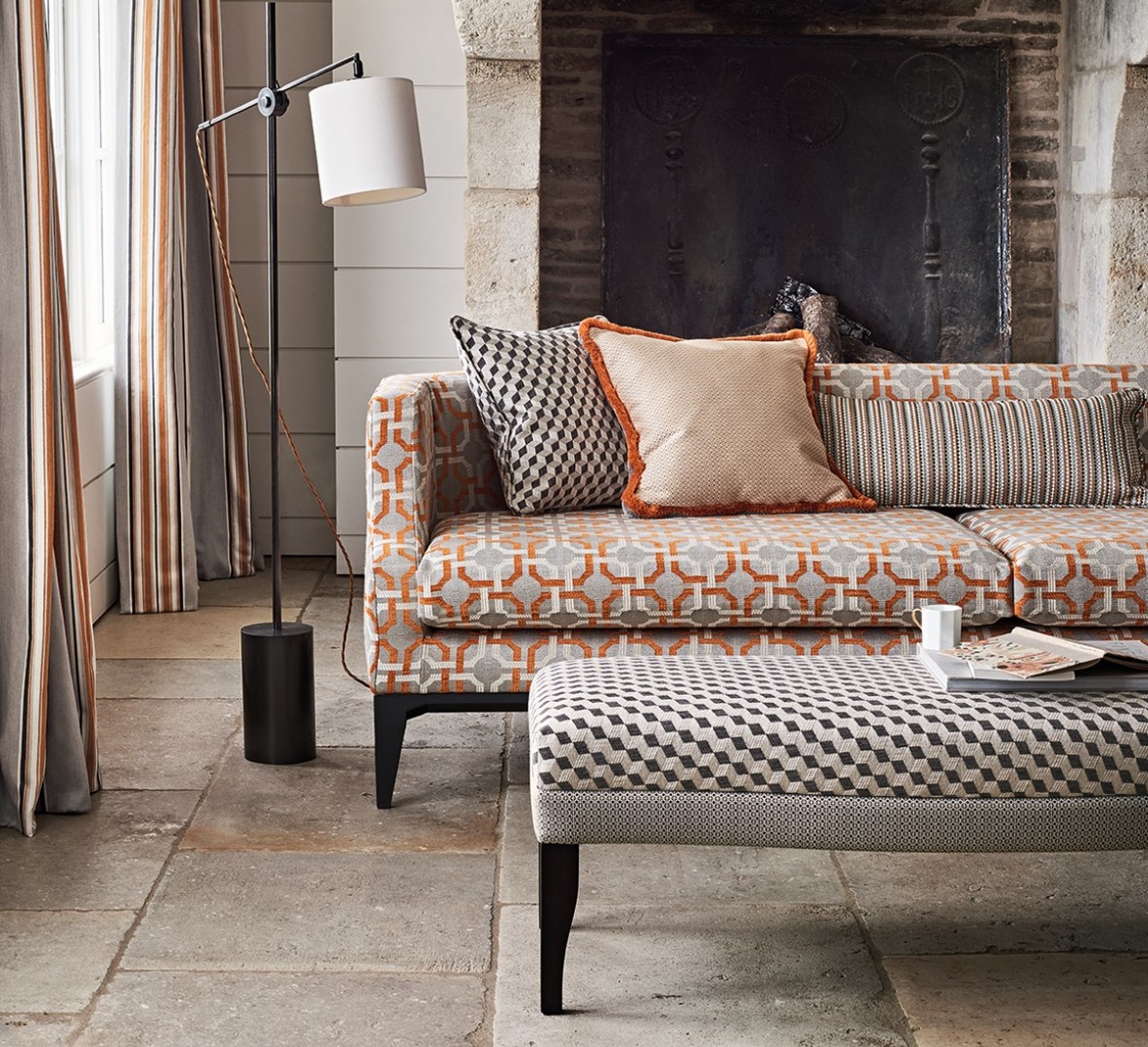 Romo
Above: a footstool has been upholstered in two complementary fabrics, which also works perfectly with the sofa fabric and cushions. Although this scheme is simple from a colour point of view, the use of various patterns working together in harmony adds depth and a whole load of interest.
Trend focus
Our upholstery fabric choices have become bolder over the course of 2018 and this preference is set to develop further during 2019. Velvet made a huge comeback and is still going strong. Durable and luxurious, this fabric adds instant warmth to a scheme. As well as beautiful, it has a meltingly soft, irresistible, tactile quality that draws you in. Emerald green, orange and teal are particularly hot right now.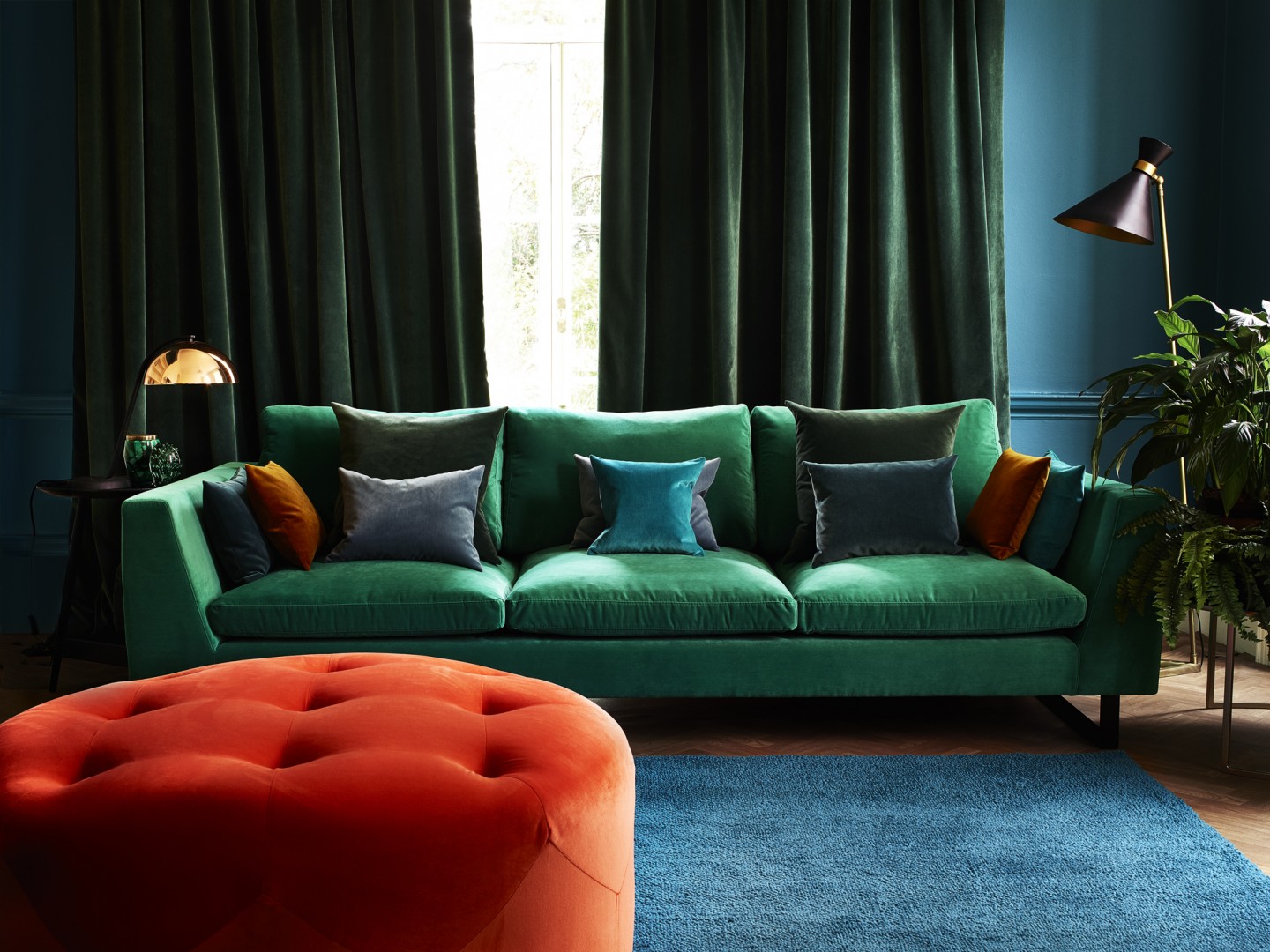 Linwood
Above: This symphony of plush velvets in a range of bold plains feels cosy and inviting.
Occasional chairs, once considered old fashioned, are back in the spotlight. Now, a more popular choice to mix up seating, it is no longer the norm to buy a matching sofa suite. Modern style has seen a shift to customers mixing a sofa with accent chairs and other upholstered items, such as pouffes and footstools. Moving away from "matchy-matchy" has allowed us to become braver with our choice of colour and pattern.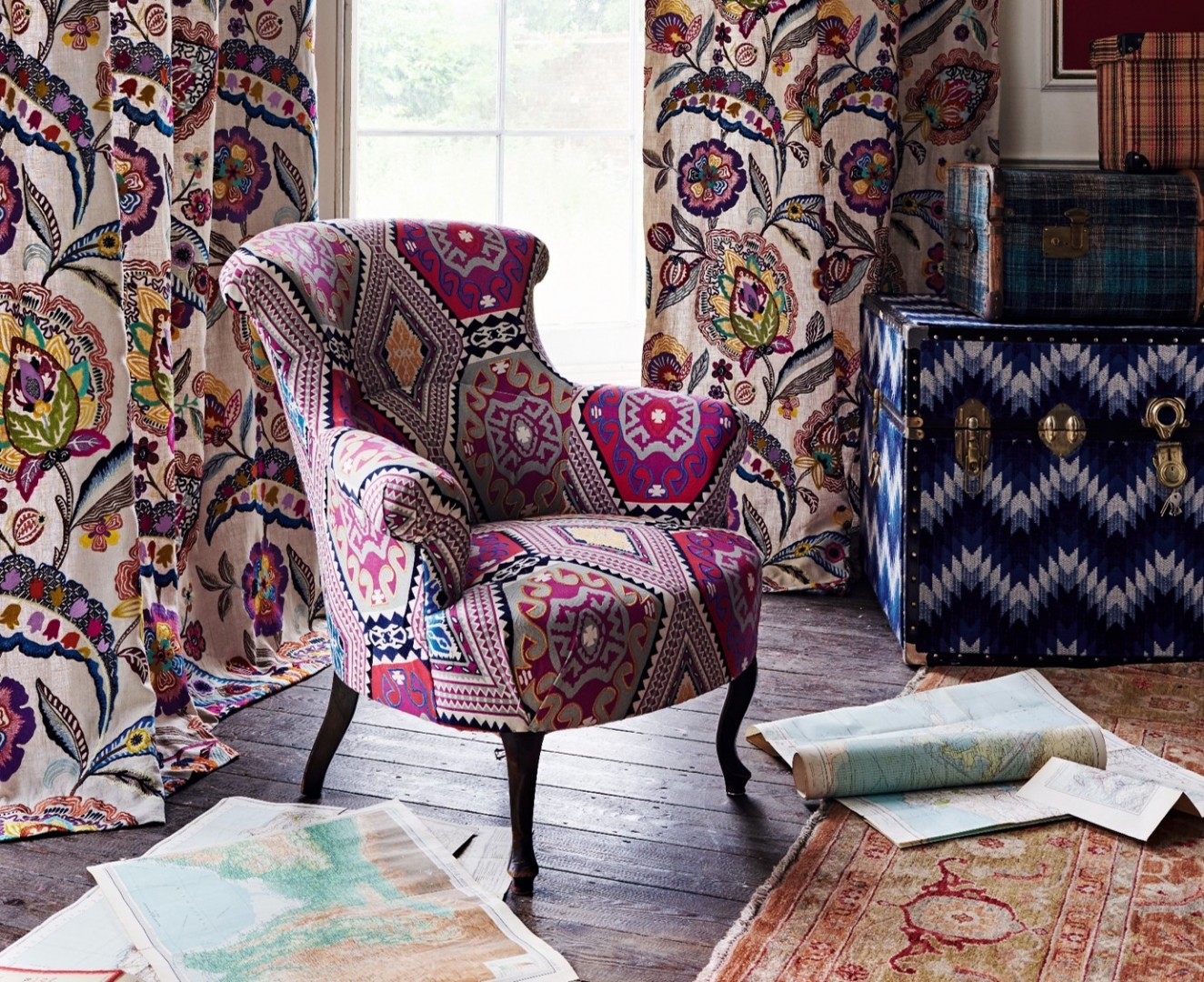 Mulberry Home
Pattern on your upholstery does not mean that you cannot have pattern elsewhere too. Vary the scale and type of pattern for the best effect, making sure each choice has at least one colour in common.
Expert upholstery advice
When choosing a fabric, always check the rub test – this is essentially how many times the fabric can be "rubbed" before it starts to wear out. The very minimum for upholstery domestically is 20,000, although I'd recommend a minimum of 30,000-40,000. For commercial use, it should be higher.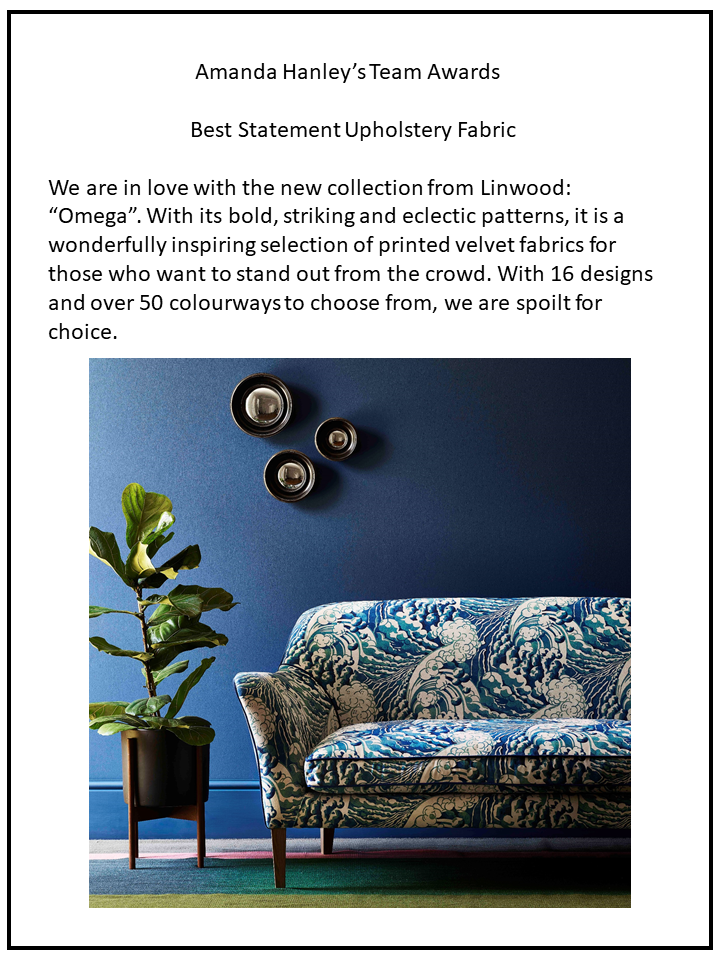 About Amanda Hanley
Amanda Hanley is a long-established and successful interior designer based in the Cotswolds. Her showroom on Burford High Street, Amanda Hanley by Design, offers a dedicated fabric and wallpaper studio, as well as a unique and exclusive selection of bespoke furniture, lighting, mirrors, flooring and home accessories.
Tel: 01993 822 385
The Gallery, 69 High Street, Burford, OX18 4QA