Since the age of man, fire has been a necessity In the modern era, it has become both a comfort and a luxury, and there is nothing more luxurious than a beautiful flickering flame in your home. Or in your garden. Our gardens have always wanted to be a part of the house, becoming that additional room to our homes; no more so than over the past 18 months.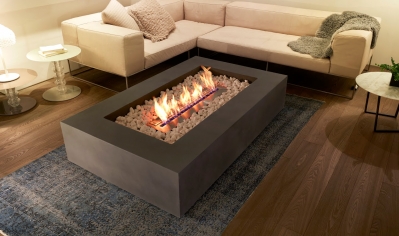 For many, the garden has become our sanctuary from the crazy world outside. Our retreat that makes the recent lockdowns just a little more bearable. With the easing of restrictions, there is still an affinity to our own space, somewhere where we feel safe from the pandemic and the pressures which it imposes onto society. So, is there any more primeval comfort than that of a flame? A gentle flame brings a certain warmth, not just from the heat. It is comforting, in a way that is hard to explain. Just having that dancing friend in the corner of our eye imparts a smile that is felt a little deeper.
With this in mind EcoSmart, the leading manufacturer of bioethanol fires, embarked on a journey to provide that comfort through the form of a fire that was fashionable yet practical, whilst creating a flame that was perfect and natural. In order to be practical and eco-friendly, EcoSmart chose bioethanol fuel for the source of their flames. It comes in the form of a renewable liquid fuel derived from plants by fermenting the sugar and starch components of plant by-products.
EcoSmart went as far as to produce their own brand of fuel, e-NRG, which is specifically formulated to produce a vibrant orange flame that burns longer. Clean burning, bioethanol is a fuel that has no soot, smoke or residue, whilst producing no harmful gases when combusted, making it the perfect solution for an indoor fire, as it requires no flue, chimney or ventilation. This allows for a quick and simple installation when having a traditional hole in the wall fire. Bioethanol fires are ideal for renovation and development projects, as well as apartments. For outside use, they are they are ideal too, as they can be situated anywhere without the need to run gas lines' ideal too, as they can be situated anywhere without the need to run gas lines, or worry about an expensive installation.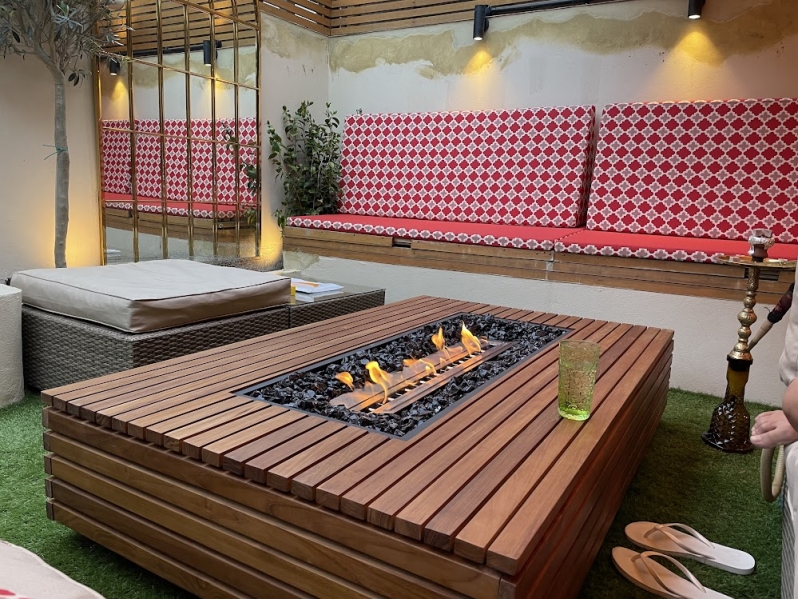 FIRE TABLES, PITS AND MORE
The EcoSmart range of fire tables are beautifully finished in a fluid concrete that undergoes a two-stage polishing; a curing process that, after several days, results in a gorgeous and tactile, hard-wearing finish. Available in a natural stone, a dark graphite, and an off-white bone, they match with any décor, indoors or out. For something a little special and even more natural-looking, on the square and rectangular fires one can opt for the optional sumptuous- looking teak finish.
Using a single and safe method of lighting, the EcoSmart range requires no electronics and therefore doesn't require any form of servicing – just a wipe down with a damp cloth now and again. Never again will you have go through the apprehension of wondering if your fire is going to light when you need it at Christmas, as EcoSmart is totally dependable. Many of our recent clients have wanted a focal point for their gardens which they have been spending ever more time in. They have wanted a feature that provides an element of practicality but, more importantly, something which creates a wonderful ambience. The EcoSmart range of fire tables and fire pits create a focal point around which they can sit and enjoy the warm glow from the natural-looking, and beautiful flames.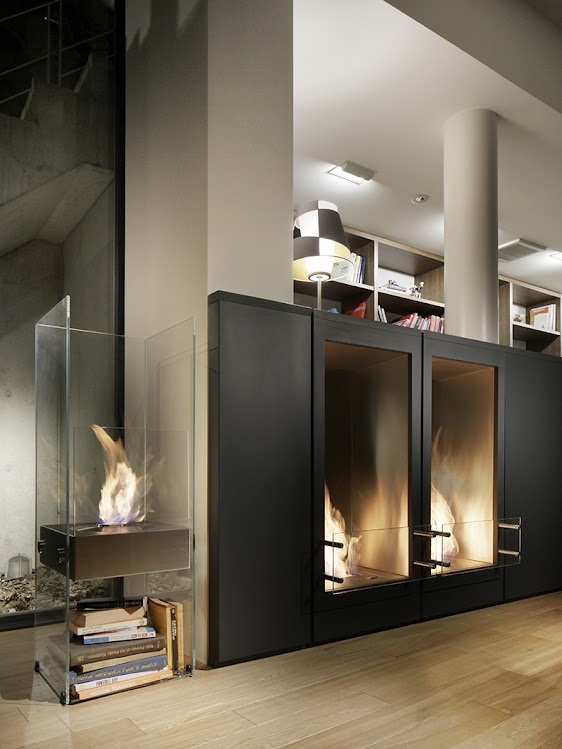 THE HEART OF THE FIRE
At the heart of every bioethanol fire is the burner, which is crucial to a great flame. With EcoSmart, the flame is active and natural- looking, burning clean and without mess. Without the requirement for a chimney, flue or ventilation they are ideal for renovations and all locations where there is no existing flue. If there is a flue, you can simply close it off to utilise as bioethanol fire.
EcoSmart also have burners purposely designed for those people with a previously condemned flue. The wide range of beautiful styles and variation of sizes mean that anyone, anywhere can finally experience a warm, welcoming fireplace. The question is often asked about the heat from a bioethanol fire. They are not typically as high a kWh rating as an open gas fire. However, and this is the crucial element in the equation, an open gas fire will typically lose 80% of its heat up the flue and chimney, whereas a bioethanol fire has no flue, so 100% of the heat is retained within the room.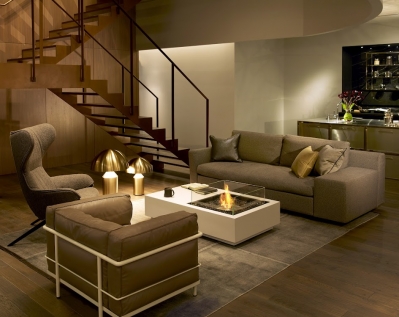 Want to build your own fireplace? All of the bioethanol burners are available as just the burner, so all you have to do is follow our comprehensive guidelines with one of the Fire Pit Kits. The options are almost endless fitted, freestanding and portable, built-in, outdoor or indoor, fire pits, fire tables, or new fireplace grates.
The EcoSmart MIX fire pit plays a starring role on Love Island and has also been shown recently on the patio of the £3.5m house in Wimbledon which was a raffle prize with Omaze.
For further information or advice on bioethanol fires, please contact us: info@BioFiresOnline.com | BioFiresOnline.com | 0207 788 4777
For outdoor heaters, we also provide HEATSCOPE Electric radiant heaters with optimal heat output and award-winning designs.