Bring some magic to your mornings (and doorsteps!) this Breakfast Week (6-12th March 2023), with brand-new breakfast and brunch recipes from Milk & More (one of the country's leading online grocery and milk doorstep delivery services).
Demonstrating just how simple and easy it is to ring the changes for breakfast time, each recipe is created with the finest ingredients, using quality produce, all of which can be conveniently delivered direct to your doorstep by 7am, by Milk & More.
From a Hot Cinnamon, Banana and Walnut Muesli that's tasty, convenient and can be whipped up in just 10 minutes, to delicious Mini Breakfast Tacos that are guaranteed to fill your weekend brunches with flavour, everyone is encouraged to start their day the right way – and choose #SimpleSwaps that can help make a difference to the planet – like having your milk delivered in glass bottles that can be reused up to 28 times or having your household goods delivered in packaging that is refillable… all delivered in a sustainable way – such as in one of Milk & More's electric floats.
To find out more, visit breakfastweek.co.uk
POTATO ROSTI WITH SMOKED SALMON & POACHED EGGS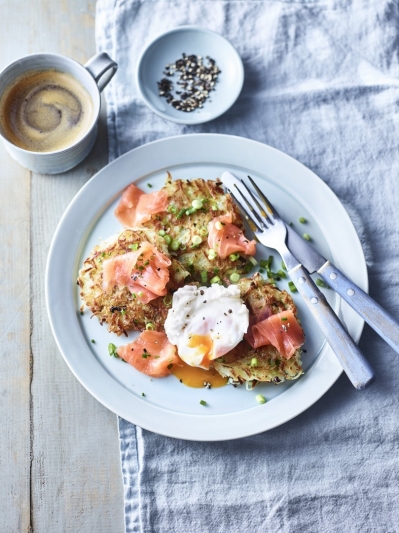 Prep: 10 minutes - Cook: 15 minutes - Serves 2
Ingredients:
600g organic potatoes, coarsely grated

1 tbsp plain flour

4 spring onions, thinly sliced

2 tbsp oil for frying

2 free range eggs

100g smoked salmon

1 tbsp chopped chives
Method:
Place the grated potatoes in a clean dry tea towel and squeeze out the excess liquid, transfer to a large bowl and mix in the flour and half the spring onions, season well. divide into 6 and shape into flat patties.

Heat 1 tbsp oil in a frying pan and fry 3 rosti for 3-4 minutes each side until golden, repeat with the remaining rosti. Meanwhile, poach the eggs in boiling water for 2-3 minutes.

Divide the rosti between 2 plates, add the smoked salmon and top with an egg. Sprinkle with remaining spring onions and chives to serve.
Cooks tip: Make the rosti in advance and reheat in the oven or frying pan when needed.
HOT CINNAMON, BANANA & WALNUT MUESLI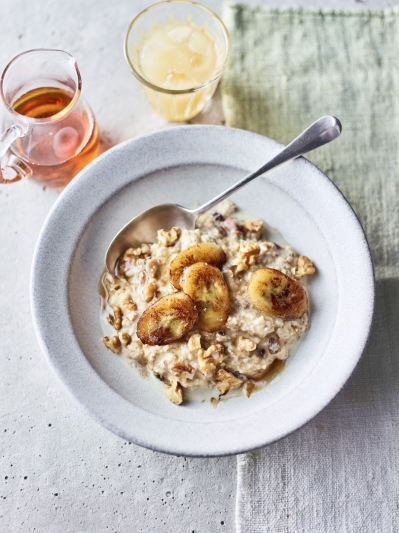 Prep: 5 minutes - Cook: 5 minutes - Serves 2
Ingredients:
2 ripe bananas

125g Good Club Zero Waste Deluxe Muesli

½ tsp ground cinnamon

300ml Oato Fresh Oat Drink

15g butter

25g walnuts, roughly chopped

Drizzle maple syrup to serve (optional)
Method:
Mash 1½ bananas in a bowl, stir in the muesli and cinnamon and transfer to a medium saucepan. Add the Oato and cook gently for 4-5 minutes.

Meanwhile, melt the butter in a frying pan, slice the remaining banana and fry for 1 minute each side until caramelised.

Divide the muesli between 2 bowls, top with the sliced bananas and walnuts, drizzle with maple syrup if liked.
Cooks tip: Great with fresh milk too. Scatter with extra raisins and sultanas.
MINI BREAKFAST TACOS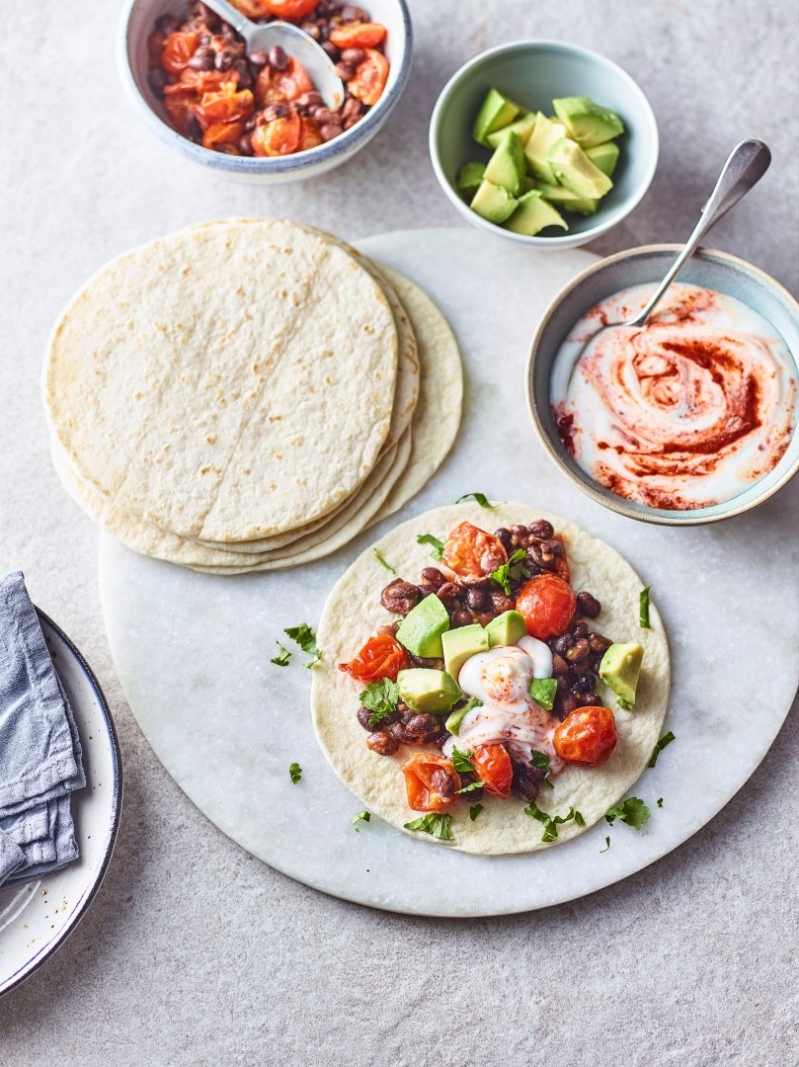 Prep: 10 minutes - Cook: 5 minutes - Serves 4
Ingredients:
1 tbsp oil

400g can black beans, drained and rinsed

300g cherry tomatoes, halved

½ tsp mild chilli powder

2 tsp harissa paste

150g Pure Nature organic natural yoghurt

8 mini soft taco wraps

2 ripe avocados, diced
Method:
Heat the oil in a frying pan and fry the beans, tomatoes and chilli powder for 4-5 minutes, crushing the beans slightly with the back of the spoon.

Meanwhile, swirl the harissa paste into the yoghurt and warm the tacos according to pack instructions.

Divide the bean mixture between the tacos, top with the avocado and add a spoonful of the harissa yoghurt to serve.
Cooks tip: Try using 4 large tortilla wraps if the mini ones aren't available. Kidney beans work well instead of black beans too.
COFFEE LATTE SMOOTHIES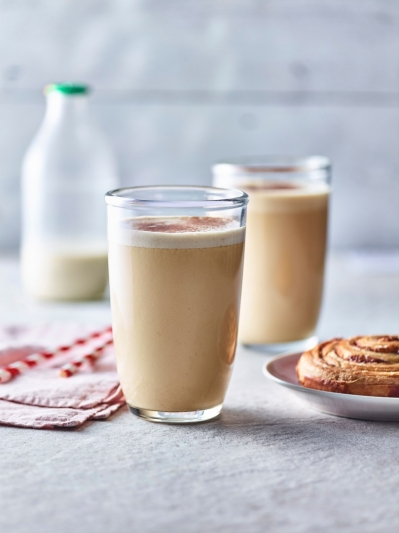 Prep: 5 minutes - Serves 2
Ingredients:
1½ tsp instant coffee granules

3 tbsp Good Club Zero Waste Porridge Oats

150ml Pure Nature Organic Vanilla Yoghurt

400ml Oato Fresh Oat Drink

½ tsp honey to taste (optional)

Cocoa for dusting (optional)
Method:
Place the coffee and oats in the base if the liquidizer or smoothie maker, add 50ml just boiled water and stir to dissolve the coffee. Add the yoghurt, Oato and honey (to taste, if liked).

Blitz until smooth then pour into 2 tall glasses, sprinkle over a little cocoa to serve, if liked.
Cooks tip: Great served over ice. Try warming the Oato first and sprinkle with ground cinnamon to give a lovely warming drink.
PANCAKES WITH HOT CARAMELISED ORANGES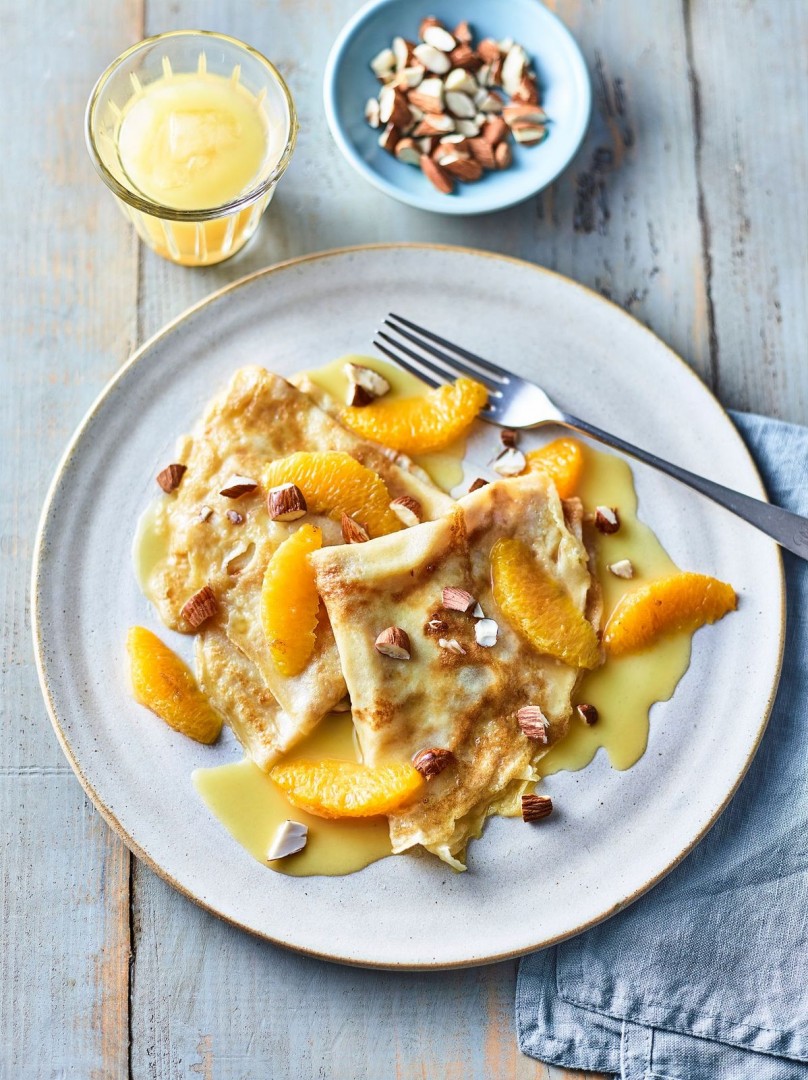 Prep: 10 minutes - Cook: 20 minutes - Serves 4
Ingredients:
4 oranges

50g caster sugar

100g plain flour

2 free range eggs

275ml organic semi skimmed milk

Oil for shallow frying

15g butter

100ml orange juice

25g whole almonds, roughly chopped
Method:
Cut both ends of each orange then cut off the skin and pith. Over a small bowl, cut between the membranes to segment the orange, squeezing out the juice from the membranes, add the sugar and set aside.

Place the flour in a bowl and make a well in the centre, crack in the eggs and begin to whisk, gradually adding in the milk until you get a smooth batter.

Heat a little oil in a frying pan and add a small ladleful of batter, swirling the pan around to give a thin circular layer of batter, cook for 1-2 minutes until golden, flip over and cook for a further ½ - 1 minutes, fold into quarters and set aside. Repeat to make 8 pancakes.

Melt the butter in the same pan and lift out the orange segments from the juice, add to the pan and fry for 30 seconds, set aside. Add the reserved juice plus the orange juice to the pan and add in the pancakes, heat through for 1 minute.

Divide between 4 plates, scatter with orange segments and almonds to serve.
Cooks tip: Try making the pancakes with Oato Fresh Oat Drink instead of milk.
BAKED CHEESE & EGG TOASTS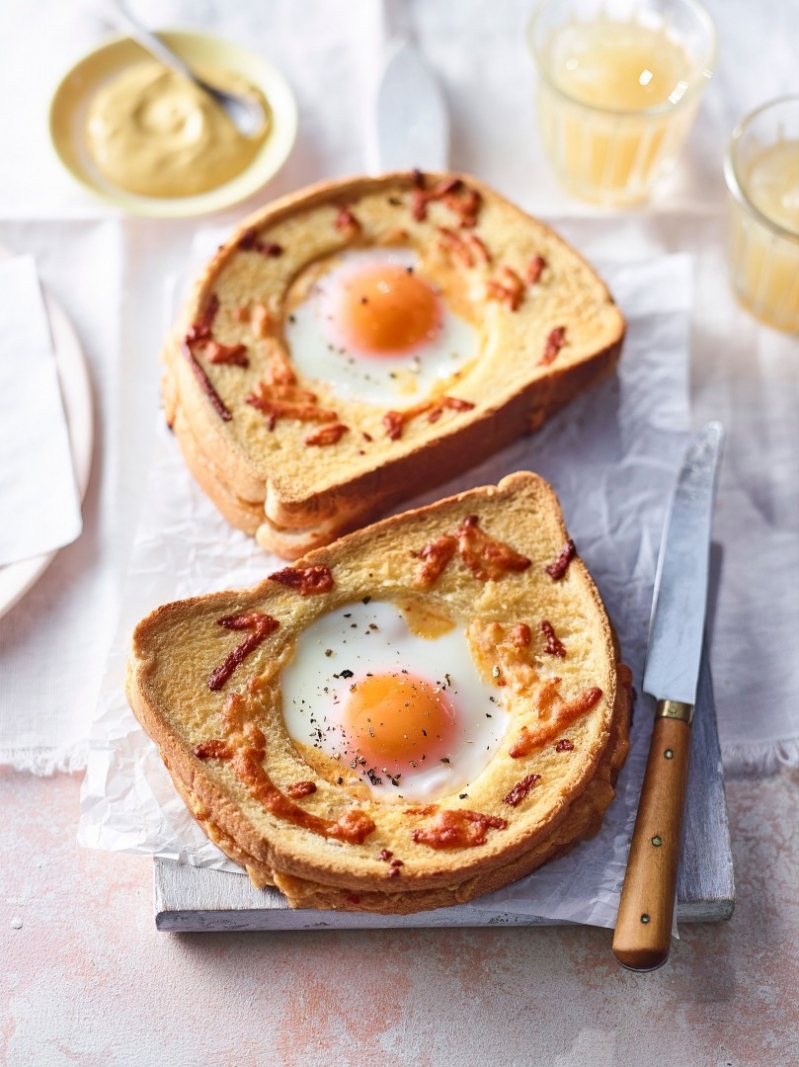 Prep: 10 minutes - Cook: 15 minutes - Serves 4
Ingredients:
8 slices Jacksons Soft White Bloomer

50g butter, softened

200g Godminster Vintage Organic Cheddar, grated

4 tbsp Pure Nature organic natural yoghurt

4 organic eggs
Method:
Preheat the oven to 200oC, gas mark 6.

Butter the bread on 1 side. Place 4 slices, butter side down, on a large baking tray.

Mix 175g cheese with the yoghurt and spread over the 4 slices on the tray.

Cut a 7cm circle in the centre of the remaining bread and place on top of the cheese, butter side up. Crack an egg into each hole and sprinkle over the remaining cheese, season with black pepper and bake for 12-15 minutes until golden, crispy and the egg white has just set.
Cooks tip: Cook the circles of bread alongside and serve with the toasts or serve as croutons on soup.
BREAKFAST CAPRESE BRUSHETTA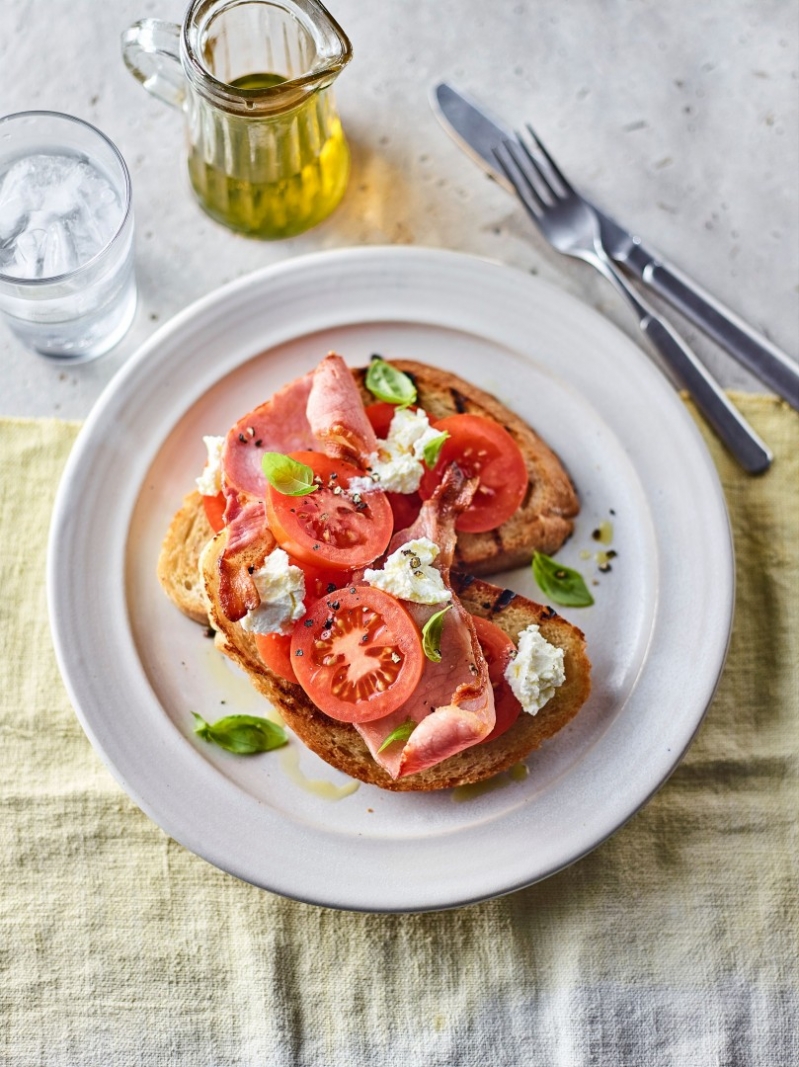 Prep: 10 minutes - Cook: 5 minutes - Serves 4
Ingredients:
8 slices Spoilt Pig Unsmoked Dry Cure Back Bacon

8 slices Artisan Bakery Sourdough Loaf, cut at an angle

2-3 tbsp extra virgin olive oil plus extra to drizzle

6 tomatoes, thickly sliced

125g ricotta

Basil leaves to serve
Method:
Place the bacon on a foil lined tray and grill for 8-10 minutes, turning once until crispy.

Meanwhile, brush both sides of the bread with a little oil and griddle or fry for 2-3 minutes each side until golden.

Place 2 slices of bread on 4 plates, top with tomatoes and bacon and dot over the ricotta, season with black pepper. Drizzle with a little oil and scatter over basil leaves to serve.
Cooks tip: Try using halved cherry tomatoes and diced mozzarella instead.