Photo: D.Paulaskus
"At school, I wanted to be a popstar," says film composer Sacha Puttnam, once the keys and occasional bass player for multi-platinum selling band Bush. Friends of his used to say the frontman, Gavin Rossdale wasn't "a star", yet the lyricist got the group onto Interscope Records and Sacha accompanied them for "a wonderful three years touring the world at the very top" – supported by the likes of Oasis. One of his first live shows, he continues, was headlining Woodstock 99. "I used to have stage fright," he says, which playing six shows a week eliminated. There were times when someone like Brad Pitt "came over to say, 'love the band', to see Gav". Then they'd walk off somewhere with the lead singer, and a security guard's arm would stop Sacha from following. "I always realised there was a slight barrier between the celebrity stuff and the actual workings of the band. That was a little hurtful, but you get used to it," he tells Sam Bennett, in an energetic interview surrounding a more recent project.
Forty or so years back, Sacha Puttnam's home must have been venue for myriad parties, where giants of the film industry drank champagne and told anecdotes. After all, his father is multi Oscar- and BAFTA-winning producer, David Puttnam. "Sam, I wish there were," he says from Brentford, "there weren't. My mum and dad are just not party people at all. There were probably a few things they attended but they would have left pretty much straight away. They take the business very, very seriously. Art is not this lovey-dovey thing we always put it down to, art is serious, and if you're going to fire someone the next day for not doing their job properly, you better have not come in at three in the morning less than your best self." People often visited for tea, he remembers, which was likely all his parents could afford to offer in the early days. Added to which "the lovely thing about tea is it's quite quick – someone comes in and then they're off again." In later years, he would go to his parents' place for dinner, where the milk bottles would go out as soon as dessert was done – "his signal that it was time for us to go".
So, the young Sacha's interaction with film and music figures was in the workplace. Vangelis (Chariots of Fire, Blade Runner) frequently let him sit in his studio. "The skill I had was knowing when [creatives] wanted tea, and when to keep quiet, which is something you learn on a film set anyway. When people are shooting, you shut up. You know it's not about you at that moment – if you're about to cough, you hold that cough."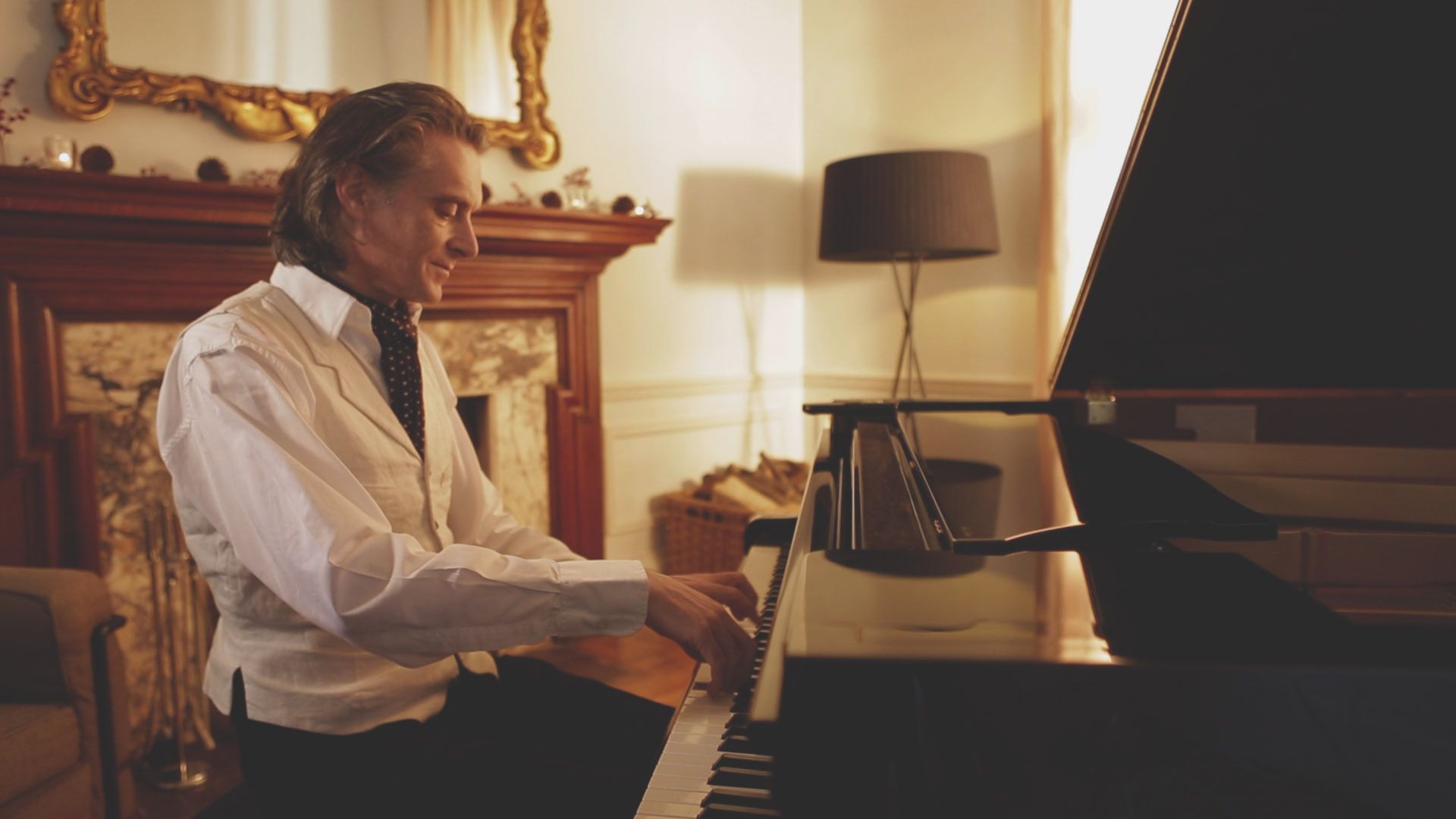 At Liss Ard (2017)
His favourite David Puttnam film is 1983's Local Hero due to its "sheer joy". It was made when the producer was first considering a move to the countryside, and though he'd eventually realise this dream in Ireland, he found Local Hero's Scottish coastline setting "so, so beautiful". Sacha got to meet Peter Capaldi ("who then went on to so many great things"), Burt Lancaster ("a fantastic gentleman"), and nearly four decades on he has recorded – with The Classic Film Orchestra – the movie's 'Going Home' by Mark Knopfler. The track is part of the album, Spirit of Cinema, celebrating the music from his father's films and thanking those who were "so important" to Sacha as a kid: Knopfler, whose "gorgeous" British Grove Studios was used to record some of the album; Vangelis, of course; Michael Kamen for whom he orchestrated; Ennio Morricone, whose 'Falls' and 'Gabriel's Oboe' – from The Mission (1986) – are on the album; and Alan Parker, director of 1978's Midnight Express.
Composer for more than 30 films himself, he says these days "we're moving into a new, high level of filmmaking." The rules he grew up with no longer apply. "We're so refined now as an audience, we don't need an oboe to state someone's theme, and remind us of that character all the time." Film scores can be subtler; as audiences are engrossed by the acting and props, "the music has to just be the atmosphere," he says, citing Hildur Guðnadóttir's recent scores for Chernobyl and Joker as good examples. The latter's opening features the same rising minor third Hans Zimmer used for Batman, he enthuses, promptly repeating it with his voice and piano. "That was so clever of her because I thought 'superhero' immediately, and actually what they come up with is 'super-antihero', and it's brilliant – I want to see Captain America's darker side as well."
He grew up alongside Atticus Ross who – about the same time Sacha joined Bush – teamed up with Trent Reznor, going on to score 2010's The Social Network, "a very minimal type of music. When [Ross] first started doing it, I kept thinking, 'I'm the proper classical person…' What I saw, and you have to be open to it, is the world moving towards hyperreal simplicity. When you're interested in music, you stay young by listening to all these new things and bringing them into yourself. You try and get that same feeling Morricone brought up, but with less."
He still struggles to keep his music simple, he says, as evinced by the film about Marcel Breuer he's working on. "I had this little bass note," he tells me, which he doubled "with a pizzicato on the bass, and then I did find this absolutely fantastic bass synth. I do remember having a quick word with myself: 'Sach, are you sure that the piano bass note won't do just absolutely fine?'" If he can deliver part of a score on the piano alone, he resumes, "usually it works incredibly well." He tries to apply a haiku mentality to composing nowadays, "rather than the long poem. It's the nature of the times, we've got no time left at all, so the brevity is – in a way – love. You're showing someone how much you respect them and their time by being as brief as possible. Waffling on doesn't help anyone – which I'm doing to you," he laughs.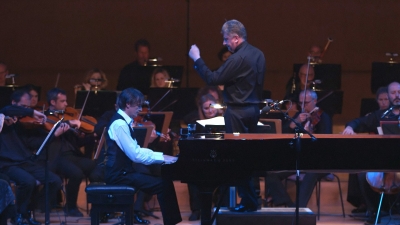 With Hallé Orchestra, Manchester (2015)
From a recent draft of the Breuer documentary movie, he's identified bits of the music that could be a tad simpler – which a composer might only realise on hearing their score amidst dialogue and foley. He refers to the fable in which a "really ugly" statue becomes stunning when stuck on top of a chapel, whereas another one, while magnificent in detail, "loses all its appeal. And that's what [film composers] can do," he says, "and maybe why we're in a completely new, lovely renaissance of making movies." He and his wife, Rozzy Wyatt, are currently viewing a plethora of pictures to cast their Bafta votes, including "some real works of art from America" which he regards as novella-like – "fantastically deep, analytical, chaptered, wonderful films". They're "trying desperately to get through" about 70 films and are yet to watch a flop. "I guess it's because these days the professionals in the industry are so good and can't afford to get it wrong." A false move, he points out, could mean a change of career.
TV-wise, they're both "absolutely gripped by Schitt's Creek at the moment" and "binge-watch Gogglebox every now and then to really take the pulse of the nation. "What was the other thing you were watching the other day?" he asks Rozzy, then apologising to me for doing so. "That amazing series? Not the one with Anna Kendrick, before that – she's a writer and they're in Italy..."
"I May Destroy You?" I offer (an outstanding series I watched in one sitting).
"I May Destroy You," he confirms. "Sam, I've never seen anything like that before in my life. Each episode, I felt like I'd had a big slap." He can't recollect much of the music from Michaela Coel's show ("I remember there was some great track placement") but says that doesn't matter. "What was going on was so important [it] would have carried the musicians."
The top of our conversation began with him asking how the coronavirus situation has been treating me, a question I later return. Both of us have been lucky enough to keep working, only one of his projects shutting now. "It's nice to have got Spirit of Cinema out there," he says, "sailed that ship, and thanked all of those lovely old people." I almost forget to ask what his father thinks of the record (which shares its name with Sacha's podcast, by the way). "He absolutely loves it, he's such a fan of music anyway, he's really delighted." 'Eric's Theme' by Vangelis is David's favourite, Eric Liddell being the Chariots of Fire character he loved most, "even though Harold Abrahams is closer to his natural character."
Either runner seems a fitting favourite to me. After all, both were quick as tea.
Spirit of Cinema is out now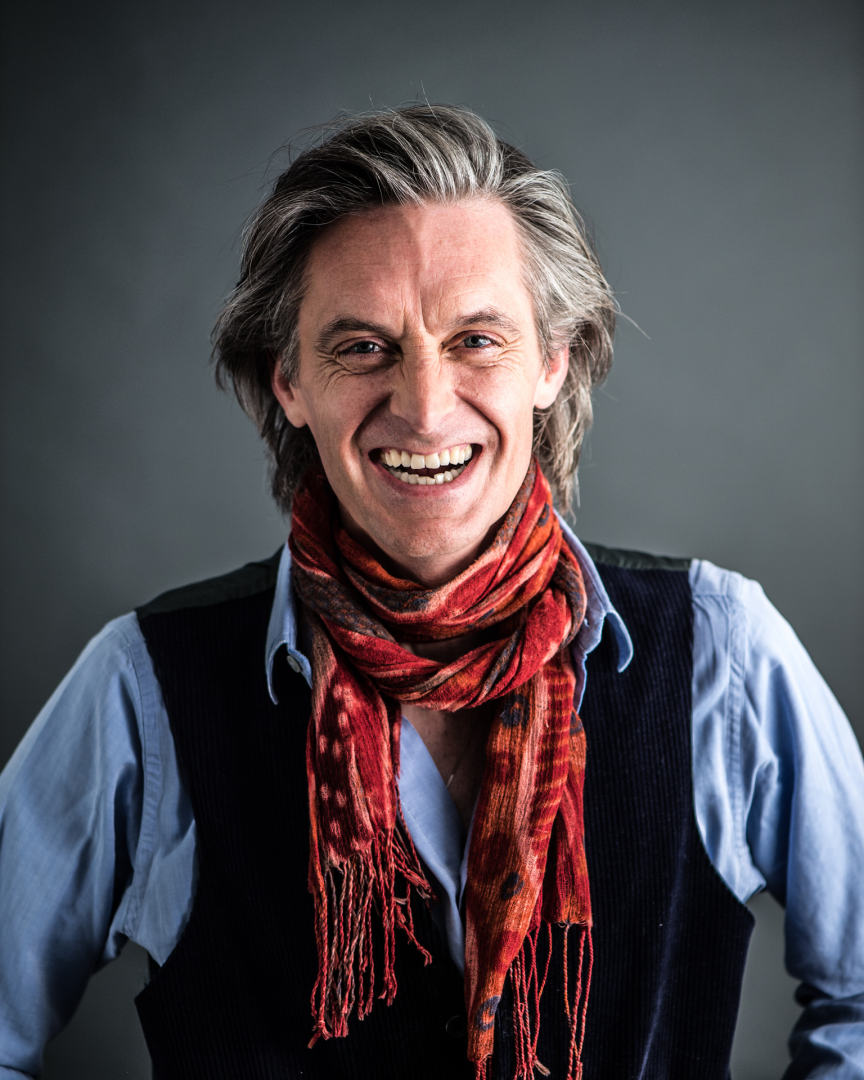 Credit: Christian Banfield