To date, environmental concerns may not have been a focus in interior design, but that is changing. More and more designers and brands are starting to consider the environmental impact of the interior design process, from design and production to shipping and recycling. Now more than ever we are focusing on our health, wellbeing and the Earth's dwindling resources. All of which makes it more apparent that bringing a sustainable and natural aesthetic into our homes is as essential as it is satisfying.
Go green
As a colour, green has a vast spectrum; it's all about choosing the right shade and tone. Green creates a relaxing atmosphere as it is associated with the outdoors, with nature, growth and creativity. As it is an organic shade, it is very easy to live with. Almost any shade of green works well in a townhouse. It brings a sense of nature to urban life, especially when combined with lighter colours, such as Farrow and Ball New White or All White. Lighter shades work well in country houses, linking inside and out; sage green can be particularly effective in a traditional bathroom or on woodwork in a classic hallway. The important thing is to pair whatever hue you choose with the right accent colour, to create a feeling of flow through the room.
Many wallpaper suppliers are also going green, not just in their colour paths and designs, but in the production of wallpaper and are actively releasing new, eco-friendly options.
Wallpaper manufacturers are continually striving to reduce material waste and energy consumption in all of their processes, from roll production to printing and packaging. This includes eco-friendly practices, such as using only the highest quality paper sourced from sustainable forests, certified by the Forest Stewardship Council (FSC); and not using PVC or harmful solvents and toxic chemicals in production, working only with water-based inks and surface treatments.
These wise and eco-friendly practices have resulted in beautiful, environmentally-friendly wallpapers, free from harmful substances but without any compromise in design quality, still crafted with passion and flare. This philosophy is one we expect to continue to develop and to be embraced in homes as we strive to build a greener future.
Natural comforts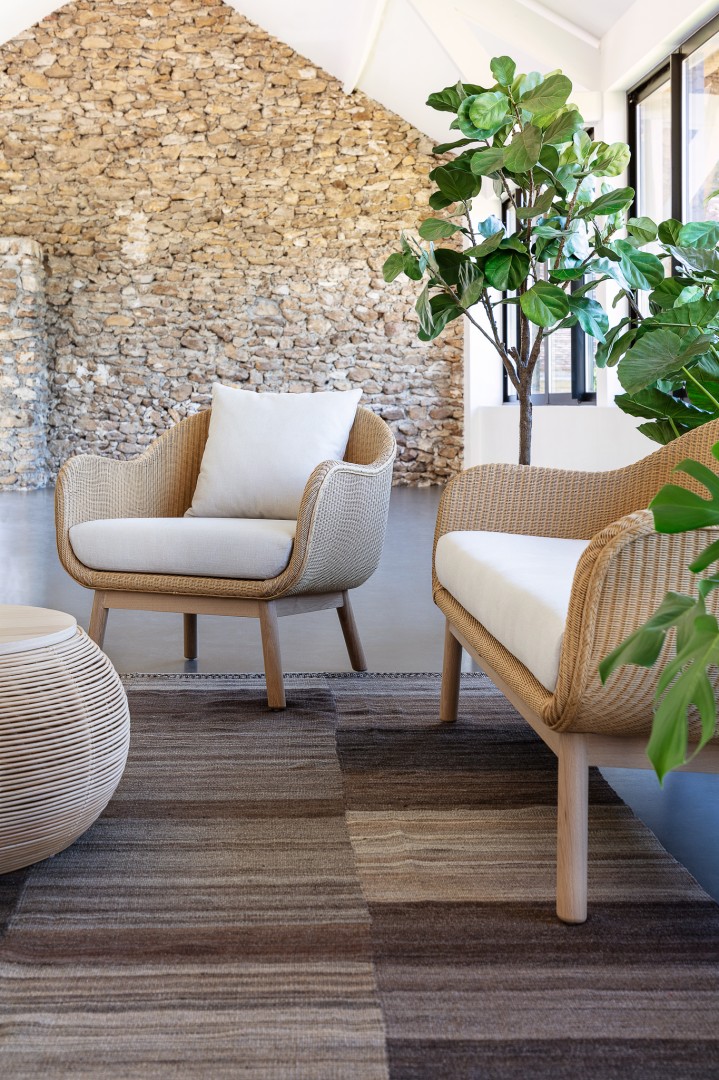 Incorporating natural fibres and textures such as rattan, wicker and wooden furniture into your décor will not only add a touch of nature, but can bring a sense of character, personality and warmth to your home. Furniture that can be used both inside and outside is in great demand and can bring the feel of the conservatory or glass house to other rooms in your home.
When choosing furniture it is important to go for the practical but ensure your choices complement the rest of the available space. Keep base furniture colours neutral; this will allow colour and interest to be added with textured materials and accessories, such as rugs, cushions, lampshades and baskets.
Right: Picture courtesy of Vincent Sheppard. Vincent Sheppard produce a fantastic range of sustainable indoor and outdoor Lloyd Loom furniture. This is a woven paper which looks like wicker, but much smoother and more comfortable, yet durable.
Flower power
Fresh flowers have traditionally been used to add decorative finishing touches to our homes. Now, however, faux flowers are so realistic that no-one would ever know and – with new manufacturing techniques – are being made from recycled materials. As ever, you do get what you pay for, so invest in the best you can afford. I am a great devotee of faux flowers as they are both easy to care for and excellent value for money. Putting together a bunch of faux flowers will instantly transform any room and brighten even the darkest of corners. And they will last much longer than real, seasonal offerings.
If you prefer a more formal look, faux flowers are available as ready-made arrangements, some even with a gel at the bottom of the vase to create a water effect. Depending on your preference, porcelain with brightly coloured blooms or lustrous foliage in pots, flowers and plants are an easy way to dress a room. They provide lasting colour and natural charm and can make any space feel properly finished and loved.
TOP TIPS ON CHOOSING YOUR FLOWERS
Group your items in odd numbers, as it makes them more attractive to look at. Don't worry about perfection in your arrangement as a casual approach is often more effective.
Hanging plants like cacti and other succulents in planters and other receptacles will add greater visual impact to your space.
Try adding natural foliage from the garden to your arrangement. When paired with high-quality faux flowers, you won't be able to tell the difference.
Last but not least, forget 'less is more.' More is definitely more!
Set your table in style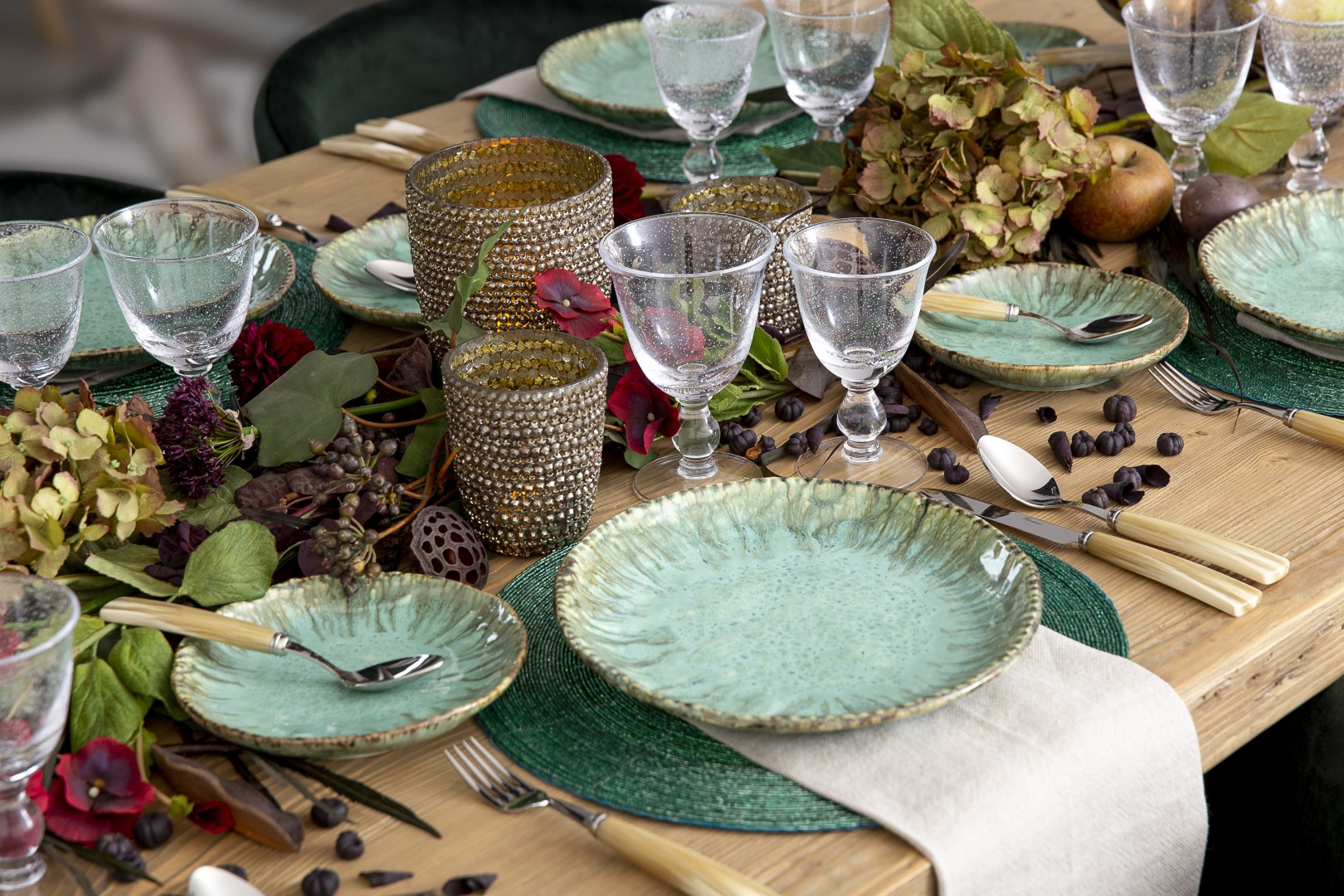 Think about accessorising with organic forms and natural colour tones to bring an outdoor feel to your table. Create atmospheric tablescapes by layering complementary earthy hues of beige and walnut, with the subtle textures of minimalist ceramics in natural tones. Placemats and coasters woven from jute are on-trend at the moment and will complement every table top, whether contemporary or traditional. This lightweight plant-fibre material has an almost rope-like quality and sits beautifully against crisp linen napkins and glassware.
Sprigs of faux flowers, or a fresh bouquet, make a stunning centrepiece and are a great way of adding bursts of colour. When contrasted with a wooden table, they will bring your entire setting still further back to nature.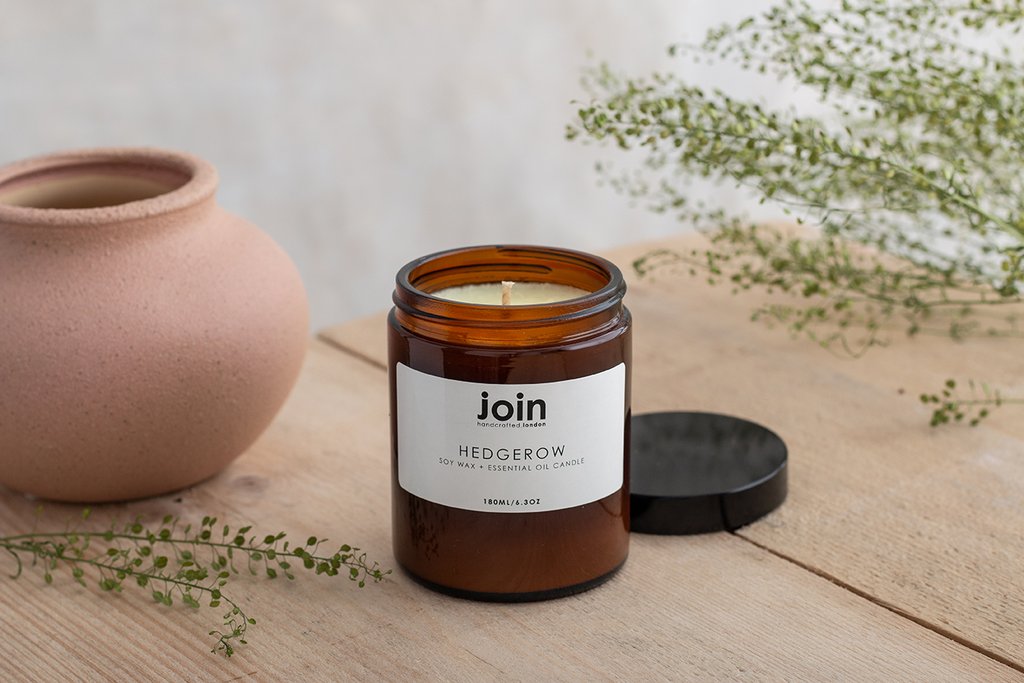 Don't forget the fragrance
Luxury vegan soy wax and essential oil candles are perfect for creating a calm and inviting atmosphere in your home. They are carbon-neutral and sustainable, with a long, clean burn time to care for the environment and are 100% natural and cruelty-free.